Why The ROG Ally Is One Of The Best Handhelds
Handheld devices are here to stay. Once the Nintendo Switch and the Steam Deck proved that you can play AAA games on the go with no drop in quality it's been open season for everyone. There are a couple of devices out now on the market and while the ASUS ROG Ally isn't the most cost-effective, it is one of the most powerful.
While the ROG Ally is substantially more expensive than the Steam Deck, the Asus model has a more powerful processor, more storage off the bat, and a larger 1080p display with a fast refresh rate to name a few. Plus it natively runs Windows 11 which is an important feature for gamers that play non-Steam games such as Palia or Genshin Impact.
I think we'd also be remiss to say that it's probably one of the sleekest in design when it comes to the portable gaming market. Coupled with its powerful hardware and impressive display, it's definitely one to consider when you're looking for your next handheld.
The ROG Ally vs The Steam Deck
Here's a summary of the two devices before we break it down.
| Feature | ASUS ROG Ally | Steam Deck |
| --- | --- | --- |
| Display | 7 inches, 1920×1080 resolution, 120Hz refresh rate | 7 inches, 1280×800 resolution, 60Hz refresh rate |
| Performance | AMD Ryzen 6900HS processor, up to 4800MHz, 16GB of RAM | AMD Zen 2 APU, up to 3.5GHz, 16GB of RAM |
| Operating System | Windows 11 | SteamOS |
| Storage | Up to 2TB of NVMe PCIe SSD | Up to 512GB of NVMe PCIe SSD |
| Battery Life | 6 hours to 8 hours | 4 hours to 6 hours |
| Price | $899 and up | $399 and up |
The ROG Ally Is Better Equipped To Play Graphically Demanding Games
The ROG Ally is significantly more powerful than the Steam Deck in terms of both CPU and GPU performance. In fact, with its AMD Ryzen 9 5980HS processor and 16GB of RAM, it outstrips the capabilities of most gaming PCs. This, coupled with its higher resolution and higher refresh rate makes it a console more ideally suited to play larger and more graphically demanding games.
The ASUS ROG Ally currently runs an OLED display set, which will ensure stunningly bright, colourful, and contrast-rich images. The 120Hz refresh rate as well compared to the Steam Deck's 60Hz rate will make all the difference when it comes to large AAA titles or online multiplayer games. I can't tell you how much screen tearing bugs me and I'd love to be able to play large high-requirement games like Red Dead Redemption 2 and Cyberpunk 2077 as they should be played.
Windows 11 Is More Versatile But The ROG Ally Isn't As Optimised for Steam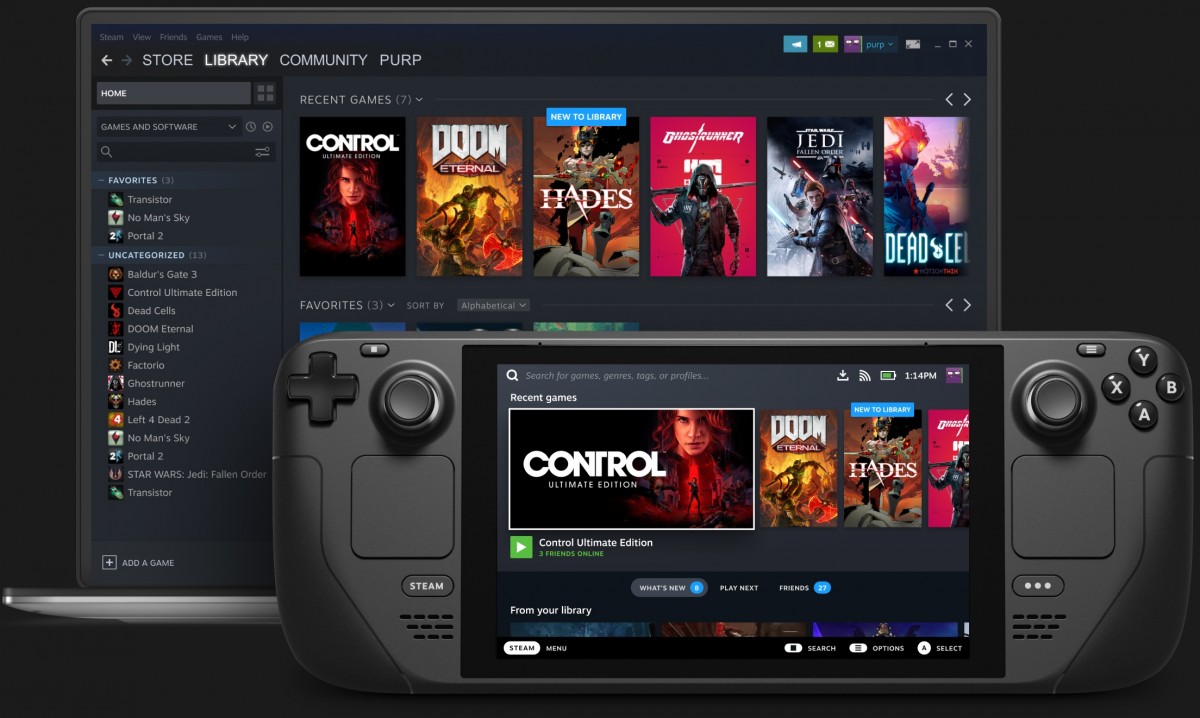 The ASUS ROG Ally runs on Windows 11, giving you more diverse access to games and other applications. In comparison, the Steam Deck only runs the SteamOS. Albeit very well, if you have other games you play outside of Steam frequently this may limit the Deck's usage for you. But if most of your games are on Steam this will suit you just fine. And it will give you a clearer decision factor, as the ROG Ally isn't as optimised for the SteamOS. So it just depends on what type of games you're playing.
The ASUS ROG Ally Overall
The ASUS ROG Ally is a beast of a handheld device. Offering a captivating blend of design, performance, and software capabilities. Its sleek form, stunning display, powerful hardware, and Windows 11 operating system make it an excellent choice for gamers seeking a portable gaming experience that rivals the capabilities of desktop PCs. While battery life could be improved, the overall package provided by the ASUS ROG Ally makes it a formidable contender in the handheld gaming market.
It's definitely one to put on your wishlist for Black Friday when discounts make its steep price more affordable.