Moonlight in Garland – An Animal Crossing Game With Humans
Not all cozy games are farming simulators, some are simple life sims like Animal Crossing and now Moonlight in Garland. In this cozy open-ended life sim, you've moved to the big city of Garland to start a brand new life in the metropolis. Carve out your own slice of heaven amongst the hustle and bustle of the crowd. Choose how to decorate your apartment, who to be friends with and look after your neighbourhood.
Life in the big city can be hard but with Moonlight in Garland, it's less daunting and more cozy. This game is more than just a house decorating simulator, it'll focus on the community aspects of living in your neighbourhood. Just like Stardew Valley, you're encouraged to work together on community projects, solve mysteries and get to know your neighbours. Meet an interesting group of people and maybe even fall in love?
Moonlight in Garland will be coming out on Early Access for the PC and Mac on the 23rd of October 2023.
Life In Garland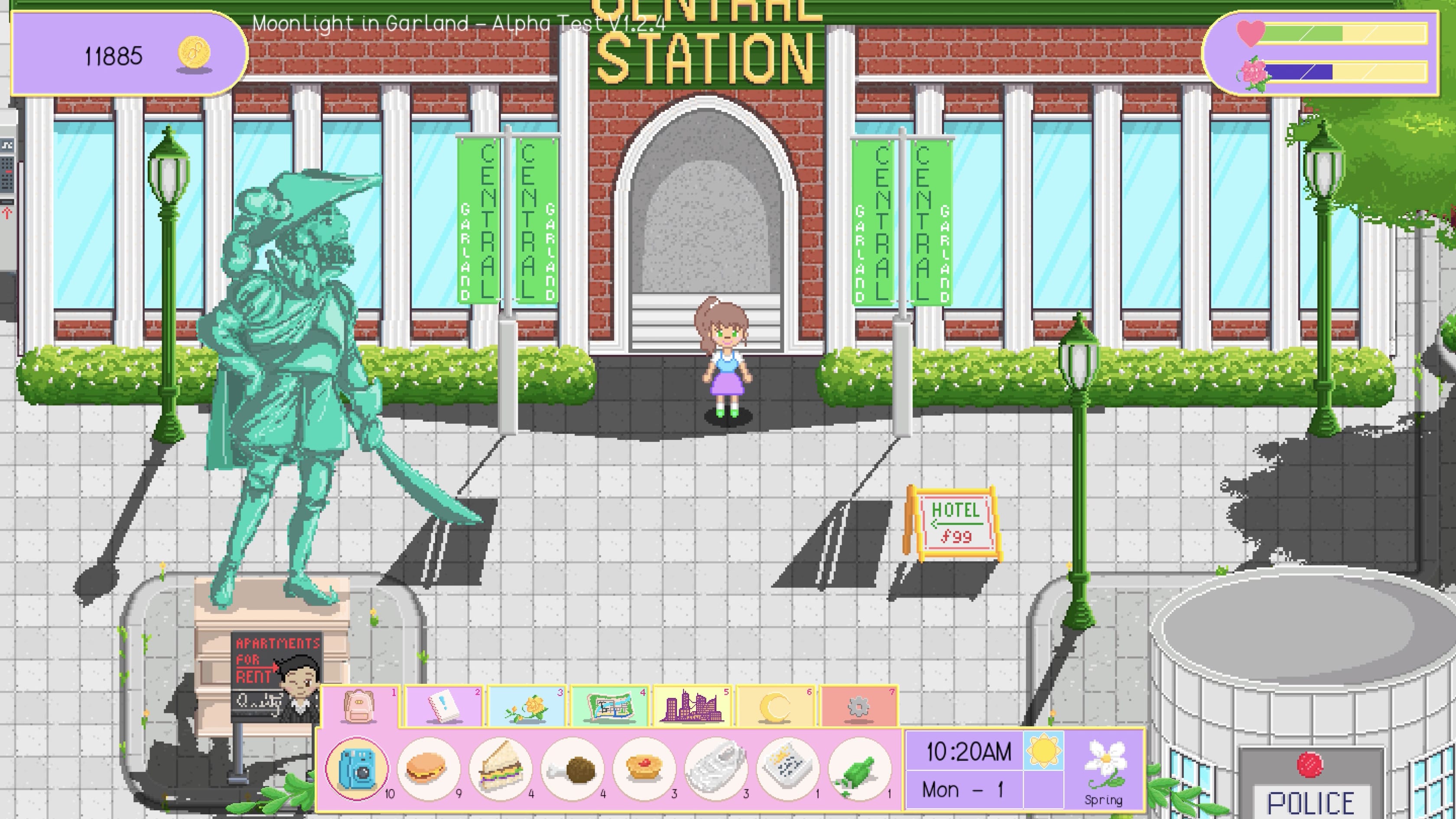 Welcome to the city of Garland! It's a modern city with lots to see and do. The city is divided into five distinct districts so whether you love a stately historical suburb or one that's famous for its nightlife, you'll find it all in Garland. Choose from four different apartments that are set in different neighbourhoods of the city. Each apartment poses its own unique challenges and community projects.
Much like Animal Crossing, you'll start off in a neighbourhood with a lot of potential. But instead of Tom Nook indebting you for it'll be the Garland City Council offering you their loan programme. Pay off your loan by making money and working together with your building manager to solve community problems in your new home. And in time you'll be able to upgrade your building and attract more residents to the neighbourhood.
Depending on where you live these projects could include saving a historical building from being torn down, to finding out which neighbour is stealing packages and more!
The Garland Neighbourhoods
As of the time of writing, before the launch of Moonlight In Garland, this is what we know about the neighbourhoods of Garland.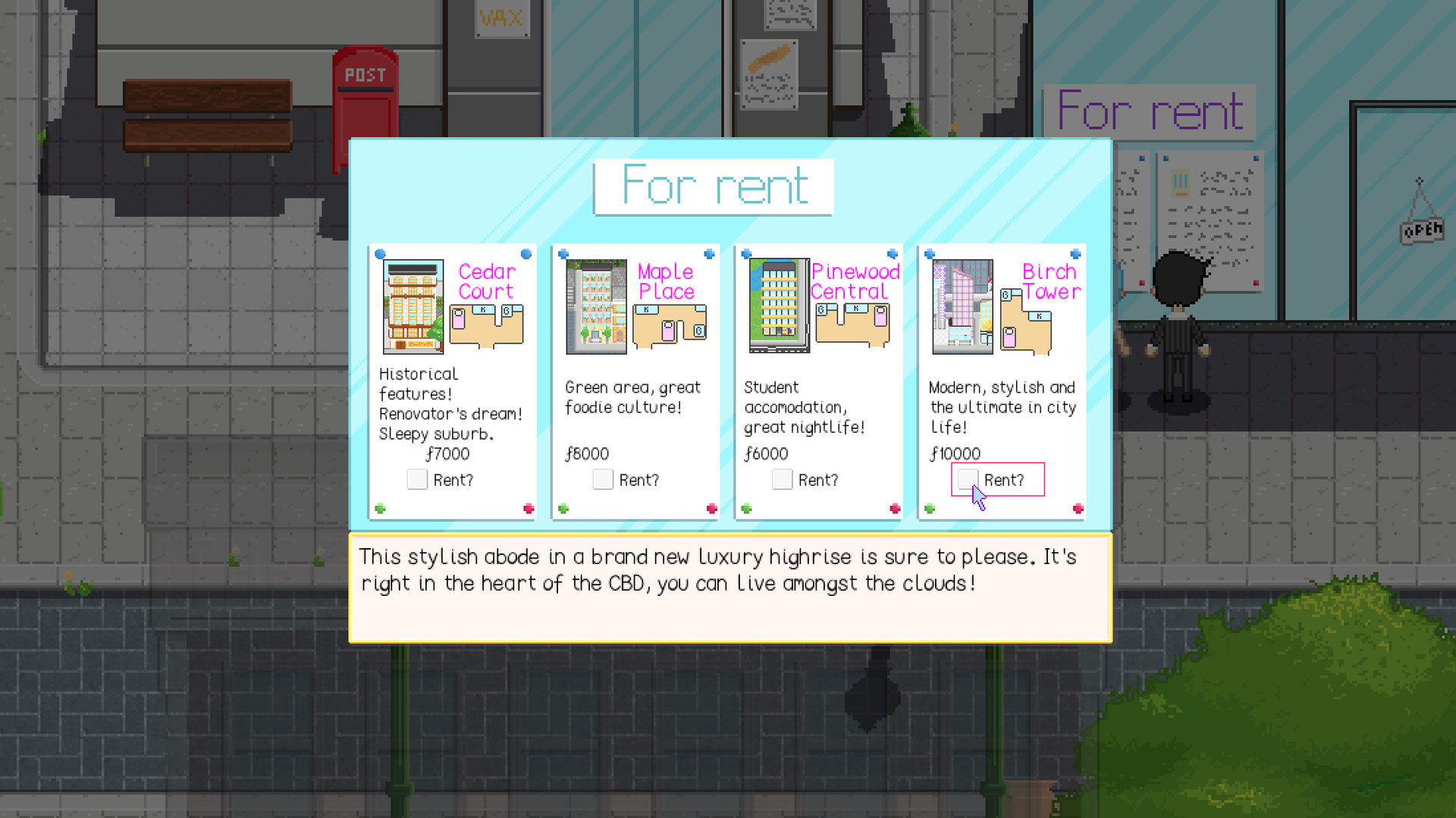 There is Pinewood Central a former student accommodation that has seen better days. This neighbourhood in West Garland is teeming with nightlife. Your apartment will be just steps away from the hottest bars and is the place to be if you're looking to have a good time.
Birch Tower is an ultra-modern apartment in the central business district of Garland. This apartment unit is where comfort meets sophistication. You'll be living it up with state-of-the-art amenities and breathtaking views, in a home that epitomises the urban living experience.
Nestled in the sleepy suburbs of Garland is Cedar Court a historical building in a quiet neighbourhood. The place is a bit of a fixer-upper but what place isn't?
Maple Place is a fairly new building with a focus on greenery and design. The neighbours may be loud but is situated in North Garland where all the best restaurants are.
Your Apartment
Choose from four distinct apartment layouts to create your own little sanctuary in this busy city. Each apartment has its own distinctive layout and it's up to you to decide how you want to decorate it. Collect and curate the perfect fixtures and furnishings for your apartment. And decorate your house with all the house plants that you can manage not to kill! Don't forget as well to keep it clean or you'll find your place infested with dust bunnies!
Love and Relationships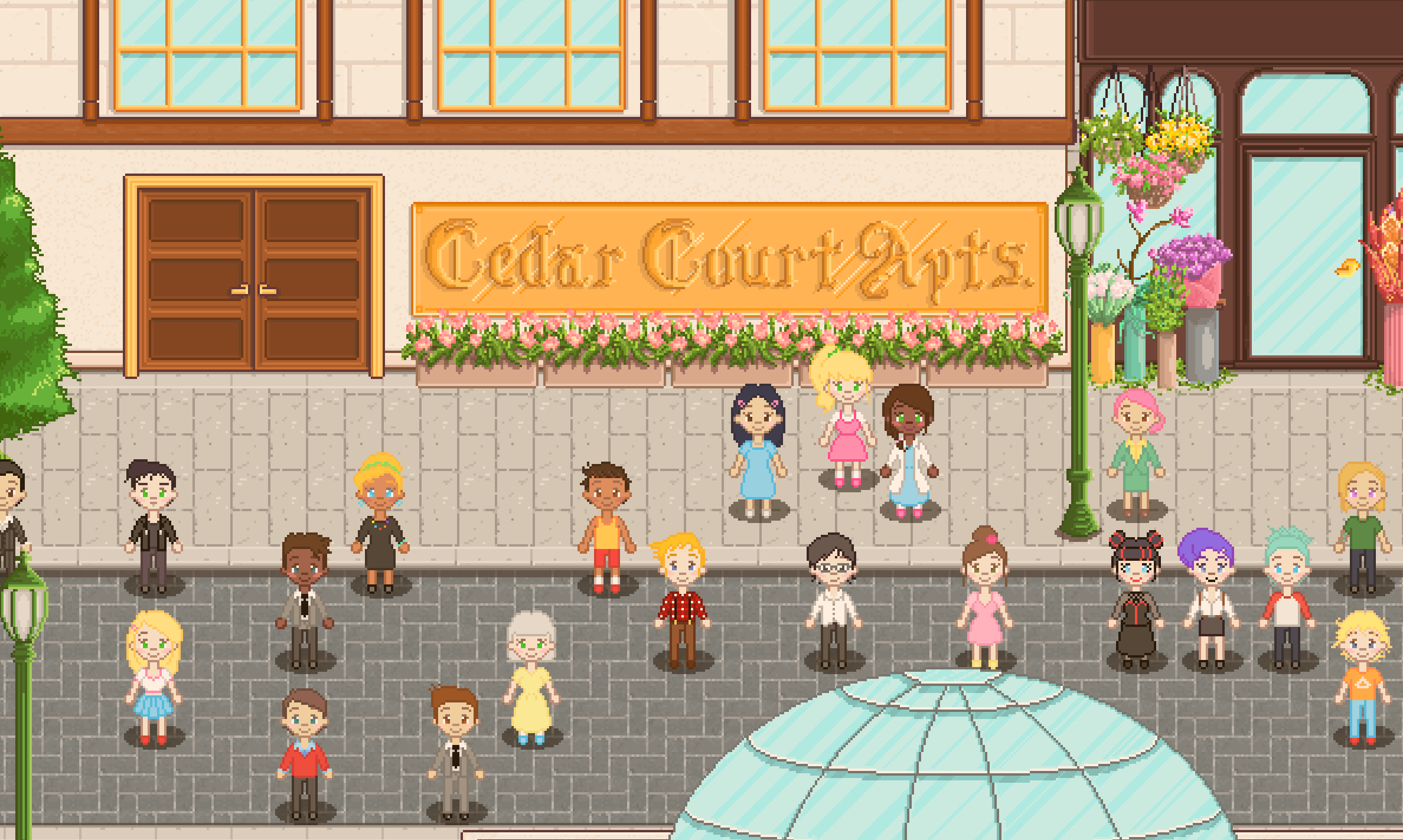 Your days in Moonlight In Garland will be busy helping the neighbours. But you'll also need to find time for a part-time job, participating in festival events and even helping solve local mysteries. With everything going on will you be able to even find love?
The city can be a lonely place but if you're willing to put yourself out there who knows what friends you could meet! Garland is host to a vibrant cast of city folk that you'll encounter in your daily life. You can develop deep friendships with everyone. And for some lucky few you can even develop something deeper.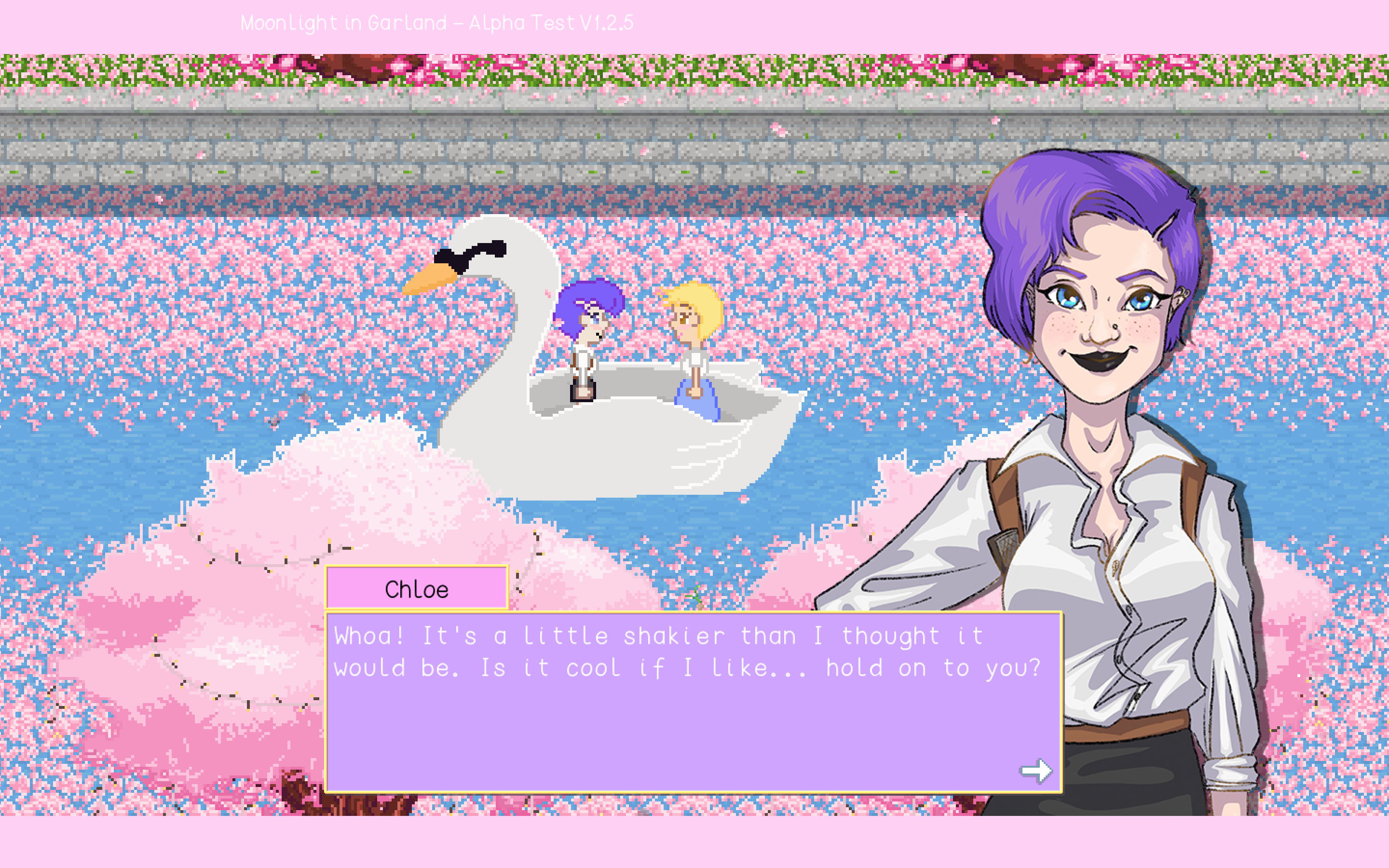 The People You Can Meet
As of the time of writing, before the launch of Moonlight In Garland, these are the people that you can meet.
Finn – A brooding and aloof hipster, he works at the local cinema.
Avery – They love to work with their hands and restore furniture. But what they really want is to be an electrician, if they can get their grades up for it.
Haruka – Haruka just moved to Garland to study business. She chose it because it was a safe choice, but it's not what she's really passionate about.
Kirin – Is studying to be a teacher but is unsure if that's what he really wants in life.
Dan – Pinewood Central's upbeat building manager. He's never seen without a smile on his face.
Ziggy – A former teen pop star who's struggling to get the world to accept his new sound.
Sophie – An aspiring writer that's working two jobs
Jake – A happy-go-lucky boy, he's just trying to live his best life in Garland.
Sage – The chronically overworked shopkeep for almost every store in Garland. She's trying to work off the mass of debt her ex left her.
Harper – She inherited a club on the West Side of Garland and is struggling to revitalise it.
Liv – The building manager of Maple Place. She is a former herpetologist.
April – Curator of the city art gallery, she's just moved to Garland.
Quinn – A shy broker who prefers to stay home gaming rather than going out.
Ryan – A hustle bro personified
Elle – A somewhat jaded influencer
Oliver – Is a building manager
Max – An overworked lawyer with a perchance for Dad jokes.
George – An anthropologist who loves hiking and exploring. Find him in the library working on his grant applications.
Chloe – A private detective.
Hannah – The resident doctor who works at the health clinic in Central Garland. She loves romance movies and playing with her cat Ivy.
Cecile – A regular council volunteer.
Leon – Cedar Court's building manager.
Moonlight In Garland
Moonlight in Garland is a cozy open-ended life-sim that sees you making a new life in the bustling metropolis of Garland. Find an apartment and make it perfectly yours, befriend your neighbours, grow your urban garden, solve community problems and experience all the weirdly wonderful stuff that city living offers.
For more upcoming pixel art games check out our wishlist here. As well as other upcoming games if you love Stardew Valley.