Sea of Stars – All Recipes And Cooking Guide
Sea of Stars is the latest retro turn-based JRPG game that's been updated to the present day. If you loved classic SNES games like Chrono Trigger and Earthbound then you're not going to want to miss this game. In this fantasy world, there are deutagonists that are blessed by the Sun and the Moon and together with their friends they're on a quest to save the world.
The game has more than just great combat, skills and weapons to focus on, there are side quests, cooking and fishing to do in-between. And you'll be surprised at how important and useful fishing and cooking are going to be in Sea of Stars. Not only is there an extensive range of beautiful meals that you can prepare, but eating the right things will boost and replenish your health and magic. Sea of Stars may look like a beautiful and gentle game but the enemies in it can take you down if you're not careful.
In this guide, we'll go through how to cook in Sea of Stars as well as all its recipes and where to find them.
How To Start Cooking
Cooking in Sea of Stars isn't as complicated as other RPGs and farming sims that may require a bunch of different utensils, mini-games or additional materials. Instead, all you need to do is find a pre-built camp while you're on your journey and interact with it. Interacting with a camp will give you the option of "Cook", then all you need is the recipe as well as the right ingredients to cook it.
There are over 20 different recipes in the game which can be found throughout the land, talking to different NPCs and more. We'll go through all of the recipe locations later in this guide. As for the ingredients to the recipes be sure to go fishing whenever you get the chance as well as gather the required materials from the flora along your travels. You can also buy the ingredients from merchants in town.
All Recipes And Locations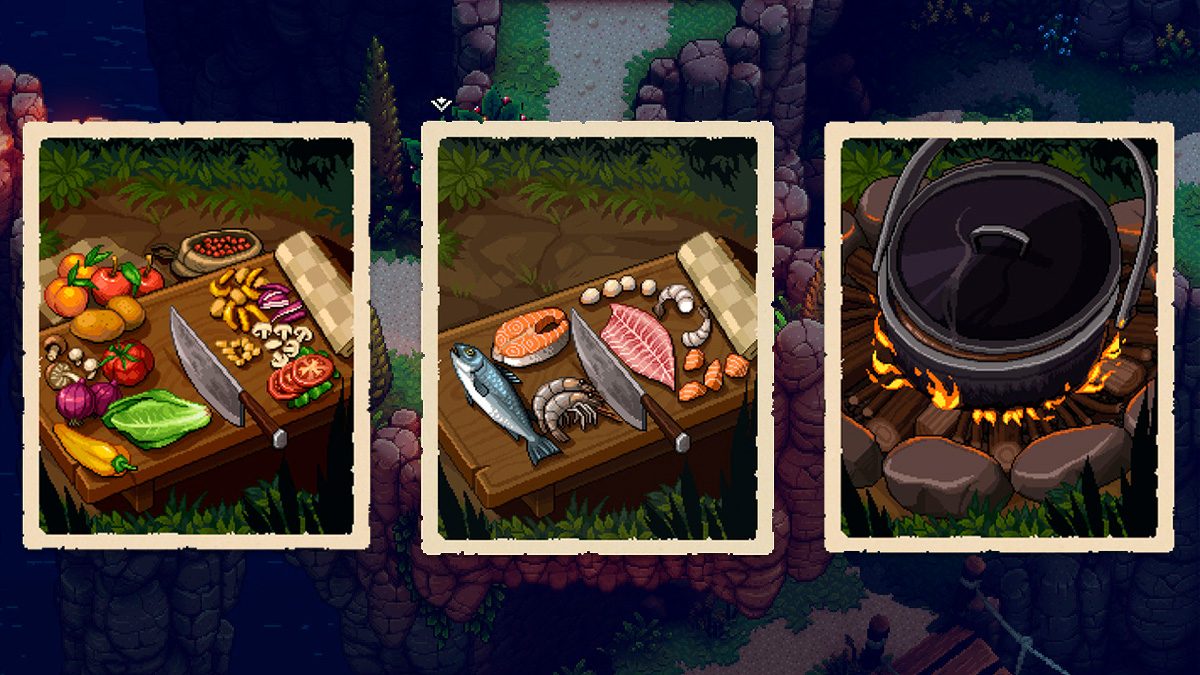 Recipe
Ingredients
Effect
Location
Berry Jam
Red Berries x5
+5 MP
Given by Garl
Chaudrée
Potato x2
Seafood x2
Dairy x1
+8 MP
In a Chest along the Mountain Trail. It's covered by a fog near the waterfall.
Peach Strudel
Peach x3
Egg x2
Grain x1
Dairy x1
+12 MP
Purchased from Cloud Kingdom merchant
Yakitori Shrimp
Seafood x1
+15 MP
Fully restores the MP of an ally
Pudding Chômeur
Fully restores MP of an ally
Rainbow Conch reward (Lake Docarria). Requires 47 Rainbow Conch Shells.
Pain Doré
+9 MP (All)
Purchase from Lost Ones Hamlet (one of the floating souls is an Item Shop)
Tomato Club
Tomato x1
Grain x1
Lettuce x1
+20 HP
Given by Headmaster
Basic Salad
Lettuce x1
Tomato x1
Bell Pepper x1
+35 HP
Given by Garl
Herbed Filet
Fish x2
Grain x1
+50 HP
Given by Garl
Roast Sandwich
Grain x1
Meat x2
+60 HP
Given by Garl
Hearty Stew
+90 HP
Chest in Flooded Graveyard
Sashimi
Fine Fish x1
+155 HP
Chest in Derelict Factory (Seraï's world)
Champion's Omelette
Bell Pepper x3
Tomato x3
Onion x3
Egg x3
+255 HP
Chest in Sacrosanct Spires
Mushroom Soup
Mushroom x6
Dairy x2
+40 HP (All)
Chest in a Moorlands cave
Lasagne
+180 HP (All)
Purchase from Fleshmancer's Lair (Cultists' Room – one of them sells items)
Mushroom Scramble
Mushroom x2
Egg x1
+35 HP
+5 MP
Chest in Elder Mist's Trials (middle path)
Bouillabaisse
Tomato x2
Onion x2
Seafood x2
Fish x2
+110 HP
+6 MP
Purchased from Docari Village Merchant
Gourmet Burger
+175 HP
+7 MP
Purchase from Lost Ones Hamlet
Braisé
Fully restores HP and MP of an ally
Purchase from Fleshmancer's Lair (Cultists' Room)
Mooncradle Fish Pie
Grain x1
Fish x2
Onion x1
Egg x2
Potato x2
Dairy x1
+55 HP (All)
+5 MP (All)
Chest in Haunted Mansion (Dining Area)
Croustade
Apple x6
Grains x2
Dairy x1
Egg x2
Maple Syrup x2
+80 HP (All)
+7 MP (All)
Mirth (must open an Item Shop first)
Surf and Turf Tataki
+135 HP (All)
+8 MP (All)
Sky Base Vending Machine (near the last camp spot)
Legendary Feast
Fully restores HP and MP (All)
Enter the Golden Pelican
Papillote
Potato x3
Onion x2
Cures K.O. with 50% HP
Buy at the Town of Lucent in the Port Town of Brisk (at first). Afterwards, it will be purchasable from most towns.
Parfait
Berries x4
Dairy x1
Grain x1
Maple Syrup x1
Cures K.O. with 75% HP
Underwater Chest in Autumn Hills
Poutine
Cures K.O. with 100% HP
Rainbow Conch reward (Lake Docarria). Requires 35 Rainbow Conch Shells.

Also Available In Fleshmancer's Lair Merchant's Shop.
Sea of Stars
Sea of Stars by Sabotage Studio is a turn-based RPG inspired by the classics. It tells the story of two Children of the Solstice who will combine the powers of the sun and moon to perform Eclipse Magic, the only force capable of fending off the monstrous creations of the evil alchemist known as The Fleshmancer.
The game is out now on the PlayStation 5|4, Xbox, PC – Steam.
Sea of Stars Guides