My Time At Sandrock – Farming Guide & Best Crops Guide (Updated)
My Time At Sandrock is officially out on Early Access on Steam and Epic Games! If you've played the first game of the series, My Time At Portia it's likely you'll be familiar with what this life sim has to offer. But there are still a couple of changes My Time At Sandrock brings to the game. One of the main features that have undergone a revamp is the farming mechanic.
Because Sandrock is a desert town farming is likely to be quite different. Water isn't as plentiful as it was in Portia and you'll need to prep to unlock all the features. Once that's done there's also a variety of crops that can be planted which this guide will help you to maximise as well.
Here's our My Time At Sandrock farming guide!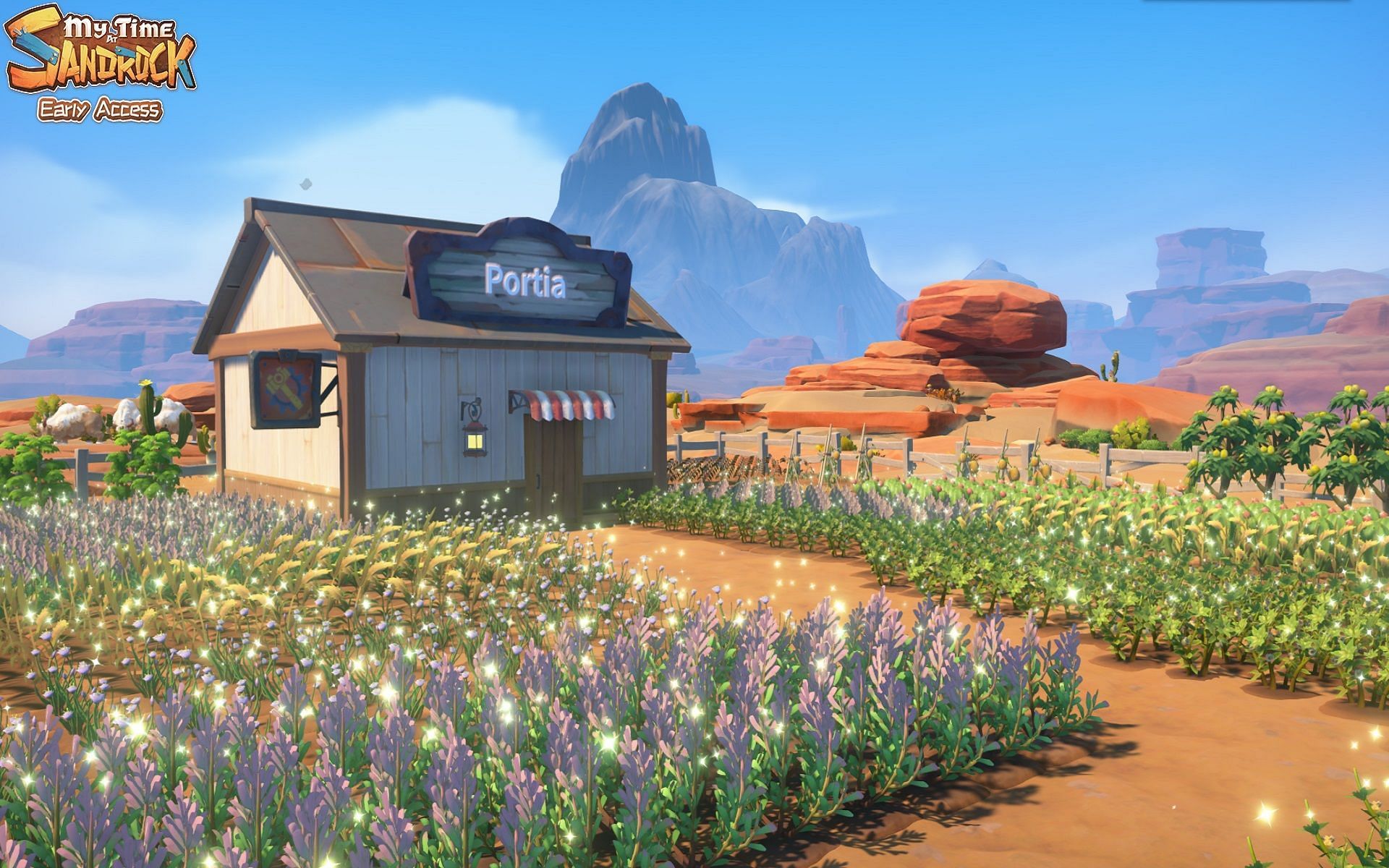 Note: This article has been updated from May 2023.
Disclaimer: My Time At Sandrock was released on the 26th of May 2022 in Early Access. As such information in this guide is subject to changes and additions. We'll be adding more to this guide as the game updates!
How To Unlock Farming In My Time At Sandrock
You won't have the ability to farm right out of the gate when you begin My Time At Sandrock. Instead, you'll need to go through a series of missions to unlock the mechanic. These are:
The Old Man and the Tree
Moisture Farm Blues
The Grass Is Greener
Once these Missions are complete, you'll be able to activate a Desert Planting Toolkit which permanently grants you the ability to farm.
You'll get these missions assigned to you by Zeke, the manager of the City's Moisture Farm. Together you and the Civil Corps will defend his farm from Geeglers, as well as help him rebuild his Hydrogel.
At the end of this questline, you'll receive the Desert Planting Toolkit!
The Desert Planting Toolkit
With the Desert Planting Toolkit, you can activate Planting Mode on your farm! Simply hold Tab and select the bottom-right icon while at home. Open it up in the location where you'll like to set up your farm and then start creating Straw Grids.
Straw Grids are designated plots of land for farming. Some plants (such as trees) may require more than one Straw Grid. Once you've allocated your Straw Grid simply pick your seed to plant and water it. Then water and wait to harvest! Essentially the steps are:
Create and place a Straw Grid
Apply Biocrust
Plant Seed
Water
Apply Fertilizer (optional)
Harvest / Root Out Plant / Remove Soil
It's worth noting that if you forget to water your crops they will die. You can also optionally choose to fertilise your crops to increase their yield.
The Most Profitable Crops
The most profitable crop is generally not always the best crop for your situation. You'll likely also be growing other crops for cooking, requests etc. But in the broad sense for My Time At Sandrock if you want to focus on pure profit then you'll want to focus on growing the Coffee Tea Tree and/or the Chestnut tree.
These trees take longer than average to grow, but they'll continue to produce crops multiple times after they've grown.
My Time at Sandrock Crops List
You can find seeds by knocking them out in the wild or by purchasing them from the Farm Store or Water World for Data Discs. In Sandrock, plants can grow all season but some plants will grow faster in their more optimal months of growth.
Crop
Growth
Regrowth
Harvest
Water per day
Fertilizer
Seed Price
Seed Sell Price
Fruit Sell Price
Broad Bean
5 Days – Spring, Autumn, Winter

7.6 Days – Summer
• 6.5x Beans
• 2x Plant Fiber
• 1x Broad Bean Seed
2
2
–
7g
Cactus
6 Days
• 3x Cactus Fruit
• 2x Cactus Leaf
• 5x Cactus Spine
• 1x Cactus Seed
1
2
2 Data Discs
6g
• 1g – Fruit
• 5g – Leaf
• 2g – Spine

Chestnut
16 Days
4 Days
• 35x Chestnut
• 1x Chestnut Seed
2
2
68g
24g
3g
Coffee Tea Tree
23 Days – Spring, Autumn

25 Days – Summer

31 Days – Winter
5 Days – Spring, Autumn

5.6 Days – Summer

6.7 Days – Winter
• 18x Tea Leaves
• 12x Coffee Beans
2
2
5 Data Discs
35g
• 12g – Tea Leaves
• 14g – Coffee Beans

Desert Mushroom
6 Days – Summer

9 Days – Spring, Autumn, Winter
• 7x Desert Mushroom
• 1x Desert Mushroom Strains
2
2
–
7g
5g
Jute Cantaloupe
7 Days – Summer

9 Days – Spring, Autumn

10 Days – Winter
• 15x Jute
• 8x Cantaloupe
• 1x Jute Cantaloupe Seed
2.5
2
68g
24g
• 4g – Jute
• 16g – Cantaloupe
Mountain Rose
7 Days – Spring, Autumn, Winter

9 Days – Summer
• 15x Mountain Rose
• 1x Mountain Rose Seed
2
2
34g
10g
16g
Pomato
5 Days – Spring, Autumn

6.7 Days – Summer, Winter
• 5x Potato
• 5x Tomato
• 1x Pomato Seed
2.5
2
2 Data Discs
7g
• 5g – Potato
• 6g – Tomato
Raspberry
6 Days
• 5x Raspberry
• 1x Plant Fiber
• 1x Raspberry Seed
2
2
20g
6g
10g
Rhino Horn Cactus
12 Days
• 7.7x Rhino Horn Cactus
• 1x Rhino Horn Seed
1
2
48g
14g
38g
Rose Willow
4 Days
• 4x Wood
• 12x Plant Fiber
• 1x Rose Willow Seed
2
2
12g
4g
Sand Leek
4 Days
• 6.8x Sand Leek
• 1x Sand Leek Seed
2
2
1 Data Disc
6g
5g
Sandrice
3 Days
• 6.4x Sandrice
• 1x Sandrice Seed
1
2
1 Data Disc
4g
2g
Sweet Potato Pepper
8 Days – Spring, Summer, Autumn

11 Days – Winter
• 9x Chilli
• 9x Sweet Potato
• 1x Sweet Potato Seed
2
2
24g
7g
• 4g – Chili
• 4g – Sweet Potato
Wheat
3 Days – Spring, Summer, Autumn

4.5 Days – Winter
• 12x Wheat
• 1x Plant Fiber
• 1x Wheat Seed
2
2
1 Data Disc
3g
2g
My Time At Sandrock Guides
Tagged:
alliance of free cities
builder
desert planting toolkit
early-access
epic games
eufaula desert
farming
fishing
indie game
martle's oasis
mining
multiplayer
my time at portia
my time at sandrock
pathea games
planting toolkit
sandfishing
sandrock
steam
workshop
zeke