Palia – Everything To Get Excited About
Palia is an upcoming fantasy MMORPG that focuses on both combat and adventure as well as the more cosy aspects of gaming, such as cooking, fishing and decorating your house. Imagine your favourite life and farming sim, but combined with a magical adventure and of course your friends!
In this land, the human race used to reign supreme until they disappeared one day. Now after time and age have passed, humans have begun to reappear again in this world. You and your friends will play as one of these newly emerged humans to forge a future for yourself and humanity.
Palia begins their closed beta on August 2nd (sign up here), and if you miss that out their open beta will begin pretty quickly after that on August 10th 2023. There will be no wipes between the beta and Palia's live launch, which means all of your progress won't be lost.
In this article, we'll go through everything that you can do in Palia when it launches. What the gameplay looks like, the world, characters and all its fun features! As expected of a live service game these features and gameplay will be ever-evolving and subject to change at launch.
Quick Links
Explore The World of Palia
Palia is a gorgeous picturesque fantasy world ready for you to explore! While not exactly comparable to the world map of Red Dead Redemption and The Witcher the team at Singularity 6 expect to expand it over time. You'll start your journey in the main area of Kilimia Village and then choose to explore its outside area.
"At launch, only a small portion of that world will be accessible, but we plan to continuously expand the playable space over time."
"It's also important to keep in mind that our core reference genre is community simulation. Games in this genre do a lot with a comparably smaller landmass than what is typical of Open World games. In general, our focus is on depth, variance, and replayability in our maps over massive breadth."
It looks like exploration in Palia will play out similarly to games such as Genshin Impact and Breath of the Wild. With players being able to scale hills and mountains. As well as glide from heights all over the world.
Gameplay: Skills
In Palia you can do a great number of things that just like in life, if you do long enough and can gain experience then you'll be able to level up. In Palia there are eight main skills for you to focus your energy on and every time you spend time honing that skill you'll earn experience and fill up your progression bar.
Progressing in a skill will earn you medals that can be exchanged for rewards like furniture rare materials, recipes or other exclusive items. Skills will have limitless level caps, but if you're short of time and playing in a group you can potentially assign people to specialise in certain ones.
Certain skills will also have Skill Masters who will mentor the player. These Skill Masters will help you gain experience in specific skills, which we'll talk more about later.
Foraging
Foraging is one of the first skills a player can learn and it can be done by chopping trees and collecting whatever items you find in the wilderness.
Use an Axe to harvest wood and other crafting necessities needed from trees. You'll also find useful bits, bobs, blooms, and mushrooms scattered about the fields.
Gardening
Food is one of the essential parts of life and it's the same in Palia. In this world, your food source can come from buying it at the village, hunting animals in the forest and of course farming them on your own plot of land. With this skill, you'll just need two tools – the Hoe and the Watering Can.
Based on the video it seems pretty straightforward, you'll need to till the ground, plant seeds, water them and wait for them to grow. We don't have any details on the types of crops but I do see a lot of carrots in the gameplay trailer.
Skill Master: Badruu
Hunting
Meat doesn't grow on trees so you'll need to hunt it down yourself! The wilderness of Palia is home to abundant wildlife. With your trusty bow and arrow, you'll be able to chase down wild Chapaas and Sernuks across fields, forests, and mountains.
These nifty animals also drop useful crafting ingredients such as antlers and leather, so make sure not to waste and collect all parts of them.
Skill Master: Hassian
Cooking
Cooking is one of the fun parts of any life sim and in this world, there are a wide array of recipes to learn and ingredients to choose from. Not just a visual treat for you, food can impact the way you play your game by giving you buffs and more.
If you're looking for a little hectic fun, invite your friends to join in cooking the more complicated recipes with you and host a potluck!
Skill Master: Reth
Mining
From soft clay deposits to heavy stone, to metals as useful as copper and iron or as rare as gold, your Pickaxe will help you bring those precious ores home.
Skill Master: Hodari
Fishing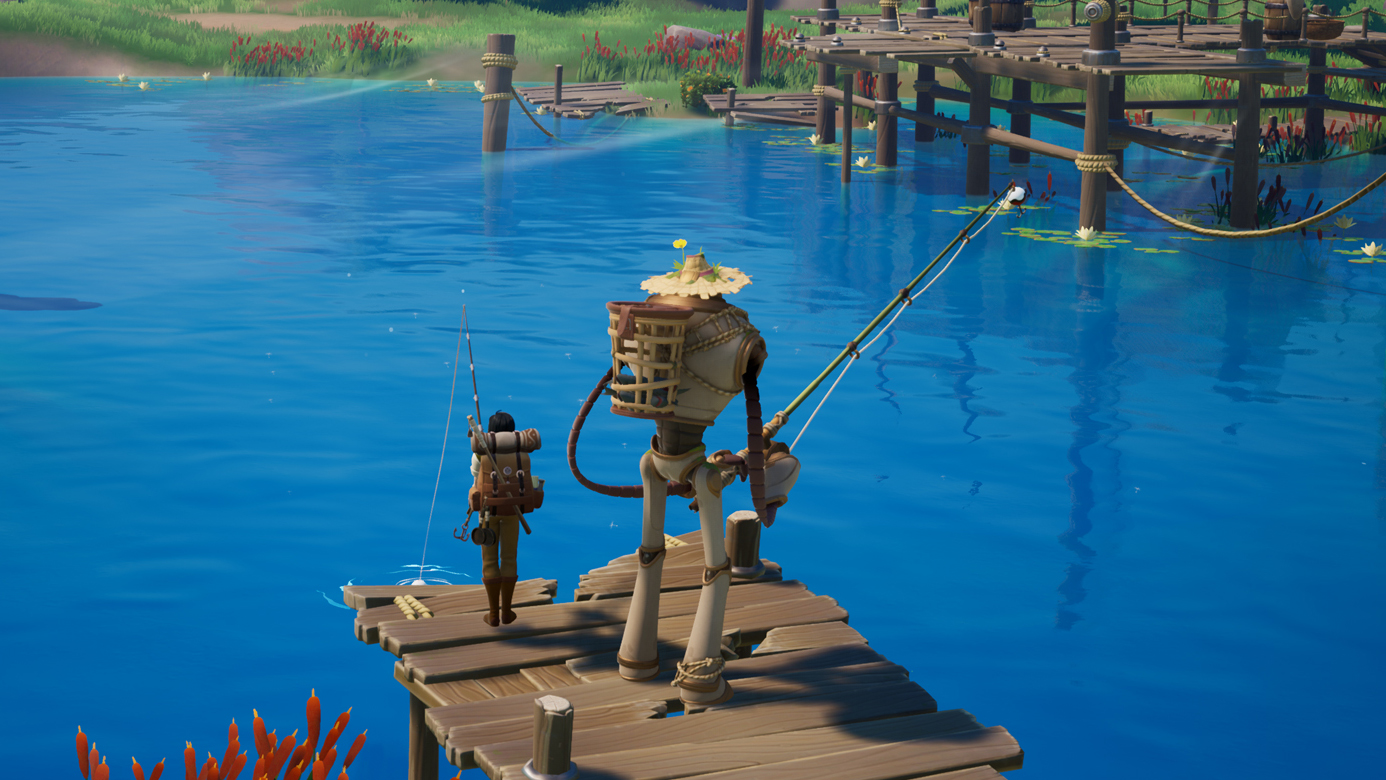 Palia is home to a wide variety of water bodies and these places are teaming with fish. Cast a line where in a river, lake or beach to catch different kinds of fish. You can spot them by the little bubbles they make under the surface.
If one particular species is proving to be elusive, try testing different kinds of equipment and bait, fish at different times of day, or visit different areas.
Skill Master: Einar
Insect Catching
If you're a budding entomologist, you'll be thrilled to pick up Auni's traps and try your hand at Insect Catching. Palia's bursting with biodiversity, from dizzyingly fast dragonflies to a dazzling rainbow of butterflies and moths, not to mention a rare bug or two. But these crawlies aren't creepy – and if you find one you think is cute enough, you might even consider keeping it as a buddy in your house.
Skill Master: Auni
Furniture Making
Crafting in Palia appears to be focused on helping you decorate your perfect home. There are a wide variety of decoration options in whatever style you might desire. Whether you prefer cosy, cottagecore vibes or tend toward sleek, shiny, and industrial, there's sure to be a style that makes your house feel like a home.
Simply gather the required items and fix them up on your Workbench and install it in your house.
Skill Master: Tish
Form Relationships With The People of Palia
One of the major features of the game is the ability to speak, become friends, and even romance the NPC characters that live in Palia. There are twenty-three villagers for you to get to know, and they all have their own backgrounds, likes, dislikes, and developing stories that you can uncover.
Palia's Villagers are designed for depth and features complex, interconnected stories. As EmbrasAshes, our Narrative Lead explains, "We always want to make sure that the characters in Palia feel rich and meaningful. Taking the time to make sure they have deep backstories and connections with other characters is very important to us, including both new romance and friendship options."
The time you will spend getting to know our Villagers adds depth to the entire world, giving players unique story threads to follow, putting more puzzle pieces together with each conversation. As the puzzle comes together, you may uncover even more mysteries that keep you digging deeper.
We'll go through all the NPC residents of Palia in this article here.
Build A Home
When you start off your journey you'll only have a workbench and a tent to your name. But it won't be long before you're harvesting materials from crafters, building up furniture, and setting up a solid house!
The house you build and choose to decorate can come in a variety of styles. Choose what furniture you want, and build your own library, kitchen and even home aquarium. Your dream house is whatever you want it to be. And as you progress in the game with all these skills, you'll also be able to build, decorate, and expand the home.
Serious decorators can choose from the snap-to-grid option or even toggle to freeform placement to perfectly bring together a room's showcase centrepiece. Whether you create a cosy one-room cabin or a spacious abode, the possibilities are endless.
Multiplayer
One of the biggest draws of Palia and any MMORPG is the ability to play together with your friends, or even make new ones! If you've played Stardew Valley in multiplayer you'll know what I'm talking about but if you're new to the game these are some of the multiplayer features you can look forward to.
When playing in Palia with your friends you'll be able to harvest and forage resources together! The loot will be shared amongst everyone that has participated, making collecting ores and wood easier. You'll also be able to decorate your houses together, give them editing access to your home and once that's all done you can cook up a great meal together.
I don't know yet how quests, stories and even NPC romances are affected in multiplayer.
Palia
Palia by Singularity 6 is a free-to-play cosy fantasy MMORPG inspired by Animal Crossing and Stardew Valley. The game will be out on PC for closed beta on August 2nd 2023 and open beta on August 10th 2023, sign up here to get registered!
The game is expected to come out on the Nintendo Switch in Winter 2023.
Palia Articles