Tiny Bookshop – An Idyllic Life, Selling Books
When I was younger the height of fantasy was dragons, adventure and saving the world. Now that I'm older all I want to do is live a quiet life by the sea selling books. And neoludic games is making that happen with their upcoming game Tiny Bookshop.
In Tiny Bookshop you leave everything behind to open a tiny traveling bookshop by the sea. You'll be in charge of stocking your shop with books in scenic locations in a small seaside town. Get to know the locals and sell them books, in this delightfully idyllic narrative book management game.
Become A Tiny Bookshop Keeper
You've decided to open your Tiny Bookshop on wheels in the quaint seaside town of Bookstonbury-by-the-Sea. In this charming town there are plenty of places for you to explore and set up shop. Do you want to locate outside the town's popular (and only) cafe? Do you want to be more adventurous and set up by the lighthouse? It's up to you!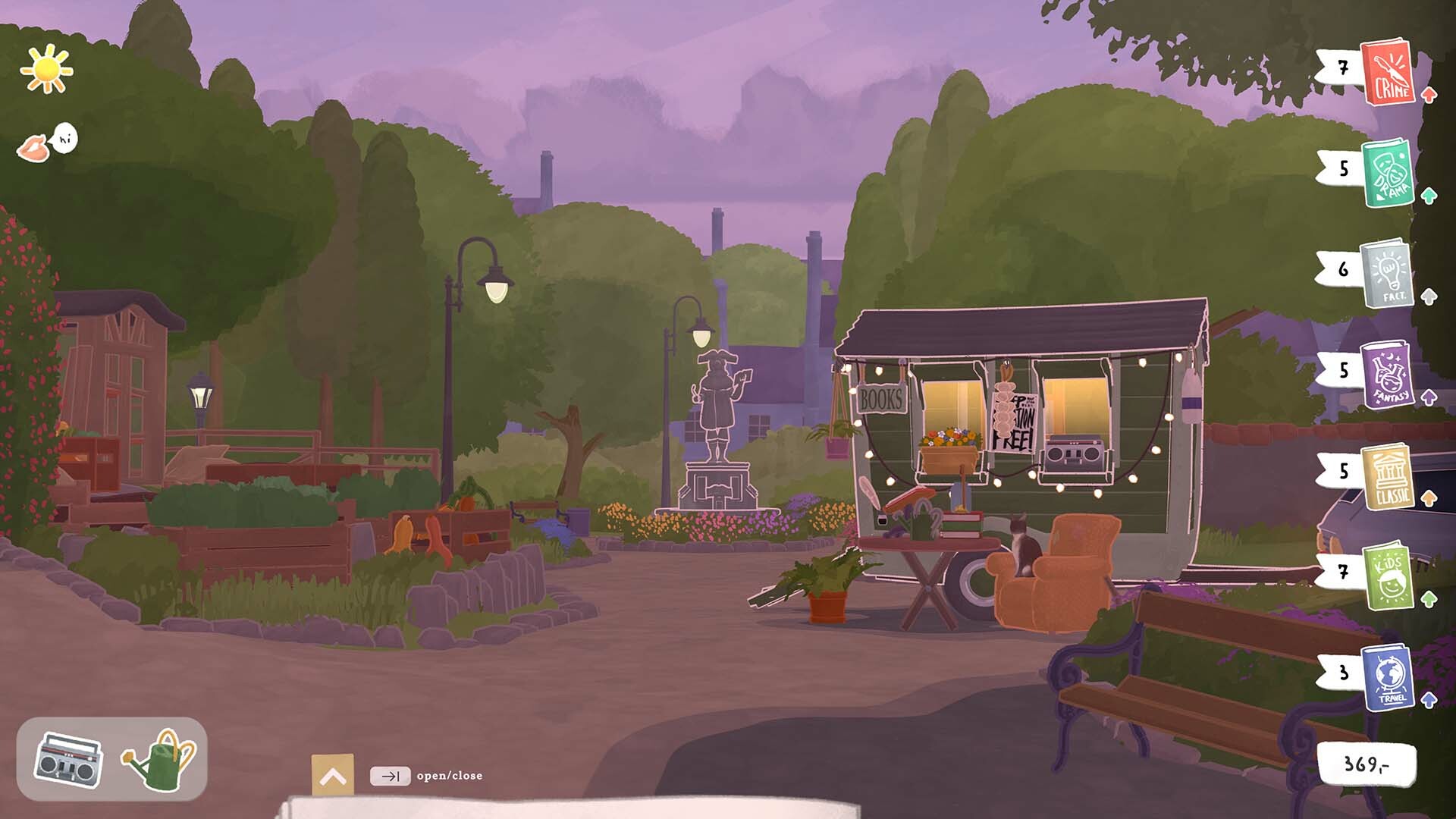 Each day in Tiny Bookshop you'll start off by reading the local newspaper. This will let you know about upcoming events, reviews and what you can purchase for the day. Read ads to acquire new books (some of which are even free) or find new locations that you can sell your books at.
Much like most shopkeeper management games you'll need to balance buying inventory with upgrades as well as space rental for your bookshop. You can customise your Tiny Bookshop with items you collect or books you find. And once you've settled in on a place to sell for the day you'll need to set up your bookstore, displaying what titles you want on the shelf.
Stock books of different genres to satisfy the locals' reading habits and watch your customers trickle in. Choose how you want to display them and then start selling! Most of the customers that come in will be dressed in the colors of the book genre they want. If you have a tome of that colour, they are more likely to buy it.
Learn About Your Customers And The Community
The gameplay mechanics of Tiny Bookshop is pretty straightforward and peaceful. But where this game really starts to shine is when you start talking to the people in the community. These customers will come in and introduce themselves to you, giving you tidbits of their story and the town.
The more you talk to them the more they'll open up to you and eventually become your friend. Sometimes you'll be able help them by solving mysteries and of course finding them the perfect book. Where you go each day, which items you bring, and the way that you interact with the people around you all shape the course of the town's stories – and your own.
Tiny Bookshop
Tiny Bookshop won the Most Charming Game Award in the Indie Cup 2022 and it's not hard to see why. So far the developers neoludic games don't have a confirmed release date. But it's currently available to wishlist and looks to be out sometimes in 2024 for the PC – Steam, Mac, SteamOS and iPad.
If you're looking for more cozy indie games to check out be sure to have a look at Grimoire Groves – A Gardening Dungeon Crawler. Or Camper Van: Make It Home that will take you on a peaceful roadtrip adventure.