10 Upcoming Games If You Love Studio Ghibli
Studio Ghibli has changed the face of Japanese anime and even in this modern era of sophisticated cinematics, these movies have remained timeless classics. When you say Studio Ghibli you immediately imagine fantastical worlds, hand-drawn art and a beautiful and touching story.
The studio's works have inspired so much art in the present day from everything from movies to video games. Even the iconic Legend of Zelda: Breath of the Wild was inspired by the art style of Studio Ghibli.
Now here's a list of upcoming games for you to wishlist that have been inspired by the studio.
Europa
By Helder Pinto, Future Friends Games
Europa is a peaceful exploration and adventure game set on the smallest of Jupiter's four moons – Europa. The moon has been lushly terraformed with a breathtaking world of lakes, mountains and meadows for you to explore. In Europa, you play as an android named Zee who is searching for answers in the fallen utopia. You're equipped with a jetpack and other tools that will allow you to flow freely in the sky, glide, run and solve the mystery of this moon.
Just looking at the world building of Europa and you can see how influenced the game is by Studio Ghibli's art style. If you close one eye it even looks like a new Legend of Zelda game as well. With a plotline that will tell an "intimate story about growing up and humanity's relationship with nature". If that doesn't say Ghibli then I don't know what will.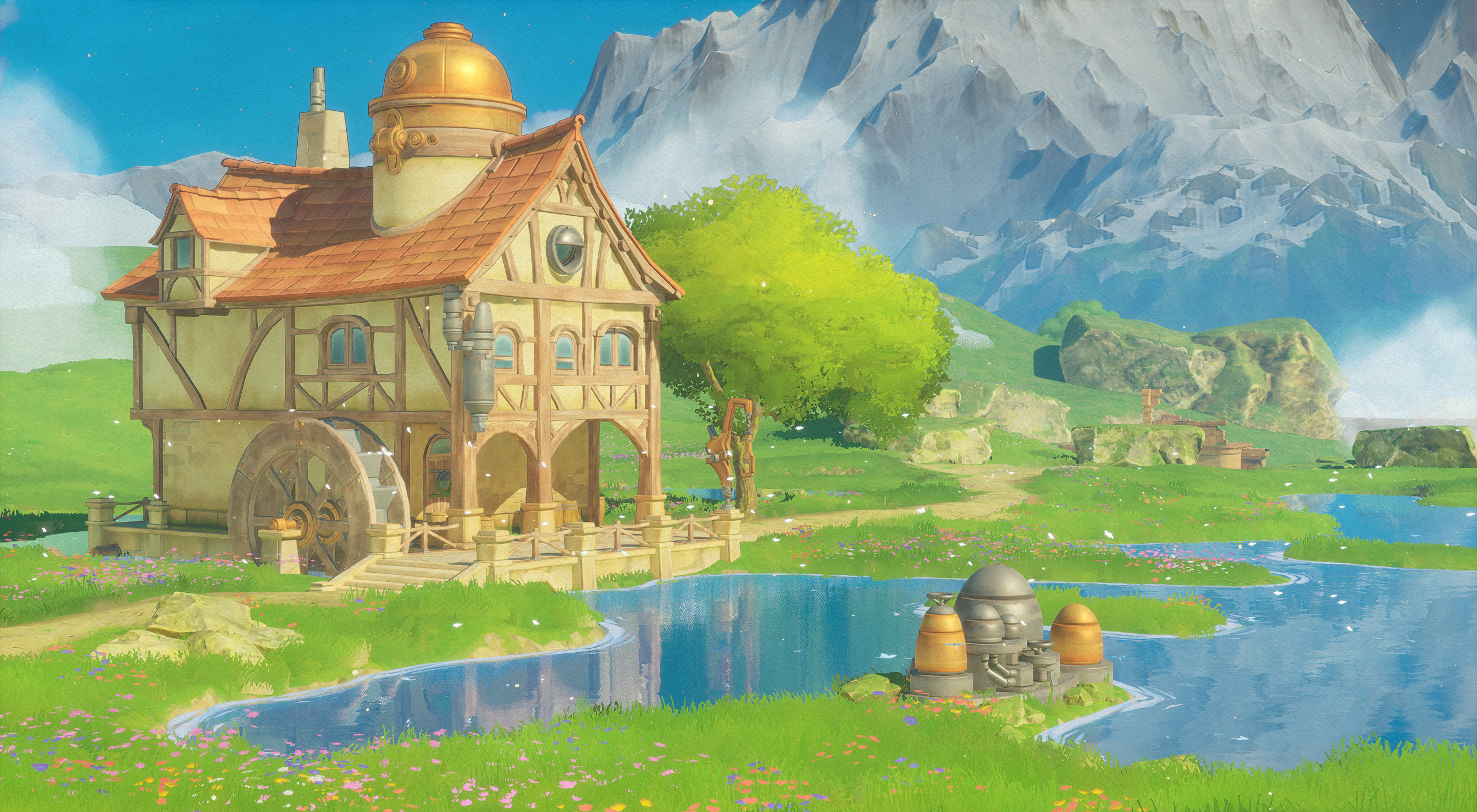 Europa is available to wishlist on Steam now.
Platforms: PC
Kloa – Child of the Forest
By Wildpad Games, Crytivo
Kloa – Child of the Forest is a lush action-adventure game that blends the nature-infused emotional stories of Studio Ghibli with the classic puzzle mechanics and combat of The Legend of Zelda. Two franchises as we can see that pair so well together. Inspired by the "bittersweet and colourful stories" of Studio Ghibli, Kloa follows a young girl who must save the world from the Ikari Curse. The curse has tainted the land and has filled it with mysterious and twisted creatures.
Together with Kloa, you will travel across different landscapes – ranging from forests full of life to dark caverns of fire. The hand-drawn pixel world is full of diverse fauna and flora, combined together with an orchestral soundtrack inspired by traditional Japanese music.
Kloa – Child of the Forest was fully funded on Kickstarter in August 2022 but has no official release date yet. Wishlist it on Steam to stay updated.
Platforms: Nintendo Switch, PC
Spirittea
By Cheesemaster Games, No More Robots
Spirittea is a bathhouse management sim that has you soothing the tempers of angry spirits. And the phrase 'spirit bath house' is most likely going to conjure only one movie to mind, Studio Ghibli's iconic Spirited Away. In this one, the story plays somewhat similarly but imagine that instead of going on the rest of Chihiro's journey you're Yubaba.
In Spirittea your character has moved to a rural mountain town in the countryside. The town has been plagued by natural disasters and after drinking from an ancient teapot, you gain the ability to see into the spirit world. It's here that you discover that the town is haunted by a bunch of angry spirits and by re-opening the old bathhouse you'll help those angry spirits relax.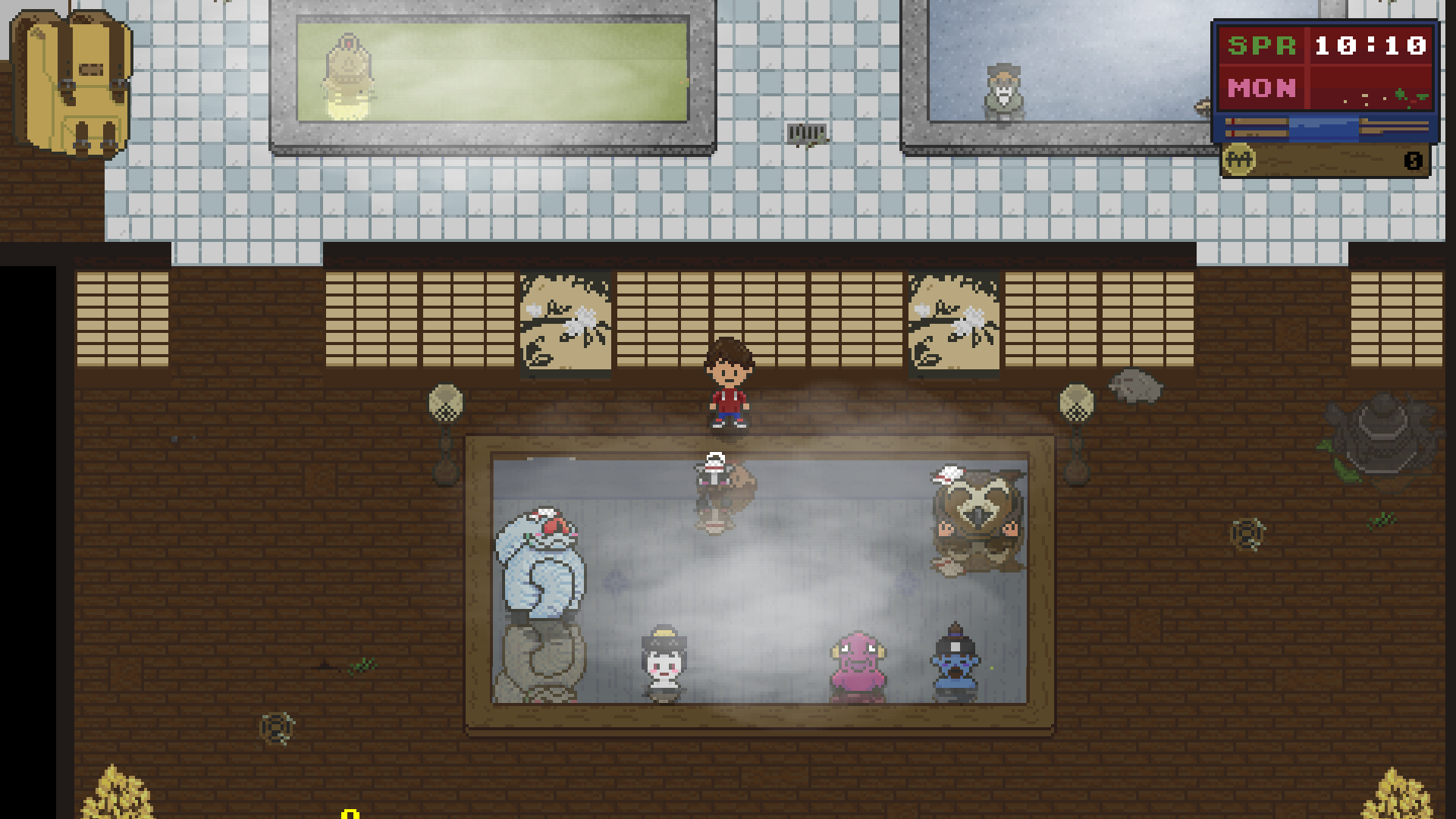 For more information on Spirittea be sure to check our article here.
Platforms: Xbox, Nintendo Switch, PC
Way To The Woods
By onepixel.dog
Way To The Woods is inspired by Princess Mononoke and it's easy to how. In Way To The Woods you follow the journey of a deer and fawn as they travel through an unknown world to find their way home. It is a beautiful and intriguing backdrop that focuses on the relationship between the two deer.
Gifted the power of light, the deer and fawn must power through environments seeped in oil. And help to clear through the mess left behind by pollution and destruction. It is a silent and evocative game with a simple but effective story, full of discovery, adventure and companionship.
Way To The Woods is available to wishlist on Steam now.
Platforms: PlayStation, Xbox, Nintendo Switch, PC
Mika and The Witch's Mountain
By Chibig, Nukefist
No prizes for guessing the inspiration of this Studio Ghibli-esque game. Mika and The Witch's Mountain looks like a fun video game version of Kiki's Delivery Service and in fact, the game premise seems about the same. Mika is an aspiring witch who delivers packages on her broomstick to the townspeople of a small island.
Mika's desire is to reach the top of Witch's Mountain where she believes that the answers to many of life's questions and magic await her. The bright and colourful style of this game is very reminiscent of the movie. As well as the quirky and light-hearted inhabitants of the town which you'll meet.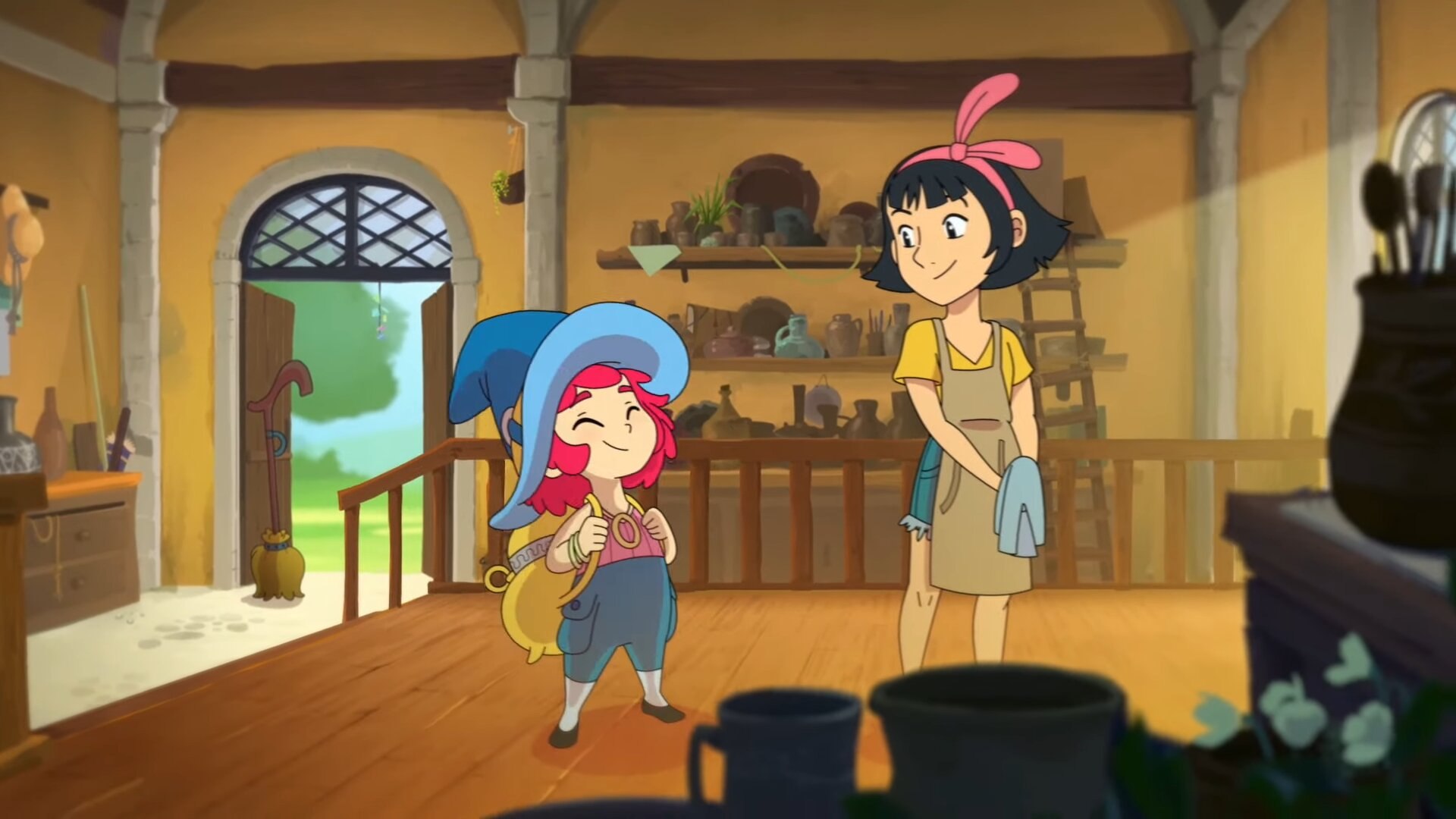 Mika and The Witch's Mountain is available to wishlist on Steam now.
Platforms: PlayStation, Xbox, Nintendo Switch, PC
No More Fathers
By Isaiah Toth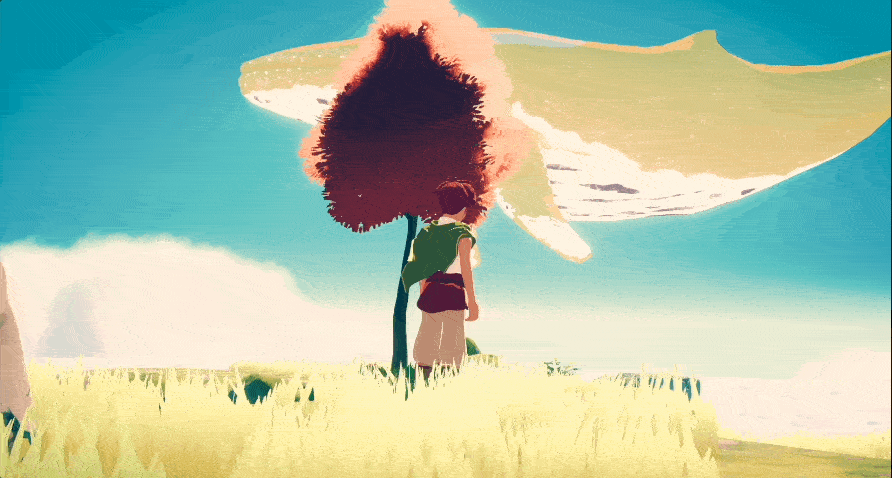 No More Fathers looks almost like The Legend of Zelda: Skyward Sword or even Tears of the Kingdom. It is set high above the clouds amongst a mysterious world of unexplored islands. In this high-flying, exploration, puzzle adventure game, a young boy looking for answers to the questions of his fatherless life, led by an ancient wind.
Learn the truth about the past of the islands and yourself. Visit corrupted forests and islands lost to darkness while solving puzzles to help restore The Wind and life to the islands. This looks to be an emotional story that has you bonded with nature. That coupled with the hand-painted aesthetic just screams Studio Ghibli.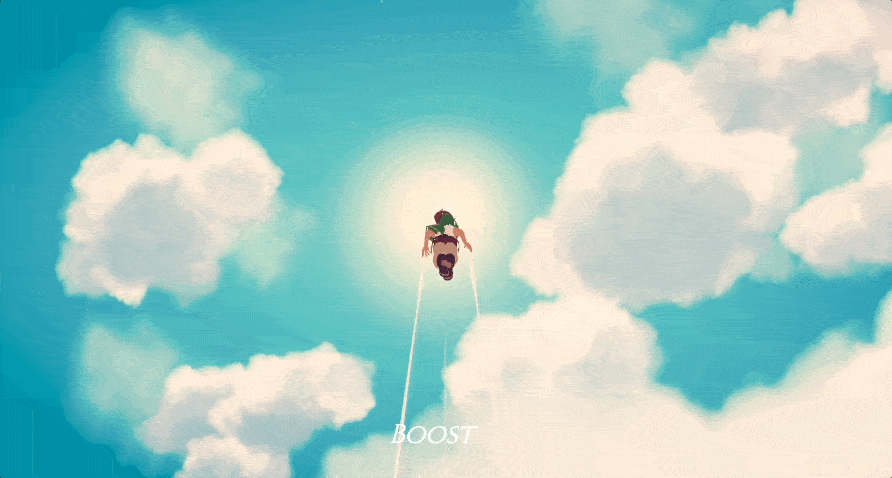 No More Fathers is available to wishlist on Steam now.
Platforms: PC
Dordogne
By UN JE NE SAIS QUOI, UMANIMATION, Focus Entertainment
The hand-painted watercolour world of Dordogne holds an emotional story that is very fitting with Studio Ghibli's dreamy style. In this upcoming narrative game, we'll discover a touching story that revolves around family relationships.
Our protagonist Mimi is a grown woman returning to her childhood Summer home after her grandmother's death. Here we'll explore Mimi's life in the past and present as we uncover family secrets and take a look at how our choices affected our lives in the present. This is a gorgeous game that I can't wait to play. Just get ready for all the feels! As it's out on the 14th of June 2023.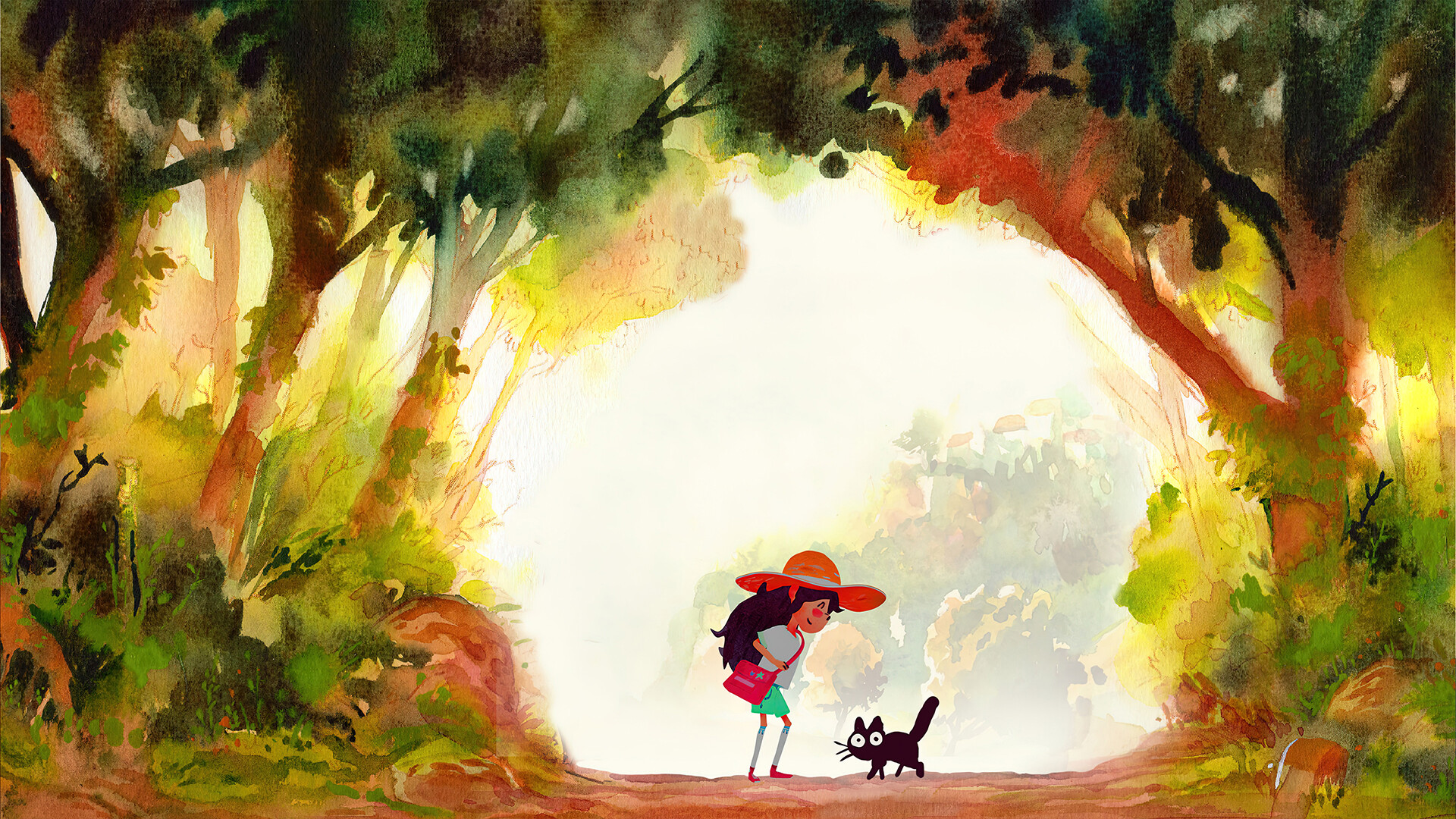 Dordogne is available to wishlist on Steam now.
Platforms: PlayStation, Xbox One, Nintendo Switch, PC
Yokai Inn
By ShibaPixels
Another Spirited Away-inspired game is Yokai Inn. An upcoming life-sim where you run and manage an inn for spirits. In this game, you'll be able to farm, cook, craft, raise animals, and befriend both humans and yokai.
Taking place during the Taishō era in Japan, meet the yokai lurking between the bounds of tradition and the modern. Immerse yourself in unique activities like maintaining the furnace and sweeping floors, or classic ones like farming, fishing, cooking, mining, and crafting in order to grow and expand your inn.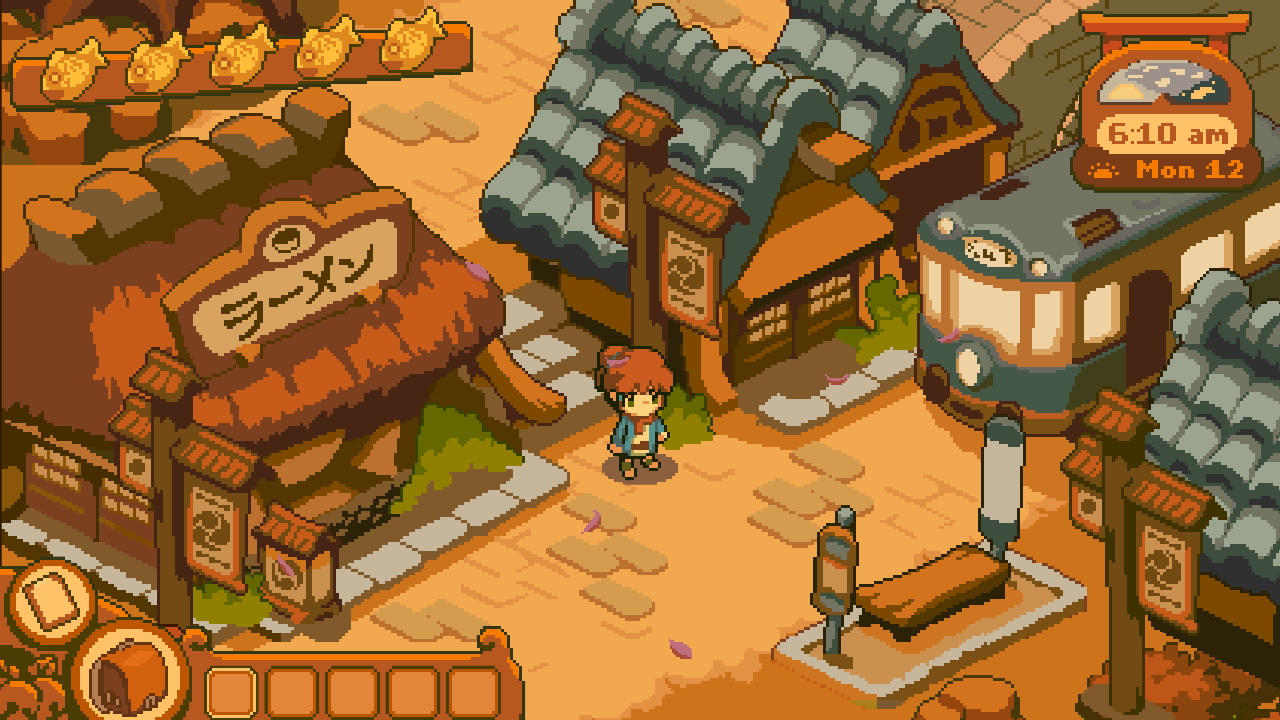 Yokai Inn is being built by a sole developer and currently has no release date or Steam page.
Platforms: PC (expected)
Mineko's Night Market
By Meowza Games, Humble Games
The whimsy of Ghibli movie's animal friends is both a staple of the franchise and one that we can expect from all its movies. That and its heavily influenced Japanese living is iconic to its style. The same can be said of the upcoming Mineko's Night Market.
Mineko's Night Market is a narrative-driven, social simulation adventure game that celebrates Japanese culture and cats. Play as Mineko, a curious girl who has just arrived at her new home on a struggling Japanese-inspired island at the base of Mount Fugu. The superstitious locals on the island worship the Sun Cat, Nikko. Which may or may not be like our ole neighbour Totoro.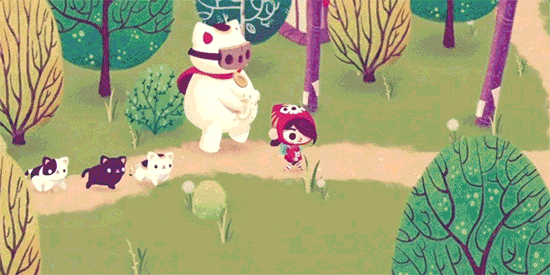 For more information on Mineko's Night Market be sure to check our article here.
Platforms: PlayStation, Nintendo Switch, PC
Planet Of Lana
By Wishfully, Thunderful Publishing
We're sneaking Planet of Lana on this list because it was just released last week on Steam. In this game, we're focusing on the disharmony between humans, nature and animals. A common theme in Studio Ghibli and one that is very important to Hayao Miyazaki-san.
In this hand-painted puzzle adventure game, you play as a young girl embarking on a rescue mission. Follow her journey through an epic sci-fi saga that will stretch across centuries and galaxies. All to keep protecting this vibrant world.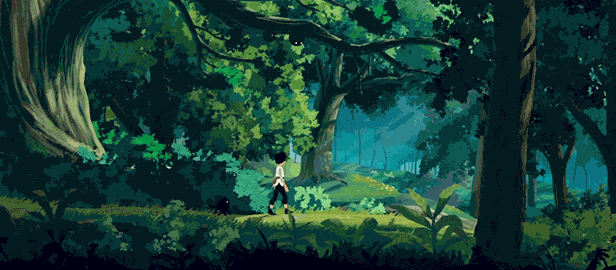 Planet of Lana is available to purchase on Steam now.
Platforms: Xbox, PC