Kynseed – The Complete Fishing Guide
Kynseed is a beautiful life sim sandbox RPG from veterans of the Fable series. In Kynseed you'll be able to raise a family, farm the land, run a business, cook, craft and build an everlasting legacy in a vast world filled with adventure, creativity and meaningful choices.
Just like other life sim RPGs, there are a lot of things for you to do such as mining, cooking, farming or fishing. After a hard day on the farm grab your fishing rod and head on down to the pond to catch some fish. You can earn a lot of money with the fish you catch. Plus it's just plain relaxing.
In this guide, we'll go through the basics of fishing in Kynseed as well as how and where to get all the fish and more.
How to Fish in Kynseed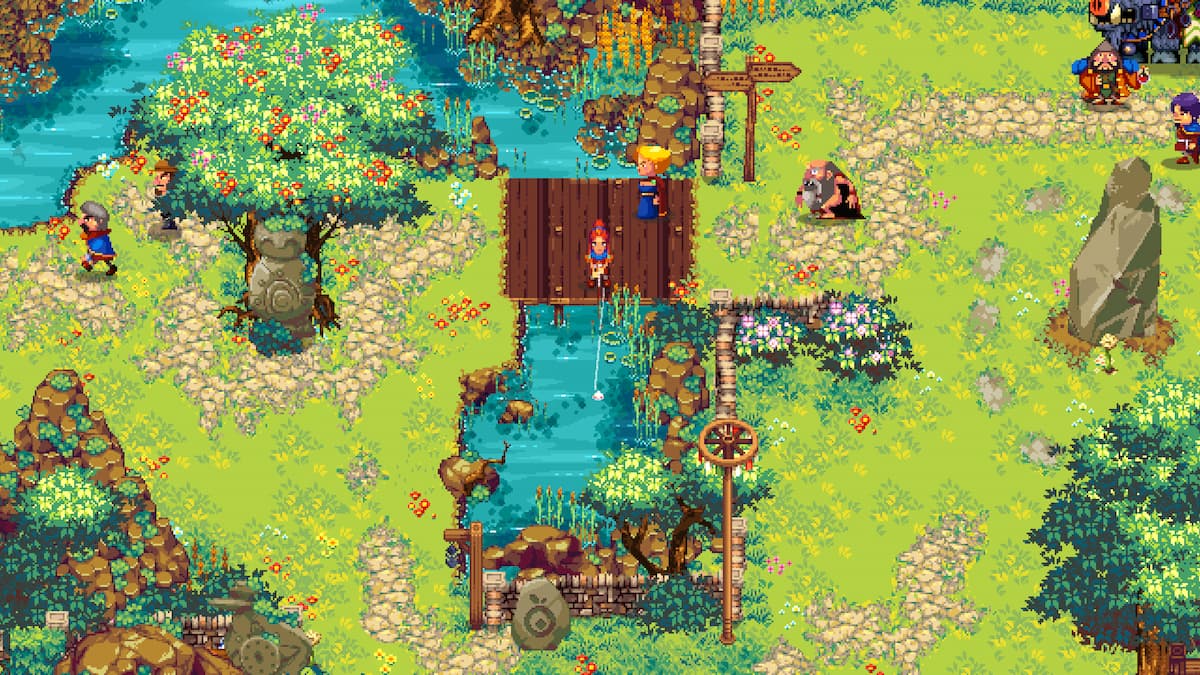 You'll be able to start fishing in Kynseed once you get the fishing rod from Fishing Master Twig. After your first day in-game, you'll receive a letter from him in the mailbox. Head North of your farm to Dreamer's Nook where he lives to talk to him and he'll give you the fishing rod.
Once you have the fishing rod simply equip the rod in the quick bar to use it.
Start by heading over to any pond and look to see if there are fish in the water. You'll be able to see if they are by their shadows. Then cast your line.
Equip your fishing rod and stand near a pond.
You will see a circle where you are aiming your hook.
Use the button shown in the bottom right of the screen to cast into the water.
Release the button to cast your line and wait until a fish interacts with the rod.
Hold the action button from earlier to reel in the fish.
Tip: If you manage to hit the fish with your hook you'll be able to instantly catch the fish.
Fishing Rod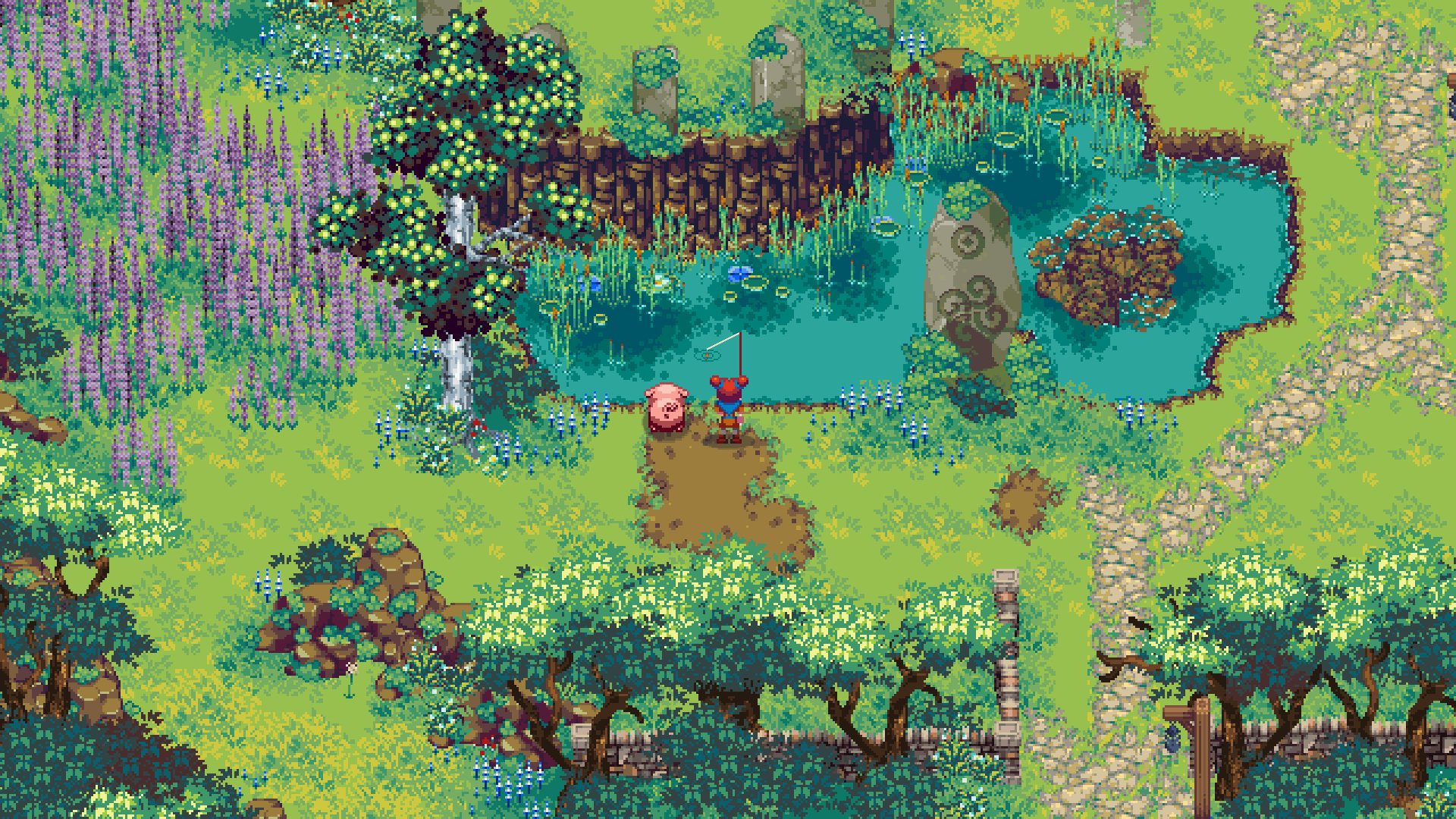 Catching any fish regardless of the type or quality will give you 1 exp. You'll need a number of experience points to increase your fishing rank. And each rank will give you an additional bonus. Refer below.
Fishing Rank Bonuses
| Rank | EXP Needed | Bonus |
| --- | --- | --- |
| Novice | 25 | Catch Range +1 |
| Apprentice | 55 | Line Length I |
| Journeyman | 80 | Extra Yield Chance I |
| Craftsman | 120 | Catch Range II |
| Artisan | 220 | Line Length II |
| Adept | 500 | Extra Yield Chance II |
| Expert | 1000 | Catch Range III |
| Master | 3000 | Line Length III |
| Legendary | 15000 | Star Rating Up |
All The Fish In Kynseed
Fish
Location
Time
Season
Barbel
Mellowfields
Rivers
Evening
Any
Bluefish
Mellowfields
Ponds
Night
Summer, Fall, Winter
Checkered Chub
Vale
Ponds
Evening
Spring, Fall, Winter
Cointail
All Regions
Pools
Any
Spring, Summer, Winter
Cursefish
All Regions
Ponds
Storms
Any
Eel
All Regions
Rivers
Night
Any
Fire Fish
Any Pond
Daytime
Spring, Summer, Winter
Fishie Wishie
Tir Na Nog
Night
Any
Fish of Many Fingers
E'ergreen
Afternoon
Any
Flag Fish
Summerdown
Day (Windy)
Spring, Summer, Fall
Flickerfin
Tir Na Nog
Evening
Any
Gasbelly
Woemarsh
Morning
Any
Lorianthe
E'ergreen
Morning
Any
Minnow
Summerdown
Morning
Any
Moonfish
All Regions
Ponds
Night
Even Days
Any
Mudkipper
Woemarsh
Evening
Spring, Fall, Winter
Needlenip
E'ergreen
Evening
Any
Official Tench
Vale
Morning
Any
Pike
All Regions
Rivers
Morning
Any
Pondlurker
Vale
Ponds
Day
Any
Rainfish
All Regions
Ponds
Rain
Any
River Trout
Vale
Rivers
Evening
Any
Salmon
Summerdown
Rivers
Day
Spring, Summer, Fall
Silver Scale
Mellowfields
Day
Any
Swamflatch
Tir Na Nog
Day
Any
Weed Skimmer
All Regions
Ponds
Any
Summer, Fall, Winter
Kynseed
You've been given the Kynseed, a mystical acorn that grows into a family tree where your choices manifest in its branches. Raise a family, farm the land, run shops, and explore the world as its inhabitants age around you. When you die, step into the shoes of your children and continue your legacy. In this beautifully hand-crafted world, an epic tale of adventure and ambitions will unravel around you as you discover the secrets of the land of Quill and its cast of memorable characters.
KYNSEED GUIDES