8 Best Non-Mechanical Gaming Keyboards
Mechanical keyboards and the clicks it makes are the meta of gaming of aesthetics. That and RGB lighting. But can you be considered a gamer without one? Well, actually you can. And that's with alternative gaming boards known as membrane keyboards.
So let's start off with the differences between a mechanical and a membrane keyboard and what are the cons and benefits of both. First of all a mechanical keyboard has overall better feedback and responsiveness. You can customise it with different switches and looks. It's overall better but definitely more expensive and requires maintenance. If however you're more of a mid-budget gamer or use your PC for both work and play. Then you might be looking for something a little softer, easier to use and less noisy a membrane keyboard will work just as well.
Thankfully most gaming companies have catered to those of you who prefer a non-mechanical keyboard for gaming and there are some great options out there. Here is a list of the best ones.
Logitech G213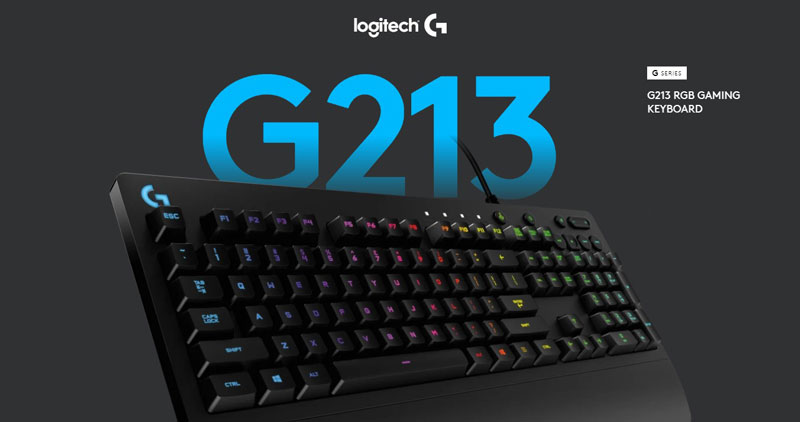 Logitech provides a good staple of reliable gaming accessories. Meaning everything is practical and works well, the same goes for their Logitech G213 membrane gaming keyboard. This is quiet and easy to use and provides quick key press action, response and good tactile feedback. It's everything that you might need at a slightly higher price point than some others on this list but it's solid.
The keyboard also has a comfortable ergonomic wrist rest and programmable RGB lighting that syncs with a variety of games to enhance the gaming experience. This is a good full-sized versatile keyboard that goes from night to day easily. Meaning that you'll find it a pleasure to work with as well as game with.
Razer Ornata V2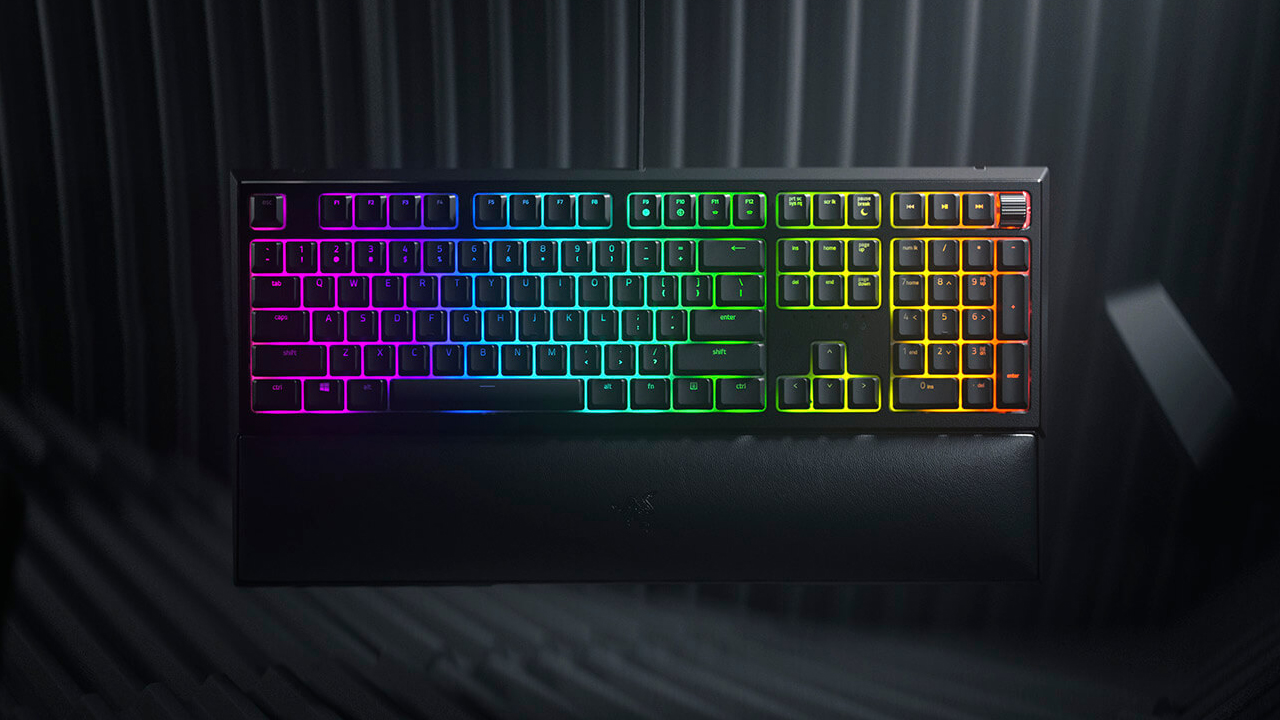 We're going to put two Razer keyboard options on this list because they've put out two fairly different types of membrane keyboards. The Razer Ornata V2 is actually considered a mecha-membrane keyboard, that uses tech to combine the feel of both types of keyboards. For all intention and purpose, this is a membrane keyboard and it has membrane switches. But it will 'click' like a mechanical keyboard.
As a result, the Razer Ornata V2 is very easy to use, is incredibly responsive and for those of you that enjoy it (me) it has low-profile keycaps.
This provides the best of both worlds with durable keys, a satisfying sound and is definitely cheaper than the other Razer keyboards. While still providing host great additional features such as a wrist rest and media dial.
Razer Cynosa V2
For those of you that are not into the 'click' of the previous keyboard, you might like the Razer Cynosa V2. This actually makes the list for one of the best value-for-money keyboards as well as the best membrane keyboard on the market. The Cynosa is quiet, tactile and responsive, which is everything you might be looking for in a non-mechanical keyboard.
It has excellent actuation speed and response, which tends to be an issue for more budget gaming keyboards. Not only that, but you're also getting dedicated media controls and a full set of RGB LEDs as well.
Price wise between the Razer Cynosa and Ornata the Cynosa is cheaper by a bit. And it more comes down to the preference of the click in my opinion if choosing between both.
Roccat Magma
A high-quality keyboard for a budget price. The Roccat Magma keyboard is excellent value for money, with a surprising bit of resistance in each switch. A pro for those of you looking for a bit of the mechanical keyboard feel. This makes take some getting used to for those of you that don't have this experience. Overall the keyboard is fairly responsive and the keys are nice and bottom out quickly.
The Roccat Magma also boasts EasyShift macro controls that allow you to customize dual functionality for certain keys using the Swarm software.
Additionally, the Roccat Magma has a unique look to it for those that are focused on the aesthetic. Under the keycaps sits a distinctive RGB lighting panel that you can customise across the board. There are five zones of colour customisation giving the whole thing a unique look.
Corsair K55
The Corsair K55 is the best keyboard for macro fans. Macro programming is one of the key features of a gaming keyboard and if you're looking for that it's hard to find with a membrane keyboard. Where you prefer to place your macros is down to personal play style, but there's plenty of functionality baked into Corsair's entry.
You get six additional buttons down the left side of the keyboard here, all fully dedicated to macro controls. Not only that, but you can assign these keys on the fly, a usually premium feature, or go more in-depth with Corsair's iCue software instead.
Some of the keys can feel a little spongey underhand, but there's still a nice snap here overall, and a fast debounce. That's to be expected from the brand behind some of the fastest decks on the market, though.
SteelSeries Apex 5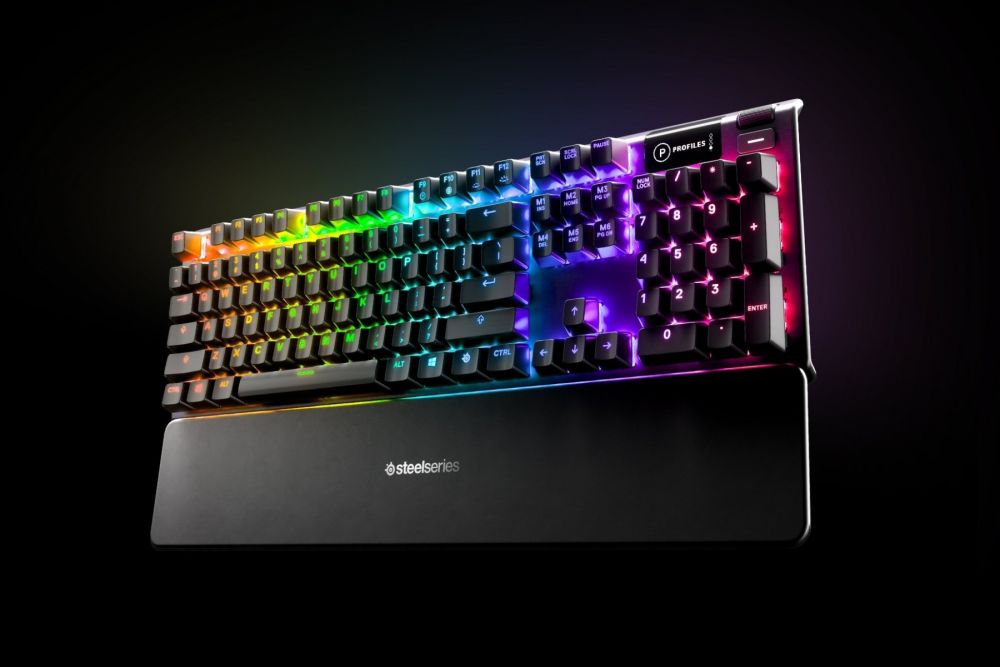 Like the Razer Ornata V2, the SteelSeries Apex 5 is a mecha-membrane keyboard as well. It's another option for those of you that prefer the lighter touch of a membrane keyboard but still want the satisfying speed and sound of mechanical keys. If however you still want a full membrane keyboard Steel Series has that for you with their Apex 3 (below).
Of course, you're spending a little more for the Apex 5 than you would other options on this list. However, the mecha-membrane switches under the hood are far more premium and you're picking up some extra features for even more value as well.
Like most SteelSeries accessories the feel of this is premium. There's an OLED display up towards the top right corner, per-key RGB, a volume roller, and a detachable magnetic wrist rest as well. The curved shape of the caps ensures your grip is maintained. Combine that with a crisp clicker and this is a tactile dream.
SteelSeries Apex 3
If you're not sold on the 'click' but would still like something more premium from SteelSeries, their Apex 3 membrane keyboard is a great option. It's a solid all-rounder and even comes in a smaller size for those of you that don't have as much space to work with.
The Apex 3 keys are a little heavier than the rest of the keyboards on this list. Light typists need to be wary as this isn't going to be a twitch-reflex experience. However, if that's not an issue for you there are a great number of features that make this keyboard worth getting. The SteelSeries Swarm software allows you to completely reconfigure your keyboard's macro options. And just like the Corsair K55 you can assign programmed commands on the fly as well.
Redragon K512 Shiva
One of the best features of a mechanical keyboard is its anti-ghosting features. You can get all of that with the K512 in membrane form This keyboard has 26 anti-ghost keys that allow for fast and more accurate gaming response. It additionally comes with 6 macro keys like the Corsair K55 that are easily programmable and require no additional software.
The Redragon has silky-soft keys that are a little linear-esque. It has dedicated media control keys to pause, play and skip any cutscene. And as one of its key features, if you're interested the Redragon offers full dynamic lighting with its RGB. You can programme in customisable modes and presets, and additional optional software that lets you set immersive backlight effects for your favourite games.