Disney Dreamlight Valley – How To Unlock All The Characters (Updated)
Not since Kingdom Hearts have we had such an RPG as Disney Dreamlight Valley. In Dreamlight Valley you'll work together with all your favourite Disney and Pixar characters to restore the magic back to the valley.
Once an idyllic land, Dreamlight Valley's residents lived in harmony, until they were struck down with The Forgetting. Coming in the form of Night Thorns, the Forgetting grew across the land and severed the memories of all who lived in Dreamlight Valley.
Now it's up to you to rescue your favourite Disney and Pixar characters and bring peace and magic back to the Valley. From the iconic Mickey and Minnie Mouse to Moana, Wall-E and even Remy. Here's our guide on how to unlock and save all the people of Dreamlight Valley!
Disclaimer: Disney Dreamlight Valley is still in Early Access and as such this information is subject to change. We'll be adding more to this guide as the game updates.
All The Characters
Some characters in Disney Dreamlight Valley will need to be unlocked, but there are others that are already in the village and just need to be rescued. So far Merlin, Goofy and Scrooge McDuck don't really need rescuing but they will have some quests to show you the ropes in Dreamlight Valley.
As for the rest here's how to get them:
Mickey Mouse
Location: Dreamlight Valley
How to Rescue Mickey
Find all the tools at the beginning of the game
Enter Mickey's house at the Plaza
Clear the thorns from his house
Dig up the recipe for Crackers at the Chez Remy Building. Find the glowing dig spot to get it.
Return to Mickey and plant up some Wheat to bake the crackers
Give him the crackers to unlock him
Minnie Mouse
Location: Dreamlight Valley
How to Rescue Minnie
Help Mickey by preparing some of Minnie's favourite meals
Set up a pinic
Craft the Dreamlight Magnifier: x1 Memory of Minnie, x6 Tinkering Parts, x2 Hardwood, x1 Emerald
Bring Minnie back to the Valley
Build Minnie's House after completing Mickey's Friendship Level 8 Quest
House Construction Cost: 5,000 Star Coins
Scrooge McDuck
Location: Dreamlight Valley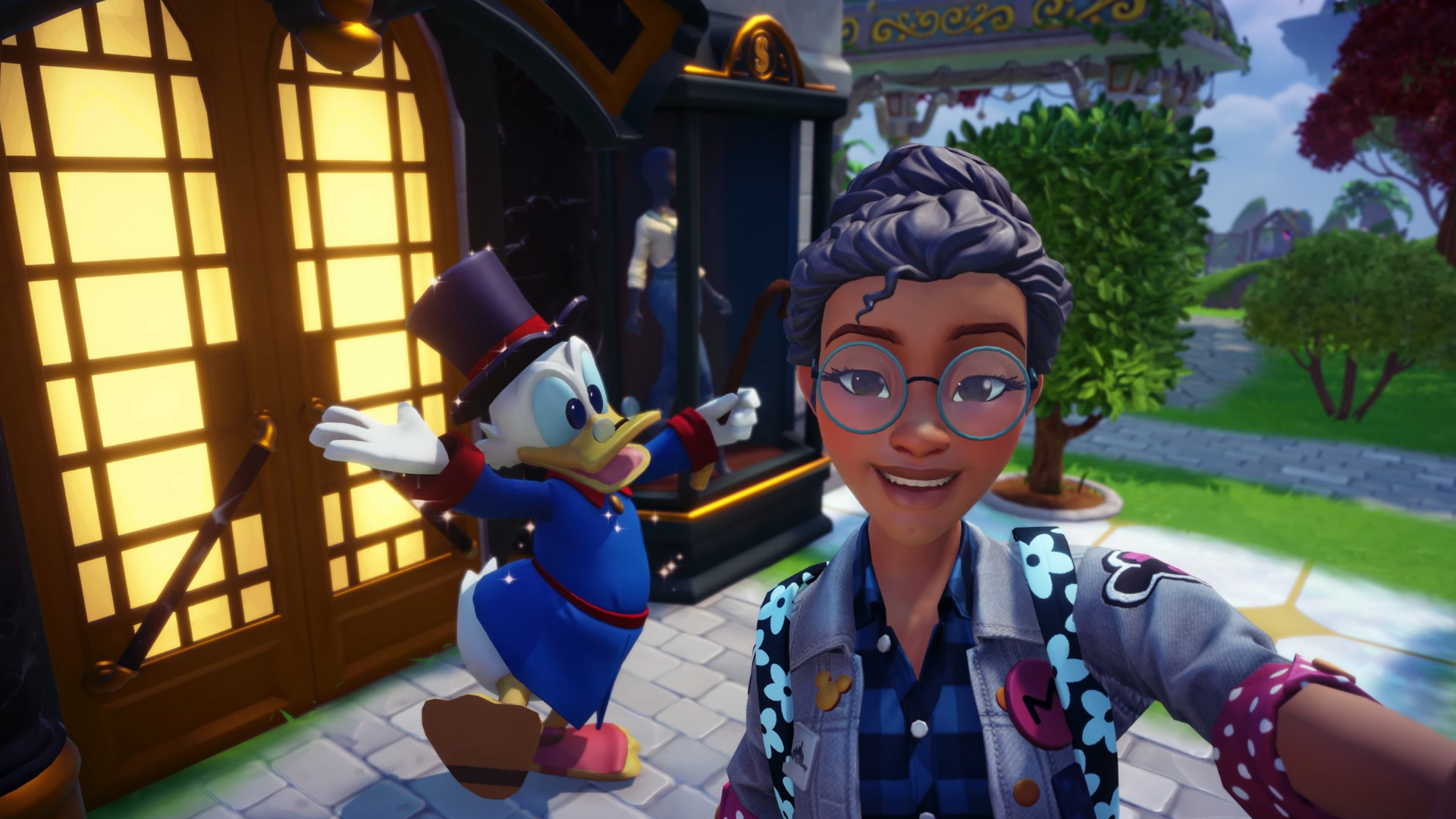 How to Rescue Scrooge McDuck
Restore his shop with 1,000 Star Coins
Remy
Location: Ratatouille (Dream Castle, 1st Floor Right)
Unlock Cost: 3,000 Dreamlight
Remy Unlocks: Unlocks Chez Remy Restaurant and new quests and recipes
How to Unlock Remy
Help Remy cook by cleaning and cooking dishes
House Construction Cost: 2,000 Star Coins
Ariel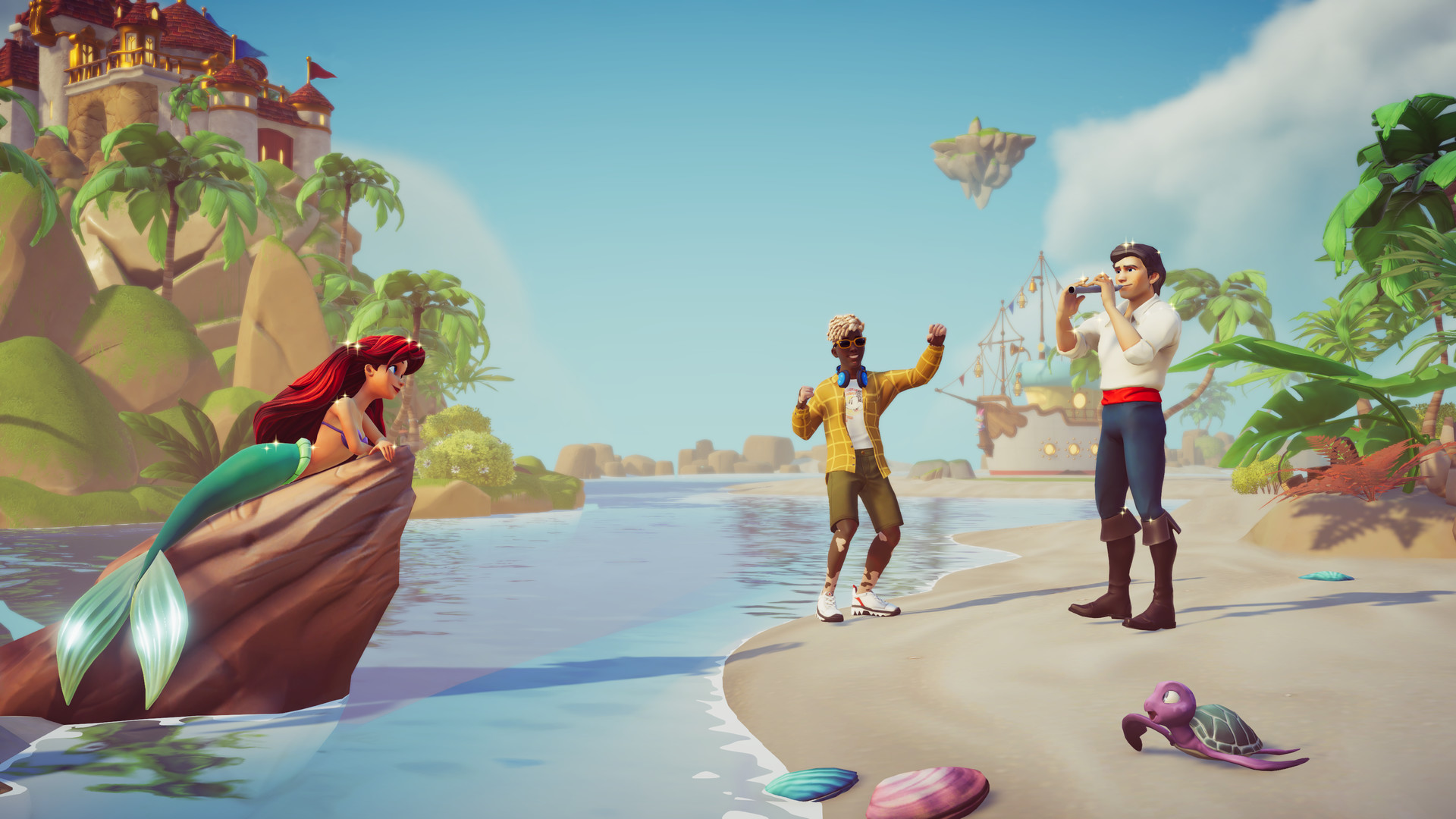 Location: Dazzle Beach
Unlock Cost: 1,000 Dreamlight
Pre-Requisite: Unlock the small raft on Dazzle Beach (Goofy Quest)
How To Unlock Ariel
Sail to the small island were Ariel is located and talk to her
Build her home back in Dreamlight Valley
Find Prince Eric (TBC)
Ursula
Location: Mystical Cave at the Upper Right Side of Dazzle Beach
Unlock Cost: 1,000 Dreamlight
Pre-Requisite: Complete Merlin's 'Friendship is Everything' Quest
How To Unlock Ursula
Merlin will ask you to go save Ursula at some point
Talk to Ursula and she will give you a magic crystal key to use to unlock the sealed entrance to the cave in the middle of the beach
Interact with the relics on the ground and solve the riddle
Answers to the riddles.
Riddle 1: Place a Peridot Gem, Aquamarine Gem, Garnet Gem on the statues
Riddle 2: Plant a carrot, wheat and tomato crop at the feet of the statue. Water and wait for them to grow before harvesting
Riddle 3: Cook a Veggie Spaghetti and eat it.
Fish in the water on your left-hand side where you see an orange ripple to get the Orb.
Place the Orb in the cursed pillar to set Ursula free
House Construction Cost: 10,000 Star Coins
Kristoff
Location: Forest of Valor
Unlock Cost: 3,000 Dreamlight
Pre-Requisite: Mickey Friendship Level 8, Dazzle Beach Unlocked
Kristoff Unlocks: Materials Stall (Sells Coal, Sand, Stone, Fiber, Sticks, Bricks, Snowballs)
How To Unlock Kristoff
Find Kristoff in the Forest of Valor towards the Pillar located at the back of the Forest
Speak with him and he'll tell you about Donald Duck being lost.
Rescue Donald Duck (details below) and Kristoff will join you
Donald Duck
Location: Forest of Valor
Unlock Cost: 3,000 Dreamlight
Pre-Requisite: Mickey Friendship Level 8, Dazzle Beach unlocked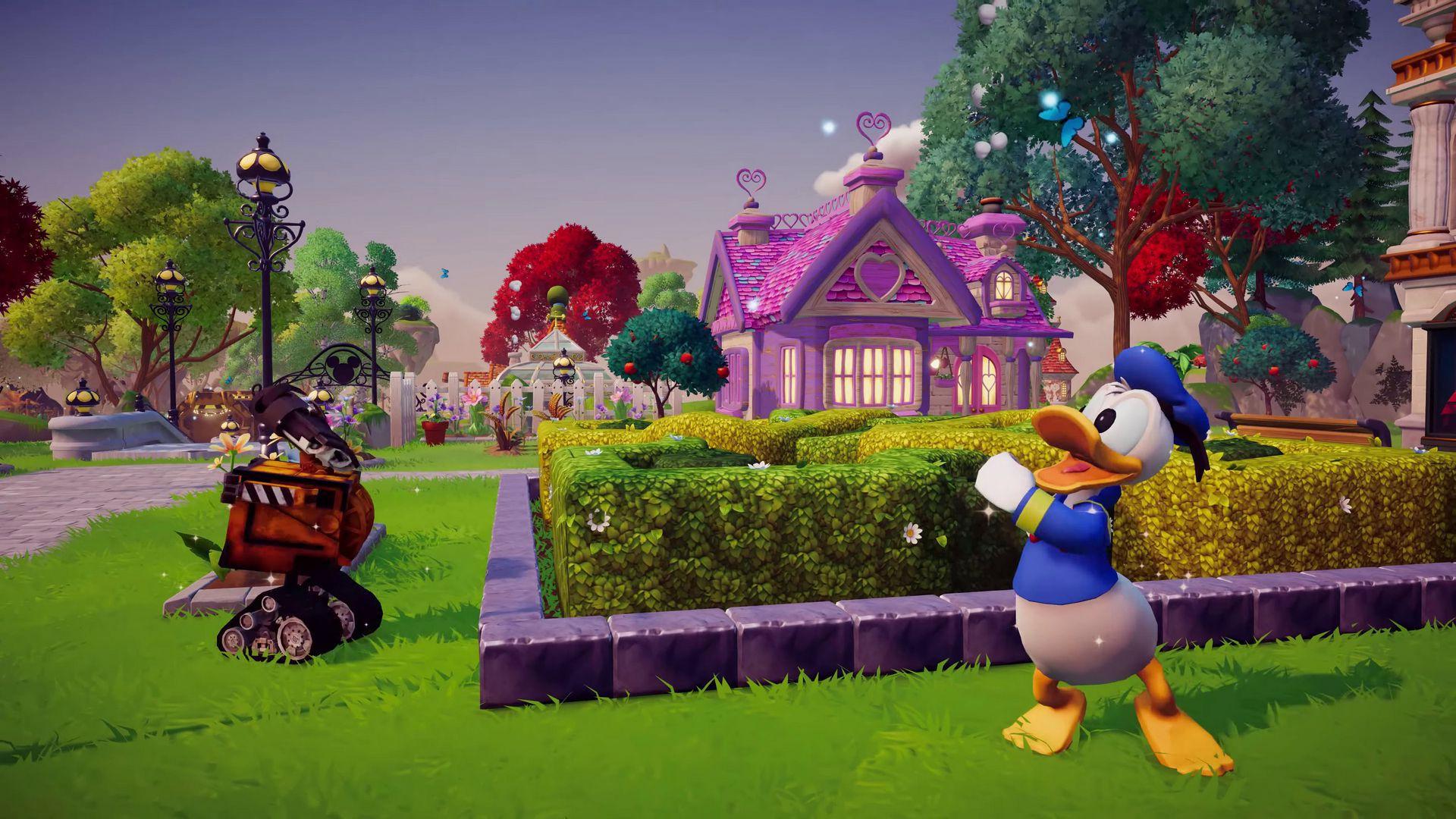 How To Unlock Donald Duck
Find Kristoff in the Forest of Valor
Find Donald's Duck Feather in front of the portal in the grove and bring it back to Kristoff
Find Merlin. Craft a Magic Feather: Emerald, Dream Shard, Donald's Feather and Vine (all in the Dark Grove)
Return to the Forest of Valor and let the Magic Feather guide you to Donald
Anna and Elsa
Location: Frozen Realm (Dream Castle 2nd Floor Middle)
Unlock Cost: 4,000 Dreamlight
Pre-Requisite: Forest of Valor Unlocked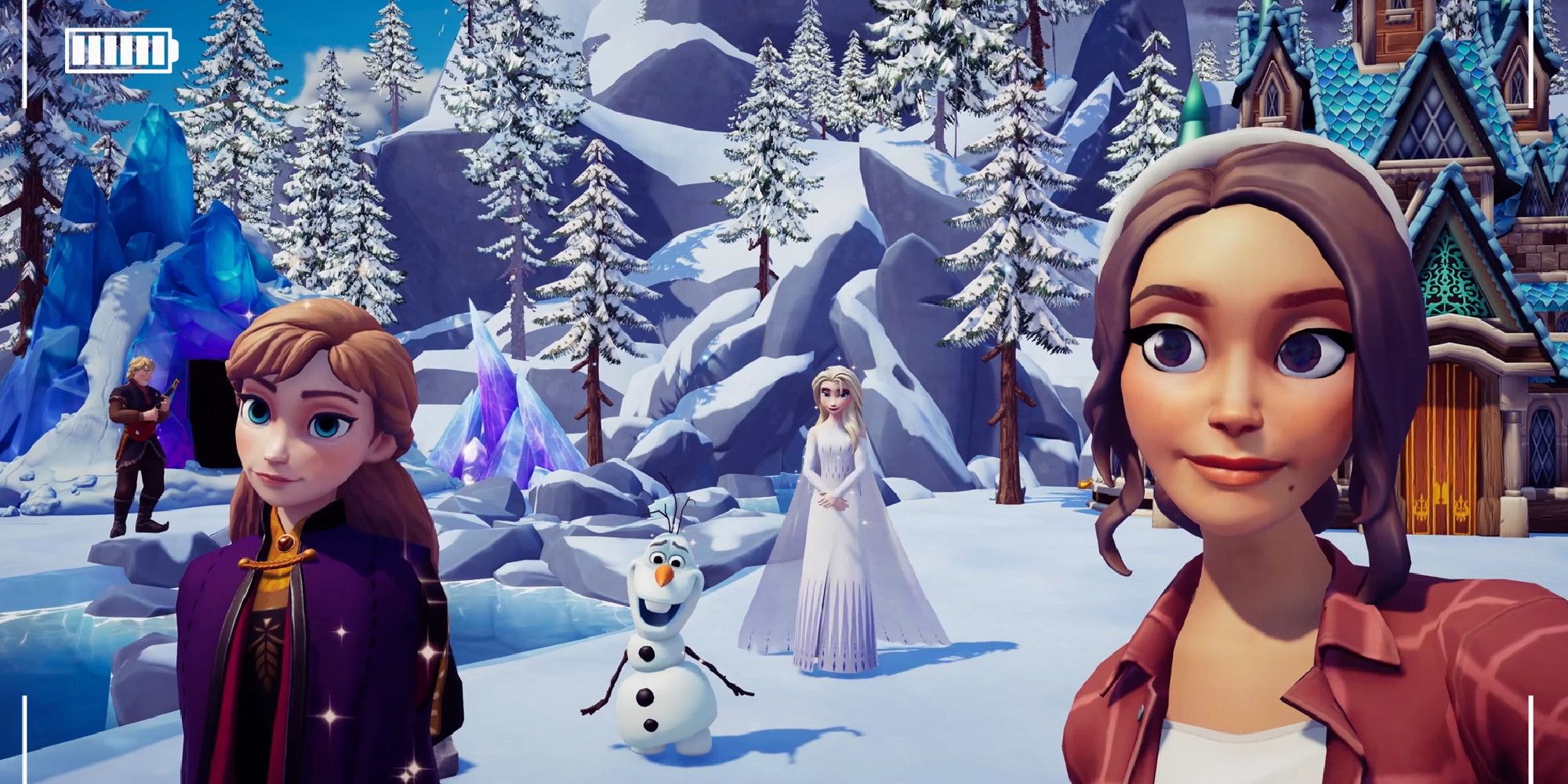 Anna Unlocks: Ability to destroy Small Mushroom Stumps
Elsa Unlocks: Ability to break Ice Shards
How To Unlock Anna and Elsa
Chase the Fire Spirit and put out some fires using your Magic Watering Can
Craft Stone Soup: x3 Stones, x1 Basil, x1 Oregano
Wake up the sleeping Earth Giant
Clear the path with a Pickaxe and Shovel
Fish out Anna's Magic Ring from the calm pond nearby. Cast your fishing line at the orange ripple.
Give Anna her ring back and go meet Elsa
Craft Wind Chimes: x3 Iron Ingots, x15 Softwood, x3 Twine
Then you can bring both of them back to your village
Moana and Maui
Location: Moana (Dream Castle, 1st Floor Middle)
Unlock Cost: 3,000 Dreamlight
Moana Unlocks: Automated Fishing
How To Unlock Moana
Repair Moana's boat by giving her Planks and Silk
Speak with Maui to enchant your pickaxe
Answer questions about Maui
Board the boat with Moana and explore the oceans to complete her quest
House Construction Cost: 2,000 Star Coins
Maui Unlocks: Ability to break the Teal rocks on the beach
How To Unlock Maui
After Moana leaves invite Maui by bringing him any 3-star meals and he'll move in
House Construction Cost: 5,000 Star Coins
Wall-E
Location: Wall-E
Unlock Cost: 3,000 Dreamlight
Wall-E Unlocks: Free Crops From the Peaceful Meadow
How To Unlock Wall-E
Free Wall-E from the sand by finding the handle to the fridge (NE of the fridge)
Open the storage container for an extra set of wheels for Wall-E
Help Wall-E clear the trash in his realm
Dig 7 plots and plant and water the seeds from the storage containers nearby
Speak to Merlin who will direct you to Scrooge McDuck
Trade 2 Garnet Gems for a Fire Extinguisher from Scrooge
Speak to Goofy and fish inside the ponds in the meadow for a boot
Speak to Mickey and get a bouncy ball from his house
Return to Wall-R and give him the gifts and he'll return to the Valley with you
House Construction Cost: 2,000 Star Coins
Mother Gothel
Location: Glade of Trust
Unlock Cost: 5,000 Dreamlight
Pre-Requisite: Unlock Dazzle Beach and/or Forest of Valor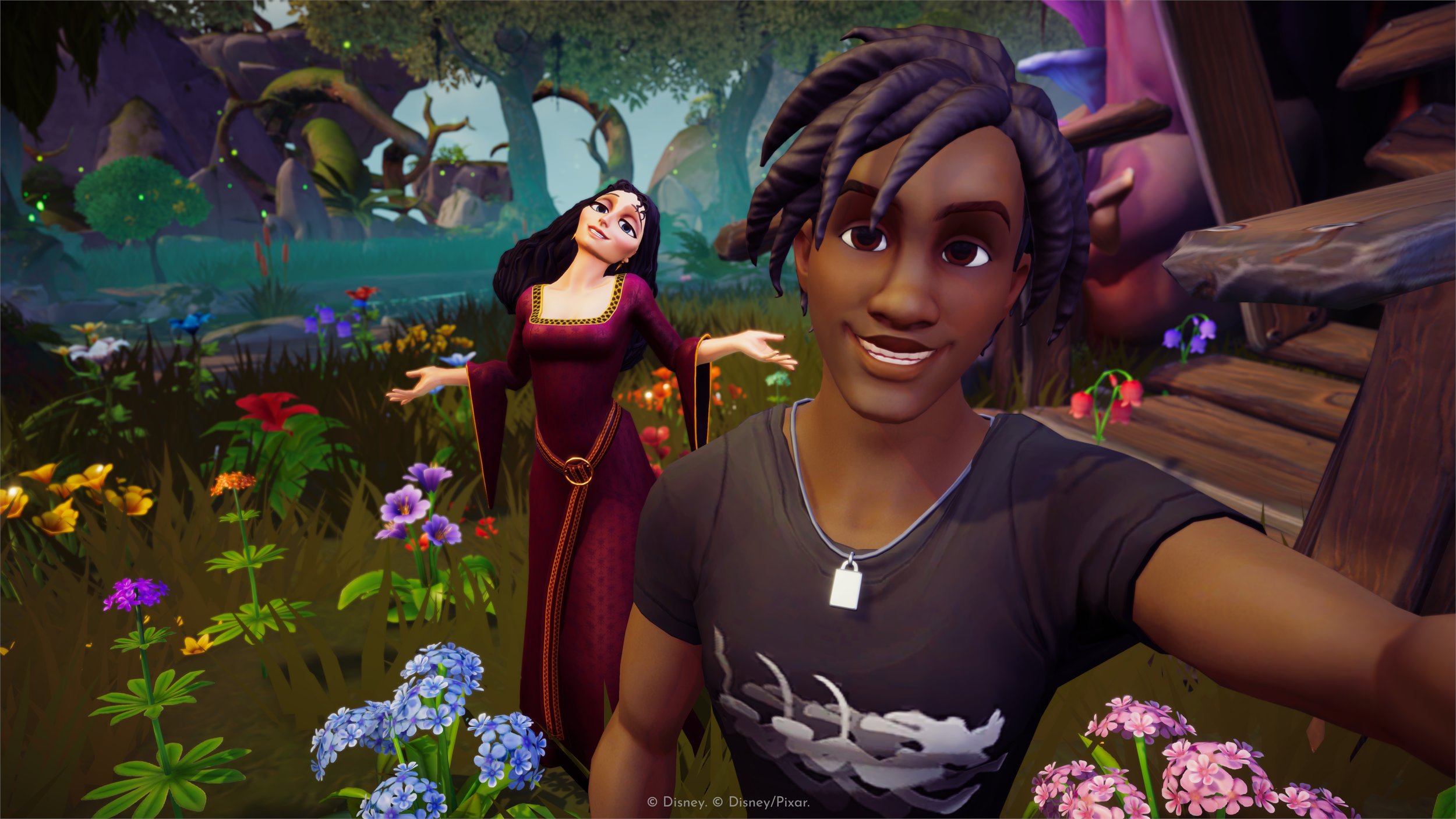 How to Unlock Mother Gothel
Talk to Mother Gothel and then to Merlin
Strike up a deal with Ursula – Talk with Merlin and Kristoff
Get the Orb of Trust in the Here and There by walking across the broken bridge
Place the Orb in the Pillar of Trust to break the curse
Mother Gothel will then be freed from her prison
Scar
Location: Elephant Cave
Unlock Cost: 7,000 Dreamlight
Pre-Requisite: Unlock Sunlit Plateau
How to Unlock Scar
Head to the giant Elephant Cave in the Sunlit Plateau and enter inside
Talk to Scar and he'll be unlocked. He'll start wandering the Valley and you can already upgrade his friendship at this point. In order to get his friendship quests you'll need to complete this quest though.
Head over to the mouth of the river to find an entrance to Vitalys Mines
Once you enter go left. Continue and follow the track for the mine cart until you reach an intersection where the paths on your left and right will be broken. Head right
Once you find the path divided again head left. The final part of these mines is where you'll see a slope leading upwards on the left
Read the note on the barrel and then head back to camp
Get the recipe at camp for Root Beer, Dried Ginger and Crackling Candies
Talk to Merlin
Make him an Extra Fizzy Root Bear (Dried Ginger, Sugarcane, Vanilla)
Put the Root Beer and Crackling Candies on the barrel back at the cave and it will restore the flow of water in Sunlit Plateau
Head into a Dark Grove near the entrance of Elephant Cave. Follow the Forgetting through to get the Lifeless Orb of Nurturing
Take the orb to Merlin, and he'll craft him a Miracle Growth Elixir (x1000 Dreamlight, x10 Rich Soil, x10 Vitalys Crystal)
Plant the Orbnear the Pillar of Nurturing in the Sunlit Plateau
Wait for a few real-life days after planting the orb to finish the quest
Disney Dreamlight Valley Guides
Gameplay Guides
Character Guides
Disney Dreamlight Valley Roadmap
Custom Designs
Tagged:
anna
ariel
disney
disney dreamlight valley
donald duck
dream castle
elsa
forgetting
frozen
kingdom hearts
kristoff
maui
mickey mouse
minnie mouse
moana
mother gothel
night thorns
pixar
remy
scrooge mcduck
ursula
wall-e