Disney Dreamlight Valley – Easter Event Guide
Disney Dreamlight Valley's April 2023 update aka 'Pride of the Valley' was released a couple of days ago. Not only can we now welcome Simba and Nala to the Valley, but we have a surprise Easter Event too!
Starting from April 8th through to the 29th, you'll find your Valley littered with Easter Eggs. These limited-time event materials will be used to craft a bunch of new furniture. As well as new Village quests that will reward you with new companions and items. The Eggstravaganza quests will task players with all Easter and Spring time fun, such as collecting eggs, picking flowers and more!
Get ready for this Easter event with this guide right here. Happy Egg hunting everyone!
Note: This guide was made @Serroh's video, who time travelled into the future to get these details.
Get Started With The Easter Event
Begin the event by speaking to Wall-E after 8th April. (For our full guide on how to invite Wall-E to your Valley click here). And he'll task you with completing Easter Event tasks. Most of it involves finding Easter Eggs and picking flowers. There are three types of Easter Eggs that you can find during the Easter Event.
Wild Spring Eggs – Found lying randomly on the ground
Egg-cellent Fruit – Gathered from an Egg Fruit Bush
Spring V-Egg-etables – Grown by crafting V-Egg-etable Seeds.
You'll be able to craft the V-EGG-etable Seed with: 1x Egg-cellent Fruit, 1x Wild Spring Egg, and 20x Dreamlight.
Easter Event Village Quest Rewards
There are four main Village quests for Disney Dreamlight Valley's Easter Event. By completing all of them you'll obtain these rewards:
That's Not Where Eggs Come From! – This quest involves picking up eggs during the event. Reward:
10 Eggs – Spring Chocolate (Edible Item)
30 Eggs – Blue Spring Rabbit (Companion)
60 Eggs – Pink Spring Rabbit (Companion)
100 Eggs – Yellow Spring Rabbit (Companion)
Wall-E Loves Flowers – Pick 50 Flowers with Wall-E as your companion.
Reward: Decorative Tulip Bouquet
Eggs-Ceptional Decorating – Craft all the limited-time event Easter Furniture.
Reward: Tulip Lamp
Easter Event Craftable Furniture
Over Easy Chair – requires 5x Wild Spring Egg, 5x Egg-cellent Fruit
"Don't Put 'Em All in One Basket" Basket – requires 10x Wild Spring Egg, 10x Egg-cellent Fruit, 5x Spring V-EGG-etable, 20x Fiber
Spring Egg Bounty – requires 15x Wild Spring Egg, 15x Egg-cellent Fruit, 15x Spring V-EGG-etable, 50x Stone
Sunny Side Up Arch – requires 25x Wild Spring Egg, 25x Egg-cellent Fruit, 25x Spring V-EGG-etable, 10x Iron Ingot
Spring Stall – requires 10x Wild Spring Egg, 10x Egg-cellent Fruit, 10x Spring V-EGG-etable, 20x Hardwood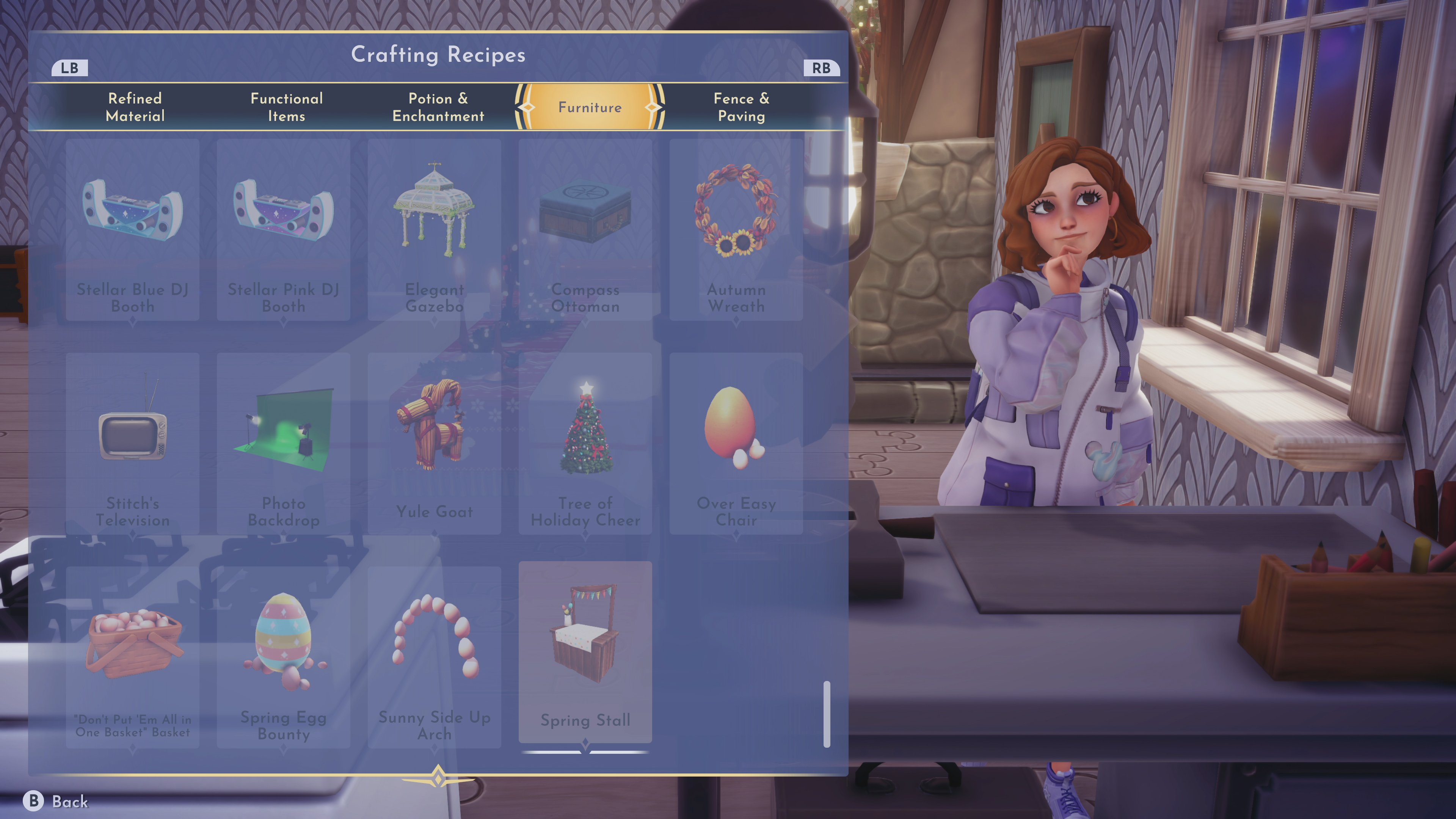 Easter Event Recipes (WIP)
There are three new Spring-themed desserts:
Spring Chocolate – Spring V-EGG-etable, Sugar, Cocoa
Spring Egg Bowl – Egg-cellent Fruit, Wild Spring Egg, Spring V-EGG-etable, Cocoa Bean, Sugarcane
DISNEY DREAMLIGHT VALLEY GUIDES