Disney Dreamlight Valley – All Recipes And Cooking Guide (Updated)
Disney Dreamlight Valley has been touted as the new Animal Crossing. But I'd say there's much more adventure to this one than Animal Crossing. What does feel familiar about this game is inviting people to come and live in the Valley, fishing, decorating your home and of course cooking.
We've split this guide into two with the companion complete ingredients guide list for you to tab open here!
Quick Links
All Recipes
How to Unlock Cooking
To unlock Cooking in Disney Dreamlight Valley you'll need to place a Stove in your House. And there are three ways to do this.
Buy the Stove – The first way to get the stove is to go to Scrooge McDuck's Shop, and over there, you will find an option to repair the Stove. Choose that and proceed to fix it. You'll then get an option to purchase the stove from the store or the catalogue.
Complete the Foodception Quest – You'll get the quest from Mickey Mouse and once you're done you'll get a Stove for free.
Craft A Stove – Lastly you can just a Stove and stick it in your house to start cooking.
How to Cook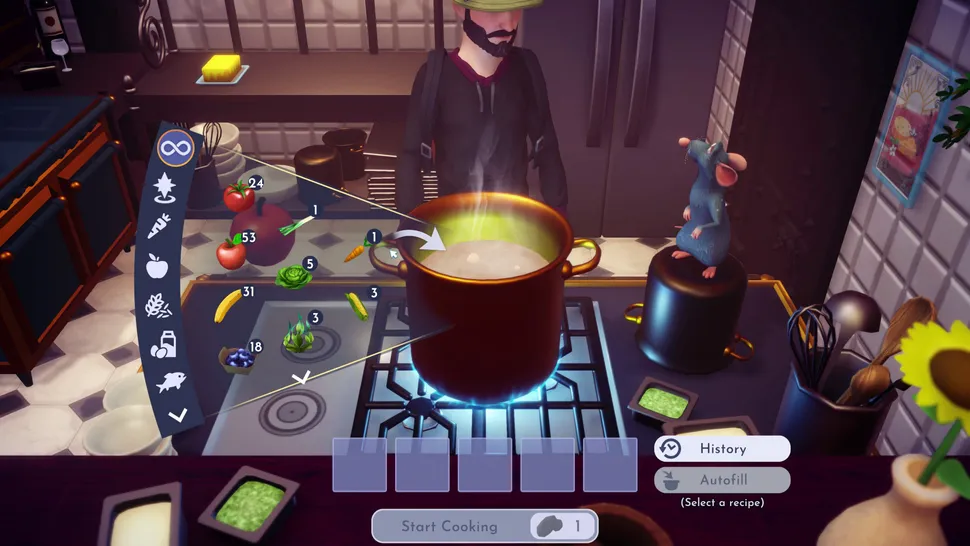 Just like Cooking in any game and in real life, you're going to need some ingredients. So first gather the necessary ingredients either by foraging, growing it on your Farm, or buying it from Goofy's Stall or at Chez Remy. You're also going to need a piece of Coal to get that Stove started when you cook.
Next head over to your Stove and select a Recipe from the top-left menu. Drag the required ingredients into the pot and voila you're cooking!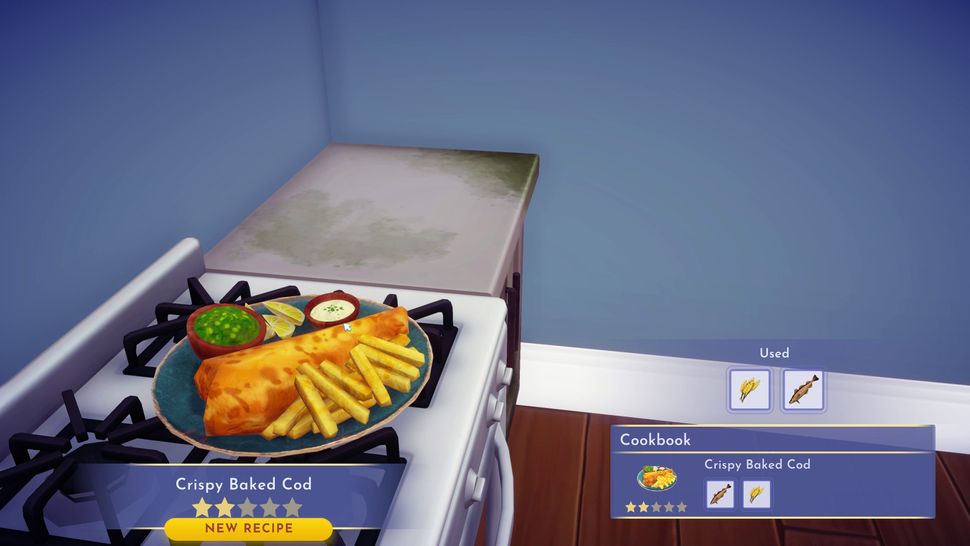 The cooked Food will be automatically placed in your inventory when its done.
All Recipes
Cooking any of the recipes we've listed at the bottom of our Disney Dreamlight Valley Cooking Guide once will permanently unlock them and add them to your in-game list. By doing that you can next time hit the autofill button to make that recipe again.
Recipes by Star Rating
1-Star Recipes
| Recipe | Ingredients | Sell Price | Energy |
| --- | --- | --- | --- |
| Candy | Any Sweets | 22 | 123 |
| Cheese Platter | Cheese | 216 | 482 |
| Coffee | Coffee Bean | 43 | 730 |
| Crackers | Any Grain | 2 | 80 |
| Crudités | Any Vegetable | 26 | 83 |
| Fruit Salad | Any Fruit | 25 | 450 |
| Grilled Fish | Any Fish | 30 | 290 |
| Grilled Vegetables | Any Vegetable | 9 | 83 |
| Hard-Boiled Eggs | Egg | 264 | 578 |
| Hors d'-'Oeuvres | Any Spice | 24 | 202 |
| Leek Soup | Leek | 370 | 414 |
| Okra Soup | Okra | 136 | 99 |
| Plain Snow Cones | Any Ice | 180 | 410 |
| Purée | Potato | 151 | 230 |
| Salad | Lettuce | 9 | 139 |
| Seafood Appetizer | Any Seafood | 54 | 242 |
| Shake | Milk | 82 | 142 |
| Tomato Soup | Tomato | 26 | 83 |
2-Star Recipes
| Recipe | Ingredients | Sell Price | Energy |
| --- | --- | --- | --- |
| Baked Carp | Carp, Butter | 767 | 1894 |
| Boba Tea | Sugarcane, Milk | 323 | 714 |
| Caramel Apples | Sugarcane, Apple | 56 | 638 |
| Crispy Baked Cod | Cod, Wheat | 47 | 337 |
| Fish Sandwich | Any Fish, Wheat | 34 | 337 |
| French Fries | Canola, Potato | 304 | 342 |
| Fruit Sorbet | Slush Ice, Any Fruit | 222 | 857 |
| Green Salad | Any Vegetable, Lettuce | 20 | 180 |
| Grilled Fish Entree | Any Fish, Any Vegetable | 42 | 340 |
| Latte | Coffee Bean, Milk | 345 | 1358 |
| Lemon Sorbet | Lemon, Slush Ice | 237 | 1112 |
| Marinated Herring | Herring, Onion | 305 | 723 |
| Marvelous Jam | Wheat, Dreamlight Fruit | 54 | |
| Minnie's Gingerbread Cookies | Wheat, Ginger | 132 | 379 |
| Mint Candy | Mint, Sugarcane | 128 | 391 |
| Mint Sorbet | Slush Ice, Mint | 299 | 695 |
| Oyster Platter | Oyster, Lemon | 367 | 1155 |
| Pasta | Wheat, Tomato | 30 | 117 |
| Peanut Butter Sandwich | Peanut, Wheat | 262 | 592 |
| Porridge | Wheat, Milk | 301 | 668 |
| Roasted Asparagus | Asparagus, Canola | 313 | 221 |
| Sake Sushi | Salmon, Rice | 274 | 1000 |
| Sautéed Mushrooms | Mushroom, Butter | 286 | 712 |
| Savoury Fish | Any Fish, Lemon | 74 | 985 |
| Scrambled Egg | Egg, Cheese | 520 | 1070 |
| Seafood Platter | Any 2x Seafood | 116 | 458 |
| Seafood Salad | Any Seafood, Lettuce | 68 | 349 |
| Seafood Soup | Any Seafood, 2x Vegetables | 85 | 340 |
| Smoked Peanuts and Anglerfish | Anglerfish, Peanut | 2200 | 3960 |
| Sushi | Any Fish, Rice | 111 | 405 |
| Sweet Herring | Herring, Onion | 205 | 723 |
| Sweet Slush | Slush Ice, Any Sweets | 219 | 510 |
| Tamagoyaki | Egg, Sugarcane | 310 | 689 |
| Tasty Veggies | Any Vegetable, Any Spice | 36 | 246 |
| Tropical Pop | Sugarcane, Sweet | 347 | 510 |
| Vegetable Soup | Any 2x Vegetables | 20 | 120 |
3-Star Recipes
| Recipe | Ingredients | Sell Price | Energy |
| --- | --- | --- | --- |
| Apple Pie | Apple, Wheat, Butter | 303 | 1137 |
| Apple Sorbet | Slush Ice, Apple, Sugarcane | 271 | 1077 |
| Apple Cider Glazed Salmon | Salmon, Apple, Sugarcane | 271 | 1572 |
| Banana Pie | Banana, Wheat, Butter | 308 | 1227 |
| Bell Pepper Puffs | Eggs, Bell Pepper, Cheese | 606 | 1271 |
| Berry Salad | Raspberry, Blueberry, Gooseberry | 139 | 2210 |
| Biscuits | Wheat, Sugarcane, Butter | 294 | 679 |
| Blueberry Pie | Blueberry, Wheat, Butter | 308 | 1227 |
| Carp Salad | Carp, Lettuce, Lemon | 617 | 2310 |
| Cheesy Crispy Baked Cod | Cod, Cheese, Wheat | 303 | 840 |
| Cherry Pie | Cherry, Wheat, Butter | 332 | 1161 |
| Chili Pepper Puffs | Eggs, Chili, Cheese | 669 | 2074 |
| Coconut Boba Tea | Sugarcane, Milk, Coconut | 406 | 1653 |
| Crab Rangoon | Crab, Wheat, Cheese | 420 | 690 |
| Dream Ice Cream | Ice, Milk, Dreamlight Fruit | 588 | |
| Eggplant Puffs | Eggplant, Eggs, Cheese | 991 | 1941 |
| Fish Pie | Any Fish, Wheat, Butter | 303 | 867 |
| Fish Risotto | Any Fish, Rice, Butter | 386 | 939 |
| Fish Salad | Any Fish, Lemon, Lettuce | 92 | 1140 |
| Fish Soup | Any Fish, Any Vegetable, Milk | 368 | 978 |
| Fish Steak | Any Fish, Tomato, Basil | 100 | 537 |
| Fugu Sushi | Fugu, Rice, Seaweed | 1300 | 3261 |
| Gooseberry Boba Tea | Sugarcane, Milk, Gooseberry | 418 | 1833 |
| Gray Stuff | Butter, Sugarcane, Cocoa Bean | 175 | 1046 |
| Grilled Veggie Platter | Any Three Vegetables | 33 | 161 |
| Hearty Salad | Any Two Vegetables, Lettuce | 33 | 224 |
| Hot Cocoa | Sugarcane, Milk, Cocoa Bean | 401 | 1563 |
| Ice Cream | Slush Ice, Milk, Sugarcane | 558 | 1158 |
| Kappa Maki | Cucumber, Rice, Seaweed | 335 | 462 |
| Kronk's Spinach Puffs | Spinach, Cheese, Canola | 461 | 750 |
| Lemon Garlic Swordfish | Swordfish, Garlic, Lemon | 1100 | 3713 |
| Maki | Any Fish, Seaweed, Rice | 148 | 471 |
| Mint Boba Tea | Sugarcane, Milk, Mint | 460 | 1032 |
| Mocha | Coffee Bean, Milk, Cocoa Bean | 425 | 2246 |
| My Hero Cookie | Wheat, Any Sweet, Butter | 294 | 679 |
| Omelet | Egg, Cheese, Milk | 882 | 1751 |
| Onion Puffs | Onion, Egg, Cheese | 798 | 1392 |
| Pan-Seared Bass & Vegetables | Bass, Any Two Vegetables | 57 | 394 |
| Pan-Seared Tilapia & Vegetables | Tilapia, Any Two Vegetables | 862 | 2194 |
| Pawpsicle | Slush Ice, Sugarcane, Any Fruit | 265 | 987 |
| Pizza | Tomato, Cheese, Wheat | 284 | 607 |
| Porridge with Fruit | Milk, Wheat, Any Fruit | 353 | 1155 |
| Potato Puffs | Potato, Egg, Cheese | 736 | 1333 |
| Pottage | Potato, Any Spice, Any Vegetable | 215 | 461 |
| Pumpkin Puffs | Pumpkin, Egg, Cheese | 1400 | 1466 |
| Raspberry Boba Tea | Sugarcane, Milk, Raspberry | 377 | 1203 |
| Red Fruit Pie | Any Fruit, Wheat, Butter | 297 | 1047 |
| Root Beer | Vanilla, Sugarcane, Ginger | 250 | 690 |
| Sake Maki | Rice, Seaweed, Salmon | 323 | 1101 |
| Seafood Pasta | Any Seafood, Wheat, Milk | 387 | 921 |
| Seafood Pie | Any Seafood, Wheat, Butter | 331 | 813 |
| Seafood Soup | Any Seafood, Any Two Vegetables | 85 | 340 |
| Seared Rainbow Trout | Rainbow Trout, Tomato, Onion | 338 | 889 |
| Simple Fried Perch | Perch, Wheat, Butter | 380 | 1317 |
| Snow White's Gooseberry Pie | Gooseberry, Wheat, Butter | 338 | 1677 |
| Sour Snow Cones | Slush Ice, Lemon, Sugarcane | 282 | 1257 |
| Spaghetti Arrabbiata | Tomato, Wheat, Chili Pepper | 141 | 373 |
| Spicy Baked Bream | Bream, Butter, Chili Pepper | 1200 | 3155 |
| Spring Chocolate | Spring V-EGG-etable, Sugar, Cocoa | 254 | |
| Steamed Fugu | Fugu, Ginger, Garlic | 1400 | 3668 |
| Sweet & Sour Kingfish Steak | Kingfish, Lemon, Sugarcane | 702 | 2292 |
| Tasty Soup | Carrot, Ginger, Butter | 420 | 690 |
| Vegetarian Stew | Potato, Carrot, Onion | 475 | 617 |
| Veggie Pasta | Tomato, Wheat, Any Vegetable | 43 | 158 |
| Veggie Pie | Any Vegetable, Butter, Wheat | 279 | 634 |
| Whimsical Pie | Dreamlight Fruit, Wheat, Butter | 324 | |
| Zucchini Puffs | Zucchini, Egg, Cheese | 632 | 1216 |
4-Star Recipes
| Recipe | Ingredients | Sell Price | Energy |
| --- | --- | --- | --- |
| Banana Ice Cream | Slush Ice, Banana, Milk, Sugarcane | 641 | 1884 |
| Basil Omelet | Basil, Egg, Cheese, Milk | 982 | 2035 |
| Beignets | Canola, Wheat, Egg, Sugarcane | 524 | 912 |
| Buñuelos | Wheat, Cheese, Eggs, Milk | | |
| Carrot Cake | Carrot, Wheat, Egg, Sugarcane | 427 | 908 |
| Cheesecake | Cheese, Wheat, Sugarcane, Any Fruit | 332 | 1161 |
| Chocolate Chip Cookies | Wheat, Sugarcane, Cocobean, Butter, Egg | 373 | 1569 |
| Chocolate Ice Cream | Cocoa Bean, Sugarcane, Slush Ice, Milk | 655 | 2074 |
| Chocolate Waffles | Cocoa Bean, Wheat, Egg, Milk | 735 | 2223 |
| Chowder | Any Seafood, Milk, Potato, Any Vegetables | 613 | 1186 |
| Coconut Cake | Coconut, Wheat, Egg, Sugarcane | 332 | 1161 |
| Coconut Ice Cream | Coconut, Sugarcane, Slush Ice, Milk | 661 | 2169 |
| Creme Brulee | Sugarcane, Milk, Vanilla, Egg | 690 | 420 |
| Creamy Garlic Scallops | Scallops, Garlic, Lemon, Butter | 499 | 1844 |
| Creamy Soup | Spice, Milk, Potato, Vegetable | 579 | 1138 |
| Crepe | Wheat, Milk, Egg, Sugarcane | 768 | 1624 |
| Dream Fizz | Dreamlight Fruit, Slush Ice, Wheat, Sugarcane | 316 | |
| Fish 'n' Chips | Any Fish, Wheat, Canola, Potato | 392 | 697 |
| Fish Pasta | Any Fish, Garlic, Wheat, Milk | 475 | 1282 |
| Fish Tacos | Any Fish, Corn, Chili Pepper, Cheese | 448 | 1171 |
| Fruitcake | Wheat, 3x Fruit | 96 | 1511 |
| Gazpacho | Onion, Tomato, Cucumber, Any Herb | 556 | 821 |
| Jam Waffles | Any Fruit, Wheat, Eggs, Milk | 709 | 1843 |
| Lioness Feast | Mushroom, Tomato, Oregano, "Here and There" Fish | 109 | |
| Maguro Sushi | Tuna, Seaweed, Rice, Ginger | 413 | 1206 |
| Margherita Pizza | Any Spice, Tomato, Cheese, Wheat | 336 | 818 |
| Meringue Pie | Lemon, Wheat, Butter, Egg | 667 | 2014 |
| Mint Chocolate | Mint, Sugarcane, Butter, Cocoa Bean | 490 | 1827 |
| Mushroom Pizza | Mushroom, Wheat, Tomato, Cheese | 351 | 837 |
| Pan-Fried Anglerfish | Anglerfish, Tomato, Zucchini, Potato | 2500 | 4194 |
| Peanut Butter Waffles | Peanut, Wheat, Egg, Milk | 978 | 1938 |
| Pickled Herring | Herring, Lemon, Onion, Any Spice | 431 | 1742 |
| Poached Basil-Butter Surgeon | White Sturgeon, Basil, Lemon, Butter | 2200 | 4961 |
| Pumpkin Soup | Any Vegetable, Milk, Ginger, Pumpkin | 1500 | 1431 |
| Red Fruit Sorbet | Slush Ice, Raspberry, Gooseberry, Sugarcane | 359 | 2179 |
| Sole Meunière | Sole, Wheat, Butter, Lemon | 637 | 2337 |
| Soufflé | Cheese, Egg, Milk, Butter | 1200 | 2386 |
| Spring Mimosa Eggs | Basil, Egg-cellent Fruit, Wild Spring Egg, Spring V-EGG-etable | 298 | |
| Sweet Udon | Rice, Any Seafood, Sugarcane or Cocoa Bean, Dreamlight Fruit | 180 | |
| Tasty Salad | Lettuce, Cucumber, Any Vegetable, Any Spice | 292 | 650 |
| Tekka Maki | Tuna, Soya, Seaweed, Rice | 366 | 984 |
| Tropical Pop | Slush Ice, Any Fruit, Sugarcane, Coconut | 347 | 1989 |
| Vanilla Ice Cream | Slush Ice, Milk, Sugarcane, Vanilla | 688 | 1475 |
| Vegetarian Taco | Corn, Chili Pepper, Cheese, Any Vegetable | 423 | 992 |
| Veggie Casserole | Any Two Vegetables, Cheese, Any Spice | 324 | 821 |
| Veggie Skewers | Mushroom, Zucchini, Onion, Bell Pepper | 427 | 767 |
| Waffles | Wheat, Milk, Egg, Any Sweets | 706 | 1455 |
| Walleye en Papillote | Walleye, Basil, Oregano, Any Vegetable | 1700 | 3689 |
| Wonderland Cookies | Butter, Sugarcane, Vanilla, Wheat | 406 | 970 |
| Yule Log | Wheat, Cocoa Bean, Vanilla, Cherry | 213 | |
5-Star Recipes
| Recipe | Ingredients | Sell Price | Energy |
| --- | --- | --- | --- |
| Arrendellian Pickled Herring | Any Seasoning, Garlic, Lemon, Onion, Herring | 556 | 2102 |
| Aurora's Cake | Raspberry, Wheat, Sugarcane, Egg, Milk | 786 | 2030 |
| Banana Split | Slush Ice, Banana, Milk, Sugarcane, Any Sweets | 714 | 2074 |
| Birthday Cake | Wheat, Sugarcane, Egg, Butter, Cocoa Bean | 749 | 2310 |
| Bouillabaisse | Any 2x Seafood, Shrimp, Tomato, Any Vegetable | 671 | 2114 |
| Bug Platter | 2x Colourful Bugs, 2x Red Bugs, 1x Slimy Bug | 370 | |
| Fish Creole | Any Fish, Any Vegetable, Garlic, Rice, Tomato | 280 | 822 |
| Ghostly Fish Steak | Bell Pepper, Lemon, Asparagus, "Here and There" Fish, Oregano | 349 | |
| Gingerbread House | Wheat, Ginger, Sugarcane, Vanilla, Egg | 641 | 1460 |
| Greek Pizza | Any Herb, Wheat, Cheese, Tomato, Onion | 638 | 1162 |
| Gumbo | Okra, Tomato, Onion, Chilli Pepper, Shrimp | 1000 | 2226 |
| Lancetfish Paella | Lancetfish, Shrimp, Any Seafood, Tomato, Rice | 1700 | 4550 |
| Large Seafood Platter | Any 4x Seafood, Lemon | 340 | 1810 |
| Lobster Roll | Lobster, Wheat, Lemon, Butter, Garlic | 1900 | 4928 |
| Mediterranean Salad | Cucumber, Tomato, Onion, Lettuce, Any Spice | 605 | 976 |
| Mushu's Congee | Rice, Egg, Mushroom, Garlic, Ginger | 753 | 1658 |
| Pastry Cream and Fruits | Any x3 Fruit, Milk, Sugarcane | 497 | 2332 |
| Potato Leek Soup | Leek, Potato, Milk, Onion, Garlic | 1400 | 1984 |
| Ranch Salad | Lettuce, Bell Pepper, Corn, Tomato, Onion | 396 | 714 |
| Ratatouille | Tomato, Eggplant, Zucchini, Onion, Any Spice | 914 | 1572 |
| Spring Egg Bowl | Egg-cellent Fruit, Wild Spring Egg, Spring V-EGG-etable, Cocoa Bean, Sugarcane | 370 | |
| Teriyaki Salmon | Soya, Salmon, Sugarcane, Rice, Ginger | 637 | 1726 |
| Tuna Burger | Tuna, Lemon, Onion, Wheat, Any Vegetable | 491 | 1922 |
| Vegetarian Pizza | Any 2x Vegetables, Tomato, Cheese, Wheat | 350 | 754 |
| Wedding Cake | Butter, Sugarcane, Vanilla, Egg, Wheat | 785 | 1680 |