5 Upcoming Games If You Love No Man's Sky
Despite its rocky start No Man's Sky has turned out to be a wonderful space adventure. It's a sprawling sci-fi adventure that lets you explore distant galaxies, encounter alien wildlife and play the game however you want to. It is undoubtedly one of the best space and exploration games around. Whether you like to explore, build a settlement, survive in the wilds or resource manage it has a little bit of something for everyone.
If you're a fan of great space adventures then here are some other recommendations for games to put on your watchlist like No Man's Sky.
Starfield
Release Date: 6th September 2023
Starfield is the first new universe in 25 years from Bethesda Game Studios. In this next-generation role-playing game set amongst the stars, create any character you want and explore with unparalleled freedom as you embark on an epic journey to answer humanity's greatest mystery.
The description alone is enough to give us No Man's Sky vibes. With game designer Todd Howard confirming that Starfield will have more than 100 systems and 1000 planets. That's a lot of exploring to do and just like The Elder Scrolls and Fallout, we expect the worlds to be full of interesting stories, NPCs and places to adventure and discover. Bethesda has also said that Starfield's main quest will be 20% bigger than those previous games. Which if you haven't played, is A LOT.
The core Starfield story is very much a closely-guarded secret, although Bethesda has given out a few details. We know that Starfield takes place in 2330. 20 years after two of the largest factions in The Settled Systems – the United Colonies and Freestar Collective – engaged in a bloody Colony War for territorial control. You'll play as a member of Constellation, an organization of space explorers trying to navigate what remains of the aftermath. Where you go, and who you choose to side with from there is up to you.
Platforms: Xbox Series X|S, Xbox Game Pass, PC – Steam
Colony Ship: A Post-Earth Role Playing Game
Release Date: 6th April 2023
Colony Ship is an isometric, party-based RPG set aboard a generation ship launched to Proxima Centauri. The game features a detailed skill-based character system, multiple ways to handle quests, choices & consequences, and branching dialogue trees.
The game is inspired by Robert Heinlein's Orphans of the Sky and has a massive ship to explore and dozens of missions to complete. You wake up on a "generation ship," a massive spacecraft on a centuries-long voyage to colonize a distant planet. 
With the ship's original government disbanding following a violent mutiny, the player must negotiate a treacherous path among your fellow passengers and the contentious factions striving to take control of the ship. Full of deep RPG choices and dozens of ways that the game can play out, Colony Ship is an under-the-radar gem that you should be keeping your eye on. 
Note: The game launched at the time this article was in draft but I'm leaving it here because it's still a very good game.
Platform: PC – Steam, Linux, Mac
Occupy Mars: The Game
Release Date: Q2 2023 (Early Access)
Occupy Mars: The Game is a technical, open-world sandbox, survival game about Mars colonization. Inspired by the most promising technologies and companies that are working towards the goal of humanity becoming a multi-planet species. Survive and colonize Mars in an open-world sandbox survival game. Build your base, discover new regions, retrieve water, generate oxygen, grow crops, and fix broken parts. Let's colonize the Red Planet.
A step away from No Man's Sky bright fantasy colour palette, this journey to space feels all too real. Occupy Mars: The Game emphasises the very technical aspects of trying to survive on Mars. The planet is inhospitable and you'll need to find water, generate oxygen, build and repair any structures as well as gather resources. You will have to learn certain skills as well, such as soldering, using electronic measurement equipment, and how to properly structure connecting greenhouses and the cables that run between them.
Detailed survival games will test your mettle and Occupy Mars has its sights set on being the best one in space. Do you think you could survive on Mars?
Platform: PC – Steam, Android
The Invincible
Release Date: 2023
This list is getting darker and darker but sometimes space is like that. The Invincible is based on the gritty science-fiction novel of the same name. Created with 11 Bit Studios, the publishers behind Frostpunk, This War of Mine and Child of Morta. You can expect that this atmospheric story-driven adventure is going to be full of hard choices.
Set in a distant galaxy on the mysterious planet, Regis III, players will take on the role of scientist, Dr. Yasna. Dr. Yasna is a highly qualified, sharp-witted astrobiologist and she and the crew have ended up on the unexplored planet Regis III. The scientific journey quickly turns into a search mission for lost crewmates.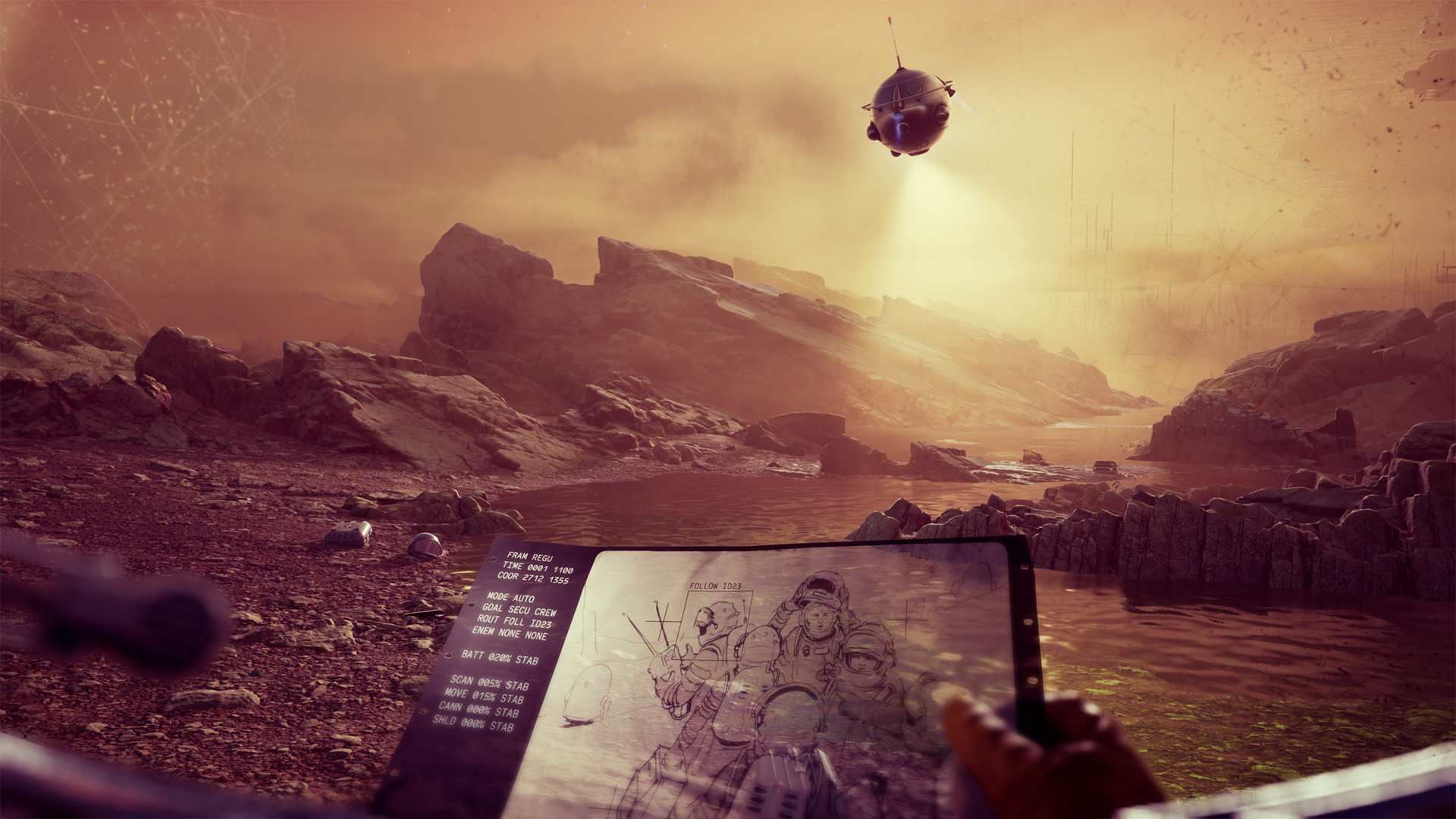 The journey quickly becomes a philosophical adventure. With mind-boggling scientific phenomena in an eerie cosmic landscape. The game will force you to rethink mankind's ambitions and biases. As we evolve as a species might be something we need to consider more.
To read the full write-up of The Invincible, check it out here.
Platforms: PlayStation 5, Xbox Series X|S, PC – Steam
Star Wars: Jedi Survivor
Release Date: 28th April 2023
One of the original space odysseys is the Star Wars universe. None of these games has touched the story and the world that Star Wars has painstakingly built over the last few decades. In Star Wars: Jedi Survivor we continue the journey of Cal Kestis a lone now Jedi Knight.
Five years after the events of Star Wars Jedi: Fallen Order, Cal is in an increasingly desperate fight as the galaxy descends into further darkness. Pushed to the edges of the galaxy by the Empire, you'll find both familiar and new threats.
While Star Wars: Jedi Survivor is a great combat RPG it is also a game that discovers space. A more fantastical part of space for sure, but space nonetheless. You'll discover new planets and frontiers from within the Star Wars galaxy. Each with unique biomes, challenges and enemies.
Platforms: PlayStation 5, Xbox Series X|S, PC – Steam
We hope you liked this list of upcoming space-faring games like No Man's Sky! If you have more games that you'd like to see leave a comment below! Or if we missed out on any games that you're excited about let us know that too.