Disney Dreamlight Valley – Early 2023 Roadmap
Disney Dreamlight Valley is the Animal Crossing farming and friend-making sim we've been waiting for. In this game, we go on missions and make friends with our favourite Disney characters. The game came out seven months ago and since then has had a number of character updates. With Buzz, Woody and Stitch joining us in December of last year.
Disney Dreamlight Valley's next free major update is scheduled for February, bringing two new beloved Disney characters to the game: Encanto's Mirabel and Frozen's Olaf. And yesterday Gameloft shared the game's early 2023 roadmap for the next few months. We also have new story missions, new biomes and more. Here's everything that we know that's coming to Disney Dreamlight Valley in Early 2023!
New Disney Characters
Mirabel Madrigal (Encanto) – February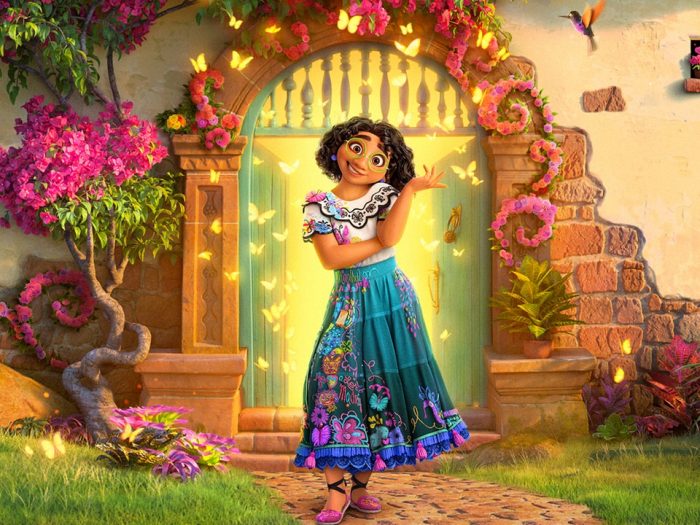 In February we'll welcome Mirabel Madrigal from Encanto. Mirabel lives in a wonderful and magical house in the mountains of Colombia. In the house every one of the family members is blessed with a unique gift, this is except for Mirabel. But being the only Madrigal has made her more empathetic and it's that which saves the family.
At the Disney Dreamlight Valley 2023 announcement, it looks like we'll be getting our own mini-Castita version of the Encanto house.
Olaf (Frozen) – February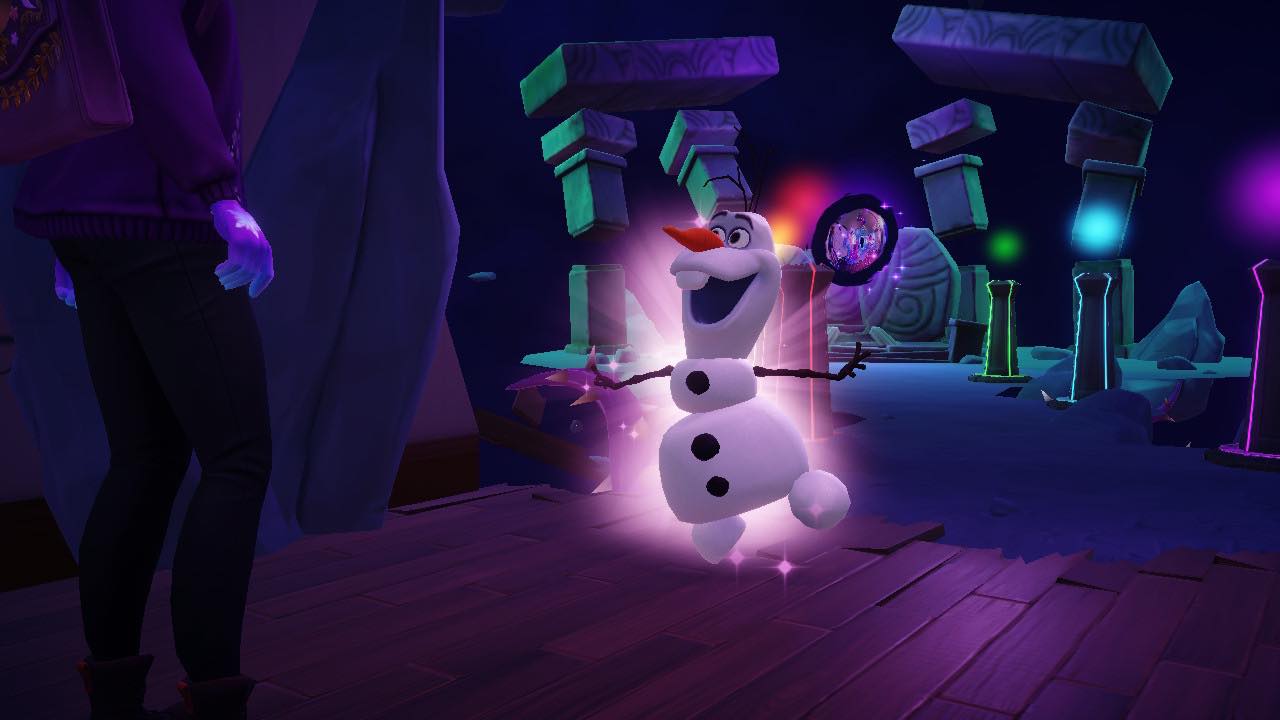 Disney Dreamlight Valley hints at a special snowman coming to the game next month and that can only be one character – Olaf. By this time we've got almost the whole Frozen crew in the Valley, just waiting on Sven.
Olaf is a magical snowman created from Elsa's powers. He is a friendly and outgoing snowman if a little simple-minded. Olaf may be a bit naive, but his sincerity and good-natured temperament make him a true friend to Anna and Elsa. Protect him from his love of summer at all costs.
"Olaf will be a huge part of the main story," says Castet, Lead Producer of Disney Dreamlight Valley. He said Olaf's quests are some of the best they've designed yet. The game hints at new secrets in the Frosted Heights Biome, much like the hidden cave for Scar's quest. So expect something similar for Frosted Heights.
Simba (The Lion King) – April
Simba, the King of Pride Rock and ruler of everything the light touches. In The Lion King, Simba is the son of Mufasa. As part of a plot to steal his throne, his uncle Scar betrays him and sends him running away. With the help of his friends Timon, Pumba, Rafiki and mate Nala he eventually grows up and comes back to reclaim his place on Pride Rock.
We already have Scar in the Valley so it'll be interesting to see how he reacts to Simba. I'm also hoping to get Nala and the rest of The Lion King characters in!
Early Summer Character Speculations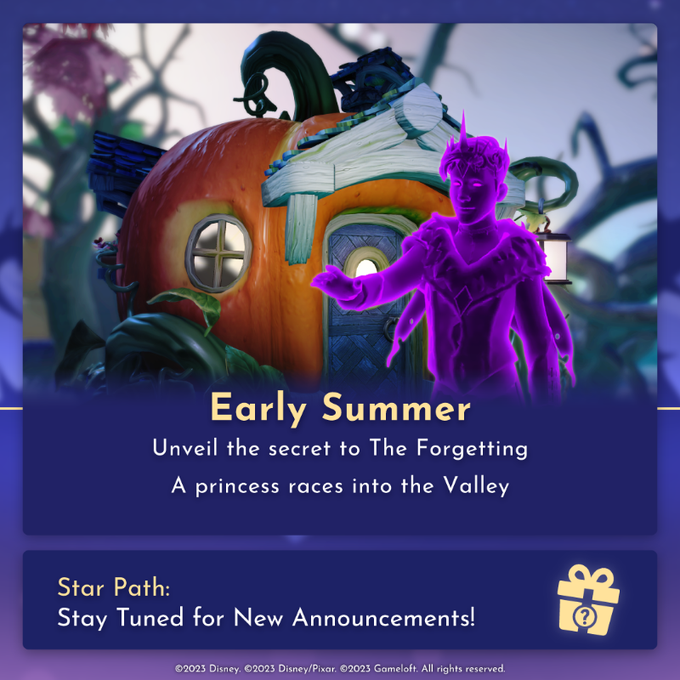 After April, likely June it looks like we can look to welcome another princess to the Valley. Who could it be? Our guess is that it's Cinderella if that giant honking pumpkin in the image is any indication.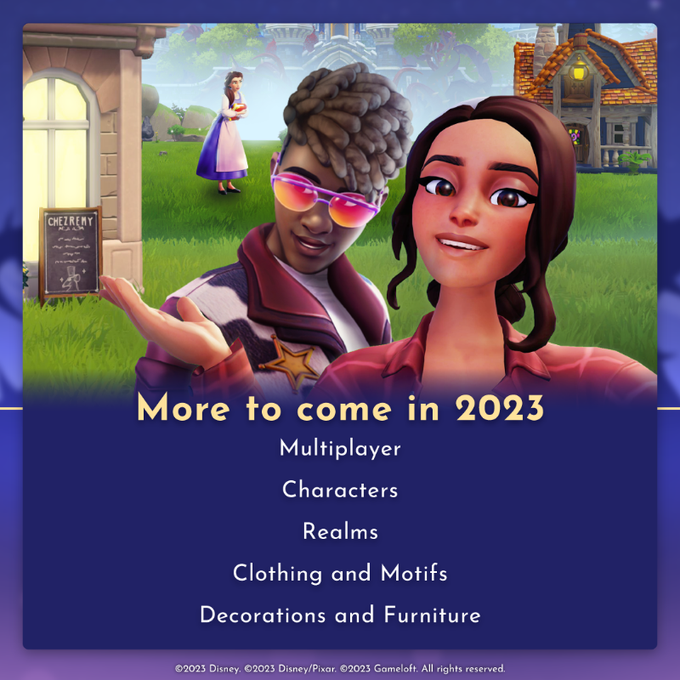 As for the other characters coming in 2023, we can see Belle from Beauty and the Beast in the background. As well as an image of Chez Remy, so could that mean more characters from Ratatouille are coming? Please make it Anton Ego.
New Realms
Another door looks to be uncovered in Disney Dreamlight Valley in April. With Simba coming in that month it's likely that this realm is connected to The Lion King. Hukana Matata is a jungle that is located on the edge of the Desert and is the place where Simba grew up with Timon and Pumba.
Likely you'll have to convince him to come and take his place in the Valley.
Upcoming Star Paths
February – Disney's 100th Anniversary
Castet said the assets from here are some of the "most beautiful" the team has made. Following the artistic direction of the whole Disney 100 celebration. There's also a new pet, new furniture, and new items that are directly related to the event.
April – Disney Parks
It's also the update that adds the Disney theme parks Star Path — "We can already imagine how cool it can be to customize your valley so it can look a little like a park," Castet said. You can't fully change your valley into a Disney theme park, but you'll be able to decorate it with things from the parks.
Disney Dreamlight Valley Guides
Gameplay Guides
Character Guides
Disney Dreamlight Valley Roadmap
Custom Designs