8 Games If You Love Stardew Valley, Out In 2023
Farming and life sims have entered their Renaissance years with everything from Stardew Valley to My Time At Sandrock and even Disney Dreamlight Valley. Since the pandemic, I think we've all come to appreciate the simple joys of tending to a virtual field, decorating a house and even just making friends. There's no big bad boss to defeat or world to save. Instead, it's just you taking care of the things and people around you. Sometimes you just need that in your life and on this list, we've got all that and more coming this year.
While Harvest Moon was the OG and Stardew Valley its successor. There are a few upcoming games that are breathing new life into the genre. Whether it's starting up a farm on the moon or living the life of a vegan vampire these fun and adorably wholesome games deserve to be on your wishlist for 2023!
The Witch of Fern Island
Enjoy Studio
I'm loving all these witchy life sims that we have popping around. From Potion Permit, Little Witch in the Woods and Wylde Flowers, we've definitely been spoiled for choice in this department. But that doesn't mean that each game feels completely unique from the other. In The Witch of Fern Island, you follow the story of a young girl who wants to become a witch.
During your stay on Fern Island, you can take part in witchcraft practices such as performing magic rituals, exploring the secrets of the island or helping culturally diverse people. Your progress will be judged by the members of the Academy of Witches. Study hard and pass your exams to become a full-fledged witch!
Learn powerful rituals to protect your farm, rule the weather, or peek into the future. Brew magical potions to help the island's inhabitants. Craft amulets, talismans and other items that you can sell. Mine, fish, catch bugs, make friends, there are many things to do in the life of a witch!
Release Date (Early Access): 2023
Platforms: PlayStation 4|5, Xbox Series X|S, Xbox One, Nintendo Switch, PC – Steam, Linux
Research Story
PetalCatGames
Research Story has all the wonderful pixel-art charm of Stardew Valley with additional research points! In this world, you'll not only need to tend your farm and look after your animals, but you'll be out discovering flora and fauna for the Violet Archive.
Sightings of exotic plants and creatures near the town of Shimmerbrook have attracted a wave of new settlers. The Violet Archive was set up to record the development in the region and is looking for researchers to aid its cause. Grow crops, and learn about the conditions they thrive in. Raise creatures and meet their needs. In turn, your creatures will give you perks to help you with farming and exploration.
Release Date (Early Access): 21st February 2023
Platforms: Nintendo Switch, PC, Mac
Wild West Dynasty
Moon Punch Studios, Virtual Magic Games, Toplitz Productions
Imagine Red Dead Redemption but instead of hunting down all the other gangs, you've decided to build your own prosperous settlement. Wild West Dynasty mixes life and survival mechanics with city building. All set against the backdrop of the Wild West in the 1800s.
You start out as a lonesome cowboy who comes across an abandoned ranch and decides to stay. Gather food by hunting animals, sell their meat and leather and start repairing your ranch. Once you've established a decent ranch, other settlers may decide to stay and ask for permission to settle down. Start building new communal buildings such as a Salon. Fall in love, have some kids and soon enough you have the makings of your own frontier town.
But just like in Red Dead your good fortune will attract bandits, so you better learn to shoot and defend yourself and the township properly.
Release Date: 17th February 2023
Platforms: PC – Steam, PC – Epic Games
A New Leaf: Memories
Hidden Tower Studios, Crytivo
A New Leaf: Memories isn't a complete reinvention of the classic Stardew Valley and Animal Crossing games. Instead, it's more of a beautiful 3D homage to the genre.
Your journey begins when you wake up on the beach of Omoide Island, unable to recall anything. Alone and equipped with only basic farming tools provided by the town residents, you aim to recover your memories. While you unravel the mystery of your origin you'll need to tend to your animals and grow your farm. Spend your life however you want, fishing by the ocean, mining the cavern or even just making friends.
Release Date: Q3 2023
Platforms: PlayStation 5, Xbox Series X|S, Nintendo Switch, PC – Steam
ONE LONELY OUTPOST
Freedom Games
We mentioned that farming sims are going through a Renaissance period right now and what could be more interesting than Stardew Valley in space? Much like I Was a Teenage Exocolonist this life-colonization sim brings you to live on an alien planet.
In One Lonely Outpost, you're the first pioneer to hit the surface of the barren, alien world. It's a desolate expanse as far as the eye can see. The job is simple: Take your Space-RV, power up your multipurpose tech gauntlet, and use whatever seeds are found in the cargo. It won't be the simple wheat and berries however, you've got future tech so you'll be able to genetically modify them. Make them drought-resistant? Make them grow more quickly? And of course, you'll be able to mine, fish, explore and date your fellow colony members.
Life, love and crops in outer space. I guess it won't be such a lonely outpost after all.
One Lonely Outpost has already finished up its successful Kickstarter run. And is available to wishlist on Steam now.
Release Date: 2023
Platforms: Nintendo Switch, PC, Mac
ROOTS OF PACHA
Soda Den, Crytivo
Farming sims have gone to the far future in space. Now in Roots of Pacha, we take a literal step back millions of years ago to the Stone Age. In this co-op farming and life simulator, there's no town shop for you to buy your tools and seeds. Instead, you and your clan will need to discover and develop the tools and ideas that will reshape the primitive world.
Learn to process and preserve food (meat, vegetarian, and vegan options), begin metalworking, create beautiful pottery and art, unlock your clan's spirituality, and invent new buildings to expand your village any way you want. Part Stardew Valley, part Age of Empires you not only have to farm the land but develop the tools to do it.
Release Date: 26th April 2023
Platforms: PlayStation 4, Nintendo Switch, Xbox One, PC – Steam, Mac, Linux
The Ranchers
RedPilz Studio
A farming sim with a breath of wholesome country air and online capabilities. The Ranchers is an open-world country-life sim for 1-4 players. Raise animals grow crops, craft machines, build your dream house and explore the gigantic open world where mines and dangerous monsters abound. Earn the villagers' respect and esteem. And who knows, maybe find love and start a family.
On foot, horseback, scooter, pickup, or yacht, explore a gigantic open world where mines, wild islands, shipwrecks, and dangerous monsters abound. Use your skills to recover ultra-rare minerals, gems, etc., to make and improve your tools, donate them to the village museum, or sell them at the auction market to other players. New content updates every month.
Release Date: Q3 2023
Platforms: PC – Steam, Mac, Linux
Voltaire: The Vegan Vampire
Digitality Games, Freedom Games
Just when you think you've seen all the permutations of a farming sim you get this. Voltaire: The Vegan Vampire is an action-farming-rogue-lite set in Transylvania. Voltaire is the rebellious lastborn son of Dracula. Going against tradition the young vampire is abandoning blood in favour of a plant-based diet. Proving to his father that neck-biting is not the only way for vampires to live.
The Elder Vampire doesn't take kindly to such ideas, but Voltaire manages to slip away. Once on his own, he embarks on a creepy, cute odyssey full of veggie recipes celebrating his plant-based lifestyle. Farm during the day with magical seeds to cultivate crops and provide Voltaire with sweet veggie nourishment. Expand the farm and territory and conquer numerous biomes on Voltaire's path to chlorophyll-based power.
Be wary though because once night falls Dracula will send his minions to ruin Voltaire's crops and make him return to a "proper," red-blooded diet.
Release Date: 27th February 2023
Platforms: PC – Steam
Witchbrook
Chucklefish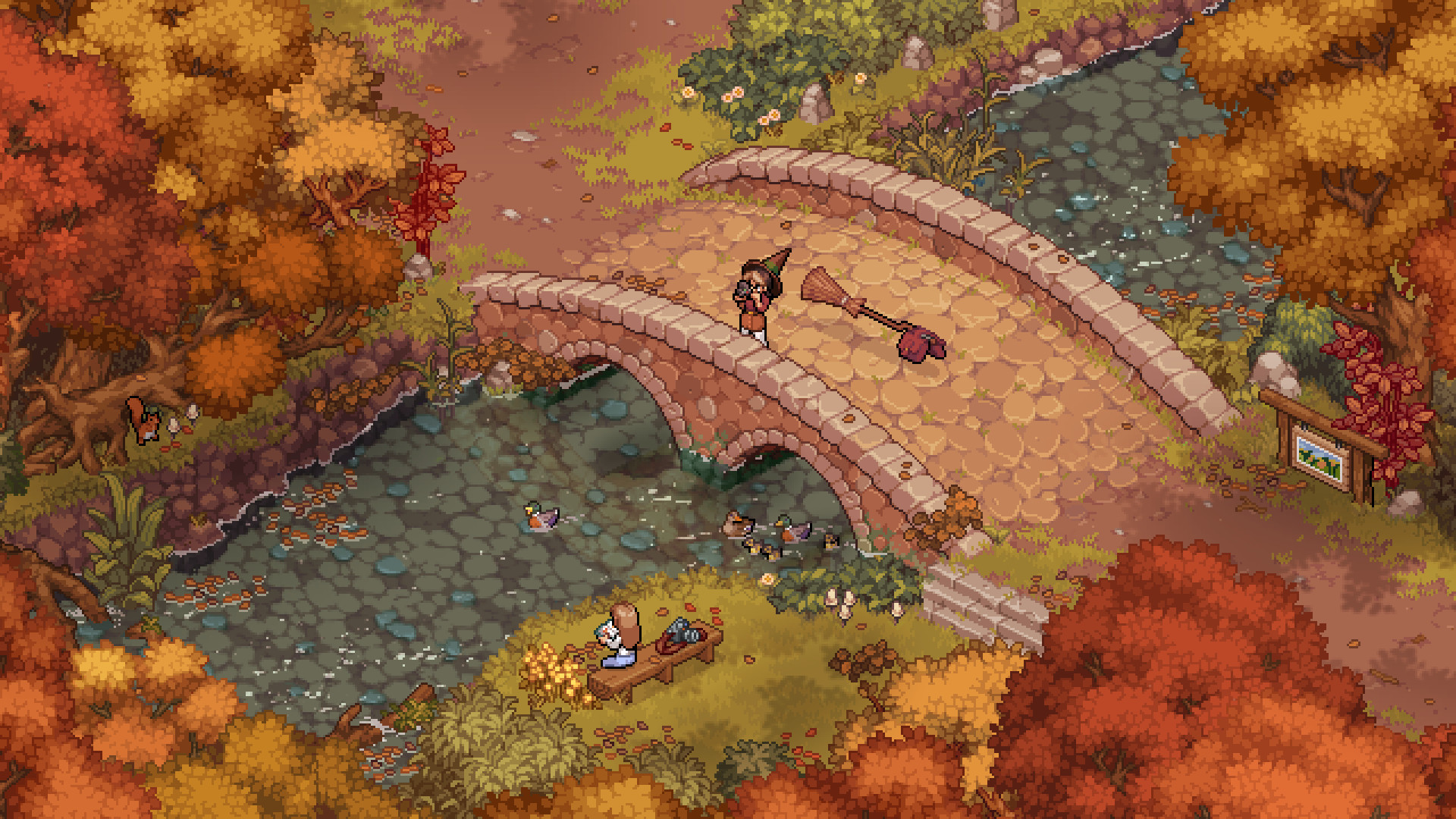 Finally the long-anticipated witch-life simulator Witchbrook MIGHT be coming out this year! There hasn't been an official announcement but a good amount of time has passed since its announcement. So I'm putting it here because I'm hopeful. If anything we'll be sure to get more news this year.
You'll remember Chucklefish as the studio that helped publish Stardew Valley. The premise of Witchbrook however will be more of a magical coming-of-age adventure. Think Harry Potter but even more wholesome.
Move to the bustling seaside town of Mossport when you enrol as a witch-in-training at Witchbrook College. Embrace your magical roots by attending classes, completing assignments, and earning badges. Practice your new skills by putting them to the test, using your magic all over the town. Master magical arts; brew potent potions, challenge fellow classmates to a broom race, forage for strange mushrooms, and so much more!
It doesn't look like farming is going to be the main aspect of this sim. Well if you can call growing plants for potions, farming. But if you love the life-sim aspect of Stardew Valley, such as making friends, falling in love and helping the village then you're going to love Witchbrook.
Release Date: 2023 (?)
Platforms: PC – Steam