7 Of The Best Steam Deck Accessories
Valve's Steam Deck is the portable handheld console we all want because it's a PC. It's fast, and slick and brings your entire Steam library with you wherever you go. But even the most perfect of consoles do better with little upgrades. Whether it's to improve performance, help you transport it better or simply jazz it up there's something for your Steam Deck in this list.
Docking Station – Jsaux M.2 Docking Station For Steam Deck HB0604
The Steam Deck doesn't come with a docking station, but maybe it should. And this one comes with an additional 2TB in their M.2 Card slot.
The Jsaux M.2 Docking Station is a 6-in-1 docking station equipped with an HDMI 4k@60hz/2K@120Hz output. A Gigabit LAN Ethernet output (no lag here), a USB-C port for charging, 2 USB-A 3.2 ports, and last but not least, an M.2 Card slot allowing you to increase your storage capacity for your Steam Deck. 
There's an option to buy one with an NVMe SSD, either 1TB or 2TB for $200 or $270, respectively. The included SSDs are unbranded with apparent sequential read speeds of 3300MB/s, and sequential writes of 2600MB/s, though the thing to remember is that while the M.2 slot does support PCIe Gen3, you're still only going to get a maximum of 900MB/s each way, due to the limitations of the USB Type-C connection. 
Steam Deck Case – Jsaux Protective Standing Case
Are you one of those people that feel nervous without a case on their phone? Yes? Welcome to the club, we're all anxious here. After putting a case on my Steam Deck I immediately felt a thousand times better and this  Jsaux Protective Standing Case is a good one.
The case gives a simple solution to two problems you'll undoubtedly have come across when using the Steam Deck: the inability to prop it up without blocking the exhausts, and the fear of the shell being damaged. While these seem relatively insignificant, they can make all the difference to the ease of use, and bring peace of mind when moving around. Practical, durable and pretty darn stylish, Jsaux has hit the mark with this one.
It fits perfectly onto the Steam Deck, and is comfortable and easy to grip.  All the cutouts are aligned and the case will not block any port or button. The half-wrap design makes it easy to install and remove and the opening holes solve the heat dissipation problem.
Screen Protector – Jsaux Anti Glare Protector
If you feel better with a case for your Steam Deck, then this additional Jasux Anti Glare Protector is a no-brainer. The kit comes with a full-screen coverage 7-inch tempered glass screen protector (that's edge-to-edge baby). With an anti-glare matte texture finish that removes annoying harsh reflections. Allowing you to see the screen clearly even under the light. My train commuters understand the pain.
Memory Card – SanDisk Extreme Pro MicroSD Card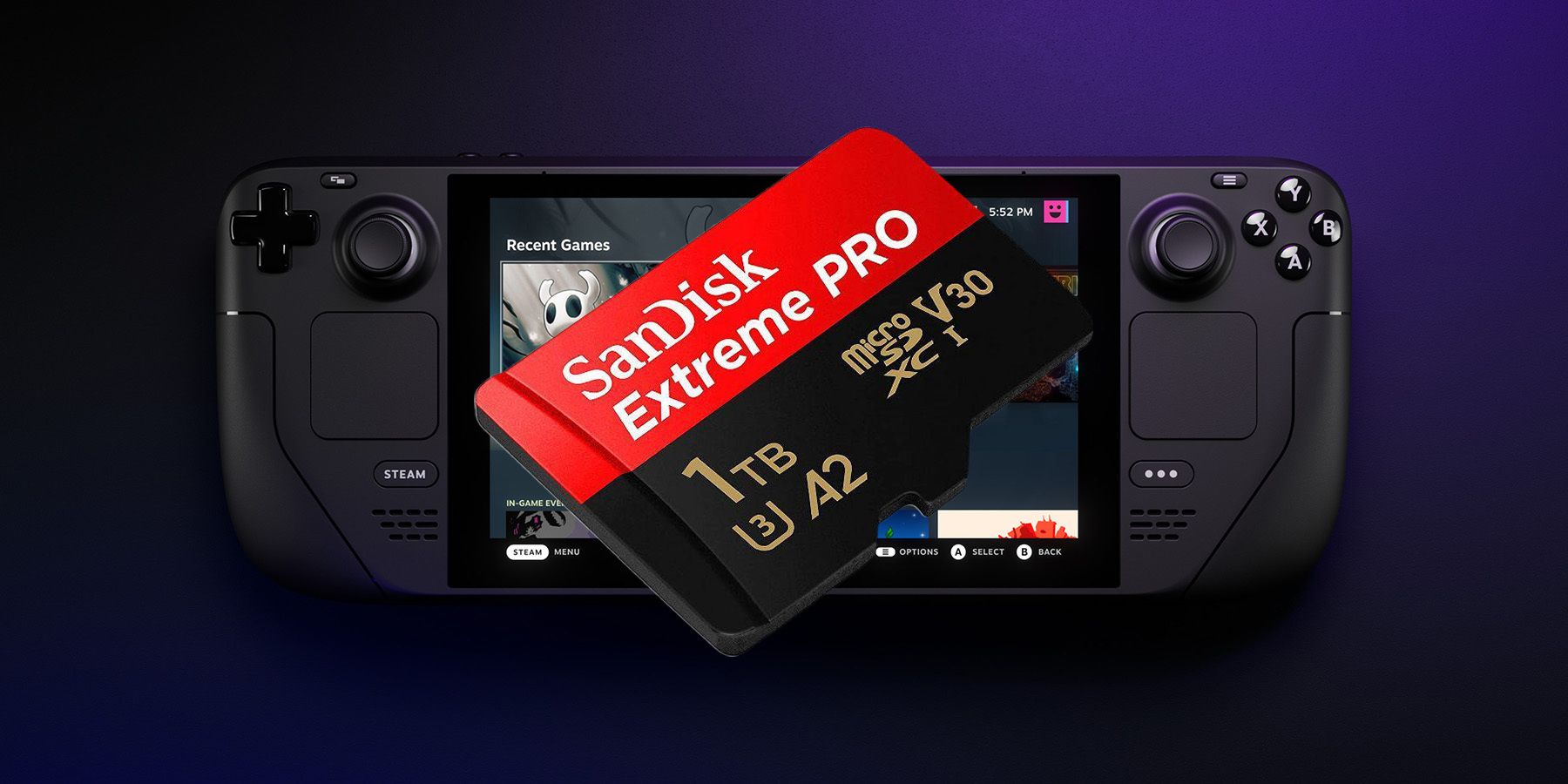 If you play lots of large, graphics-intensive open-world games like Elder Scrolls, God of War, or The Witcher, save yourself the strife of moving data around mid-game and set yourself up with extra storage as soon as you get a Steam Deck (or a Nintendo Switch, at that). That SSD storage goes faster than you'd think!
The SanDisk Extreme Pro UHS-I microSD card has fast transfer speeds to quickly save your game data. That includes faster, more efficient performance when playing games saved onto your microSD card, too. SanDisk Extreme Pro cards range from 32GB all the way up to 1TB, so you can add 200% more storage to even the largest Steam Deck with 512GB of included SSD storage.
Portable Keyboard – Razer BlackWidow V3 Mini HyperSpeed
If you have the Steam Deck you're probably a PC gamer, meaning that you'll probably want a portable keyboard to go along with your gaming console. This Razer BlackWidow V3 Mini HyperSpeed is very compact and an excellent match for the Steam Deck's size. It connects via Bluetooth and charges via USB-C and is not for people with large hands.
Something the BlackWidow V3 Mini HyperSpeed has over other portable keyboard options, as a 65% keyboard it comes with the all-important cursor keys (arrow keys). If you're planning to do any amount of typing, cursor keys will come in handy.
Steam Deck Carrying Case – Daydayup Carrying Case
The Steam Deck already comes with its own carrying case, which is… acceptable. But if you plan to go on long trips, you might want something bigger and a little more solid. This case can fit all your necessary Steam Deck accessories, including your charging cable, power bank, earphones etc.
This carrying case is a big upgrade over Valve's pack-in accessory and it comes at an unbelievable price considering it comes with snug spaces for all your accessories, including extra cables, wall plugs, a dock, and whatever else you need. Best of all, it keeps your Steam Deck cradled with space above and below it, so any jabs to the outside of the case won't push on the screen or joystick.
HDMI Cable – PowerBear 8K High-Speed HDMI Cable
The Steam Deck can stream in 8K but most of us don't have a display compatible with that output. That's where the PowerBear 8K high-speed HDMI cable comes in. In addition to the 8k of high speed, this cable is also braided for extra durability and it's super long to make it easy to plug into the TV.
To get the most out of using your Steam Deck with a display, a high-speed HDMI cable is absolutely necessary so you're not interrupted by lag or subpar graphics.