Harvestella – All Locations, Fishing Guide
Harvestella tries to mix the best of farming and life sims with an epic JRPG adventure. And it succeeds for the most part. It's not quite the sim fans of Stardew Valley or Coral Island may be hoping for, but the game does try and blend your activities with the storyline. You'll need to actually play through the main storyline to unlock new crafts, recipes, and even fish.
In this guide we'll start you off with the basics of fishing, how to fish and most importantly where all the fish you want to find are located and how much they cost.
How To Fish in Harvestella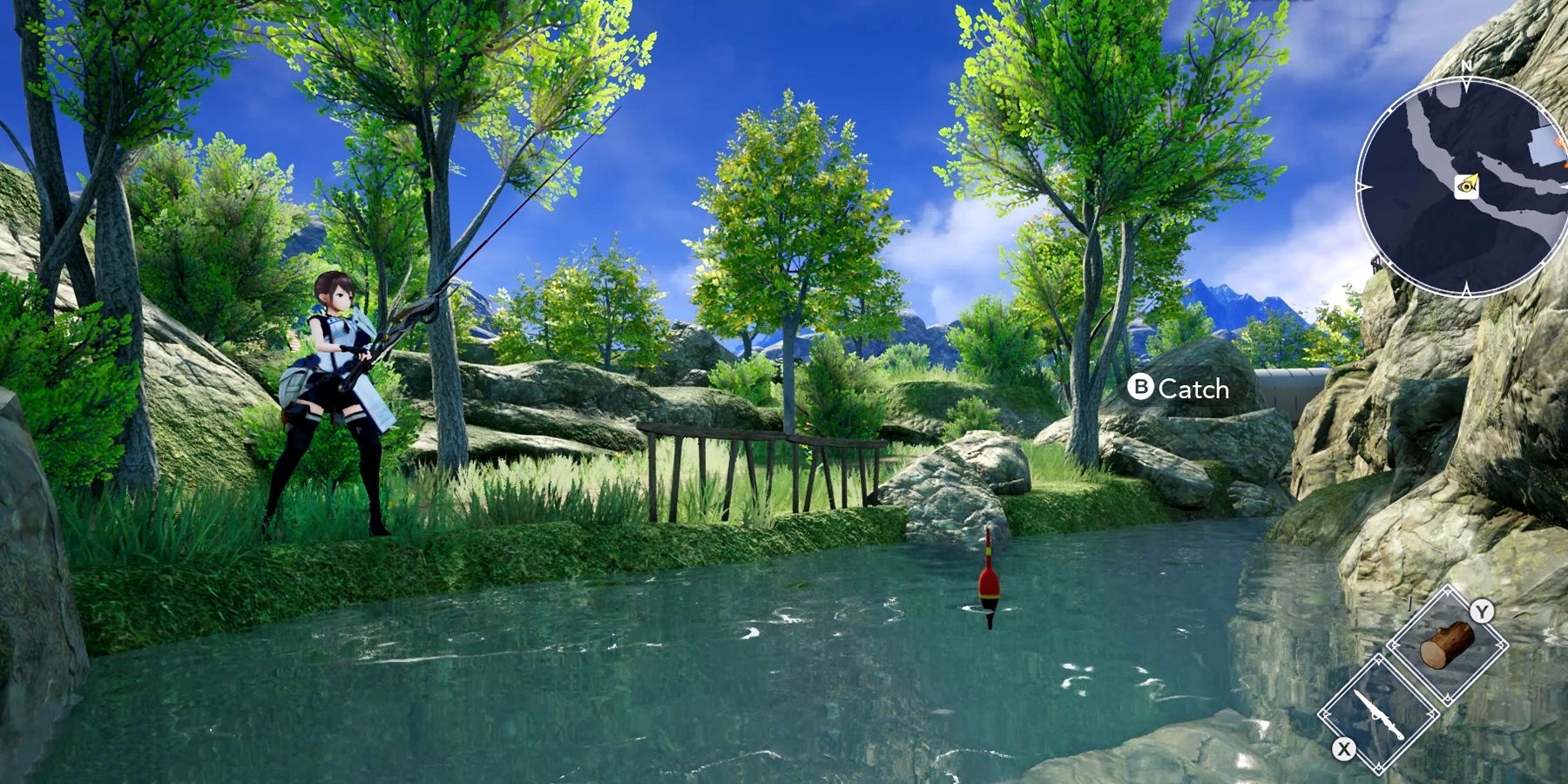 Luckily, Harvestella doesn't make players jump through hoops in order to acquire a fishing pole or to be able to fish. Instead all you'll need to get it is 800 Grilla. Once you have your money head on over to the Lethe General Store and purchase the Fishing Knowledge Book.
Armed with this book, look for the fish icons around bodies of water on the minmap. . This signifies fishable water, and you can cast your line out to begin fishing there.
Fishing itself is fairly easy, as all you need to do is cast your line and wait for a very large splash to occur around your bobber. Once you see the splash, simply reel in the fish by clicking or pressing your respective button once, and you're done! The fish is automatically added to your backpack, where you can sell it for profit or save it in your storage containers for recipes later on.
Fish Locations
Fish
Location
Season
Sale Price
Argentian
Lethe, Bird's Eye Brae
Summer
120
Azure Sprat
Lethe, Bird's Eye Brae
Spring, Fall,
Summer
85
Cherry Salmon
Nemea Town
Spring, Fall,
Summer
75
Chilly Pollock
Argene
Summer, Fall
Eversweetfish
Lethe, Bird's Eye Brae,
Higan Canyon, Nemea Town
Spring, Fall,
Spring, Winter
50
Firefly Squid
Panthalassa Junction
Spring, Fall,
Summer
Frosty Herring
Argene
Summer
Gazing Carp
Lethe, Bird's Eye Brae,
Higan Canyon, Nemea Town
Spring, Fall,
Summer
55
Golden Egg Salmon
Higan Canyon
Spring, Fall,
Summer
70
Great King Tuna
Shatolla
Fall
660
Marigoldfish
Nemea Town
Fall
90
Memoriam
Shatolla
Spring, Fall
60
Octopus Traveller
Shatolla
Spring, Fall
90
Quotidicrab
Lethe, Bird's Eye Brae,
Higan Canyon, Nemea Town,
Argene
Spring, Fall,
Summer
45
Roly Poly Prawn
Shatolla
Spring
65
Rosy Seabream
Shatolla
Summer, Fall
70
Super Grouper
Shatolla
Fall
120
Venin Clam
The Well
Fall
40
Rare Fish Quest
Once you have completed a decent chunk of the main storyline in Harvestella, you will be able to travel to the lands of Shatolla, which is a waterside port town that uses fishing as its main source of income.
From there, you will need to complete the storyline that brings you to the Coral Shrine, where you will defeat the siren known as Lorelei. Once she has been defeated, you will unlock the Great Water Faerie, who will then build you a water biome on your farm that allows you to grow crops that don't need to be watered.
From there, you will need to complete various tasks that the Water Faerie gives you, up until she unlocks the Level 2 water biome for you. Once that has been completed, you will need to travel to the North of the water biome plot of land, where there will be a Sahagin waiting nearby a pond. He will greet you and will teach you Fishing Level 2 in order for you to help him fish up some "speshul" fish that live all around the different areas. There are nine rare fish that you will need to catch for him, which are as follows:
Rare Fish Locations
Fish
Location
Season
Aurelian
Bird's Eye Brae
Autumn Chill
Cardinal Goldfish
Inside the Well on the Farm
(south of your farm plots)
Only found during Quietus
Giant Salamander
Lethe
Fall
Ice Faerie
Argene
Winter, Fall
Jejune Trout
Higan Canyon
After one day of Rain
Monotaimen
Bird's Eye Brae
Summer, Fall
Rainbow Harp
Panthalassa junction
Fall
Siren's Servant
Shatolla
While Raining
Twilight Cherry Salmon
Nemea Town
Fall at Night
HARVESTELLA
Our protagonist awakens during the height of Quietus, a disaster that visits with the changing of each season – and a threat to all life. Lead a life of self-sufficiency with your vibrant house as a base and cooperate with allies to overcome various threats, all as you draw ever closer to the truth behind the disasters and the very world's creation!
Harvestella is out now on PC and the Nintendo Switch.