Coral Island is the newly released environment-saving farm sim by Stairway Games. On this gorgeous tropical island, you play as a farmer that's helping to save the island from big oil. There are so many things you can do every day, there are fish and bugs to catch, crops to grow and water and townsfolk to befriend. Additionally, if you want to make your farm even better you can invite some animals to come in and live with you.
There are multiple types of animals that you can get right now in Coral Island. Not only are they adorable but they'll produce some great products for sale. In this guide, we'll run through the basics and more of ranching in Coral Island.
Disclaimer: Coral Island was released on the 11th of October 2022 in Early Access. As such information in this guide is subject to changes and additions. We'll be adding more to this guide as the game updates!
Quick Links
Animal Housing
The animals that you can ranch in Coral Island are divided into two different buildings, the Coop and the Barn. Plus an additional building to house a Horse. Depending on which animals you want to have on your Ranch you'll need to decide which to build first. To get started on your construction head over to the Carpenters Joko and Dinda.
Coop
The Coop can currently house four different animals: the Chicken, Duck, Peafowl and Quail.
It will cost you: 100x Wood, 50x Stone, 5x Bronze Bar, 10x Fiber and 2000 Coins to construct. It takes one day to build, and can initially hold 4 animals.
To upgrade the Coop in order to hold up to 8 animals you'll need 20x Wood and 10,000 Coins.
Barn
The Barn can currently house six different animals: the Cow, Goat, Sheep, Llama, Luwak and Pig.
It will cost you: 200x Wood, 100x Stone, 5x Bronze Bar, 10x Fiber and 3000 Coins to construct. It takes one day to build, and can initially hold 4 animals.
To upgrade the Bran in order to hold up to 8 animals you'll need 30x Wood, 2x Bronze Bar and 5000 Coins.
Stable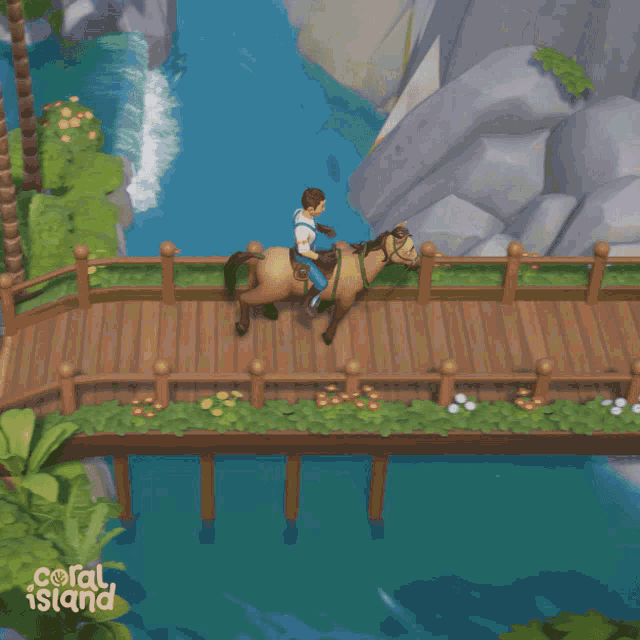 The Stable can only house one animal, the Horse.
It will cost you: 200x Stone, 50x Scrap, 5x Silver Bar and 15,000 Coins to construct. It takes one day to build and it does not look like you can upgrade it to get more horses.
Once you have purchased the construction for the animal house of your choice with the materials and coins above, you will then need to find an open spot on your farm to build it. Once you place the building down, in order to move it go back to the carpenters and purchase a move or destroy order for your buildings.
Farm Animals
After building your coop/barn you can buy the animals from Jack and Kenny at the Ranch located just North of your farm. They also sell feed, milk pail and medicine for your animals in case they get sick (medicine not in the game yet).
The Ranch is open 8 am – 5 pm from Sunday to Thursday. Is open from 8 am to 12 pm on Friday and is closed on Saturday.
| | | |
| --- | --- | --- |
| Item | | Cost |
| Hay | Animal feed. | 30 |
| Milk pail | Good for collecting milk from animals. | 300 |
Coop Animals
Chicken
Cost: 300g Chick, 600g Full Grown
Growth: 5 Days From Chick
Produces: Eggs, Large Eggs
Sell Price: 35g Egg, 47g Large Egg
Barn Animals
Cow
Cost: 1,250g Calf, 2,500g Full Grown
Growth: 3 Days From Calf
Produces: Milk, Large Milk
Sell Price: 75g Milk, 144g Large Milk
Luwak
Luwak, also known as Asian palm civets outside of Indonesia. A Luwak farm animal functions similarly to pigs, except instead of truffles they are able to find coffee beans from around Coral Island.
Horse
A four-legged steed. Helps you get around much faster than on two legs. Does not produce any animal products.
Cost: 8,000g
Growth: Comes as an adult
Taking Care Of Your Animals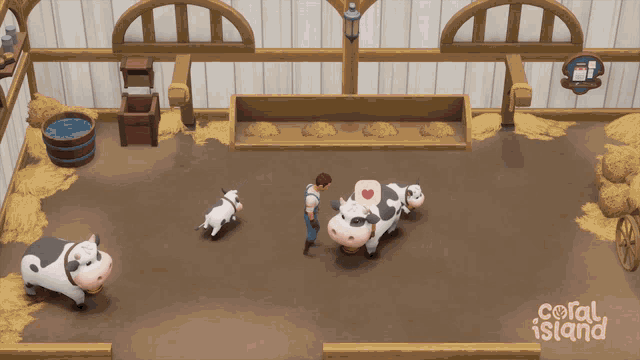 Now that you have your chosen farm animal at home you're going to have to take care of them. It's a two-step process that you'll need to do every day to ensure they're happy and give the highest quality products.
Feed them every day. Right now all animals eat Hay which you'll need to buy from the Ranch. You'll be able to unlock making your own Hay later on (Mill+Grass). But right now make sure you're stocked up.
Pet them every day. There's a little heart above your animal's head that indicates their relationship with you. Pet them every day to make it grow.
The more you care for your animals and consistently feed them, the more happy they'll be. This translates to higher quality animal products, which can be sold for more money.
CORAL ISLAND
Coral Island is a vibrant and laid-back reimagining of farm sim games. Be who you want and create the idyllic farm of your dreams, where you'll tend crops, nurture animals, and build a bond with the natural world around you. Help revitalize the nearby town and its surrounding coral reefs, and forge relationships with a vibrant community of more than 70 fellow people who call Coral Island home.
Coral Island is currently out on Early Access on PC – Steam and Xbox Game Pass.
CORAL ISLAND GUIDES