Slime Rancher 2 – Everything To Get Hyped About
Slime Rancher is a game that I never thought I'd love as much as I do. And now there's a direct sequel coming out in a few months entitled Slime Rancher 2. If you haven't played Slime Rancher before it's kind of hard to explain but it's kind of an action-adventure, slime farming and collecting game in space.
You play as Beatrix LeBeau, a plucky, young rancher who sets out for a life a thousand light-years away from Earth on the 'Far, Far Range'. It's here that you set up a profitable farm wrangling slimes. In Slime Rancher 2 you'll be continuing that adventure now with added mystery in a new location – Rainbow Island. Uncover the secrets of the island as you explore the candy-coloured cliffs, and pastel paved paths all while growing your own ranch of slimes.
The sequel has a gorgeous more sophisticated vibrant colour palette that we can't wait to explore. Coupled hopefully with some refined gameplay along with it. Slime Rancher 2 was showcased to us by Monomi Park at the Xbox and Bethesda Extended Showcase and here's everything that we're getting hyped for.
There are still a few more months before Slime Rancher 2 is released on Early Access on 22nd September 2022. So keep an eye on this page for more updates until then!
New Lands
Slime Rancher 2 takes you on a new journey across the slime sea to the prismatic universe aptly known as Rainbow Island. Monomi Park describes Rainbow Island as being "painted in a prismatic array of ever-shifting colours". The island is brimming with ancient technology, unknown natural resources and of course a cornucopia of slimes.
Expect brand new gorgeously designed landscapes. A bunch of wiggly new slimes and a new mystery for you to solve. There are so far only 7 known new locations for us to explore. But I expect more to be added before launch and over time.
The Rainbow Fields
A grasslands-themed area with colour-changing grass. The fields seem to be lush with many kinds of plant life, trees and wildflowers. Happy, hoppy cotton slimes are always hoping to land in a patch of delicious water lettuce within its prismatic grasses.
There appear to be a handful of slime sculptures like the ones seen near the ruins in Slime Rancher.
The Tidepools
Coral-crusted tidepools that weave between the major biomes of Rainbow Island.
Rocky Cave Area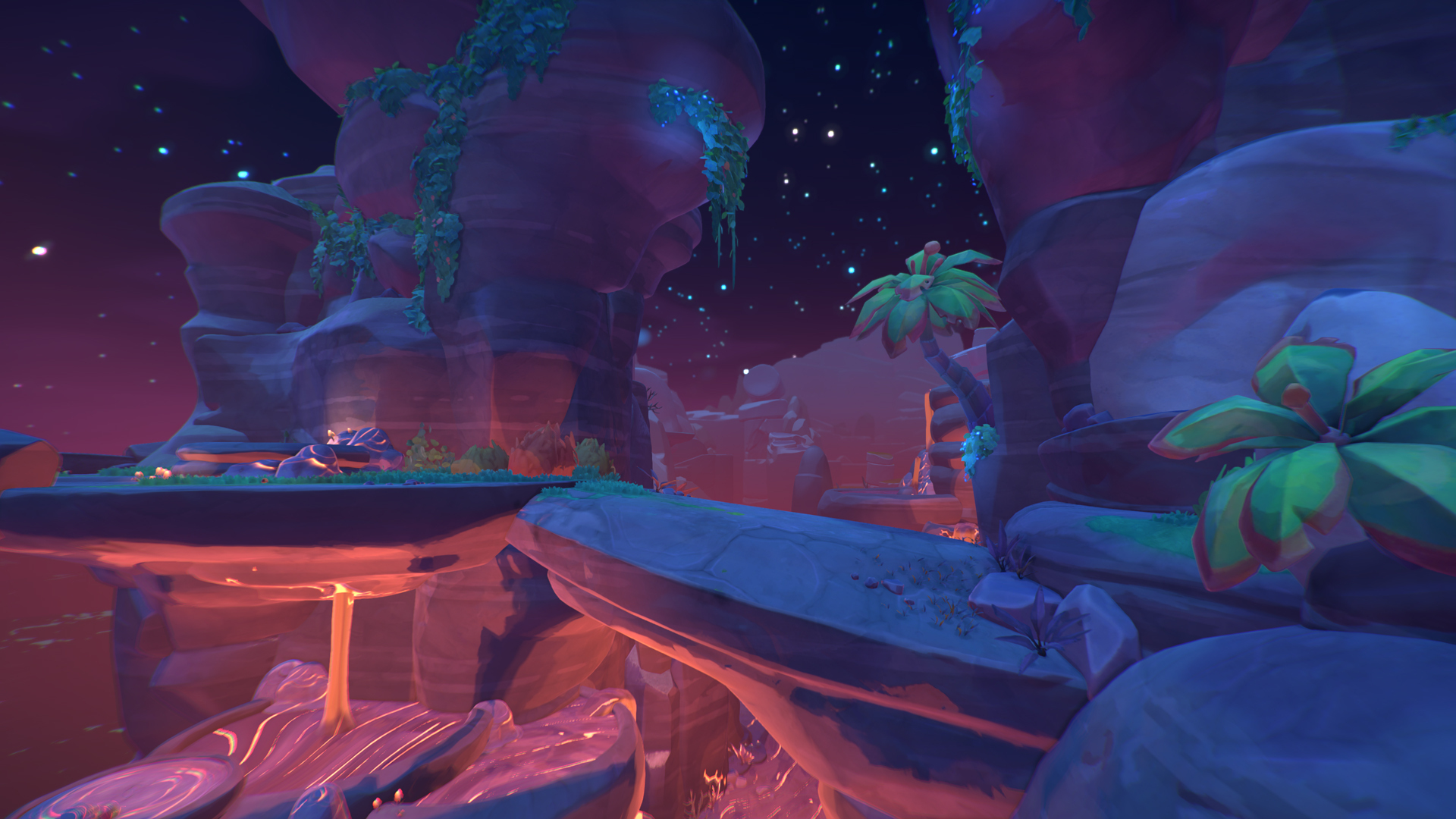 Ancient Ruins Area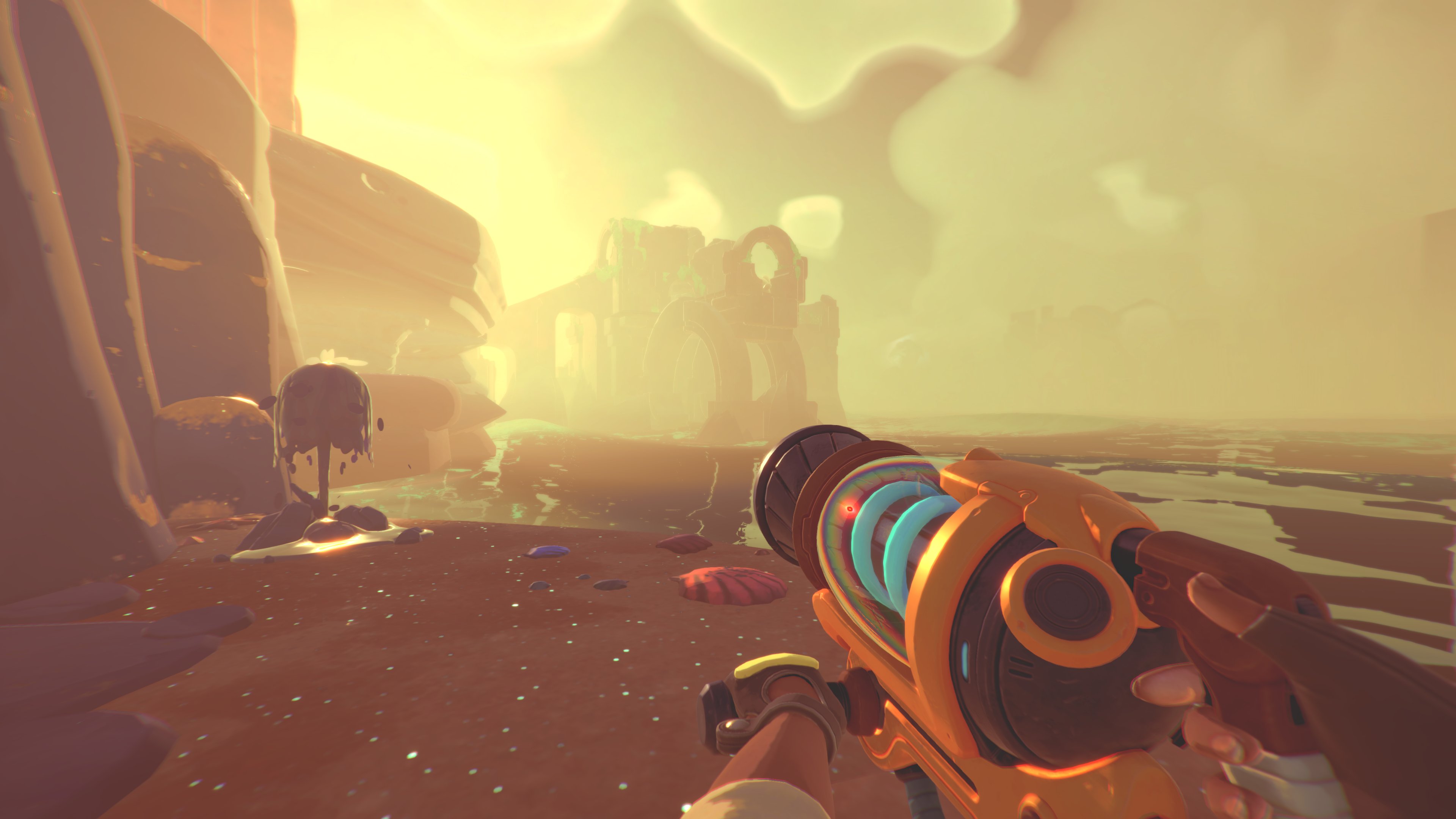 Conservatory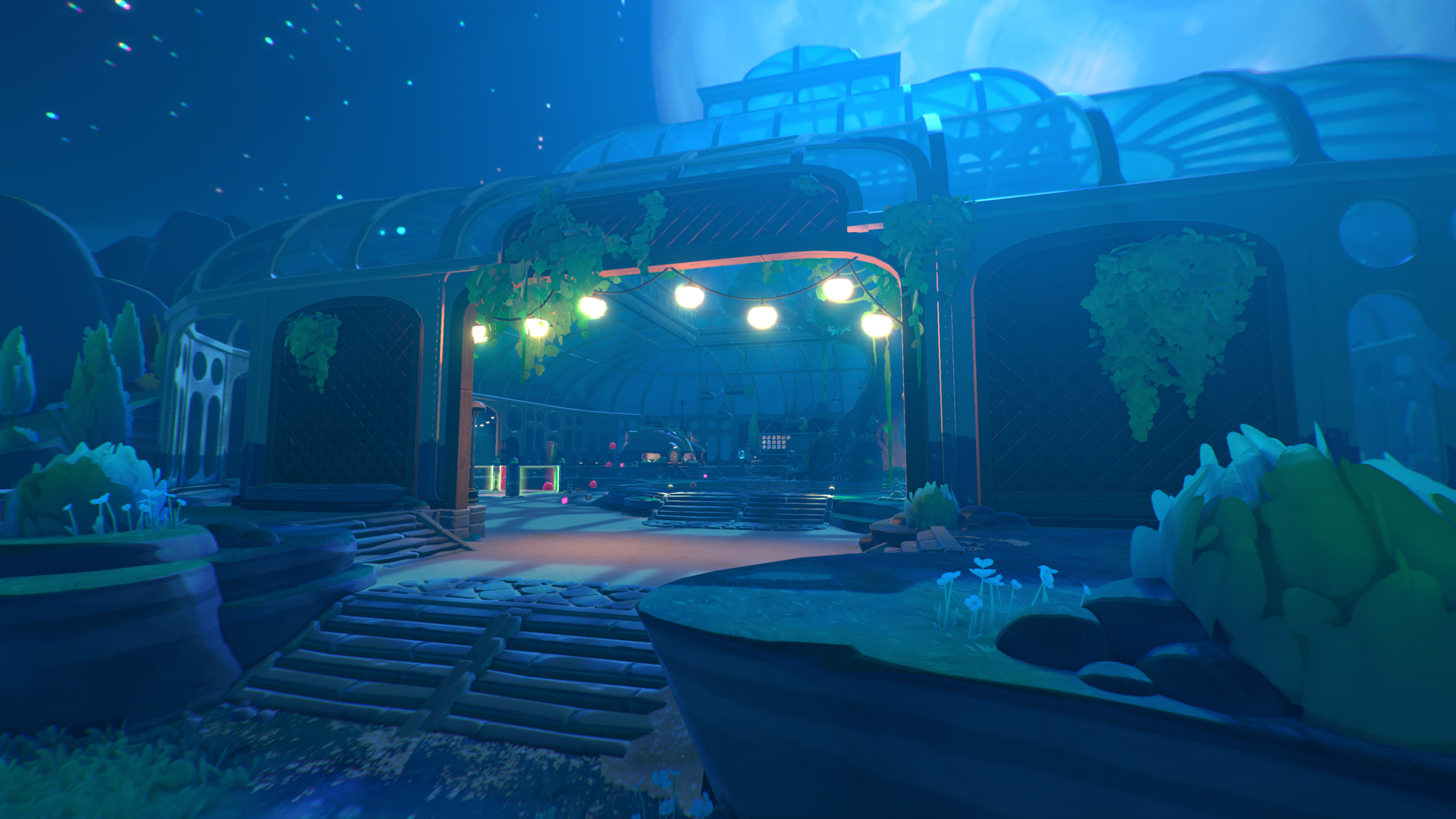 Ember Valley
Always rumbling: blasting great geysers of water on one end, and filling ravines full of lava on the other. Ember Valley is home to heat-loving boom, fire, and crystal slimes. As well as an excellent place to (carefully) hunt down primordy oil and lava dust.
Starlight Strand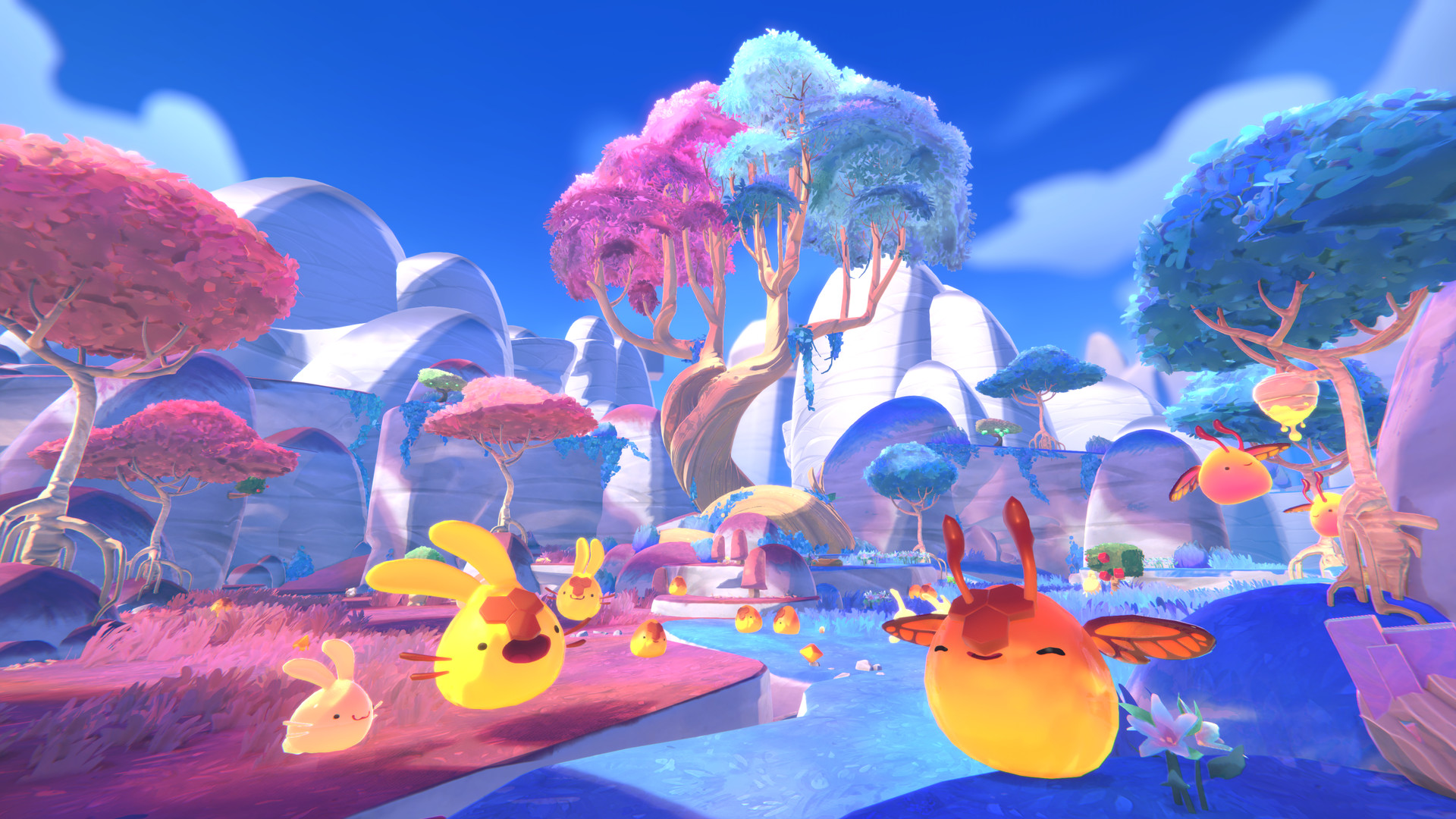 A beautiful expanse mysteriously divided between dazzling palettes of dusk and dawn.
New Slime Species
There seem to be in addition to our OG favourite slimes, new ones coming to Slime Rancher 2. Including as per the gameplay trailer a bouncy cotton bunny slime and an aquatic angler slime.
These are the new slime species that we've spotted from the trailer:
Cotton Slime
The slime's name and overall appearance may be based on the Cottontail Rabbit.
Flutter Slime
The slime appears to be based on a butterfly, in particular, the Monarch butterfly. An iconic butterfly known for its orange colouration.
Angler Slime
Based on the Anglerfish, a deep sea-dwelling fish that uses a bioluminescent fin to lure and ambush prey. The coral-crusted tidepools that weave between the major biomes of Rainbow Island are home to angler slimes. They splash from pool to pool and hunt for plump sea hens.
Batty Slime
Ringtail Slime
The slime may be based on the ring-tailed cat, a species of raccoon known for its striped tail. It also appears visually similar to a Japanese raccoon dog, otherwise known as a tanuki.
Returning Slimes
There are of course going to be returning slime species from the original Slime Rancher game. These include Pink, Rock, Tabby, Phosphor, Boom, Red, Crystal, Hunter, Honey, Puddle, Quantum, Saber, Fire, Tangle, Dervish, Mosaic, Lucky, Gold Slime and Tarr.
The Conservatory
Your new home at The Conservatory is a step up from the rustic Far Far Range.
"One of the reasons we had to move on from the first game is that we were literally, and I mean literally, reaching the bounds of the world," Game director Nick Popovich says. "Everything in the original Slime Rancher is basically happening in the same scene to have that seamless movement between zones, and we were coming up to the physical limits of this virtual space."
DLCs for Slime Rancher 2
The first Slime Rancher game has a series of DLC packs that mostly consisted of added cosmetics for your slimes and gear. There were also several free updates for the games that added plenty of game-changing features, including drones that can be programmed to help with various tasks around the ranch, pool party fashion, and huge storage upgrades. We expect Slime Rancher 2 will get the same treatment, consistently improving through updates during its lifecycle.
When the early access release date was announced, developer Monomi Park had this to say about future updates: "Updates for Slime Rancher 2 will broadly cover three areas to varying degrees: adding more of what you already love about Slime Rancher (new areas to explore, slimes to wrangle, resources to collect, and gadgets to build), completing the story of Slime Rancher 2 and learning more about the secrets of Rainbow Island, and finally, expanding the potential of Slime Rancher's established gameplay by adding new features not yet seen in Slime Rancher."
Slime Rancher 2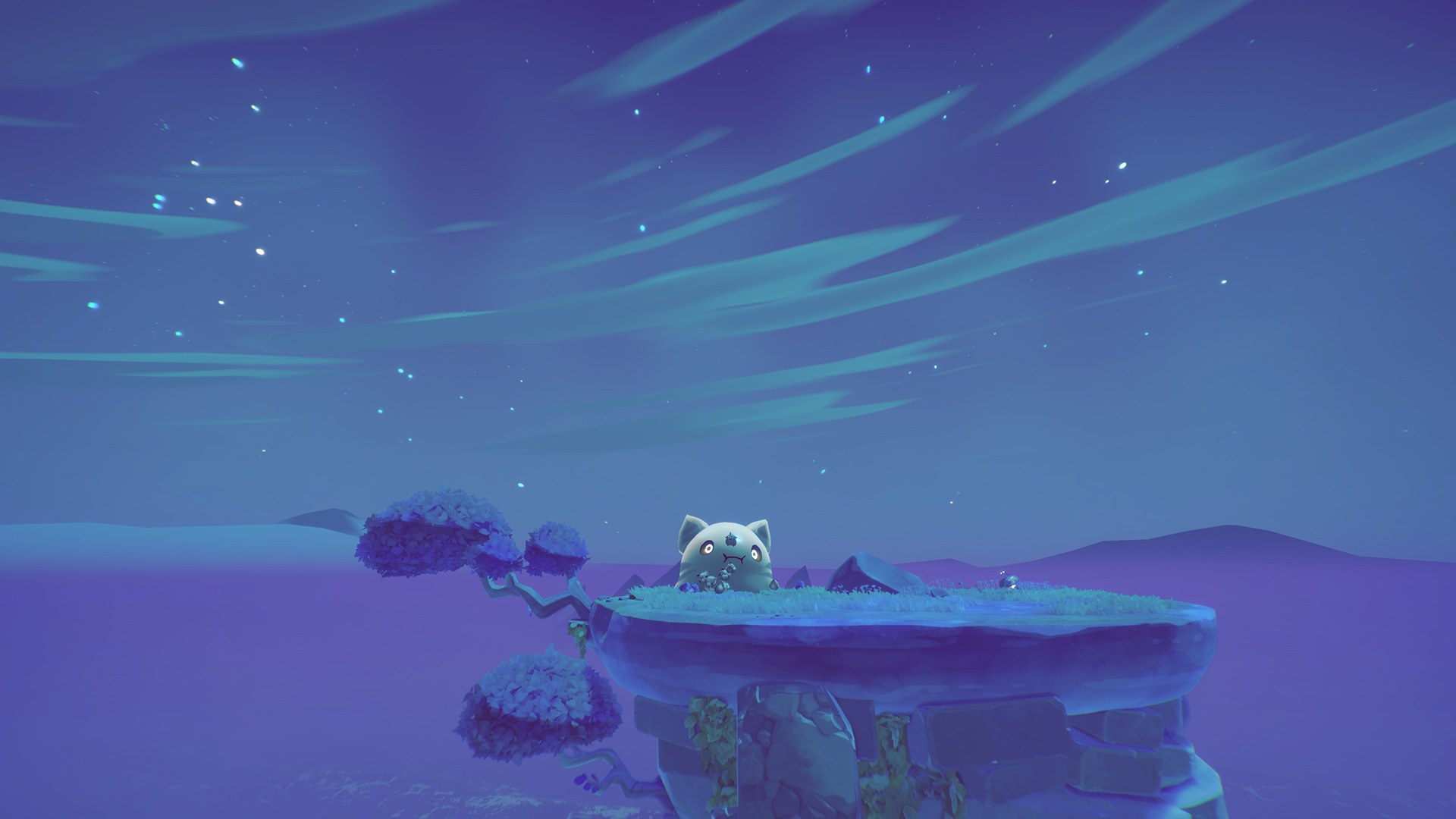 Slime Rancher 2 will release on the Xbox Series X|S and PC – Steam, Epic Games Store. And will be available on Day One on the Xbox Game Pass. It will not be available on last-generation consoles, including the Xbox One.
On top of that, Slime Rancher 2 appears to be a timed exclusive for Xbox. This means that the game will not come to the PS5 or Nintendo Switch for some time. With it being a next-gen-only release as well, Slime Rancher 2 will seemingly not release on PS4.
Tagged:
ancient ruins
angler slime
batty slime
beatrix lebeau
conservatory
cotton slime
ember valley
epic games
far far range
flutter slime
monomi park
pc
rainbow fields
rainbow island
ringtail slime
rocky cave area
slime
slime rancher
slime rancher 2
starlight strand
steam
tidepools
xbox
xbox and bethesda extended showcase
xbox series s
xbox series x