Genshin Impact: Things To Know Before Starting Sumeru
Genshin Impact's annual update in August added the massive region of Sumeru to the game. Sumeru — which joins Mondstadt, Liyue, and Inazuma as the fourth open-world nation — is brimming with content that might take some getting used to.
Sumeru has a lot to offer, from fresh enemy types to fun, kinetic ways of exploring the gorgeous landscape. That's why we have put together a list of things to know before starting Sumeru. Read on before losing yourself in Genshin Impact all over again.
Getting to Sumeru
It's easy to forget amid the hype that you aren't told how to get to Sumeru. To make your way to the game's newest region, teleport to the waypoint closest to Cinnabar Cliff. Enter the mining cave, and the changing vegetation and wildlife will indicate the unique setting.
Four-leaf Sigils
Sumeru adds a navigational mechanic to Genshin in the form of the four-leaf sigil. They can be located as twinkling green lights with a vine icon. When facing the sigil, you'll get a prompt to fly to their location instantly. The four-leaf sigil also comes in handy when trying to get behind or above high-placed enemies.
The four-leaf sigil will make your exploration more accessible. It doesn't consume stamina and can lead you to secret locations or objectives. But you can't use the four-leaf sigil mechanic when climbing or swimming.
You can summon four-leaf sigils by using Dendro powers on large yellow plants called Clusterleaves of Cultivation.
Green Mushrooms
These mushrooms are another traversal mechanic scattered across Sumeru. These bouncy mushrooms will boost your jumping distance. Want to go even higher? Attack them with Electro skills to supercharge them.
Remember: if Electro charges them, Pyro will deflate them. If that happens, you can restore them by using Dendro elements.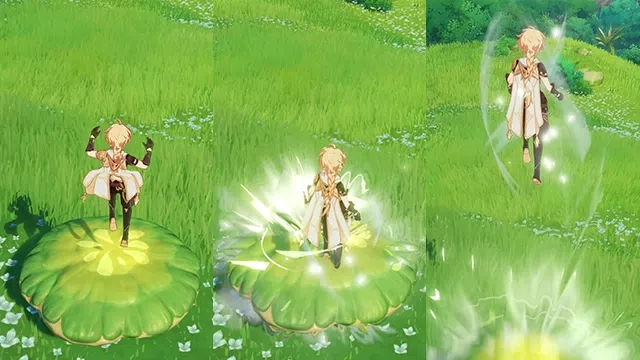 Look out for more four-leaf sigils when you're up in the air from a green mushroom. Combine the two mechanics to make navigation a breeze. You can practice these quick jumps in Ampam Woods. With a bunch of four-leaf sigils and green mushrooms present in the area, you'll quickly get the hang of these jumps.
Yellow Flowers
While climbing, look for these unnamed plants. Interacting with these yellow flowers will regenerate your stamina, making your ascent more manageable. As they are mostly found on cliff walls, they are also an excellent indicator of which mountains you can climb.
Collei to The Rescue
Sumeru is built around Dendro-based puzzles. To succeed, your first option is to change your protagonist to the Dendro Traveler at any Statue of the Seven. The Elemental Burst called Surgent Manifestation is an AoE attack that deals continuous damage.
An even better option, however, is grabbing Collei as soon as possible. She is available for free during the event quest 'The Unappreciated Carving'. You can start the quest from the event page or by finishing the Archon Quest, The Trail of the God of Wisdom.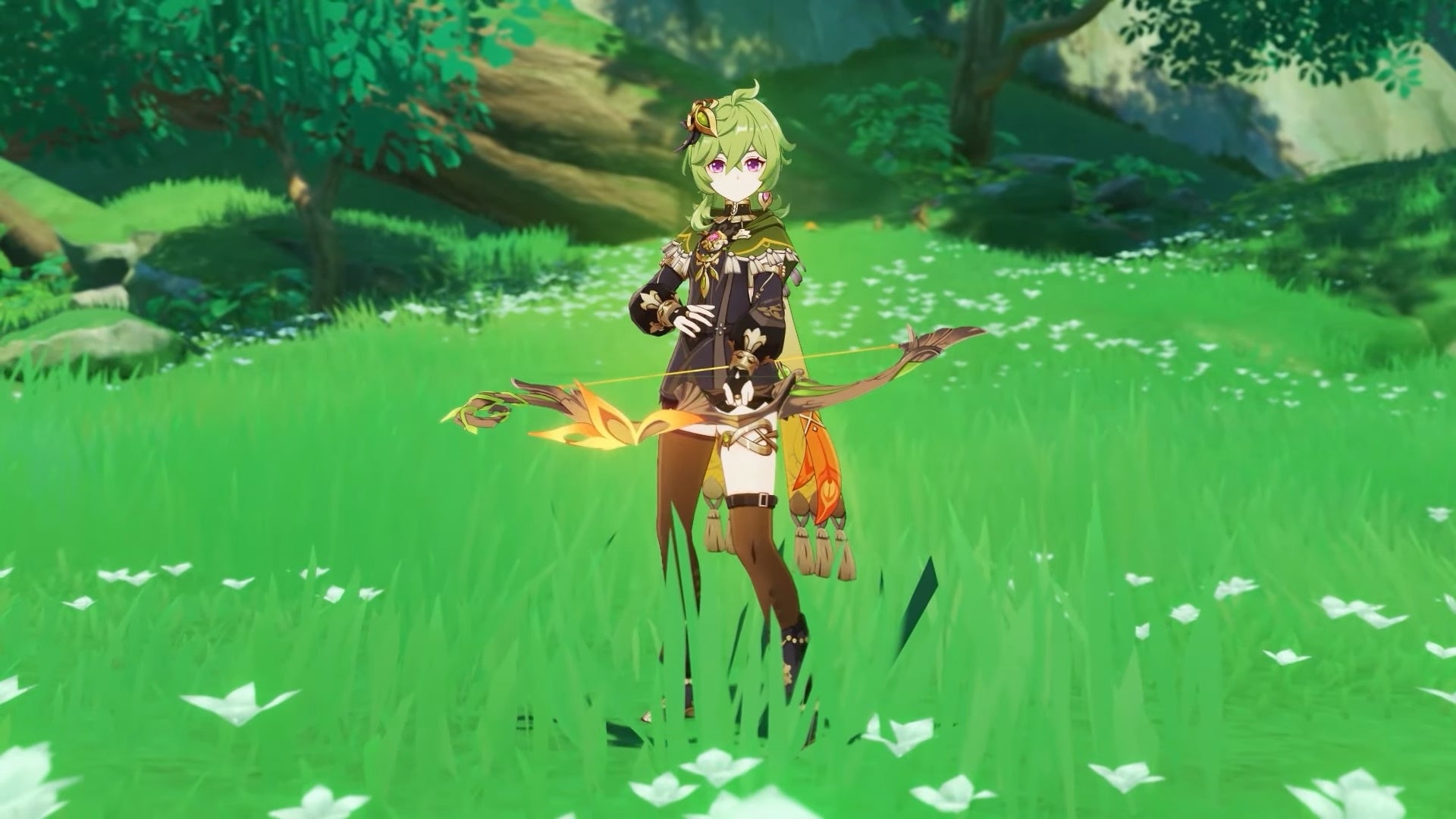 Collei's bow will make life more comfortable in Sumeru. Firstly, there are great choices, including the limited 5-star 'Elegy for the End' or the free 'Favonius Bow'. The bow is essential to hit Dendro switches from a distance.
Bring a bow user even if you're not going for Collei or Tighnari. Sumeru is littered with floating Dendro puzzles that can be solved by archery. After hitting all these marks while holding Dendrograna and solving the puzzle, you will be rewarded with a treasure chest.
What's more, bow-using characters are perfect for clearing Withering Zones. But what exactly are Withering zones?
Cleaning the Withering Zones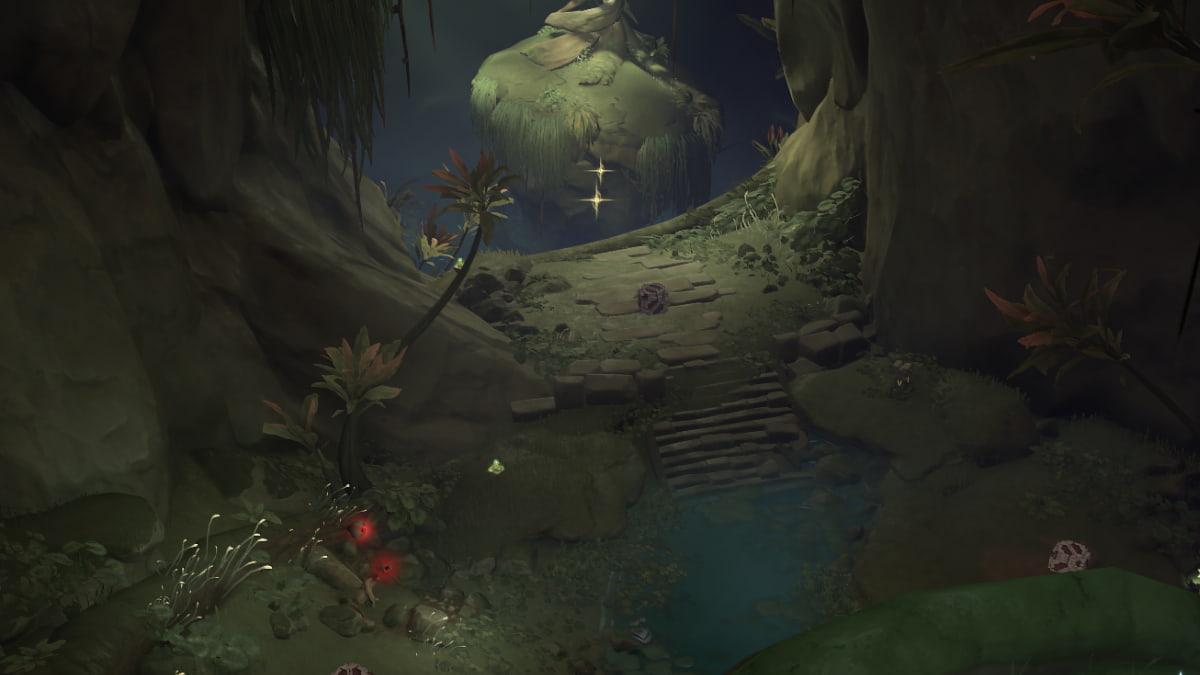 Sumeru features gloomy, greyish locations called Withering Zones. The plants here are withering, and the wildlife is aggressive. In addition to the strong foes, you will also need to deal with the 'Decay'. As soon as you enter a Withering Zone, you will gain two bars of Decay which, when full, will cause your party to faint.
Decay's constant harm will reduce your team's elemental and physical resistance and the max HP. To make matters worse, some enemies can also apply a stack of Decay. You'd need to move out of the Withering Zone quickly. If you must stay in the zone, stand by active Candles of Life or collect Flames of Life to avoid or remove Decay.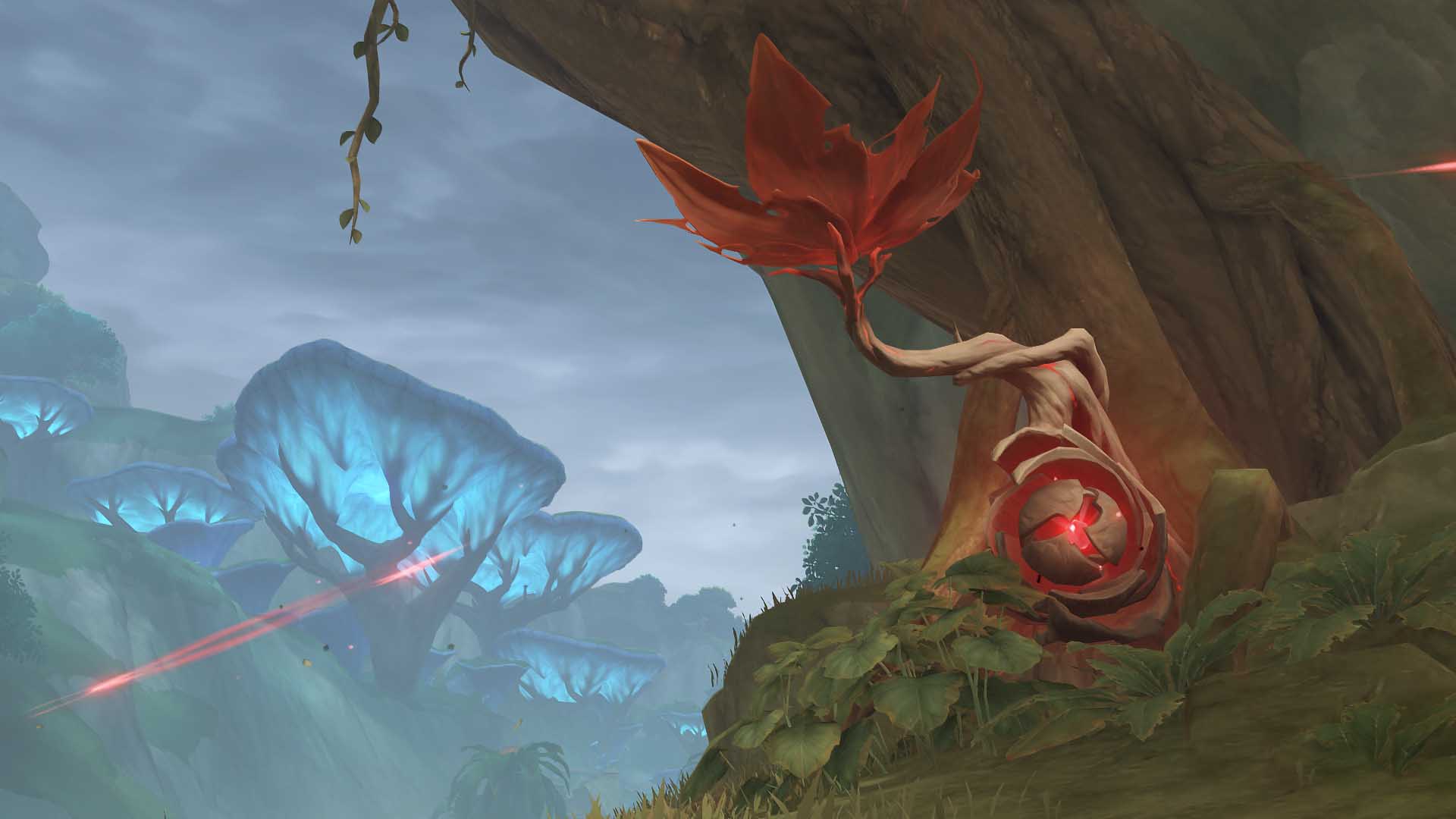 To cleanse a Withering Zone, you must destroy the Tumor of the Withering. Before that, you have to remove the three withering branches. That's where the bow-using character comes in.
Run around to collect Dendrograna by locating tree trunks with a green orb inside. Once you have it, use a charged attack or aimed shot at the Withering Branches. Be ready, as your enemy will respond with its AoE attack.
You can deal with the champion once all three branches are removed.
Aranyaka and Archon quests
The Aranyaka questline is a lengthy world quest with several parts and even more subquests. To put it bluntly, trying to rush it can be a chore. While you need to progress as several puzzles are locked, take your time and explore Sumeru.
Focus on the new Archon Quests, as you have to finish two to unlock the Sumeru Commission and City's Reputation systems.
Genshin Impact 3.1
HoYoverse's action RPG keeps evolving. And the next update is expected to release on September 28, 2022.
Before the 3.0 update, the developers released character previews for Candace, Nilou, and Cyno. We expect these three faces to feature in the Genshin Impact 3.1 update.
Genshin information account Genshin Mains claims that Elemental Mastery-based weapons — Xiphos' Moonlight Sword, Wandering Evenstar Catalyst, and Mahara Aquamarine Claymore — will also be added to the game.
Conclusion
With Sumeru, Genshin Impact has exceeded all expectations and played to its strengths. The mobility, along with the picturesque setting, makes the region a pleasure to explore. We hope our tips will help you enjoy your time in Sumeru. And remember, if something looks suspicious or glowy, attack it with Dendro.
For more of our Genshin Impact guides be sure to check them all out here!
This article was an original contribution by Sarah from the site OffGamers. Check out the site for all your gaming needs!