Citizen Sleeper – Free DLC Roadmap
Citizen Sleeper is a story-heavy turn-based role-playing game set in a cyberpunk universe. This RPG lets you decide who and what you want to be as a corporate-owned synthetic being on the run. It's out now on the Nintendo Switch, PC, and Xbox Series X|S. And while the run time isn't the longest, Citizen Sleeper will be getting three more free DLCs down the line.
The first DLC coming to Citizen Sleeper is called Flux and will release on the 28th of July. Flux will introduce new characters and expand Citizen Sleeper's narrative and the Helion System, says Gareth Damian Martin from developer Jump Over the Age. The next DLC which is as of yet untitled will be out in October. And the last has been earmarked for 2023 (February?).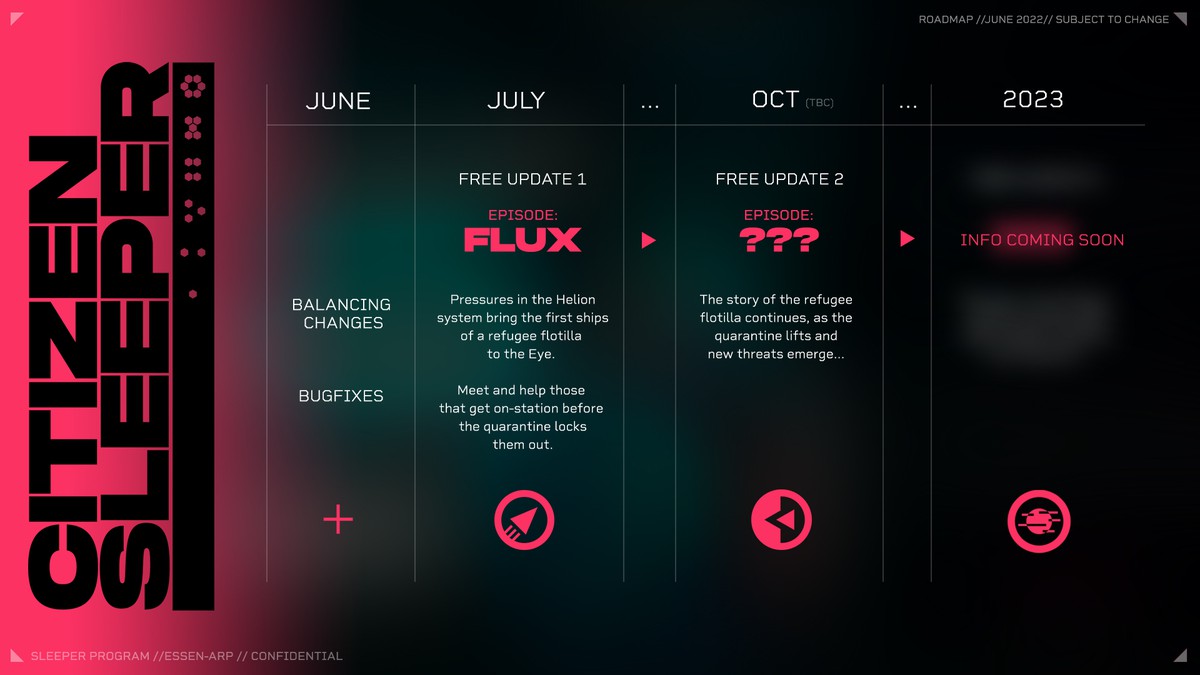 About Citizen Sleeper
Citizen Sleeper is a narrative RPG set on Erlin's Eye, a ruined space station that is home to thousands of people trying to survive on the edges of an interstellar capitalist society. You are a sleeper, a digitised human consciousness in an artificial body, owned by a corporation that wants you back. As a result, you live the life of an escaped worker, washed up on this lawless station at the edge of society.
Every cycle you get up and choose what to do with your time. Toil in the yards, or take a bar shift. Search the markets for rare components or grab some street food. Make or break alliances, uncover truths and escape those that hunt you. Learn to survive and ultimately thrive, one cycle at a time.
The station plays host to characters from all walks of life, trying to eke out an existence among the stars. You need to build friendships, earn your keep, and navigate the factions of this strange metropolis if you hope to survive to see the next cycle. Salvagers, engineers, hackers, bartenders, and street-food vendors, each have a history which brought them here. You choose which of them you wish to help, and together you will shape your future.
Episode 1: Flux
The first episode, Flux, will kick off a new story that expands across the three Citizen Sleeper updates.
Pressures in the Helion system bring the first ships of a refugee flotilla to Erlin's Eye. As the station decides how to deal with this influx of bodies you must help those on board to arrive safely. A quarantine protocol is put into effect and you'll need to decide who can make it in before quarantine locks them out.
You'll also meet and get to know the crew of a ship called the Climbing Briar. Run by Captain Eshe, a stubborn and driven spacer whose fate becomes entangled with the refugee ships. Her story will challenge you to rely on more than just a roll of the dice to deal with the growing crisis that threatens the entire station.
Citizen Sleeper
Citizen Sleeper is available now on Xbox Series X|S, Xbox One, Nintendo Switch, Steam, GOG, Epic, and Humble, and is also playable on Xbox Game Pass.
For our walkthrough on which class to choose in Citizen Sleeper click here.
Tagged:
citizen sleeper
dlc
extractor
fellow traveller
flux
indie game
indie game developer
jump over the age
machinist
narrative game
nintendo switch
operator
role playing game
rpg
ttrpg
xbox game pass
xbox series s
xbox series x