Coffee Talk Episode 2: Hibiscus & Butterfly – Demo Review
Coffee Talk the wonderful narrative slice of life game that takes place in an other-world coffee shop now has an Episode 2. If you like great narratives, chill coffee vibes and a killer soundtrack then this game is for you. For those of you that haven't played the first game, you can check out our full review here. As well as purchase it on the PlayStation 4, Xbox One, Nintendo Switch, PC and Mac.
OG fans of the series may be excited to hear about the launch of Coffee Talk Episode 2: Hibiscus & Butterfly. The game will be coming out sometime in 2023 but there's a demo available to play right now. We played Coffee Talk Episode 2 as well as 33 other game demos at this year's LudoNarraCon.
We've been covering this digital narrative convention since 2020 when they only had 15 exhibitors and now in 2022 they're up to 40 and we couldn't be more excited for them! If you love narrative games as we do we'll be following up with more news from the con and you can check them out here as well.
Coffee Talk
Before we get into what Coffee Talk Episode 2 is about let's talk about the main premise of the game. In Coffee Talk, you play as the barista of a coffee shop in a fantasy spliced modern-day Seattle. Your job is to make them the best drink for their situation as well as listen to their problems. You'll have a wide variety of customers to serve from orcs, werewolves, vampires and other fantasy creatures. Learn more about your customers, make their drinks and listen to their day-to-day lives.
One of the most interesting things about this narrative game is that you yourself don't have any words. Instead, you'll let your beverages do the talking. A couple in a cross-species romance has disapproving parents. A mermaid has self-esteem issues. Help them or change their story not with your words but with what caffeinated beverages you choose to serve them.
What's In Episode 2
For those of you that enjoyed the first game, you'll be happy to know that Coffee Talk Episode 2 is just as satisfying as the first game. In fact, I won't spoil it but you'll be pleasantly surprised by the return of some of your favourite characters.
In terms of gameplay, the user interface has gotten a nice upgrade. As well as the additional use of social media and the telephone. As you'd expect we'll be getting all new recipes, even the ability to create our own latte art. It's not a huge departure from Coffee Talk but we wouldn't want it to be anyway.
Download The Demo To Play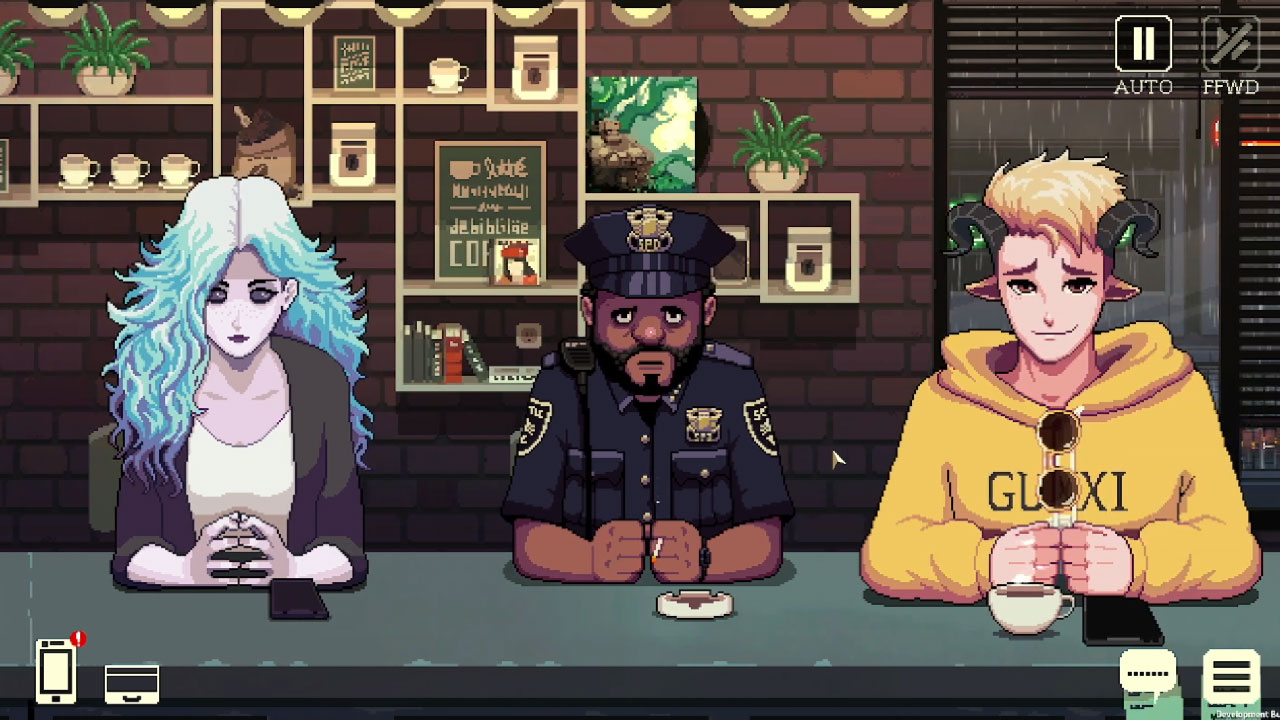 One of my favourite parts of Coffee Talk is its inclusion of Southeast Asian culture. As the game is developed by a great Indonesian indie developer – Toge Productions. They've included some drinks that you may not have heard of if you don't live in the region. Items such as Jahe Tubruk which is a blend of Coffee and Ginger or Teh Tarik which is a "pulled" milk tea. I love to see the representation and I hope you will too!
Check out the demo here on PC – Steam. For other games like this be sure to check out the first Coffee Talk game as well as Strange Horticulture. Instead of a coffee shop, you'll be behind the counter of a plant store and solving culty mysteries. For other cool narrative games from LudoNarraCon 2022 be sure to click on our Beacon Pines review!
Tagged:
2023
barista
coffee talk
coffee talk episode 2
coffee talk episode 2 hibiscus and butterfly
fantasy
fellow traveller
hibiscus and butterfly
indie game
indie game dev
indie game developer
indonesia
ludonarracon
ludonarracon 2022
modern day
narrative
narrative game
nintendo switch
pc
pc game
PlayStation 4
ps4
seattle
southeast asia
storytelling
switch
toge productions
visual novel
windows pc
xbox one