Cat Cafe Manager – Guide To A Purrfect Cafe
Cat Cafe Manager brings everything you love about restaurant sim management games and makes it better with cats. Falling squarely in the cosy game category, Cat Cafe Manager has you creating a wonderful restaurant, befriending townsfolk and cats alike, as well as solving little feline-related mysteries.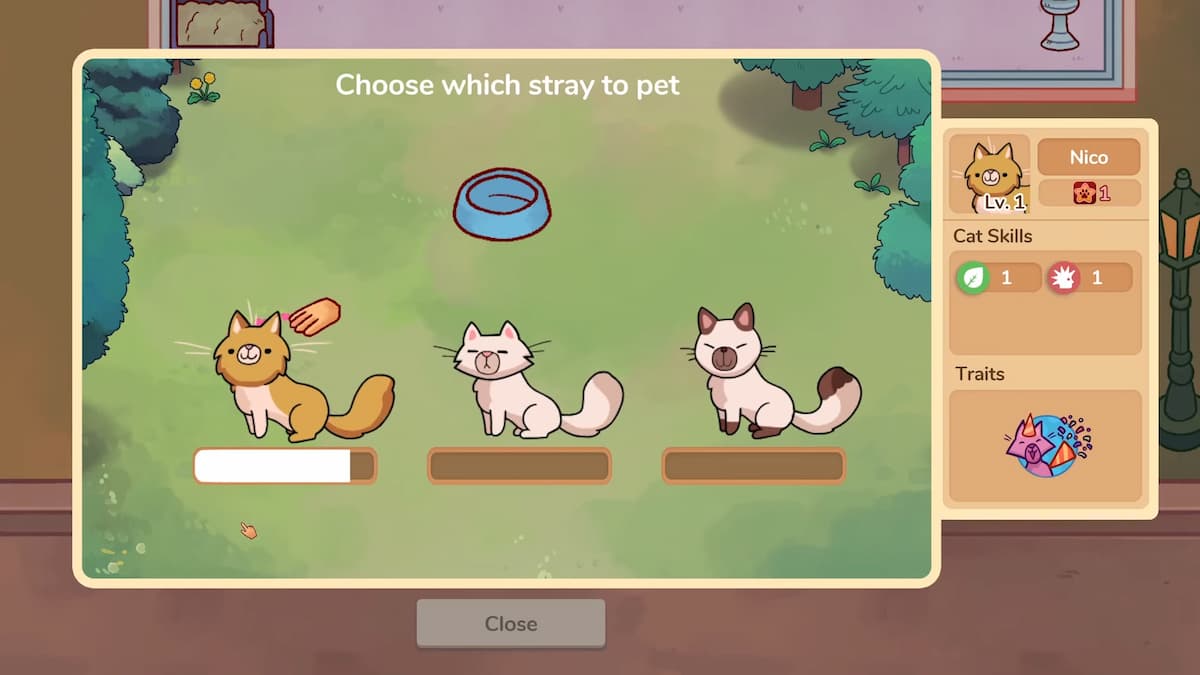 Your journey begins in the sleepy village of Caterwaul Way where you're setting up to rebuild your grandmother's cat cafe. Not only will your business have to cater to the specific customers of Caterwaul, but you'll also need the right strays to make your cat cafe a success. Each cat you bring into your cafe is unique, with its own look, stats, and personality. It's your job to pick out the right combination of cats to delight and keep your customers happy.
Cat Cafe Manager has a unique and interesting game economy that requires some deciphering. Not only do you want to get all your adorable strays adopted but you also need the right currency for various aspects of cafe life. Need more ingredients and recipes? You'll need to get the witches to visit your cafe. Or if you want building supplies you're going to have to serve up some dishes to the town's punks.
Here's everything you're going to need in our game guide to build yourself a purrfect cat cafe! Cat Cafe Manager is available now on the Nintendo Switch and PC
Don't Choose The 'Gentle' Trait
When you first begin Cat Cafe Manager you'll be able to customise your character with one of three traits. These traits play an important role and will likely help you out at the beginning of the game. Choose between these three:
Gourmand: You enjoy eating food almost as much as you enjoy making it. It gives you a +2 Cooking Ability with a chance of using fewer ingredients.
Gentle: You have a gentle demeanour and can calm down the rowdiest cats. +2 Cat Care and +1 Stress Release for Cats.
Social Butterfly: Gives you the knack for making others comfortable and +2 on serviceability.
Of the three, Gourmand and Social Butterfly are likely the best starting traits. Gentle won't be as useful, since you will be starting off with only one cat and should not struggle with Cat Care until a bit later.
Don't sweat it too much though, because you can make changes to all these stats later on in the game.
Know Your Cat Cafe Manager Customers
Currency in Cat Cafe Manager isn't a universal item and each type of customer will pay in a different sort of currency. You're eventually going to need a bit from each customer, whether it's fabric or gold. So it's important to know your customers and how to cater to each of them to get what you need. There are six different types of customers in Cat Cafe Manager:
| | | | |
| --- | --- | --- | --- |
| | Icon | Currency | Resource Exchange |
| Vagabonds | Green Leaf | Fabrics | Furniture |
| Artists | Paintbrush | Gems | Decorations |
| Punks | Punk Hair | Materials | Building Materials |
| Witches | Witch Hat | Nectar | Recipes & Ingredients |
| Fisherfolk | Fish | Fish | Cat Food & Toys |
| Business People | Briefcase | Gold | Special Items (Rare Furniture etc.) |
| All Customers | | Hearts | Shrine Projects |
By knowing this you'll be able to cater to every type of customer that walks into your cafe. And get the specific resources that each customer carries.
Chair Slots Is The Most Important Skill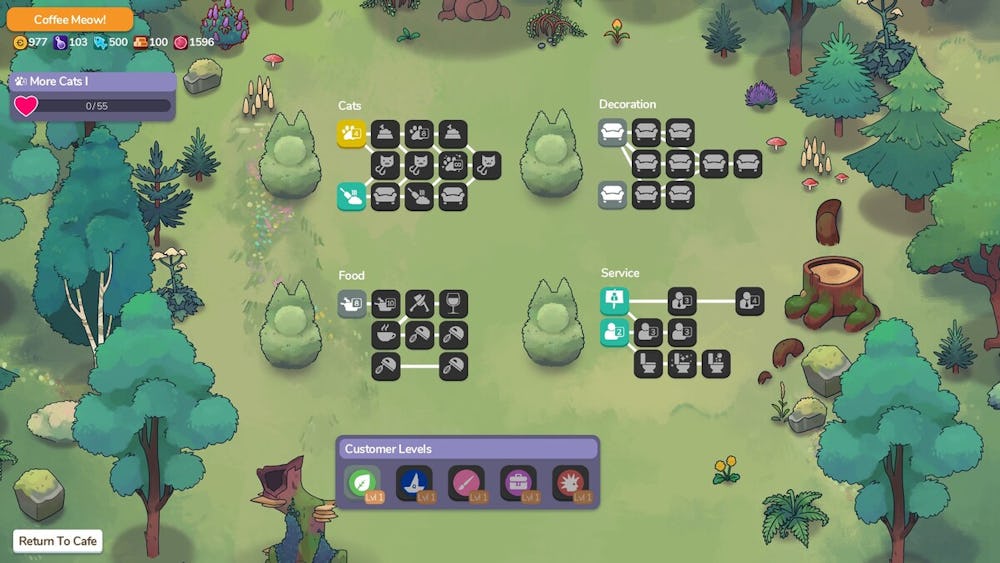 Chairs play a huge part in Cat Cafe Manager. The more chairs you have in your Cafe, the more customers you will have and the more resources you receive.
Once you open your cafe, you'll gain access to the Shrine, the physical representation of your skill tree. On your skill tree there are a number of skills to unlock such as new menu items, cat toys and more. But what you're going to want to focus on in the beginning is the number of chair slots you have.
Followed By Staff Hires
Okay so I know we said chair slots are the most important but you begin to reach a law of diminishing marginal returns when you don't have enough staff to manage the number of customers you have. So you'll need to also look at when is the right time to start hiring more staff. It's important to do this next rather than gain even more chair slots because you'll start getting really busy.
You can hire Staff to help once you've researched 'Extra Staff' at the Shrine. Hire the right person for the job by going to the notice board in the Village, you can choose a new member of Staff from the ones on offer. All Staff come with their traits and stats, which can be increased during the gameplay.
Befriend The Regulars
The longer you run your cafe, the more Regulars you'll meet. You can spot a regular because they'll have an actual name and with them you can grow a friendship. The more you talk with them, the higher your friendship level climbs and the more resources you'll earn. As well as some cool free gifts such as furniture!
You can even call Regulars in Cat Cafe Manager and invite them to visit using the payphone just outside your cafe. You'll have six regulars, each of whom represents one of the different customer types. Each morning, you can call one regular and ask them to visit the cafe. They'll always say yes, so you should decide who you call based on the friendship level you've earned with each of them.
You can invite the same person multiple days in a row too, which is good to keep in mind when you are trying to get to a particular level with any customer type. These regulars sort of speak for their classes, so improving things with them will actually improve your standing with customers like them too.
Cat Cafe Manager
Cat Cafe Manager by Roost Games, published by Freedom Games is currently out on the Nintendo Switch and PC – Steam. For more indie game reviews check out our list here!