Final Fantasy XIV – Valentione's Day Event Guide 2022
Valentione's Day is Final Fantasy XIV's take on the chocolate and heart filled flower day of Valentine's Day. The festivities run this year from February 8th to the 21st 2022. This year we have an abundance of adorably cute Chocobo fashion and some wonderfully cheesy heart-shaped housing items.
This year's Valentione's romantic questline is short but sweet. Everything is confined to Gridania and you can quickly complete it and get one of the best Chocobo barding sets without grinding Extreme trials.
Valentione's Day – No Love Lost Quest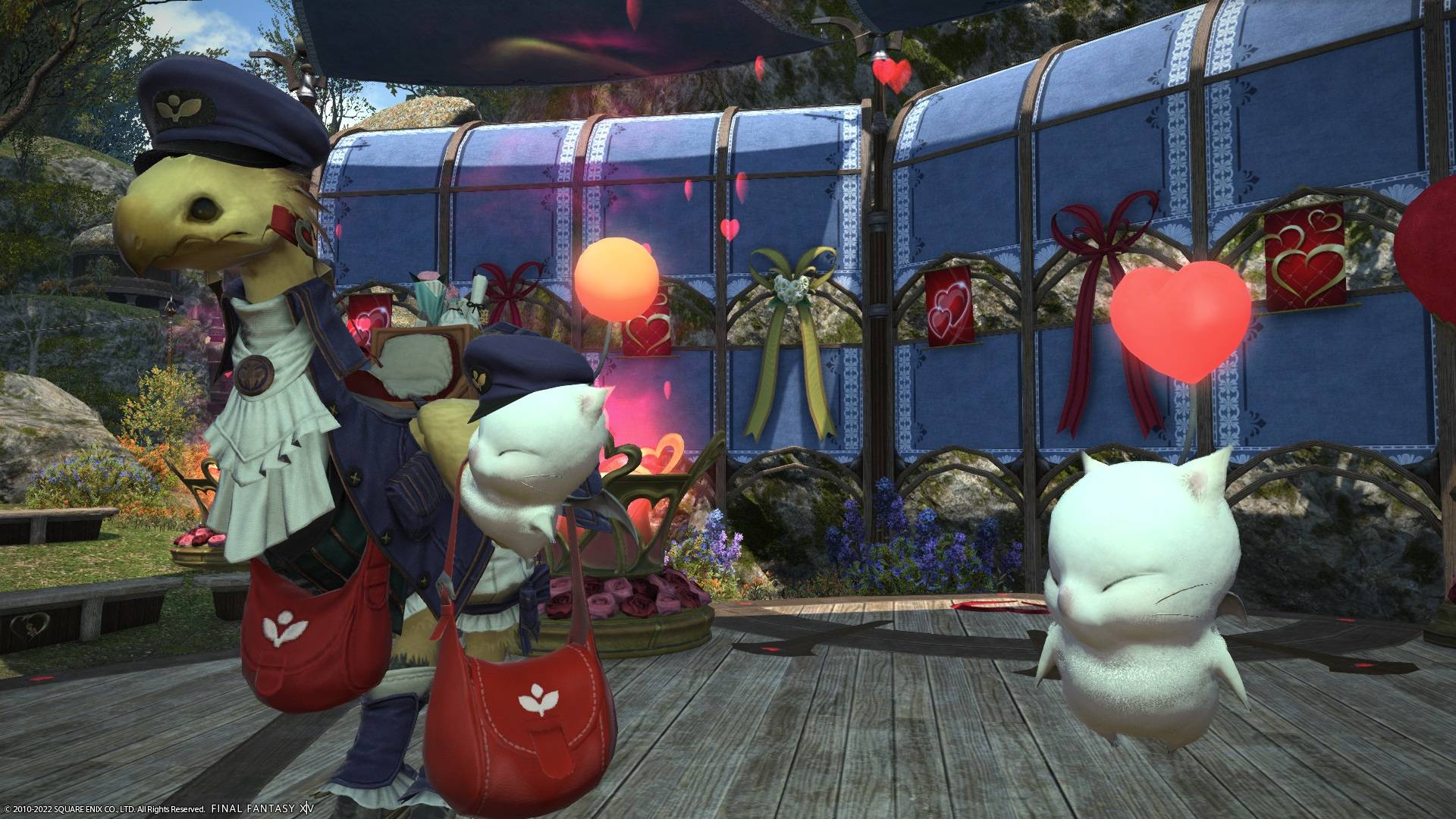 The event begins in Gridania. Take the Aetheryte to Mih Khetto's Amphitheatre and speak to Lisette de Valentione in Old Gridania (X:10.2, Y:9.4) to begin the quest 'No Love Lost'. 
She'll introduce you to Hyadelyn's most disaffected Postmoogle – Pukty Piko. The overworked Postmoogle needs some help during the delivery service's hectic season of love. So your quest to help him is going to involve delivering love letters around Gridania.
The points are marked clearly on your map but if you need some extra guidance here's the list of locations:
Carpenters' Guild – New Gridania (X:10.8, Y:12.0)
Botanists Guild – Old Gridania (X:10.8, Y:12.0)
Whistling Miller – Old Gridania (X:9.1, Y:7.8)
Apkallu Falls – Old Gridania (X:10.3, Y:6.7)
Once you've stopped and chatted at all the locations return to Mih Khetto's Amphitheatre to finish your assignment. You won't get any reward for this one though but speak to the Postmoogle to start the next quest for the Chocobo barding.
Valentione's Day – Love's Labors Quest
The Valentione's Day Love's Labors Quest has you roaming across Griden to help Aloyse respond to a marriage proposal. It's quite easy to complete, just speak a couple of NPCs around town. Here are their locations:
Find Aloyse in Old Gridania (X:8.2, Y:10.3)
Return to Mih Khetto's Amphitheatre to speak to Aloyse again
Talk to Aloyse again in the same spot at the Amphitheatre
Find Aloyse again north of Apkallu Falls in Old Gridania (X:8.2, Y:10.3)
For the last time, return to Mih Khetto's Amphitheatre and speak to Lisette 
Completing this quest teaches Pukty Piko about the importance of love but more importantly, you'll be getting the Postmoogle Barding. A fetching blue outfit for your feathered friend, complete with a mail bag.
Valentione's Day – Better Letters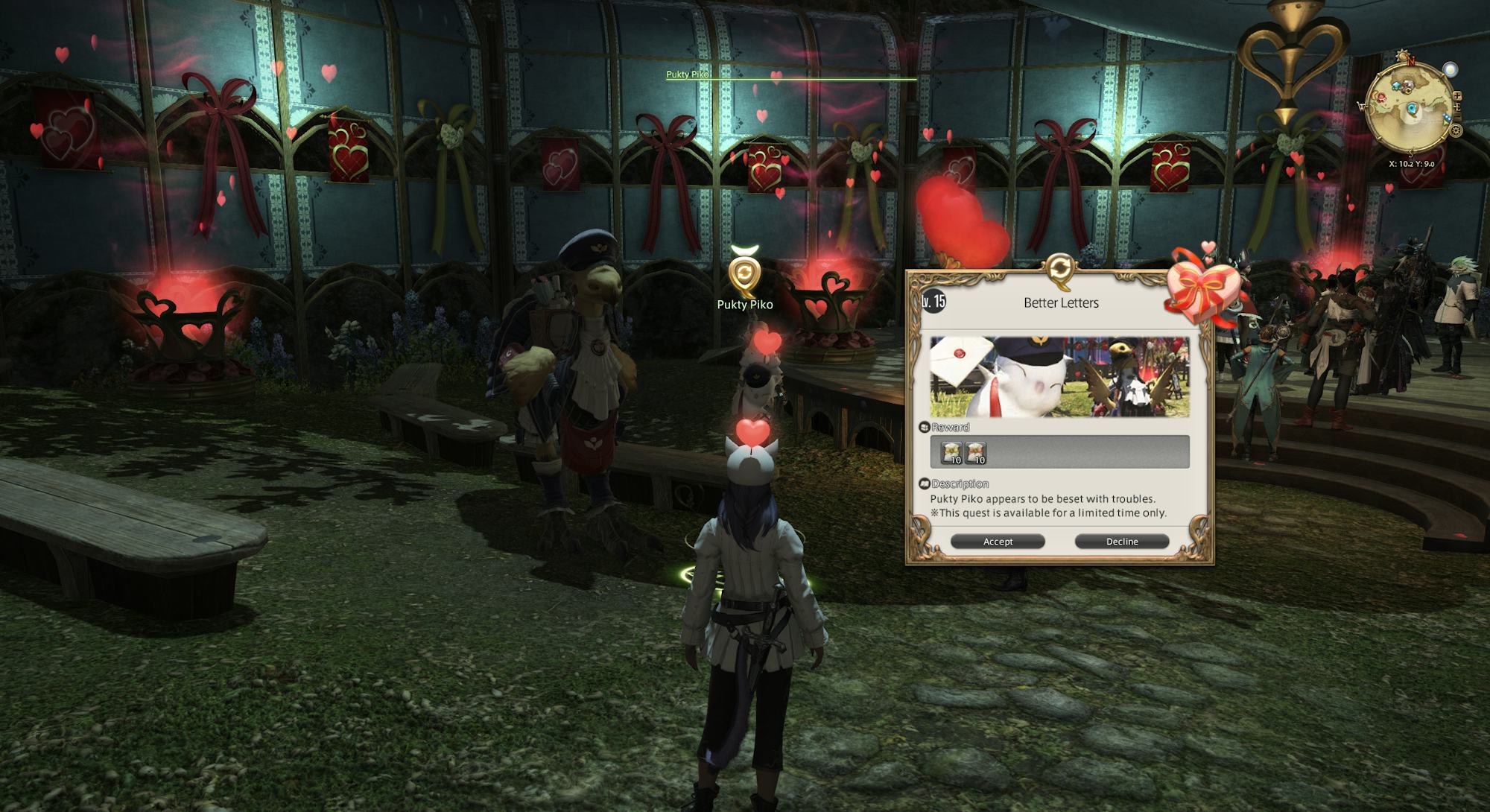 After the event, there's another repeatable quest you can do with Pukty Piko that will earn you some Heart Prisms. He'll be at Mih Khetto's Amphitheatre after you've completed the two quests above and you'll just need to talk to him again to start the Better Letters quest. It's not required for the achievement or barding rewards and just rewards you Prismatic Hearts. Each Heart Prism makes half a heart so you'll need a buddy to get the full effect.
It may not give you much in terms of rare items, but the dialogue is pretty cute!
Valentione's Day – Event Rewards 2022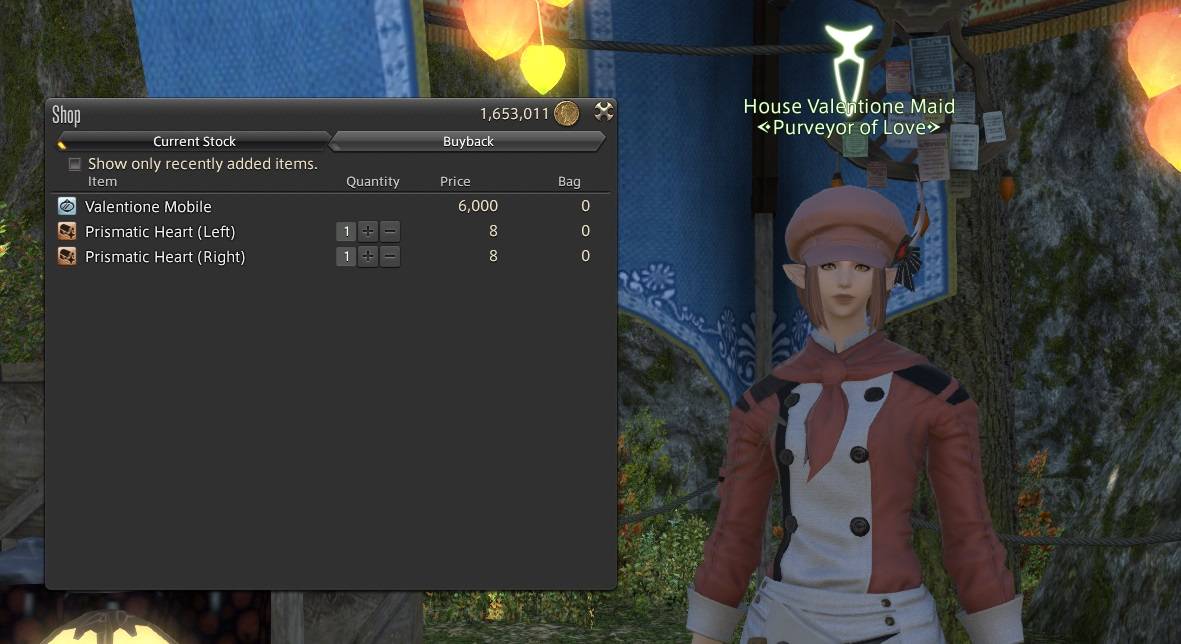 The shop for this year's Valentione event is in Old Gridania (X:10.6, Y:8.8) – the vendor is standing just outside the decorated amphitheatre. Interact with the House Valentione Maid, and she'll offer three items exclusive to the Final Fantasy XIV event (until they inevitably come to the online store in a year). 
You don't need special event currency, just gil, to pick up event goodies. New items for sale include:
Valentione Mobile – 6,000 gil
Prismatic Heart (Left) – 8 gil
Prismatic Heart (Right) – 8 gil
The Valentione Mobile is a heart and star, gently rotating housing item to hang from a wall. Both Prismatic Heart items are one side of a single-use, seasonally themed party favor, creating half of a (either the left or right side) over your Warrior of Light's head. Make sure to buy a hefty supply if you plan on using several through the year.
Postmoogle Barding is not available from this shop and requires completing both event quests.