Genshin Impact 2.4 – New Characters, Events And Regions
Genshin Impact 2.4 will be launching next week in time for the new year. For those of you who've been playing Genshin Impact for more than a year, you'll recognise the return of the Lantern Rite Festival. The celebration in Liyue to welcome the dawn of a new year.
No Genshin Impact update is of course complete without some new characters in the form of Shenhe and Yun Jin. We even get a new region this time. Enkanomiya has us swimming down into the ocean's depths to fight an ancient evil.
When is the Genshin Impact 2.4 release date?
Genshin Impact 2.4 releases January 5th 2022.
As always, the new update will run for around six weeks and include at least two distinct character banners and a number of events spread out over the duration.
New Characters Yun Jin and Shenhe
Genshin Impact 2.4 will feature the character banners "Fleeting Colors in Flight". Which will include two new playable characters, five-star Shenhe and four-star Yun Jin. Both are pole arm fighters and useful support characters for your team.
Yun Jin has a great array of defensive attacks and is able to buff a team's attack and defence. While Yun Jin is a must-have for any Cryo focused party. Be sure to check out their full character guide here.
There will also be a rerun each for Zhongli, Xiao and Ganyu. Ganyu and Xiaoare some of the game's best DPS so if you haven't got them now's your chance! We've got a full character guide for Ganyu here and for Geo daddy himself Zhongli as well.
About New Region Enkanomiya
Enkanomiya, originally known as Byakuyakoku "Land of the White Night, Midnight Sun", is a location near Sangonomiya Shrine. It can be entered via a deep pool, and legend has it that the Watatsumi people originated from here.
Enkanomiya is a huge floating island that is beneath the ocean. Constantly eroded by the Abyss underwater, Enkanomiya lacks the day and night cycle (although time still passes) of the surface. Players will find a way to use Dainichi Mikoshi, the artificial sun developed by the ancient civilization as they delve into the puzzles and depths of Enkanomiya.
To enter Enkanomiya, the seals on the five Goshou Rocks are broken for the pearls located within the shrines for the Key of the Moon-bathed Deep, which would allow entry to Enkanomiya, provided that the spirit veins connecting Enkanomiya and Watatsumi Island are flowing smoothly and a person whose heart is "as clear as water". According to legend, the key was forged from Orobashi's blood.
Expect new enemies in these watery depths including the Bathysmal Vishaps, described as "cunning social predators who can hunt together and take advantage of their surroundings in combat." There's also a new Abyss boss, the Abyss Lector: Fathomless Flames.
Enkanomiya Unlock Criteria:
Adventure Rank 30 or above
Complete the Archon Quest "Chapter II: Act III – Omnipresence Over Mortals"
Complete the World Quests "The Still Water's Flow" and "The Moon-Bathed Deep"
Genshin Impact 2.4 Lantern Rite Festival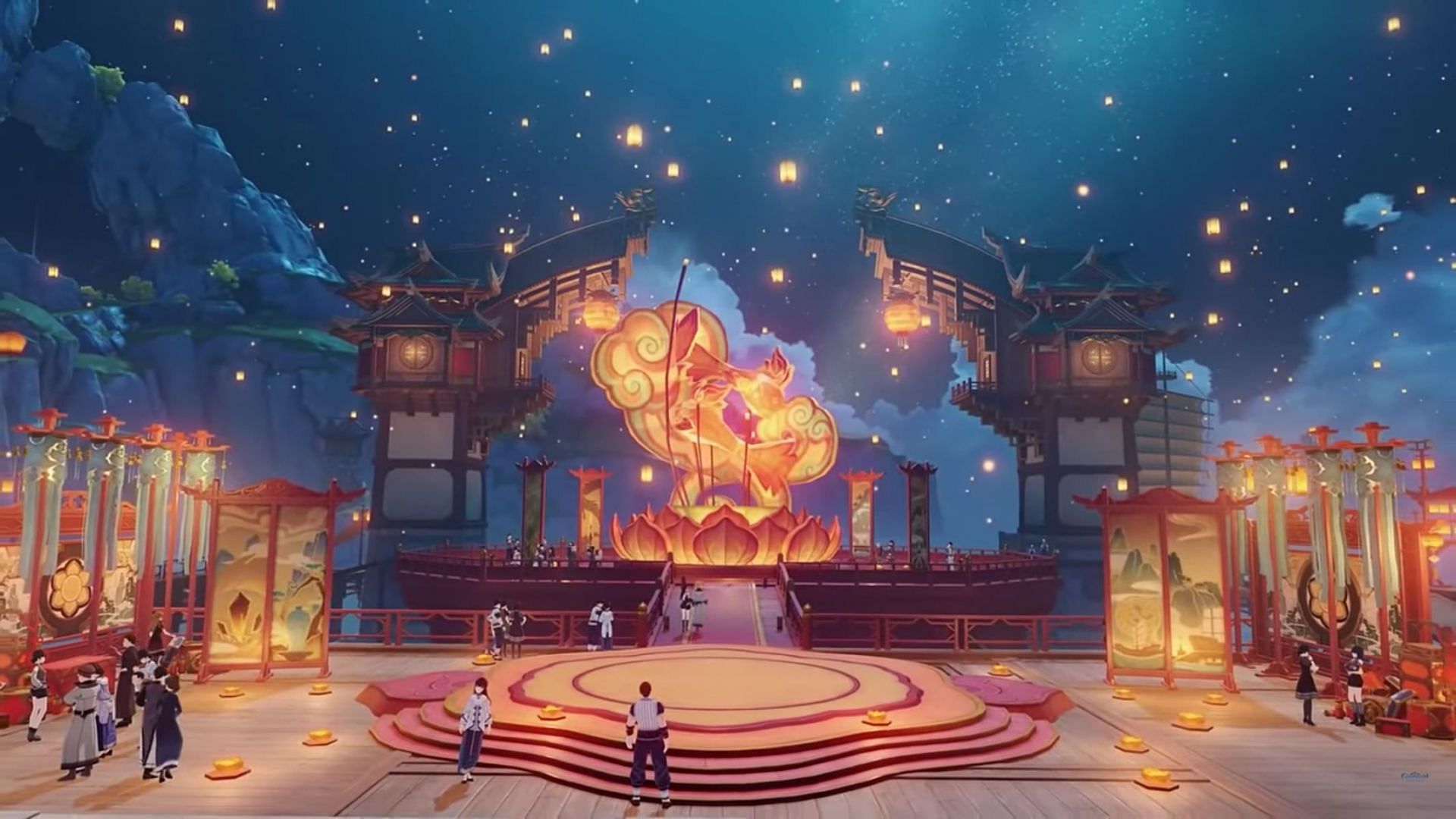 The Lantern Rite Festival is back once again. The new year means new games, stalls, vendors "and all sorts of festivities" in Liyue Harbor. With seasonal events that offer a chance at free four-star Liyue characters (eight in all); 10 Intertwined Fates; and a chance to help Ningguang rebuild the Jade Chamber.
This year the event will be divided into different sections:
Flameplume Starflowers – You'll be given a new gadget called a Launch Tube to make fireworks. Once the Launch Tube is in place, players can set it off to pop fireworks. Your rewards will depend on the quality of your fireworks.
Wonderous Shadows –  The traditional Lantern Rite game of solving puzzles with shadows. You are given an abstract 3D object which you will have to place in front of strong light. Rotate the object until the correct image forms in its shadow.
The Great Gathering – Help Ningguang rebuild the Jade Chamber by collecting different items that have scattered when the Jade Chamber got destroyed.
There are three ways to collect materials:
Take them from the sea surface with the Waverider
Defeat the Treasure Hoarders in their camps
Intercept Transport Balloons used by the Treasure Hoarders to transport the missing items. The Treasure Hoarders in this Lantern Rite Event are stronger, but you can use the event-specific item Quelling Firecrackers to take their power down a notch.
Oceanic Defender – Face the Hydra Boss from the end of Chapter 1. Defeat the boss to claim your rewards.
Prosperous Partnerships – Select from all of the released 4-Star Characters to join your party. This includes the brand-new 4-Star character Yun Jin as well as Yanfei, Xingqiu, Beidou, Ningguang, Xiangling, Xinyan, Chongyun. As always, if you choose a duplicate, they're converted into a new Constellation for the character instead.
Other Events
Genshin Impact's hide and seek event Windtrace makes a return as well, and the last event is the Study in Potions boss rush event. Return to Monstadt and help Timaeus concoct a very special potion. To test the efficacy of the potions, you will be providing battle data to Timaeus while under their influence. You will go through challenge floors that get exceedingly harder the further you go.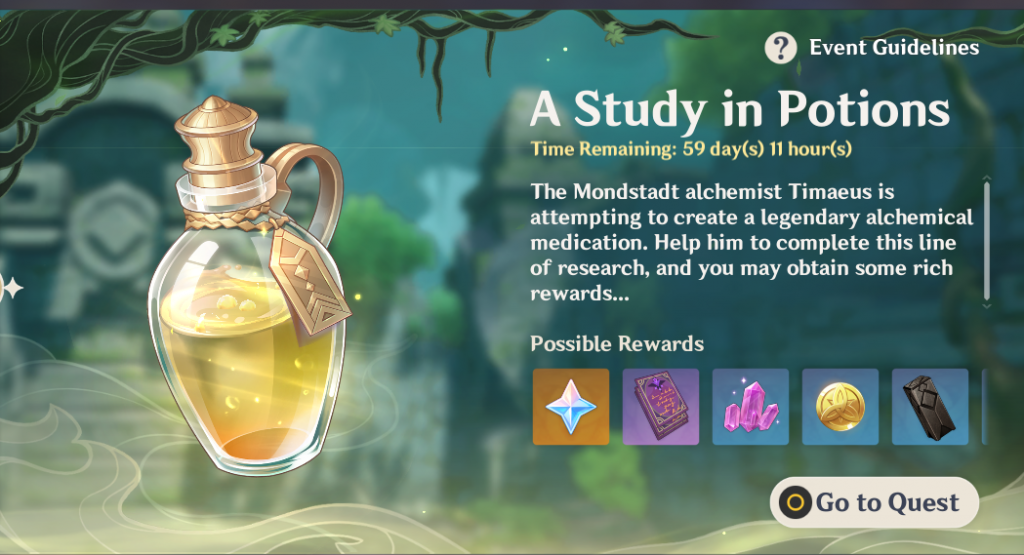 Characters you use on each of the floors will not be usable for the next immediate floor – just so Timaeus can have a larger sample size of characters for his data set. Of course, he will also be providing players with rewards for helping him out in his experiments.
Finally, Genshin Impact 2.4 adds another round of Hangout events, including one with Yun Jin.
Genshin Impact 2.4 New Outfits
Starting Genshin Impact 2.4, two new Character Outfits will be available in-game.
Orchid's Evening Gown for 4-star character Ningguang, and Opulent Splendor for 5-star character Keqing. These two members of the Liyue Qixing are the newest characters to get bonus costumes after Jean and her sister Barbara.
The Skin for Ningguang can be obtained for free during all of Version 2.4. Meanwhile, the only way to get Keqing's Skin is to buy it with real money. Keqing's Skin will be sold at a discount for 1350 Genesis Crystals during all of Version 2.4. Just like what happened with Jean's Skin, Sea Breeze Dandelion.
Once the maintenance for Version 2.5 happens on February 14, 2022, Keqing's Skin price will go up to 1680 Genesis Crystals.
For all our other Genshin Impact guides and updates be sure to click here and check them all out! To check out mihoyo's official Genshin Impact 2.4 announcement check out their website here.