Nintendo Switch Black Friday Buyers Guide 2021
November has only just begun but it's never too early to prepare for Black Friday. Or if you're in Asia the 11.11 singles sale. This month houses two of the biggest online and offline shopping sales in the world. With crazy large discounts, sales and deals for all your purchases. Have you been saving up to buy a new SD card? Want some hot new gaming peripherals? Then put this all in your shopping cart in November.
There's so much tech to buy and this list can easily stretch into tens of pages. With everything from full gaming desktop setups, to dope mechanical keyboards to even just acrylic glass shelves for your PlayStation collection. Today though we're going to focus on one gaming console with a ton of great accessories – The Nintendo Switch.
With the Switch being a portable console there's a lot that you can (and should) get for it. From carrying cases, wireless controllers to pure aesthetic add ons. Check out our best Nintendo Switch Grips here. It can all get a bit overwhelming but we've got here a great list of Nintendo Switch Accessories to wishlist and add to cart.
Nintendo Switch Screen Protector
We're starting off with a small but necessary item – The Screen Protector. There's nothing worse than getting your screen scratched and having to look at that scratch every time you game. This is most likely to happen if you travel with it or even just as you slide it in and out of the dock.
Screen protectors are important and inexpensive so it's no excuse not to get one.
Here's a list of options to get you started:
• amFilm Tempered Glass Screen Protector – Durable, easy to install and should run you about USD$6. It is a little thicker than the others on this list, but it shouldn't affect your screen sensitivity.
• Spigen Tempered Glass Screen Protector – Easy to install, looks great and has the same feel as the regular Switch screen.
• Maxboost Screen Protector – The thinnest screen protector possible for your Switch. It definitely won't interfere with touch sensitivity, and the oleophobic coating means fewer smudges to clean.
Nintendo Switch Skins
Skins aren't a tech necessity but they are very fun. Especially if you're in a household with more than one or often visit your friend with one. Or because you can't afford the limited edition Animal Crossing Nintendo Switch one.
The main concern with unreputable Nintendo Switch skins is that the adhesive can damage your console when removed. So make sure to purchase your skins from reputable buyers which we have for you here.
• Controller Gear – This is the official brand that makes skins officially licensed by Nintendo, so you know their products will be quality controlled and work well on the Switch.
• Dbrand – Dbrand lets you individually customise everything on your Nintendo Switch. From each Joy-Con to the dock face and more. They even make skins for the Switch Pro controller as well.
• EasySkinz – A huge variety of skin colours to choose from, for your Nintendo Switch. You can even get the matching skins for your laptop and phone if you want as well.
Nintendo Switch Controller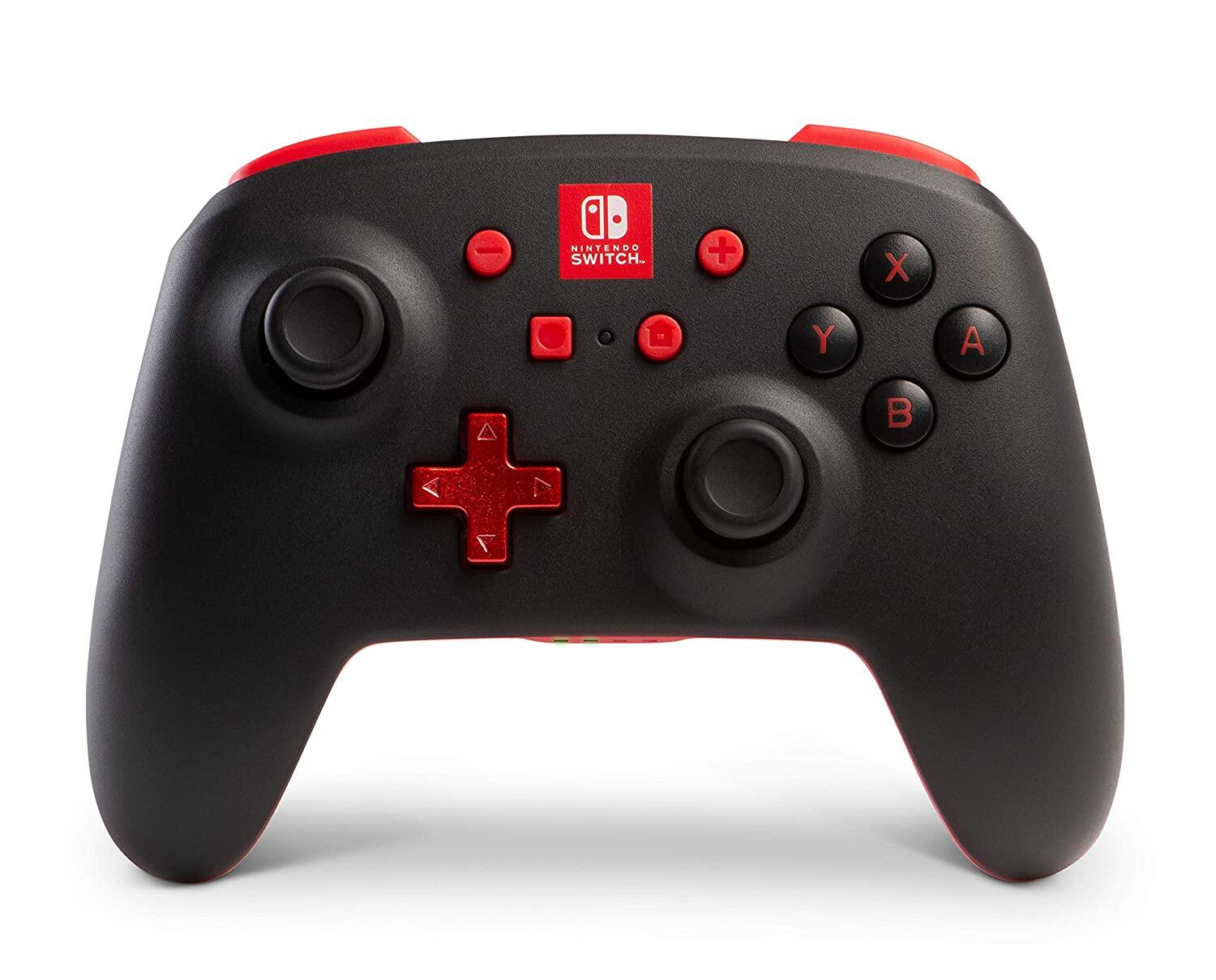 I think we can all agree that playing with those small loose Joy-Cons are a pain. They're tiny and uncomfortable and not great for long hours of play. This is why Nintendo gave us the Switch Pro Controller a comfortable controller with actual grips and buttons that weren't made for a child. This is a great accessory already but its USD$60 and up price tag may not be the most affordable for everyone.
That's why other third-party controllers exist! Quality can vary of course but these alternatives will get you close to the real thing with a better price. Some even have customisable features such as button mapping which is always a good time.
• PowerA Enhanced Wireless Controller – This has the closest feel and design to Nintendo's Pro controller and comes in a variety of designs which is always fun. You can find it from USD$40 and up (depending on the design). But it is missing the HD Rumble, IR or Amiibo NFC support like the Switch Pro controller does. However, there are two extra buttons though that can be mapped.
• 8BitDo SN30 – Everything on this controller can be remapped, including adjusting stick and trigger sensitivity as well as vibration control. The controller normally sells for USD$50 which is steepish but it also works with Android, Windows and macOS. Giving it more functionality.
• PDP Faceoff Deluxe+ Audio Wired Controller – The most budget controller of the lot at less than USD$30. It has a solid plastic build with satisfying sticks and triggers, and handy programmable buttons on the rear for mapping extra inputs. An added bonus is that you can plug a pair of headphones into this one that's going to give you the best gaming experience.
Nintendo Switch Bluetooth Adapter

A Bluetooth adapter is where you want to be to take your gaming experience to the next level. People mostly use the Bluetooth functionality with their headphones and speakers which is great for immersive gaming. But just as importantly you'll need that low latency for online gaming. There are a couple of adapters out there but not all perform the same and if latency is your concern then this is the list for you.
• Creative BT-W3 Bluetooth 5.0 USB-C Audio Transmitter – Creative has that aptX Low Latency codec support which is important to eliminate lag. Excellent support for online multiplayer games such as Overwatch and Fortnite. If you also have a PS4, the mic can be plugged into your controller for voice chat with that console. This dongle also includes a USB-C-to-USB-A adapter so you can connect your Bluetooth headphones to your PlayStation or PC. 
• HomeSpot Bluetooth Transmitter for Nintendo Switch – The HomeSpot Bluetooth Transmitter is actually a dual-channel device, which means that two people can listen simultaneously. It's a nice feature for those who take their local couch gaming online. HomeSpot also supports SBC, Qualcomm aptX, and Qualcomm aptX Low Latency codecs.
• UGREEN Bluetooth Adapter for Nintendo Switch – This Bluetooth adapter doesn't utilize the Switch's USB-C port when playing portable. It instead makes use of the headphone jack at the top of your device. It's a dual-channel device and supports Bluetooth 5.0. It's meant for portable play and unfortunately doesn't work if your system is docked.
Nintendo Switch Arcade Stick
Purely a luxury item this time but definitely a lot of fun especially if you're into the old school platformer arcade games that are so prevalent on the Nintendo Switch. There's something so tactile about holding the joystick and punching those big buttons that will bring you back to those nostalgic arcade days. Sans the tokens.
• PowerA Wireless Arcade Stick – Featuring 30 hours of wireless play, a sleek, compact design, and the ability to customize your own faceplate, this is the perfect arcade stick for fans looking for a more authentic way to play.
• Mayflash F500 Elite – The Mayflash F500 Elite is a one-stop arcade stick solution. This multiplatform goliath has Sanwa parts, and included is an octagonal joystick gate as an accessory. There is plenty of wrist space. And its hefty metal design enhances both weight and stability.
• 8BitDo Arcade Stick – You might be all about the nostalgic look and feel for this arcade stick but it's also highly functional as well. The buttons have quick disconnects for modding. And it can last you up to 30 hours of play through Bluetooth and 40 hours through 2.4G.