Genshin Impact Developers Make Next Open-World Game
You all know Genshin Impact even if you've never played the game. It's one of the hottest new releases since 2020 with plenty of updates and an approximate player base of 21 million people. Just last year the company took in USD$2 billion on mobile alone. Now with all the money that developers miHoYo have made they're funnelling it into a new open-world RPG game.
It looks to be a big project because the developers have already opened a new office in Montreal and are looking to hire 100 developers in the next 2 years. We don't know much yet but we do know that the company's next game will be a "AAA open-world action-adventure game featuring shooting-based gameplay within a living, breathing paranormal world."
Let's break down everything we know so far.
Gameplay & Setting
What we know so far about the gameplay is that it'll be taking a much different route from Genshin Impact's battle mechanics and is instead focusing on shooter-based gameplay. Considering the popularity of shooter games on mobile these days we could be looking at a 3rd-person shooter mechanic as opposed to an FPS.
As for the setting, we're well out of the realm of Teyvat and on to what they've confirmed as a "paranormal" world. Genshin Impact is no stranger to encounters of the paranormal. We literally followed a floating paper ghost for the better part of the week during one event. But it's unlikely that this new game will be set in the same universe as Genshin Impact.
We can however confirm the game's Otaku stylings will definitely be at the forefront. So I'd say to expect similar deep JRPG game style stories, a wide variety of unique characters and of course sprawling worlds for us to visit. So don't worry there will still be waifus and husbandos abound.
Vehicle Transport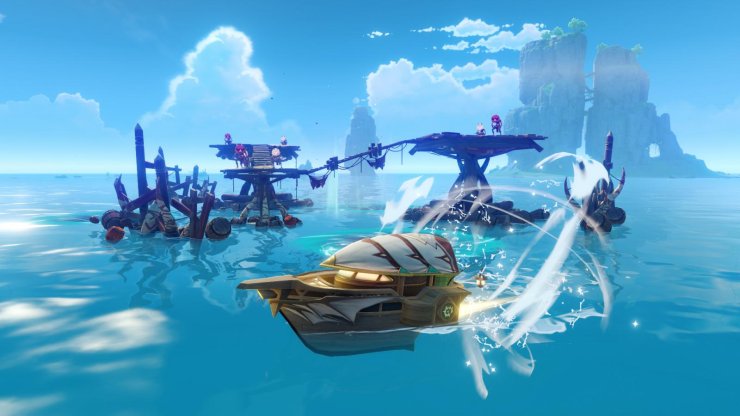 One of the job listings on miHoYo's is looking for a  senior level designer,to be part of a new IP. Which states that the game will feature vehicles using a road network between urban and wilderness areas. 
This is a huge change from Genshin which used the wing glide mechanic and of course your own feet to get around. Having a vehicle to get around would be amazing. Whether this is an animal mount or some sort of car/plane deal we have no idea. But in a paranormal world I guess anything goes.
There's also the mention of urban and wilderness areas which hint at the map being similiar to that of Teyvat with cities and surronding wilderness to explore. I don't know what a "significant road system" means but probably that means your ride can't go off road?
Destruction System
The last bit of juicy details we have about miHoYo's new game is that they'll have a "destruction system" that will be part of the core mechanics of the game. How destruction will play as an "important pillar feature" of the game has me stumped. It could be anything from Fortnite-esque building and destruction or be part of the damage system itself?
Online Multiplayer & Gacha Remains
There's not much else we can guess about the new project. More than likely, however, is miHoYo will keep the gacha formula alive with its future games. All of miHoYo's flagship titles carry the gacha gauntlet around with them, rife with micro-transactions and premium currencies. It's a formula that skyrocketed miHoYo's profits to the moon, so it would be unexpected for it to stray far from that formula.
Whether you're a fan or not of the gacha grind, it's most likely that this is where the game will be going.
What's Next For miHoyo?
Up next miHoyo have stated that they would like to create "a virtual world for one billion people by 2030." Is this what Zuckerberg meant by the metaverse?
Before this next open-world RPG they do have another game coming out Honkai Star Rail. "An all-new strategy-RPG title in the Honkai series that takes players on a cosmic adventure across the stars." It's not officially out yet but beta testing is in the works now. Given previous timelines we're looking at anywhere from mid 2022 to early 2023.
"We have gained a plethora of game development and operations experience as a result of Genshin Impact's recent global release, which we can harness to create even higher-quality games to our players," said Forrest Liu, co-founder of miHoYo.
It might be a bit more time until we hear more about this new next game but we'll keep you updated!