Kitaria Fables – Best Crops To Plant
Kitaria Fables, an action-adventure RPG where you play as an adorable cat in a wonderfully anamorphic animal world. Listed as one of the 'Upcoming Games To Play If You Love Stardew Valley', Kitaria Fables by Twin Hearts brings the best of real-time combat with peaceful farming and crafting adventures.
You'll need much more than brute strength and magic to survive in Kitaria Fables. You'll need to work together with the residents of Paw Village and maximise all the world's natural resources.
There's a lot to do in Kitaria Fables but this game guide is going to be focused on one of the core aspects – farming. You'll need some crops as ingredients but other than that with the right plants your little farm can become a Paw Coin gold mine.
Here's everything you need to know about farming.
Farming Guide
To get started with farming, you'll have to first receive the quest Farming Trial from Kiki. If you're not there yet, you won't be able to open the box with all your farming tools. When you receive the quest, you can go to your farm (near your grandfather's home in Paw Village).
You'll initially be limited on which crops you can plant. However, as you continue to progress in the storyline and complete quests for Kiki, you'll unlock additional seed types.
For most veterans of farming games this is going to be very familiar for you. Clear the land, till the soil, plant the seeds and water them. Easy as pie. You'll need to tend to your crops by watering them everyday until they're ready to harvest. So try not to get too excited starting off or you're going to spend a lot of your day just watering them.
When they're ready for harvest use your scythe and cut them down.
Paw Village Crops
You'll be able to buy these seeds from Kiki at Paw Village. Right now the list of crops are sorted via their profit margin, with Corn being the best and Tulips being only okay.
Technically Sunflowers are the best selling crop. But they're knocked down a rank because they're a little pricey to start off with. You're probably better selling Corn in this case and saving some Paw Pennies for Pumpkins later on.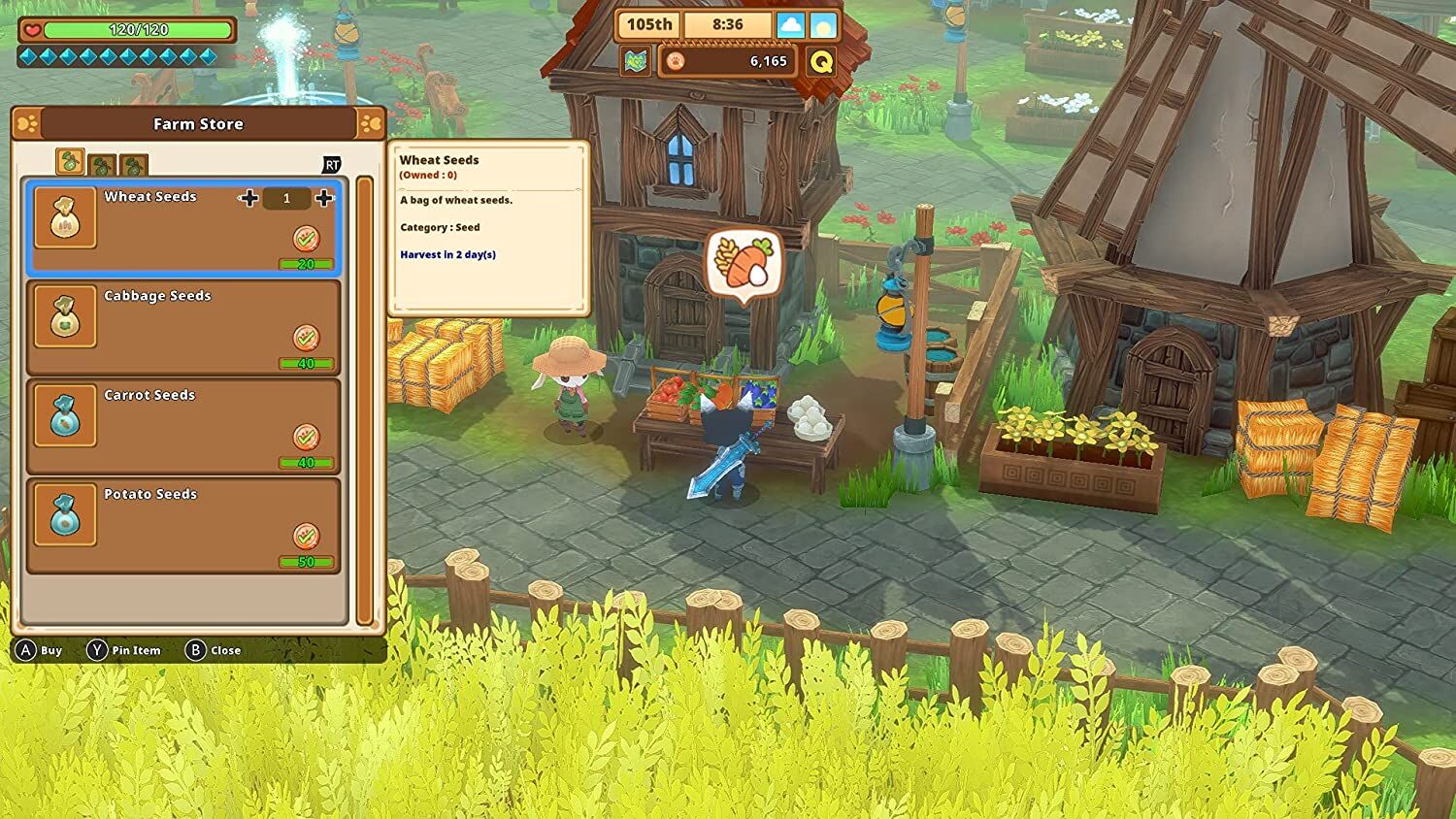 | | | | |
| --- | --- | --- | --- |
| Crop | Growth Time | Seed Price | Sale Price |
| Corn | 3 Days | 60 | 95 |
| Sunflowers | 3 Days | 100 | 150 |
| Kale | 3 Days | 70 | 100 |
| Grapes | 4 Days | 80 | 120 |
| Potatoes | 3 Days | 50 | 75 |
| Carrots | 3 Days | 40 | 60 |
| Cabbages | 3 Days | 40 | 50 |
| Wheat | 2 Days | 20 | 30 |
| Onions | 3 Days | 40 | 55 |
| Tomatoes | 4 Days | 60 | 80 |
| Strawberry | 4 Days | 60 | 80 |
| Tulips | 3 Days | 30 | 45 |
Pumpkin Potion Store Crops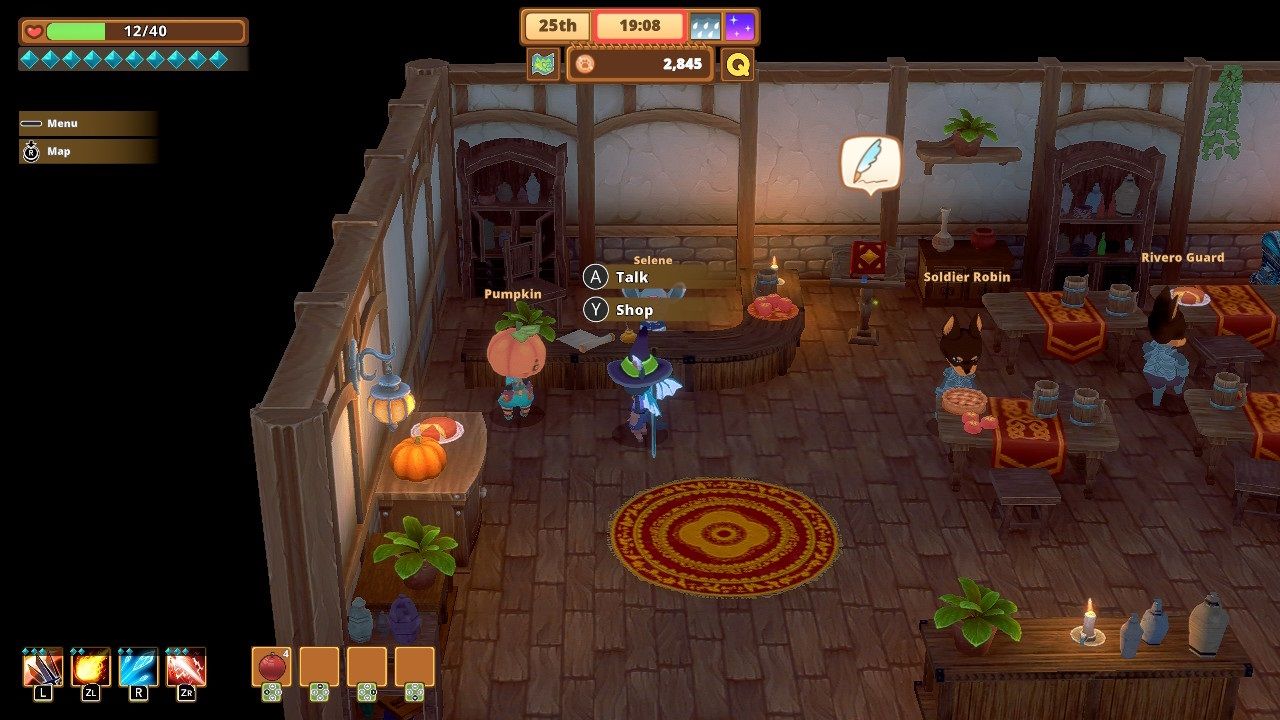 Pumpkins as Starbucks has discovered is going to be your little gold mine. Unfortunately you won't be able to get them until later on in the game. From Pumpkin the traveling merchant. Once you do unlock him however he'll be around every third day after 7 PM in Paw Village. And he'll sell you some rare seeds including the Pumpkin seed.
This next round of farming isn't going to come cheap as each seed costs 100 Paw Pennies to start off with. But it's well worth the time and money investment for them. As the profit for pumpkins will be the best in the game.
| | | | |
| --- | --- | --- | --- |
| Crop | Growth Time | Seed Price | Sale Price |
| Pumpkin | 5 Days | 100 | 280 |
| Pineapple | 4 Days | 100 | 200 |
| Bell Pepper | 4 Days | 80 | 160 |
Recipes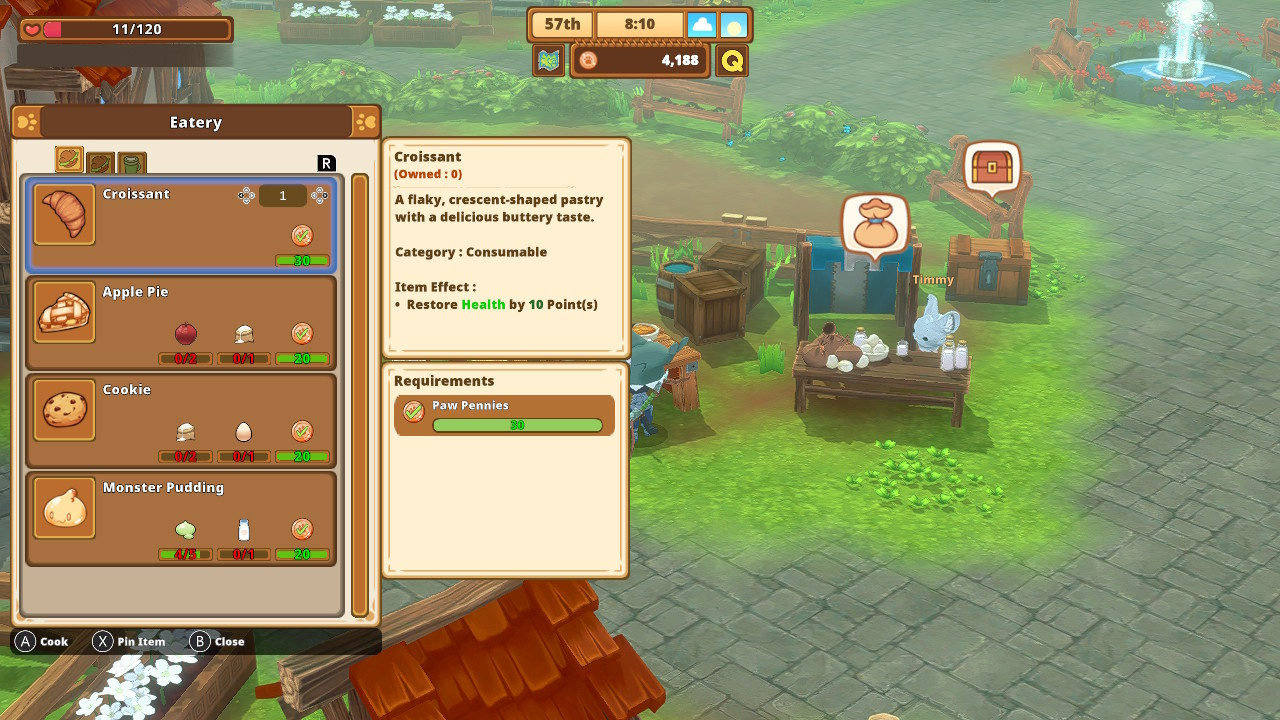 So now you know which crops are the most profitable. But if you want to take your Paw Pennies making to another level you can craft recipes to sell that are worth more than the crop itself. Just head to the Eatery in Paw Village where you can start cooking up dishes to make huge profits.
We won't list all the recipes here because this is a farming guide but you can easily turn 2x Corn into Oil to sell for more profit. Corn plants sell for 95 Paw Pennies while ooil sells for 250 Paw Pennies. A crazy difference in profit margin.
Don't stop there however because add in two onions to your oil and you can sell Onion Rings for 475 Paw Pennies each. CHA-Ching.
So far it looks like Onion Rings and Cookies (Flour, Egg) are the most profitable recipes so far!
Kitaria Fables
We hope you enjoyed this little game guide for Kitaria Fables! Depending on how popular this is we'll make more guides for the game! Let us know in the comments below if you're interested or what other games you'd like us to cover!
Kitaria Fables by Twin Hearts is available to play now on the PlayStation 4 | 5, Nintendo Switch, Xbox Series X | S, Xbox One and PC – Steam