Haunted Chocolatier – What We Know and What To Expect
Haunted Chocolatier is the next game from the wildly successful Stardew Valley creator – Eric 'ConcernedApe' Barone.
Stardew Valley is the beloved farming simulator that launched 6 years ago and still ranks as one of the world's top farming and life sim games. From its humble beginnings, the game has slowly evolved over the years with brand new gameplay, multiplayer, content etc. Now it seems that Barone is trying his hand on another delightful life sim game – Haunted Chocolatier.
Not much is known right now about the upcoming game but we do have a few clues from Braone himself, as well as the teaser trailer that was launched 3 days ago. So here's everything that we could sus out from it from the gameplay, the plot and more.
What Will 'Haunted Chocolatier' Be About?
Similar to Stardew Valley's management sim mechanics, Haunted Chocolatier will have you managing a chocolate shop instead of a farm. You'll need to go outside into the wild and gather ingredients for all the confections you want to sell. Pass along the ingredients to your ghost minions and then open up shop!
Haunted Chocolatier looks to have a lot of the same life-sim mechanics as Stardew Valley. With a town for you to explore, townspeople to meet and of course relationships to build. Unlike Stardew Valley's more "humble" roots however, in this game Barone wants to explore more "fantastical possibilities."
These possibilities evidently include "magical haunted ghost chocolate."
If Stardew Valley is the sun, then Haunted Chocolatier represents the moon.

Concerned Ape
The Gameplay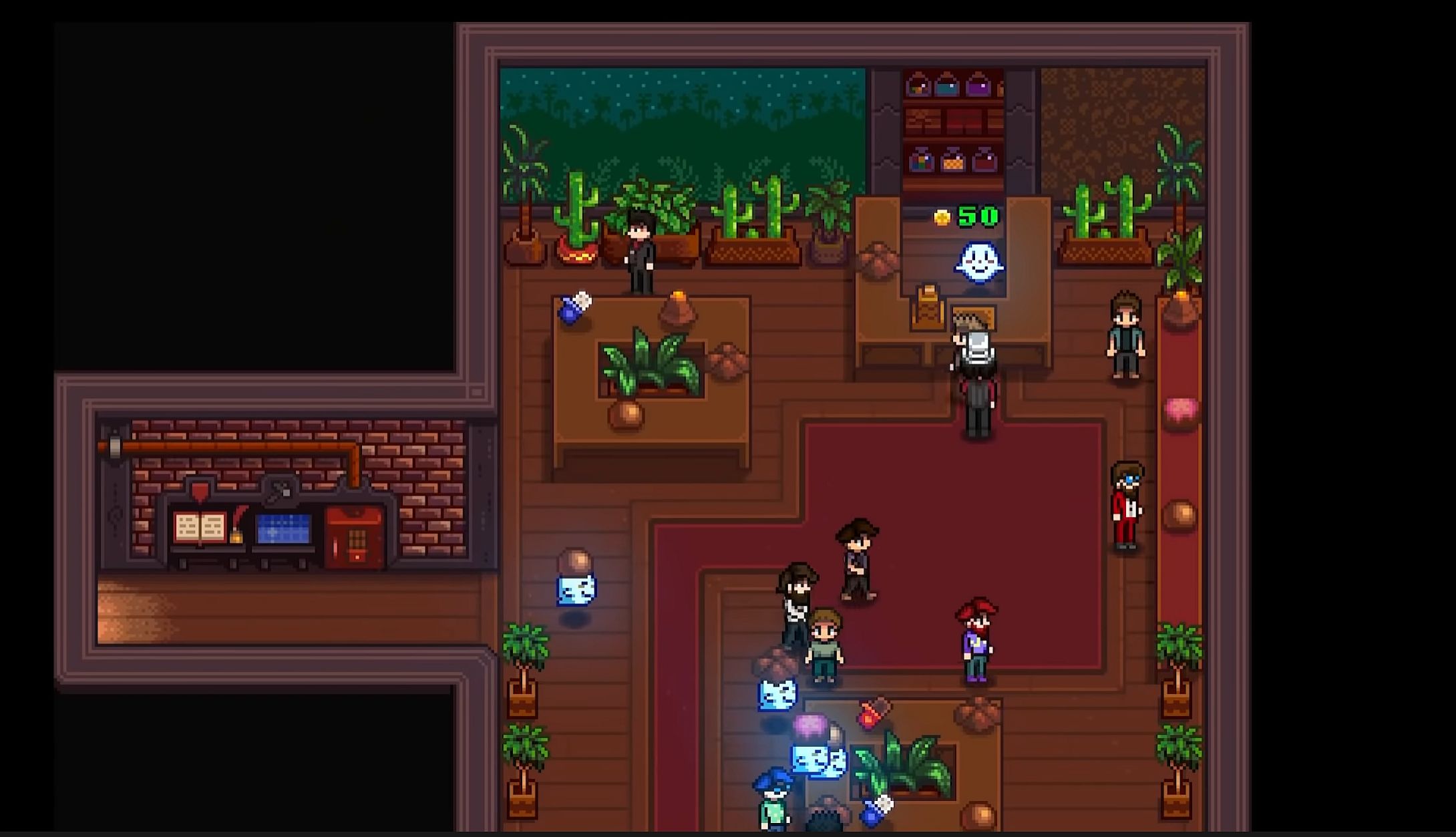 Haunted Chocolatier looks very much like Stardew Valley, in that it is a top-down pixel-based sim that oozes charm. It even has a couple of mechanics that farm-sim players are going to find very familiar. With everything from going out to gather ingredients, possibly even farming them? To creating food and confections in your kitchen. Your focus however this time will be different, instead of a farmer, you will be a merchant.
Based on the trailer it appears that battle will be a part of the core gameplay. It seems like you'll need to hunt down and fight enemies for special ingredients. In the FAQ, Barone described Haunted Chocolatier as "more of an action RPG" than his previous effort. He added that he has no plans to add multiplayer at present.
Like Stardew Valley, Haunted Chocolatier will also focus on the life-sim mechanics, you're going to need people to sell your sweet but spooky confections to. So just like Pelican Town your little chocolatier shop will be part of another small hamlet. One where you can make friends with the residents and even fall in love?
It looks like there's conversation options and interactions available for you to choose how to react to the townspeople.
Predictions for Haunted Chocolatier
There are a couple of clues that Eric Barone has given us for this upcoming game. And most likely a lot oif it won't stray too far from Stardew Valley. I expect the combat system to be very similar, as well as the way that interactions and romancing will work. In that you can give gifts, have various interactions with them etc.
In a couple of the released screenshots it looks like weather and season mechanics are still in play. So expect seasonal ingredients for your chocolates. As well as events that will be happening across the the in-game timeline.
With cooking being one of the core mechanics of Haunted Chocolatier I'd expect that things may be a step more complex than that of Stardew Valley. Which could be tied to the whole haunted and mystical aspect of the game. Apart from the various quality level of gathered ingredients there could also be specific spells or cauldrons and things that could affect the type of confections being created. Maybe werewolf bon bons can only be made on the night of the full moon?
Lastly the storyline. There are a few interesting places in Haunted Chocolatier that hint that the stories are going to be bangers. I mean people are just accepting that ghosts are all around now. There's a research lab in this tiny town, who knows what goes on in there?
Also, Nigel in the trailer is definitely thowing you some shade. Does he own a rival merchant shop? Did he use to be close to one of the ghosts? is he a secret wizard?? So many possibilities!
Why A Chocolatier?
Barone wrote in a blog post following the announcement, "Why chocolate? I'm not sure. It just kind of came to me. I think sometimes the best ideas just appear in a flash, instead of being cleverly thought out. That's how I like to work, anyway. What's important is the execution. And after 10 years of practice, I feel more confident than ever in being able to bring an idea to life."
He added, "Regardless, I think a lot of people like chocolate."
You know, that's a good enough reason as any imo.
When Is Haunted Chocolatier Coming Out?
Take my money Eric Barone! But for right now there is currently no release date for Haunted Chocolatier. In fact, the game has only been in development for around a year. Barone said there is still a "ton of content" that needs to be made and that "it will be a while" before this game is done. So don't expect any announcement on when it's coming out any time soon.
"I haven't even gotten to the good stuff yet. I've been mostly working on the "meat and potatoes" of the game so far," he said in a blog post. "The only platform I am 100% certain about is PC. However, I have every intention of bringing it to the other major platforms as well."