Eastward – Complete Recipe And Cooking Guide
Eastward by Pixpil is here and it's full of pixelated charm. Play as John and Sam, under dwellers exploring the land up above. All that exploring and fighting for your life makes a girl hungry and that's why cooking is going to be an important part of your Eastward journey.
Cooking and eating food will allow you to recover health and/or get special buffs. At the beginning of the game on Potcrock Isle, John's trailer has a stove where you can cook food. However, once you're out in the wider world, you'll need to look elsewhere. Generally, you can find cooking stoves next to the Fridges you use to save at.
To cook, you will first need to find ingredients and there are many in Eastward. Ingredients are broken up into food groups. These are vegetables, dairy and eggs, meat, fruit, and seafood.
Spice is a unique ingredient and is not required for a dish but enhances it with special effects. Most recipes call for an ingredient from a food group, but players can only make some with a specific kind in that group. All recipes will require three ingredients.
In this guide, we have all 35 recipes in Eastward. Unlock them once you put the ingredients into your pan while cooking. The order of ingredients doesn't matter but what matters is that the type of ingredients selected for cooking.
How To Cook
Once you're at a stove, you'll be able to bring up your ingredients.
This menu shows everything in your inventory at the time. Ingredients for food, like Potatoes, are dropped by enemies after defeating them, or found in Treasure Chests throughout the game.
Select three of your ingredients to cook a meal. Mixing and matching ingredients will discover new recipes, which will then be saved within the cooking menu for you to refer back to.
After picking your ingredients, a slot machine minigame will pop up. You'll need to do your best to line up two or three of the symbols.
Doing so will boost the benefits of the food you cook. Depending on how many matching symbols you get during the slot machine mini-game, you'll earn longer buff effects — Base (60 seconds), 1-Star (90 seconds), 2-Star (120 seconds), and 3-Star (150 seconds).
After it's done cooking, the dish will appear in John's backpack.
Note: If you do not have an empty space in your Backpack, you will not be able to cook any food. 
Spice Boosts
To add special buffs to your recipe, you can add different spices.
Lava Candy: Increases Attack Power
Electric Chili Sauce: Increases Attack Speed
Fire Mint: Reduces Energy Consumption
Steam Peppercorn: Increases Defense
Recipes
Healing
Vegetable Stir Fry
Ingredients: x3 Vegetables
Base Effect: +4 Healing
Fries
Ingredients: Potato
Base Effect: +4 Healing
Pumpkin Soup
Ingredients: Pumpkin, Milk, Onion
Base Effect: +4 Healing, +2 Hearts
Veggie Egg Stir Fry
Ingredients: Dairy & Eggs, Vegetable
Base Effect: +4 Healing, +3 Hearts
Takoyaki
Ingredients: Octopus, Onion, Egg
Base Effect: +3 Healing, +3 Hearts, +20% Energy
Burger Set
Ingredients: Meat, Fruit, Seafood
Base Effect: +4 Healing, +3 Hearts, +20% Energy
Fruity Meat Stew
Ingredients: Meat, Fruit, Seafood
Base Effect: +5 Healing, +2 Hearts
Pizza
Ingredients: Meat, Dairy & Eggs, Fruit
Base Effect: +5 Healing, +3 Hearts
Sweet and Sour Pork
Ingredients: Fruit, Meat
Base Effect: +5 Healing, +4 Hearts
Hot Pot
Ingredients: Meat, Seafood, Vegetable
Base Effect: +5 Healing, +2 Hearts, +20% Energy
Diet Set
Ingredients: Egg, Chicken, Lobster
Base Effect: +5 Healing, +3 Hearts, +20% Energy
Sushi Platter
Ingredients: Dairy & Eggs, Meat, Seafood
Base Effect: +5 Healing, +3 Hearts, +20% Energy
Taco
Ingredients: Ribs, Lettuce, Tomato
Base Effect: +6 Healing
Meat Zongzi
Ingredients: Meat, Vegetable, Dairy & Eggs
Base Effect: +6 Healing, +2 Hearts
Lasagna
Ingredients: Cheese, Tomato, Pork Belly
Base Effect: +6 Healing, +2 Hearts
Mushroom Pasta
Ingredients: Ham, Milk, Mushroom
Base Effect: +6 Healing, +2 Hearts
Oyakodon
Ingredients: Dairy & Eggs, Meat
Base Effect: +6 Healing, +3 Hearts
Pork Chop
Ingredients: Meat, Vegetable
Base Effect: +7 Healing
Red Braised Pork Belly
Ingredients: x3 Meat
Base Effect: +8 Healing
Gold Hearts
Fruit Pie
Ingredients: x3 Fruit
Base Effect: +4 Hearts
Sandrupe Pasta
Ingredients: Sandrupe
Base Effect: +4 Hearts
Fruit Salad
Ingredients: Fruit, Vegetable
Base Effect: +2 Healing, +3 Hearts
Steamed Fish
Ingredients: Seafood, Fruit
Base Effect: +4 Hearts, +20% Energy
Cake
Ingredients: Fruit, Dairy & Eggs
Base Effect: +3 Healing, +4 Hearts
Cold Noodles
Ingredients: Vegetable, Dairy & Eggs, Fruit
Base Effect: +3 Healing, +3 Hearts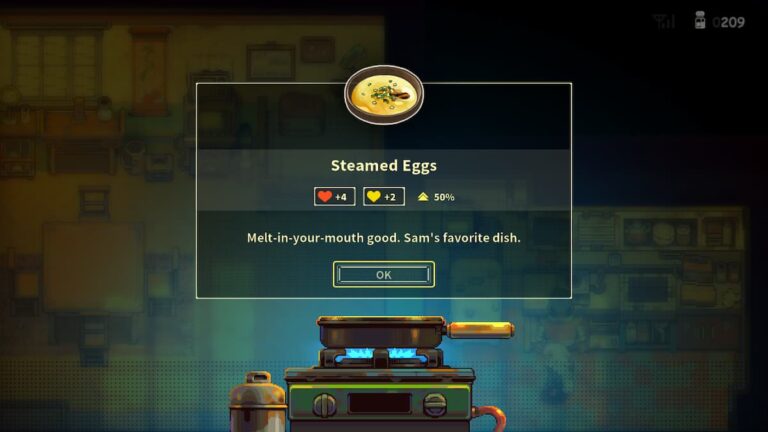 Steamed Eggs
Ingredients: Dairy & Eggs
Base Effect: +4 Healing, +4 Hearts
Seafood Tempura
Ingredients: Dairy & Eggs, Seafood, Fruit
Base Effect: +2 Healing, +4 Hearts, +20% Energy
Fish Sandwich
Ingredients: Seafood, Vegetable
Base Effect: +3 Healing, +2 Hearts, +20% Energy
Seafood Ramen
Ingredients: Dairy & Eggs, Seafood, Vegetables
Base Effect: +3 Healing, +3 Hearts, +20% Energy
Seafood Chowder
Ingredients: Dairy & Eggs, Seafood
Base Effect: +3 Healing, +4 Hearts, +20% Energy
Crab Roe Tofu
Ingredients: Crab, Tofu, Lobster
Base Effect: +3 Healing, +4 Hearts, +20% Energy
Energy
Big Dam Crab Pot
Ingredients: Crab
Base Effect: +4 Hearts, +40% Energy
Drupe-Fried Rice
Ingredients: Vegetable, Fruit, Seafood
Base Effect: +2 Healing, +3 Hearts, +30% Energy
Dumplings
Ingredients: Seafood, Meat
Base Effect: +4 Healing, +3 Hearts, +40% Energy
Seafood Skewers
Ingredients: Seafood
Base Effect: +4 Hearts, +40% Energy