Animal Crossing: New Horizons – Fall & Halloween Ideas
We're well into the thick of Fall in Animal Crossing now (sorry Southern Hemisphere). Autumn in the Animal Crossing world means the island is slowly shedding its green coat to a wonderful orange and brown. Pumpkins and mushrooms can start growing and acorns and pinecones falling from the trees.
If you haven't yet changed up your island for Fall and the upcoming holidays – Halloween and Turkey Day. Then now may be the time! We've got here some amazing Fall and Halloween ideas for you to look at.
Regrow Your Pumpkin Patch
Pumpkins can only grow in Fall and it's likely during the month you'll come across Leif selling some Pumpkin Starters. Or if you're like me that keeps everything in storage then you'll likely have a whole host of them sitting in your house inventory.
Nothing screams Fall and Halloween like a pumpkin patch! Hoist up a spooky scarecrow, leave around your gardening equipment like buckets and shovels. Even put out a harvest table of edible pumpkins and pumpkin lamps to set the mood. I'd definitely think about adding some hay and wood elements to really give it that end of the harvest vibe.
Set Up A Cozy Campsite
Cool Autumn nights scream campfires, wood benches and mushroom logs. Surround your campsite with all the wood furniture and plenty of firelight. Additional decorations include guitars, a small dining area, a picnic set and even a rug. SO C-O-Z-Y.
Autumnal Fall Cabin
Set up for both Fall and Winter by turning your house into a cozy cabin. Complete with lots of fluffy pieces, cushions, rugs and log furniture. Don't forget soft lighting, stacked books and of course a fireplace and a mug of hot tea. Perfect. Animal Crossing life currently better than real life.
Make A Corn Maze
If you're from an agriculturally rich area corn mazes are an iconic symbol of Fall. It doesn't take much to create this wonderful little patch. Just a couple of straw fences and a design. Leave little elements in there such as a scarecrow, some hay stacks and barrels etc. for your villagers to discover! Your corn maze can be as elaborate or as simple as you'd like, so it's really up to you!
Additionally, you can bury treasures in there somewhere to turn this into an exciting scavenger hunt. Or you could use the in-game stopwatch to turn your maze into a game, and see which of your friends can navigate your maze the fastest!
Set Up A Fall Festival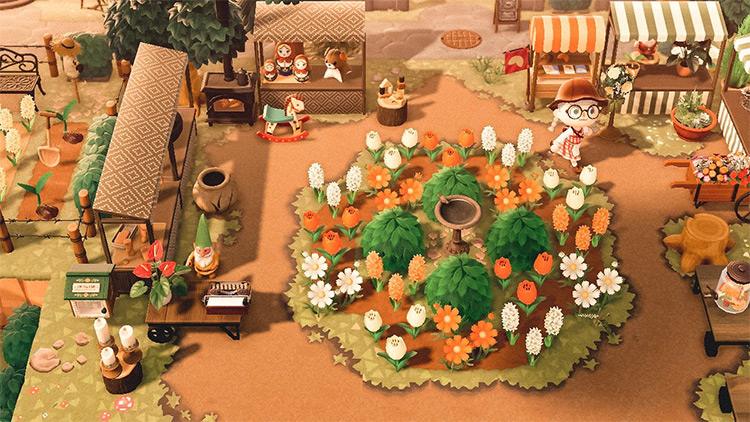 At the end of the Harvest season, a festival is held to celebrate the end of the growing season! Some of you may already have a marketplace on your island so it'll only take a few tweaks to give it that Fall vibe. For those of you that haven't set it up, you'll mostly need the Stall item. Which you can get in exchange for Nook Mile points.
Virtualboo has set up a wonderful garden of bushes and flowers in the middle for people to wander the market and enjoy. Remember to customise your stalls as well as include some items that you'd like to sell in your stalls.
Be The Witch In The Woods
Keep the spooky vibe going by being the witch in the woods and transforming your house! A cauldron in the living room, cobwebs some skulls and shelves of books. Maybe even a magic wand, is everything you need to play this witchy role.
Haunt Your Whole Island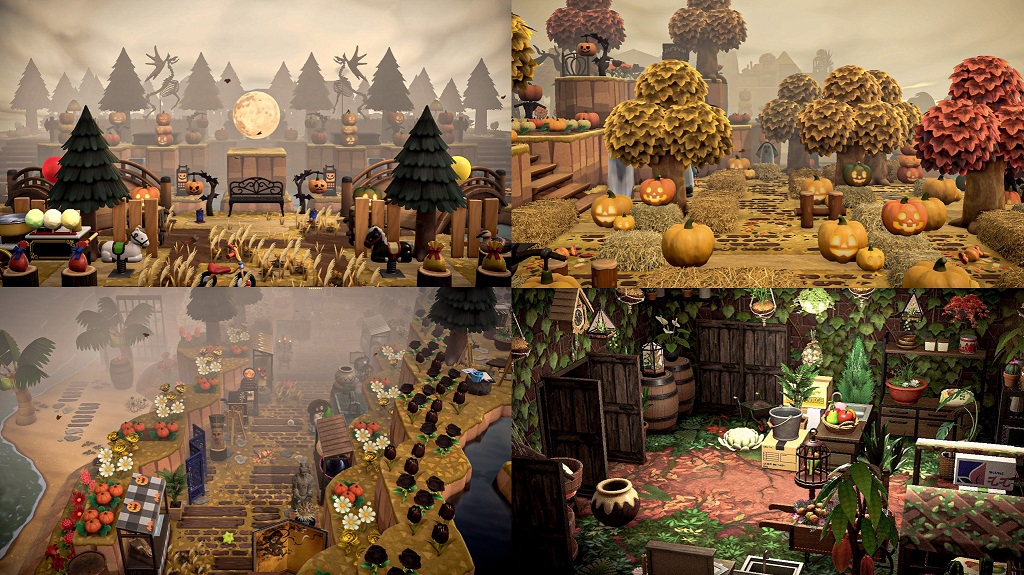 Spooky season is here and the whole mood can spread throughout the entire island. You can set up a Witchy Forest, complete with some spooky furniture and a candy hut. Line your paths with black and orange flowers. Make a poison apple orchard with plenty of pumpkin lanterns to give your island that spooky glow.
Don't forget about your house as well! Set up that bad boy for spooky season by making your own Haunted House! With each room featuring some exotic theme.