Animal Crossing: New Horizons 2.0 – What's Coming
Island Storage Shed
With all the new items coming to Animal Crossing: New Horizons 2.0 you're going to need more storage space! Storage has now been increased to 5,000, allowing you to hoard all the new items coming in this update.
With all these new items it can get pretty hectic running in and out of your house to store things when your pockets are full. So in this new update, you're getting a storage shed that will directly link to your home's storage space. A new ABD furniture item also lets you access the bells in your bank account without having to run to the Town Hall all the time as well!
A loading screen avoided is time and bells saved as Nook would agree with.
Universal Custom Patterns
You can now wear custom designs that were previously locked to customizing furniture. These designs can also be used as flooring, wallpaper, and accent walls as well.
New Hairstyles & Reactions
Eleven new hairstyles are coming to the game, including the ones from Harriet, who will be found in Harv's Island Plaza! Make your character look even more like yourself, or dress them up as other people with these increased customization options.
Eleven new reactions are coming via the update as well, such as:
Waving goodbye
Stretch
Jammin'
Listening ears
Say cheese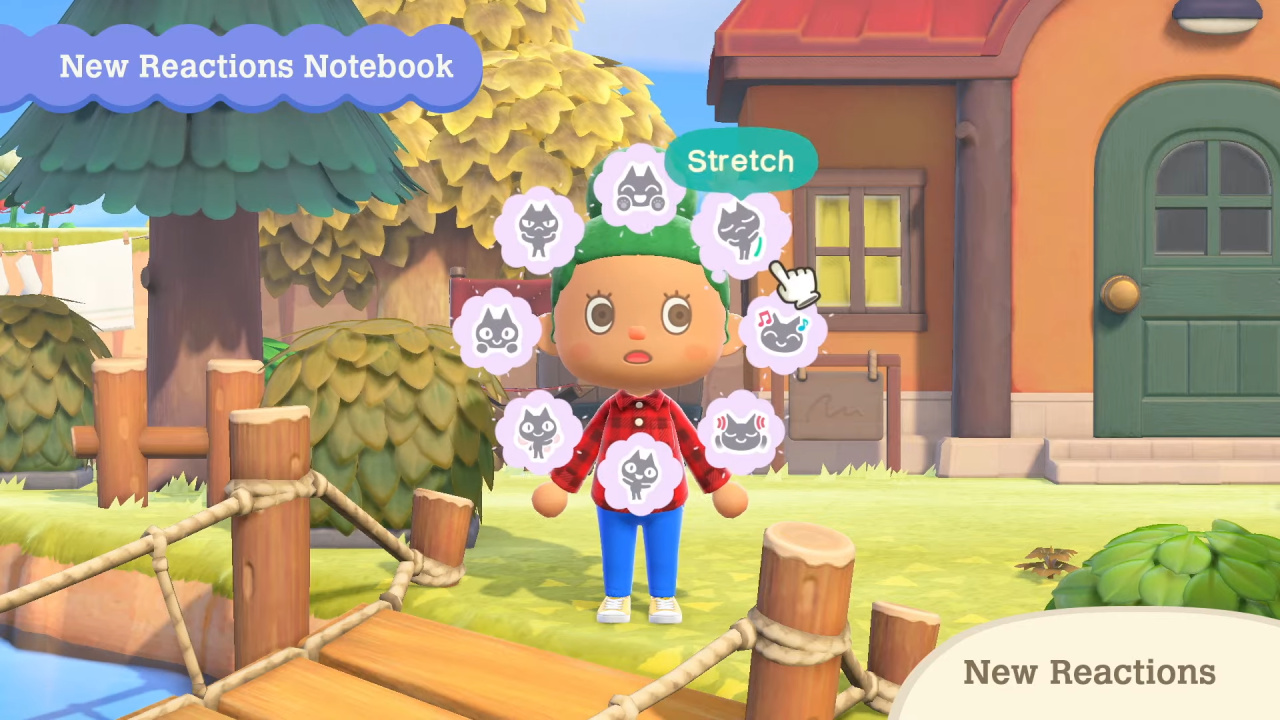 Pro Camera App
The Pro Camera App will give you a new perspective on your island. Offering an eye-line view from your camera. You can even take pictures in this new perspective, by using the Tripod Camera mode!
New Islanders & Reactions
Yes! Another feature that we got right in our prediction list! Islanders can now invite you to come over to their house after you become good friends or randomly turn up at yours!
There are also a 16 new Islanders that will be coming to the Animal Crossing: New Horizons 2.0 update!
The list so far: Ione (Squirrel), Shino (Deer), Petri (Mouse), Quinn (Eagle), Zoe (Ant Eater), Rio (Ostrich), Azaelea (Rhino), Faith (Koala), Sasha (Bunny), Tiansheng (Monkey), Marlo (Hamster), Cephalobot (Octopus), Chabwick (Penguin), Ace (Bird), Frett (Dog), Roswell (Crocodile)
Group Stretching
There's a new Group Stretching mini-game to take part in at the plaza. Just interact with the tape deck at the Town Hall to call everyone over! You can use button controls or your Joy-Cons' motion controls to perform the stretching actions.
Island Life 101 App
The new NookPhone app, called Island Life 101 has been developed to newbies to the island life and gives you tips on how to make the most of your island. Not an essential feature I'd say for version 2.0, but I guess nice to have.