Genshin Impact – A Complete Fishing Guide
Genshin Impact Version 2.1 has just launched today and with it is a brand new mechanic – Fishing. In this guide, we'll run through everything you'll need to know about Fishing in Genshin Impact. From how to unlock the actual system, get the rod, the actual fishing etc. For everything else that's coming in this update be sure to read our Version 2.1 article here.
The Fishing System as the name implies will add fishing as a new feature in Genshin Impact. Simply go to Fishing Points on your map, use a Fishing Rod and catch some fish! You'll then be able to eat, keep or exchange these fish for different items at the Fishing Associations. Each of the major towns – Mondstadt, Liyue and Inazuma will have a Fishing Association. As well as different types of fish and fishing rods in each region for you to keep and catch.
Complete The 'Exploding Population' Quest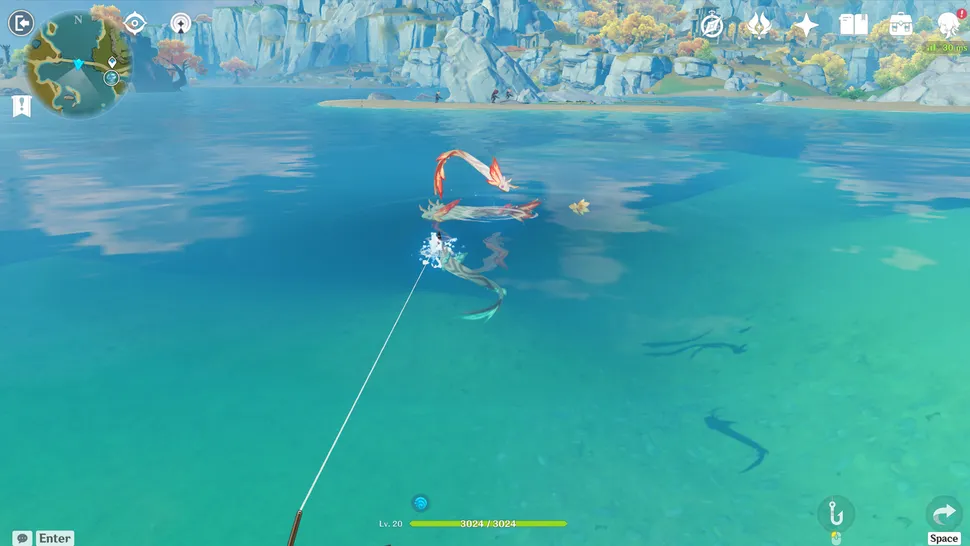 Like most of Genshin Impact's systems and stories, in order for you to unlock the Fishing mechanic, you're going to have to first complete a quest. The World Quest named Exploding Population to be precise. Check your Quest list and activate the navigation on it. Keep in mind you won't have the Quest in your Quest List if you haven't unlocked the Serenitea Pot system yet.
Activate Exploding Population by talking0 to the Katheryne in Mondstadt. Keep in mind you can only trigger the quest by speaking to Mondstadt Katheryne. Not the one in Liyue or Inazuma.
After a quick dialogue, you'll be asked to talk to another NPC named Nantuck. Just follow the instructions and follow the navigation. And you'll be instructed to your first fishing session. Nothing complicated.
How To Fish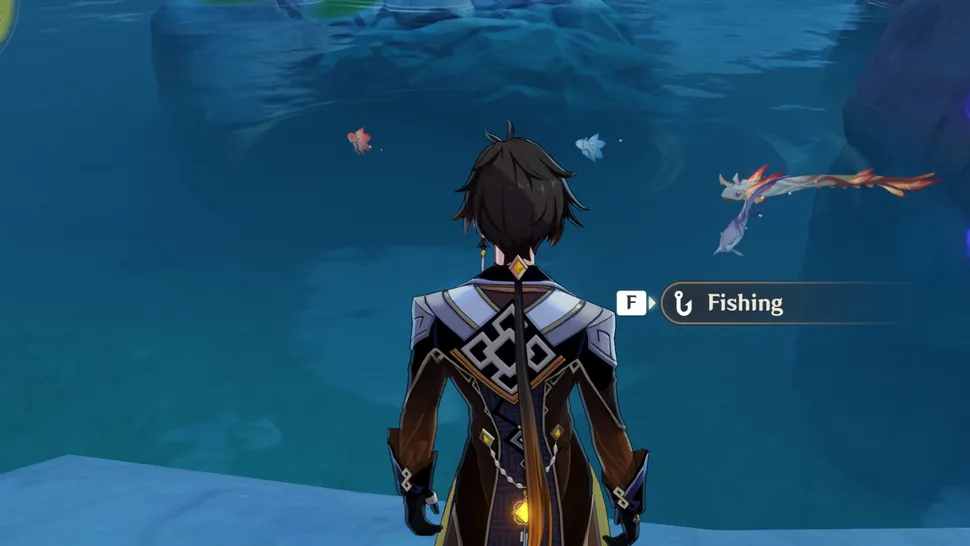 You can fish in Genshin Impact only in specific locations once you get your rod and some bait. You can spot a fishing location by the ripples in the water and the different types of fish in there. They're not that obvious though so we'll include a map with the fishing spots later.
When you get to the location you'll be able to interact with the water and fish. That's it! Just select the rod and the right bait. Each fish requires different bait, so make sure you have the right bait equipped to catch them.
Next, let your fish latch on to the bait and start reeling them in. When reeling the fish in, you need to make sure that you keep it in the correct Tension Zone. This part is marked yellow. If you do not do this correctly, it will escape.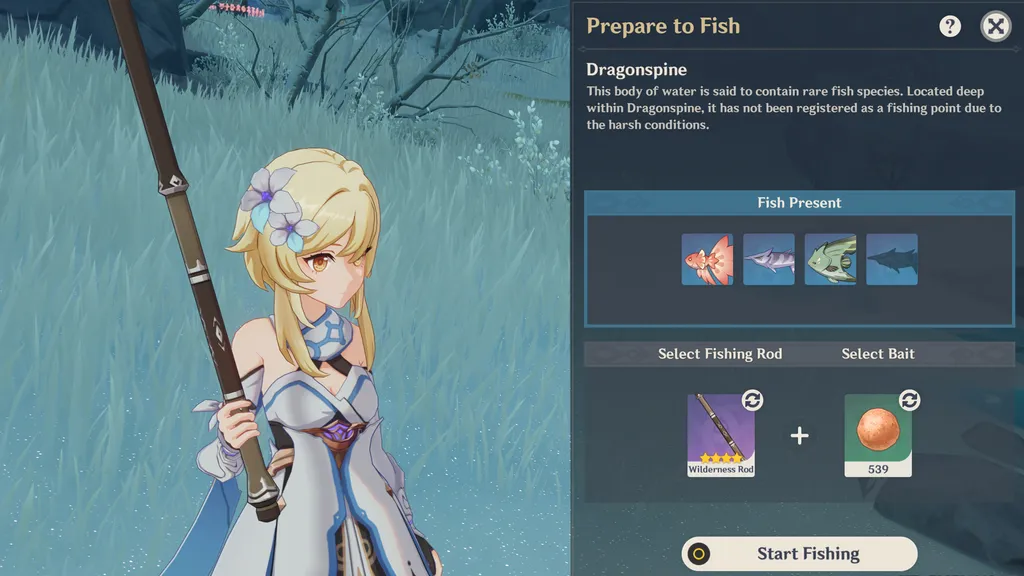 The selection of fish available varies between locations. Fish you can access also changes based on the time of day. Some exclusively only come out at night, while others can only be found in the day.
Fishing Bait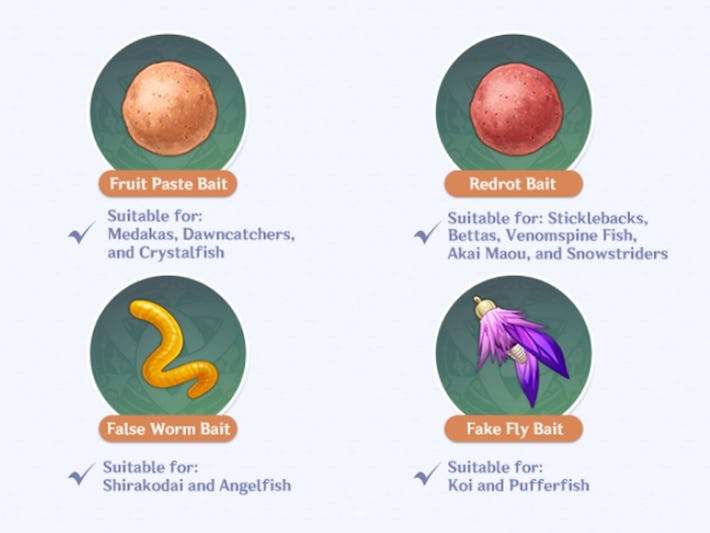 There are four types of bait in Genshin Impact, each one will let you catch different fish.
You already have the recipe for Fruit Paste Bait, which you can make at a crafting station. Every other fishing bait recipe in Genshin Impact can be bought at the Mondstadt Fishing Association, in return for three Medaka fishes each (the small red ones).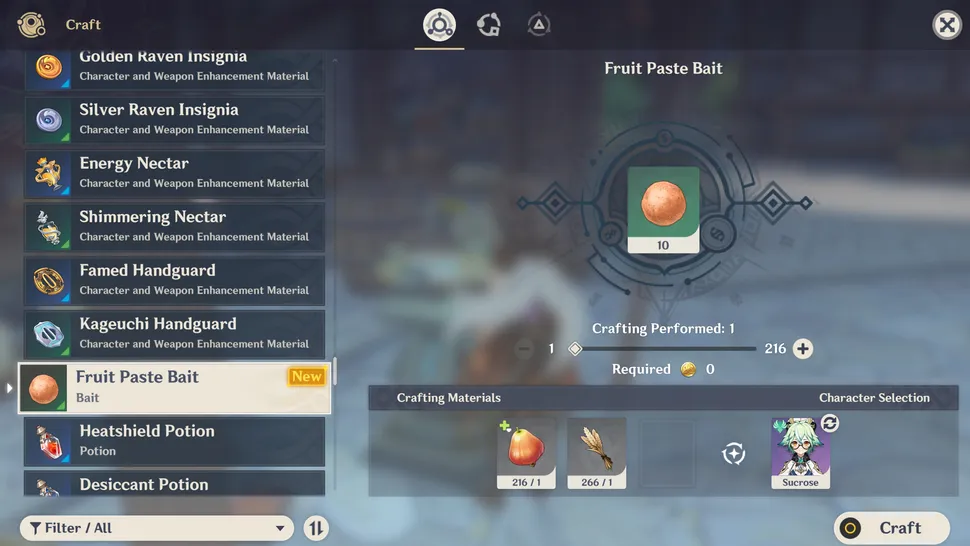 Fishing Rods
You can visit the Fishing Association in each region to obtain specialist fishing rods. You have to turn in certain kinds of fish in order to unlock each rod.
Here are all three fishing rods you can currently get in Genshin Impact:
Monstadt: Windtangler
Wishmaker: Liyue
Inazuma: Narukawa Ukai
Each fishing rod requires you to turn in 80 fish to the Fishing Association. The required types of fish will differ depending on the rod you are trying to purchase.
Mondstadt – Fishing Spots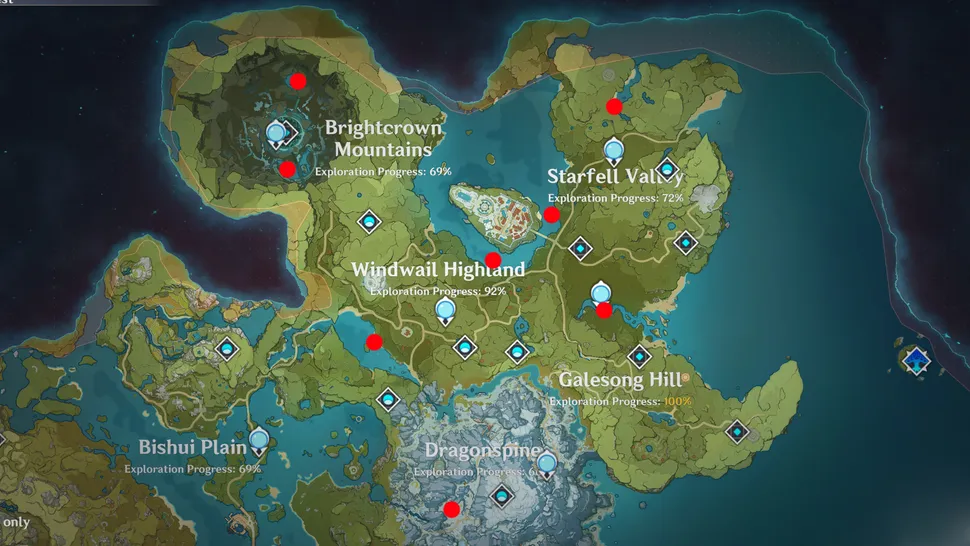 Liyue – Fishing Spots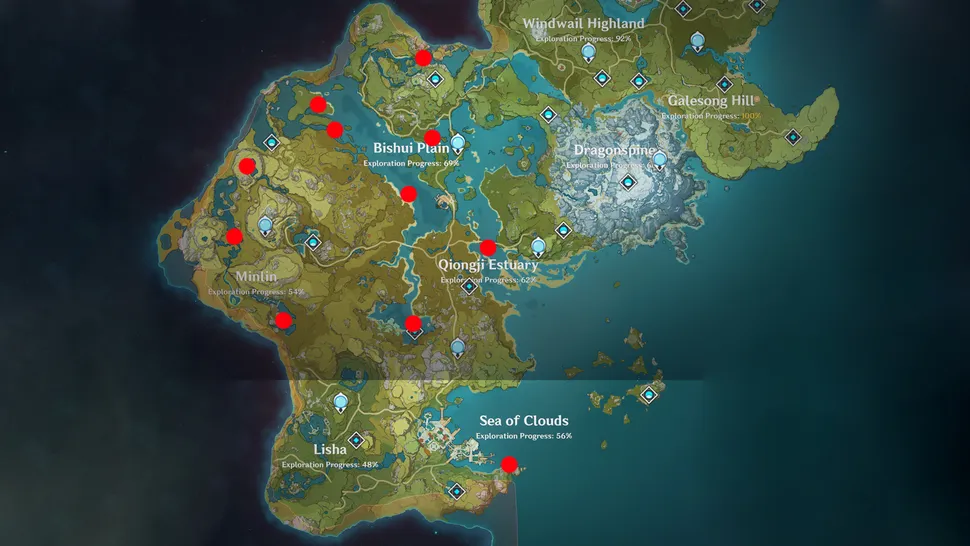 Inazuma – Fishing Spots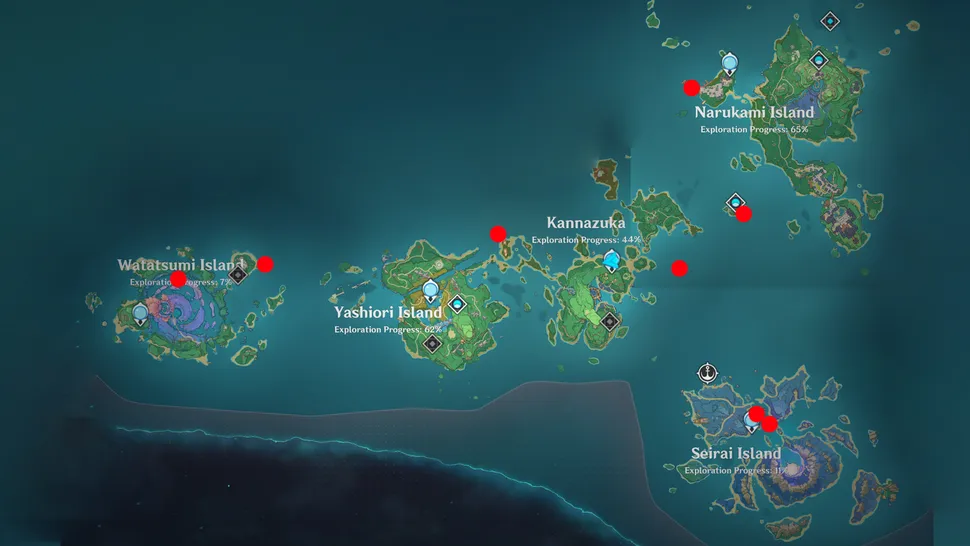 Fishing Respawn
The exact respawn time for fish is currently unknown. What we know for sure is that that fish are available again by reset. This means it takes 24 hours at most for fish to respawn in an area.
If you've exhausted the fish in a pool during one cycle, try changing your clock to the opposite time of day. You should be able to get some extra fish by using this method.