Destiny 2 – Top Guns for the Best Shots
Destiny 2 is still going strong even after 4 years of its initial launch back in September 2017. It is still one of the most engaging first-person shooter MMOs in the market.
They recently launched an update, Season of the Lost, that made several changes in the game including cross-play between platforms.
New, returning and even old players of Destiny 2 know how overwhelming the weapon arsenal is in this game. In this article, we will be showing you the best guns for both Player-versus-Player and Player-vs-Environment.
Best PvE Weapons
We will start off with weapons that are for Player-versus-Environment (PvE). Take note that these guns are also good to use in PvP as well, it's just a matter of choice.
Heritage (Shotgun)
Arguably the best shotgun for PvE, Heritage can only be obtained by doing the Deep Stone Crypt Raid. It is a slug shotgun, so it is best to use it against bosses to deal massive damage per second.
It would be better if you manage to get a very good roll for Heritage. To get at least two of these for the gun's traits: Killing Wind, Thresh, Outlaw, Corkscrew Rifling, Extended Barrell, and Reconstruction.
Chroma Rush (Auto Rifle)
Introduced in the Season of the Splicer update, Chroma Rush is an amazing kinetic auto rifle to burst through your enemies. There are two ways to obtain this gun in the current season – opening up the splicer Conflux chests at the end of your Override activities. Or by focusing Umbral Engrams in the Prismatic Recaster. This allows them to give you more specific loot if you're aiming for Chroma Rush.
It is recommended to find a Chroma Rush that has some of these traits: Corkscrew Rifling, Feeding Frenzy, Kill Clip, Substinence, and Rampage.
Lorentz Driver (Linear Fusion Rifle)
If you have purchased the Season of the Lost Season Pass, you will automatically get the Lorentz Driver, the new exotic Linear Fusion Rifle. Otherwise, you'll have to reach Rank 35 on the season pass to obtain it.
Lorentz Driver has a perk called Lagrangian Sight, which is basically a wallhack as it will mark your targets. You may also do the quest to acquire the Catalyst for Lorentz Driver and get the Enhanced Radar perk. Which will increase the range for the Lagrangian Sight so it can mark more enemies.
Vex Mythoclast (Fusion Rifle)
Another exotic weapon, Vex Mythoclast, has received multiple buffs (Fusion Rifle class buffs, individual buffs, and more) during this Season of the Lost update. It's now considered one of the best weapons in the game. To be fair, it was very underwhelming when it first launched.
It has infinite ammo and can deal massive damage. Pair it with the Particle Deconstruction Mod and enhance it further with a Catalyst for the ultimate weapon.
Obtain it by finishing the Vault of Glass Raid, but the only issue is that only a few people have it right now, and it is not guaranteed to drop even after finishing the raid.
One Thousand Voices (Fusion Rifle)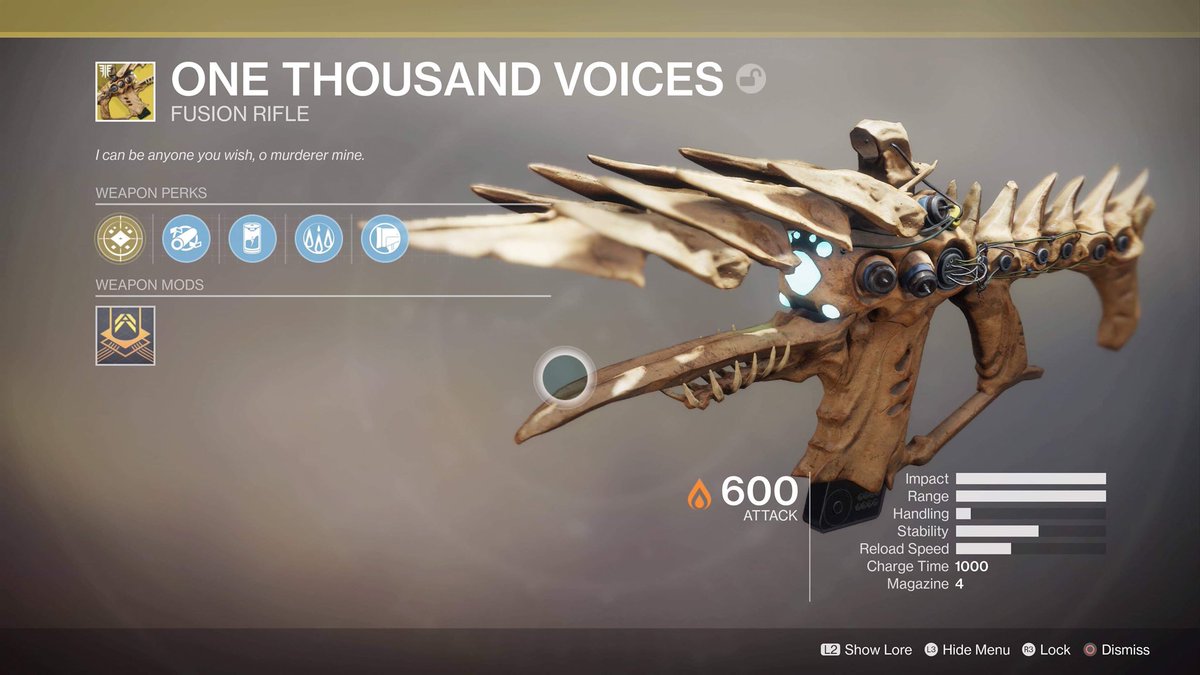 Just like Vex Mythoclast, One Thousand Voices is another exotic fusion rifle, that received the same changes when Bungie buffed the Fusion Rifle class. You can acquire it by completing the Last Wish Raid.
If paired with the Particle Deconstruction mod, it can tear bosses in raids with ease. It does not have an issue with availability as well considering this was launched in Season 4. It's been a good weapon for a long time already.