Genshin Impact – Everything Coming to Version 2.1
Genshin Impact Version 2.1 – Events
The first event coming to us in Genshin Impact Version 2.1 is Moonlight Merriment. This event revolves around Liyue's culinary Moonchase Festival, and sees the Traveler working alongside Xiangling and Keqing to cook dishes and discover the origins of the famous food event.
The rewards for the festival include an exclusive Claymore called Luxurious Sea-lord – and yes, it's a huge fish. And there's more – the Trail of Delicacy is coming, with special dishes to give you unique buffs in battle, and the brand new ability to go fishing in order to gather ingredients. 
Another event is Hyakunin Ikki, a tag-team fighting tournament in Inazuma where you create six teams of two characters. You earn points by rapidly combo-ing between them to defeat enemies before the time runs out. Spectral Secrets is another event that involves dispatching expeditions to follow up on spectre sightings across Inazuma.
Last but not least there is also the fishing event, Lunar Realm. This brand new mechanic gives players a fishing rod to catch the coveted Lunar Leviathan.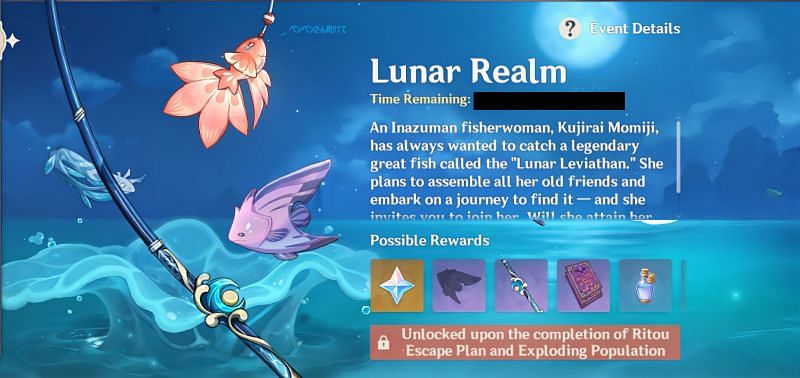 To celebrate the one year anniversary, the Passage of Clouds and Stars login event will be available, where you can grab some great daily rewards. The double crystal bonus event will also be activated once again, so you can reap the benefits every time you make an in-game purchase. These are just a few of the awesome events that miHoYo are serving up – there will also be some great real-world events too, including an online concert, and the ability to partake in the Engraved Wishes promotion.
The online concert to celebrate Genshin Impact's anniversary will feature musicians from across the world who will cover songs from the soundtrack. We don't know exactly when this is taking place, yet, though.
The New Fishing Mechanic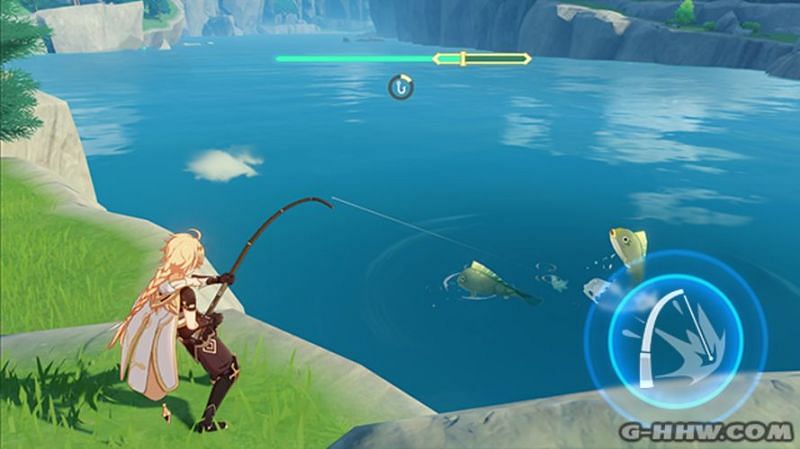 Fishing is low-key one of my favourite extracurricular activities in RPG gaming. Now it's here in Genshin Impact Version 2.1 as part of the Lunar Realm event. Now you'll be able to catch a variety of fish to use for cooking, or to exchange for rewards at the all-new fishing association. There are also ornamental fish that you can catch and raise themselves in a specially constructible fish pond in the Serenitea Pot. 
You can only fish in certain locations and have to craft special bait depending on your region, but the actual fishing mini-game itself looks a little like how cooking works. Where the time-action wheel moves and you land on it presumably to catch a fish.
Genshin Impact Version 2.1 – New Bosses
There are three new bosses coming to Genshin Impact in Version 2.1.
Hydro Hypostasis
The same Hypostasis we know and love but now in Hydro flavour. This version looks like it can transform into sea creatures when attacking. 
Thunder Manifestation
Thunder Manifestation looks to be a kind of Electro Oceanid. I'm not really sure how this creature exists, considering Electro and Hydro are generally a lethal combo, but that should make it a deadly twist on Liyue's Oceanid boss. It looks like this boss fight will be located on Seirai Island.
La Signora  
Just like Childe, this Fatui Harbinger is able to take multiple forms and use both Pyro and Cryo. She'll also be the new weekly boss in Genshin Impact Version 2.1.
Genshin Impact is a free to play open-world RPG available for download on the PlayStation 4 | 5, PC, Google Play and iOS Stores. For more guides to this dynamic game be sure to check out all our Genshin Impact guides that cover everything from events, character, updates etc.
Tagged:
2.1
aloy
anime
archon
Baal
co-op
free to play
free update
genshin impact
horizon zero dawn
Inazuma
kequing
kokomi
kujou sara
lunar realm
miHoYo
moonlight merriment
multiplayer
omnipresence over mortals
primogems
raiden shogun
sangonomiya kokomi
serirai island
thunder manisfestation
v2.1
version 2.1
watatsumi
wishes
xiangling