Genshin Impact – Everything Coming to Version 2.1
Are you guys getting bored of Genshin Impact yet? I left for a bit and came back for version 2.0 and now I'm hooked again. The amount of content updates miHoYo has been pumping out is staggering. They promised us an update every six weeks and so far they've delivered that and more. Every update we can look forward to either new characters, festivals, new areas to visit and more!
In Version 2.0 we were introduced to the Electro Kingdom of Inazuma. We fought a God, learned more about Genshin Impact world politics and of course getting struck by lightning. Version 2.1 is keeping the good times rolling with some new additions to get excited about such as fishing, new events and some brand new lands to visit.
Genshin Impact Version 2.1 will be out next week on the 1st of September 2021.
Genshin Impact Version 2.1 – Story
In the secluded land of the immortal Shogun, the Bakufu rules eternal. But what do mortals see of the eternity chased after by their god?

Dainsleif
Following on from the previous version, Genshin Impact Version 2.1 continues the Inazuma Archon main story quest with "Omnipresence Over Mortals". The story will continue to explore the country's troubled history. As well as conclude the clash between the Sangonomiya resistance and the Shogunate.
Genshin Impact Version 2.1 – New Places
Two more of Inazuma's islands will be open for you to visit in Version 2.1. The first island Watatsumi is blanketed in a dense, colourful forest, and is home to the Sangonomiya resistance and Kokomi. Watasumi is quite far off from the other islands and features unique culture and breathtaking environments. You can also find the beautiful Saganomia shrine, surrounded by mountains and misty waterfalls, which acts as the headquarters for the resistance.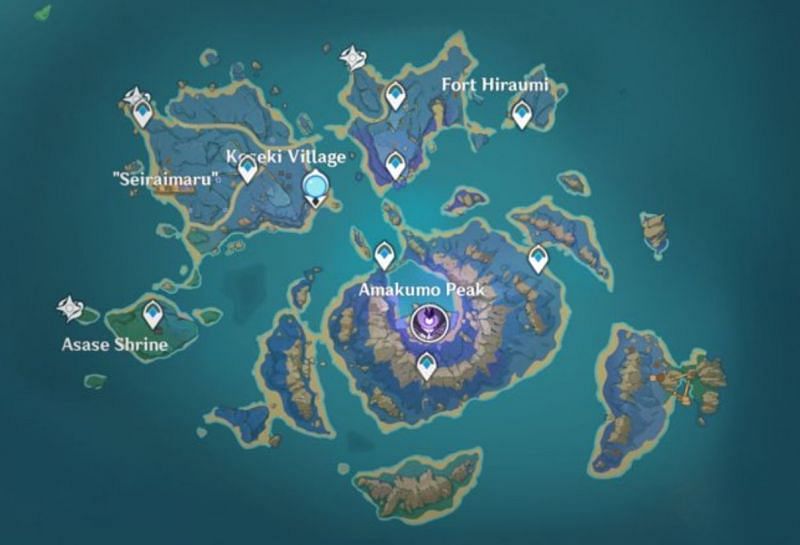 The second-place Seirai island originally appeared in the Version 1.6 event. Seirai is constantly enveloped by a violent storm and hosts a strange, gloomy atmosphere. People rarely set foot among its ramshackle villages and abandoned shrines, which are bound to have a deeper secret for you to explore. It also apparently has a shrine whose priestess is a talking black cat and seems to be where we'll fight the Thunder Manifestation boss.
This just leaves Tsurumi as the final island to be added to the Inazuma map. Potentially coming out in Version 2.3.
Genshin Impact Version 2.1 – New Characters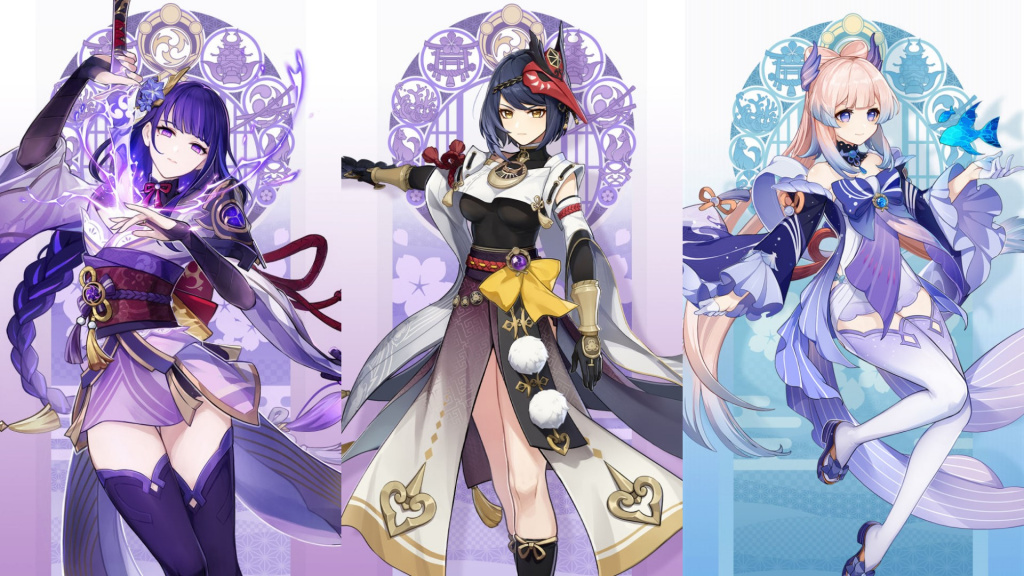 We got a sneak peek at some of the Genshin Impact Version 2.1 character skills over here. It looks like the two main character banners will be Raiden Shogun and Sangonomiya Kokomi with Kujou Sara as a secondary banner character.
As with previous versions, the first banner for Raiden Shogun will arrive on September 1st. While the other character banner for Sangonomiya Kokomi will be launch three weeks later on September 25th-26th.
Raiden Shogun aka Baal – 5 Star Electro Polearm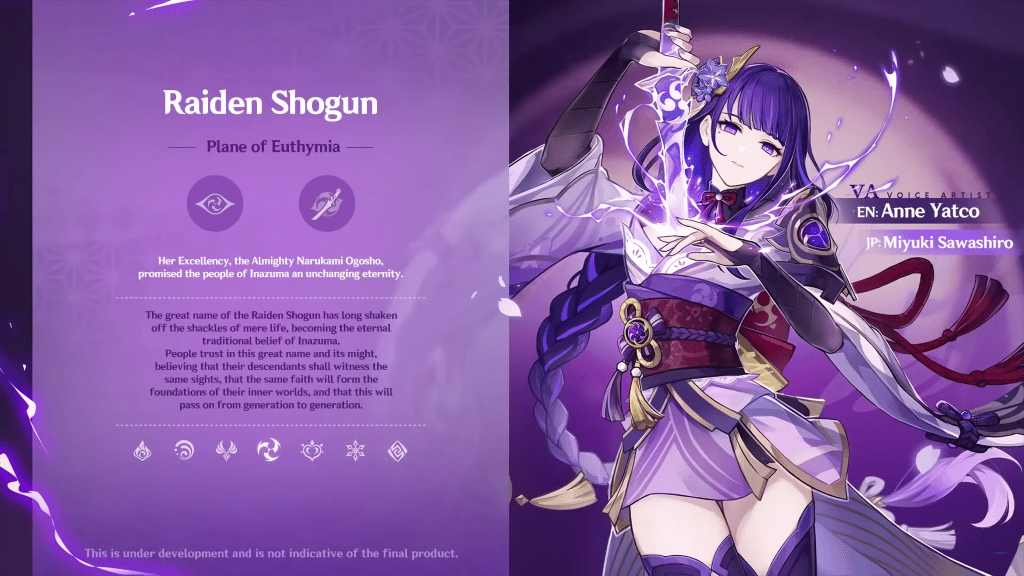 You'll remember Baal from your fight with her during the most recent Archon quest. She's the de-facto leader of Inazuma and pursues eternity by gathering visions and inlaying them on a mysterious statue. She will be part of Genshin Impact Version 2.1 first banner alongside Kujou Sara.
Kujou Sara – 4 Star Electro Bow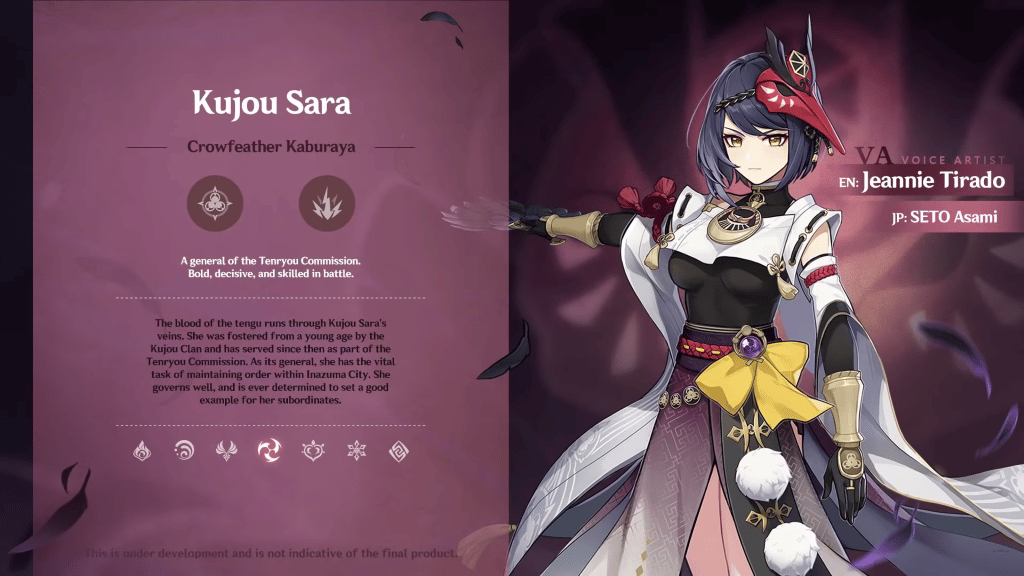 The second character arriving with Raiden Shogun is Kujou Sara. She's general of the Tenryou Commission and serves under Baal. She appears a couple of times during the Inazuma Archon quest, including at the battle between the resistance and the Shogunate, but all we really know about Sara is that she's loyal to Baal and is a descendant of the Tengu, a tribe of speedy, black-winged warriors.
Sangonomiya Kokomi – 5 Star Hydro Catalyst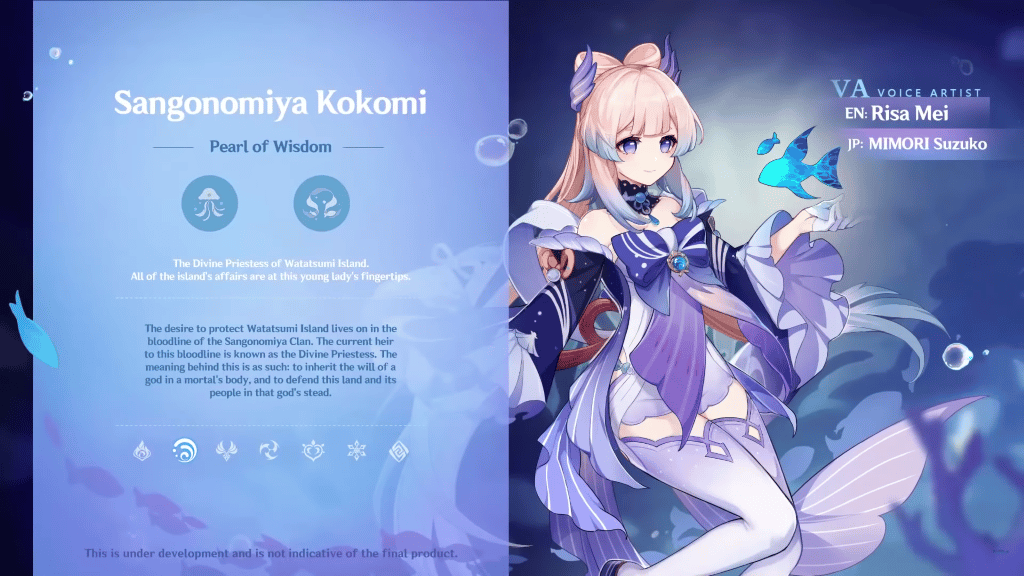 Kokomi is the Divine Priestess of Watatsumi Island. Though she's more of a healer than a fighter, her strategic smarts and leadership are what has kept the resistance alive this long. I'm personally excited to pull for Kokomi because of her AoE Hydro DMG that can also heal, making her a great burst.
She'll be part of Genshin Impact Version 2.1 second banner arriving on September 25th/26th.
Aloy – 5 Star Cryo Bow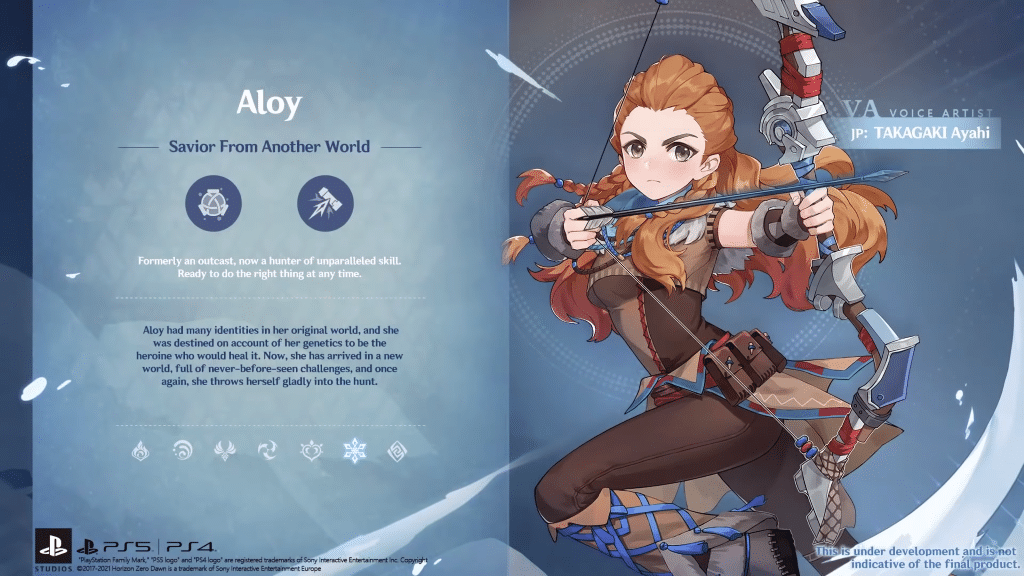 In one of the most unexpected mashups of 2021, Genshin Impact is bringing to the protagonist from one of the best PlayStation games (imo) – Horizon Zero Dawn. Aloy will be landing in Teyvat in Genshin Impact Version 2.1 on the PlayStation 4 and 5 first. If you're a PC user you're going to have to wait until Version 2.2 to get her.
Good news for all you Aloy or Cryo Bow user fans you won't need to pull for Aloy. If you're above Adventure Rank 20 you'll receive the character for free in an in-game mail when the update arrives! Just log in to get her.
Aloy has some pretty cool Cryo attacks including a freeze bomb that will explode on impact. As well as a kind of Cryo bomb that you can set up for hitting it. If you missed out on Ganyu earlier this is excellent news for you.
Be sure to check out all our character guides for Baal, Kujou and Kokomi before they come out in Version 2.1! In that article, we have all their talent and skill information, ascension materials as well as best weapons and artefacts so you can prepare for them ahead of time!
Tagged:
2.1
aloy
anime
archon
Baal
co-op
free to play
free update
genshin impact
horizon zero dawn
Inazuma
kequing
kokomi
kujou sara
lunar realm
miHoYo
moonlight merriment
multiplayer
omnipresence over mortals
primogems
raiden shogun
sangonomiya kokomi
serirai island
thunder manisfestation
v2.1
version 2.1
watatsumi
wishes
xiangling