Steam Deck First Impressions: "It's Just A Small PC"
Valve has taken the wind out of Nintendo's OLED Switch announcement by announcing the Steam Deck. It is a handheld gaming device tied to your Steam library running a proprietary Linux based OS called SteamOS.
Let's go over its specs and dive into a quick discussion over its features. We will only really get to see a final retail version this Christmas.
The Specs
The engineers behind the Steam Deck worked closely with AMD to build the internals of this device. It runs on a combination set of Zen 2 4c/8t 2.4 – 3.5GHz processor with an 8 RDNA 2 CUs GPU and 16GB of LDDR5 RAM. What this means is that it can run most games today on high to ultra setting at 720p. In terms of power, it is comparable to the Xbox Series X console.
The Valve team is quite confident that this will be adequate for use today. The only issue is how this will continue to handle games that will come out on PC. When games are created for consoles, they are optimized to work with that console out of the box. A PC has many configurations to account for. One of the ways they can look to solve this is perhaps through a recognition system of the SteamOS. From there, the game can optimize itself further.
The Controls
The engineers at Valve clearly cannibalized their old Steam Controller to make the Steam Deck controls. It has the usual set of buttons you would need and adds two trackpads and 4 additional "grip buttons" in the back. Those who have used the Steam Controller will be familiar with the setup here. 
At the same time, you will have a fully functional touchscreen as well as onboard microphones. The USB type C port at the top is fully functional as well so you can input a USB hub. You could feasibly plug a monitor, keyboard and mouse and continue gaming away. Valve has said that they intend on releasing a specific dock for the Steam Deck in the future. However, they encourage their users to use any USB C hub that they currently have.
The elephant in the room on this console is the weight. It is 669 grams of plastic in your hands. The Switch is half that weight and I had issues holding it for more than a couple of hours per session. I think it's time to hit the gym and get some gains on your arms before you take this Deck out for a spin.
The SteamOS Software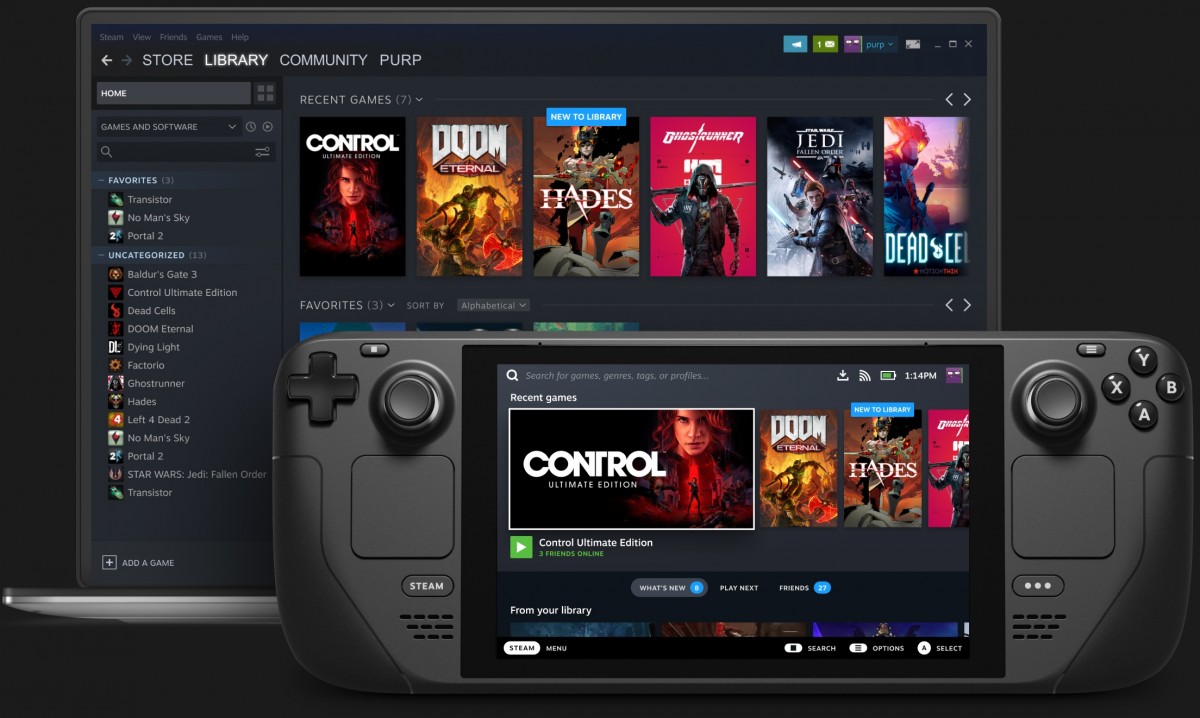 This is the most interesting part of the Steam Deck because you could have Windows OS as well. Steam Deck ships with SteamOS which is Linux based and serves as the frontend of the machine. From here you could log in to your Steam account and access all your games, your friend's list, your chats and play it like you would any other console operating system.
You can also install Windows on Steam Deck which allows you to run any Windows application onto this device. This opens up a myriad of applications for the Steam Deck. You are now no longer bound to just Steam and the games and services offered there. You could use Epic or Origin or better yet, Xbox Game Pass on your handheld device.
This is what will separate Steam Deck from any other console with agnostic game library expansion.
The only issue that I see here is the limited space that is offered at the start of Steam Deck. 64GB internal hard drive would nary be enough for more than 1 or 2 heavy games along with the OS. Install Windows on there and you already shave off quite a lot of space. This device only makes sense if you were to buy the higher-spec versions which give you more space.
Who Should Buy The Steam Deck?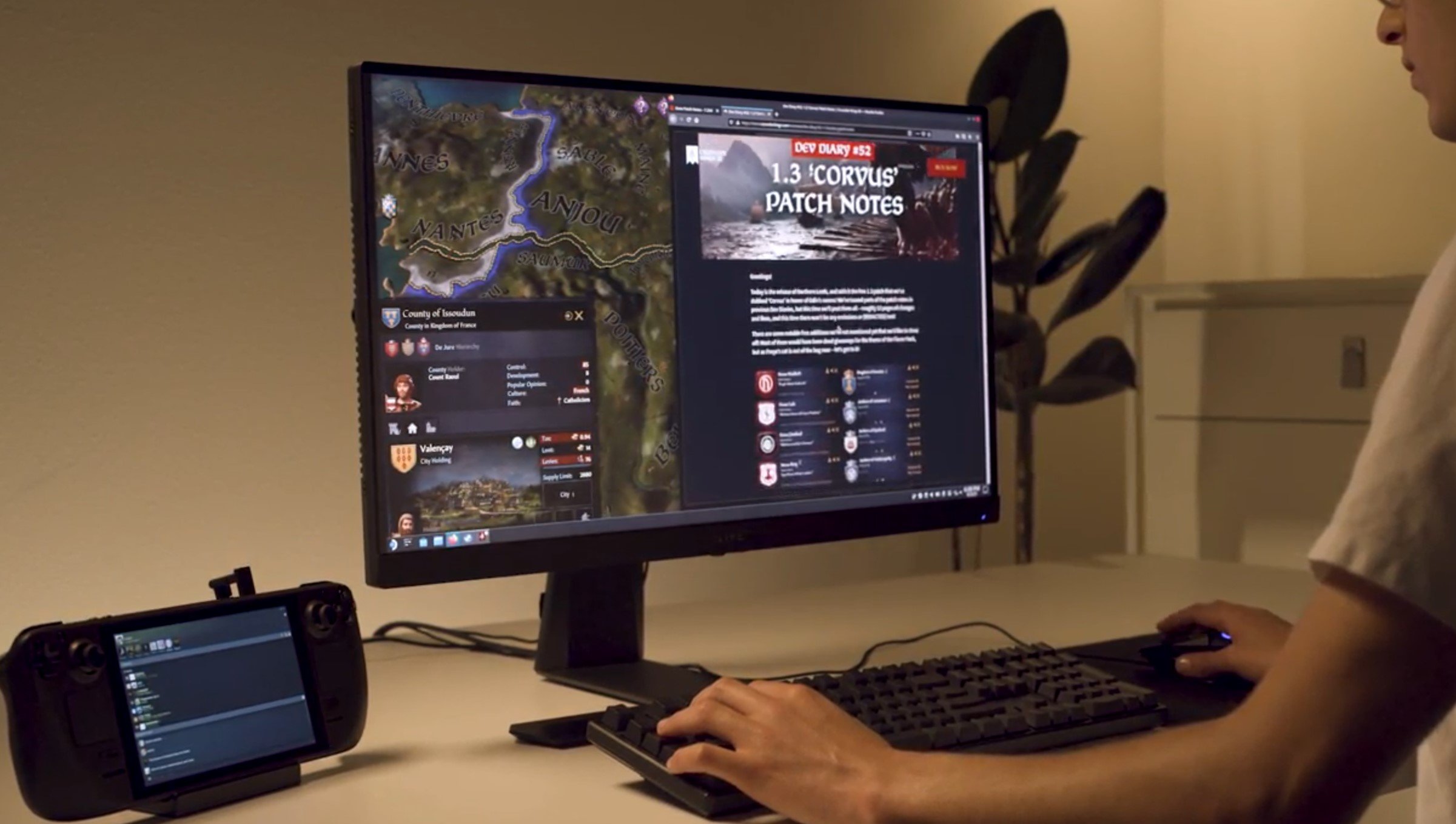 This is the big question that comes to mind when I'm looking at the Steam Deck. On its own, you would need to have someone who owns a Steam account and is familiar with the interface. For new users, Steam Deck isn't as easy to jump into as a Nintendo Switch. You can't just go out and buy a cartridge or a CD as you would any other console.
The ability to add a different OS to this and make it a mobile travelling game station and Windows device puts this in the same territory as a basic laptop. You could even dust off that Steam Controller and play with your laptop. This makes the Steam Deck an extra device for an extra device's sake. This would act as an additional device for you to play on the go.
I think the device is very interesting and its versatility to do so many things may muddy up the marketing. It appears as a creation for a niche audience and not as mainstream as other consoles target to be. That is not necessarily a problem as many companies have niche markets and do well. The problem is when you are Valve and you have a record of developing hardware solutions that you regularly abandon. I mentioned one of them earlier as the Steam Controller which was discontinued in 2019. Valve also developed the Steam Machine (did not launch) and the Steam Link which was discontinued in 2018.
The Steam Deck looks to be a combination of all these devices into a handheld solution. At the same time, this is not a novel solution as we have seen Alienware in 2020 tease their Alienware UFO concept. That was the SteamDeck without SteamOS.
Christmas can't come soon enough so we can get a closer look at this device and see if it lives up to the hype. Ironically, the team at Valve has been muted in their hype with Pierre Loup-Griffais, Lead Developer, repeatedly saying, "It's Just A PC".