SoS: Pioneers Of Olive Town – What's In The DLC Expansion
Story of Seasons: Pioneers of Olive Town is a beautiful farming and town life game. There's plenty of things to see and do in the game. There are livestock to feed, people to marry (and divorce) and of course crops to plant. But by now you might be wondering is there more to Pioneers of Olive Town? Well yes, yes there is. Not quite game-changing but the game's DLCs introduce some cute post-launch content. Including new locations, new stories, animals and of course new outfits.
In this article, we'll map out all the new features by their timeline so that you can decide whether you want to spring for the new content! Which goes all the way up to August of this year. Information on these updates are ongoing as well so expect this page to keep filling in as we know more!
April 2021
The end of April brings a new side-story to the game as well as new Animal Attire outfits for you and your hubby/wifey.
Side Quest: Olive Town Mystery Files
The Olive Town Mystery Files is a side-story where the player helps Mikey and Cindy unravel a series of mysterious events happening around Olive Town. Not to give too much away but there are few things for you to investigate. A cryptic circle has in the play park. A strange fish person has been seen on the beach. An ominous shadow has appeared on the wall of the Gull's Rest. And a terrible presence that frightens every animal that comes into contact with it.
The reward for all of your hard work solving the town's many mysteries, is a Detective's Outfit! It must be ordered from the Beauty Salon like any other clothes and collected the next day, however, both hat and body piece cost nothing to make.
New Outfits: Animal Attire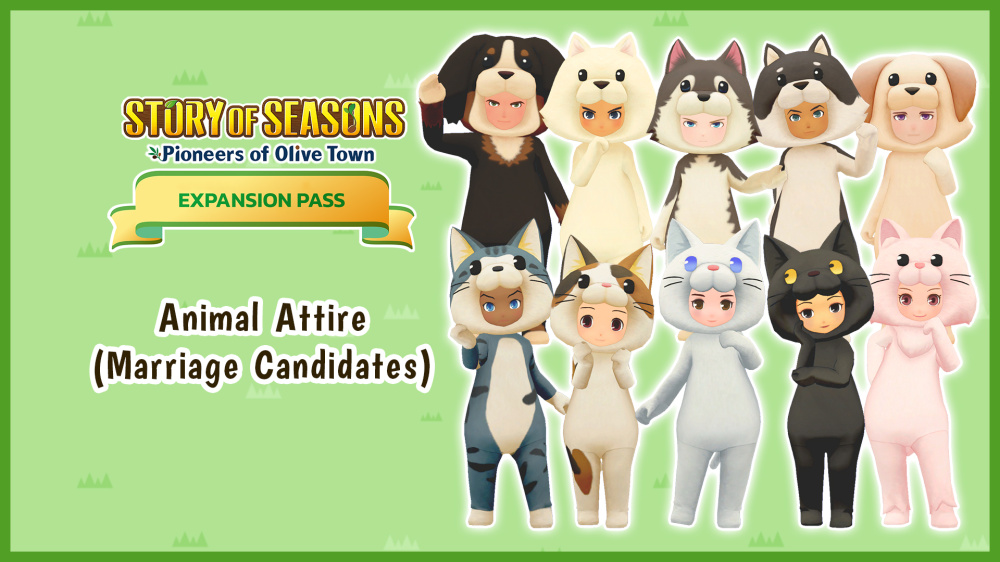 Take a walk on the wild side with an adorable set of animal costumes. You'll get a bunch of cute animal costumes for your character as well as your marriage candidates. Choose from a dog, wolf or cat. All DLC clothing has to be purchased just like any other clothes. This means visiting the Beauty Salon in Olive Town.
May 2021
In May there are more outfits as well as a brand-new area for you to explore that's the home of 4 new characters and 2 new marriage candidates!
New Area: Windswept Falls
Known as Windswept Falls, this second piece of downloadable content will allow Story of Seasons fans to explore a refreshing, brand new area. As well as interact with four characters from a past entry in the franchise that was originally released onto the Nintendo 3DS system. 
As part of Windswept Falls players will be able to explore the village, fish in the nearby lake and develop new relationships with two familiar faces from the Story of Seasons franchise.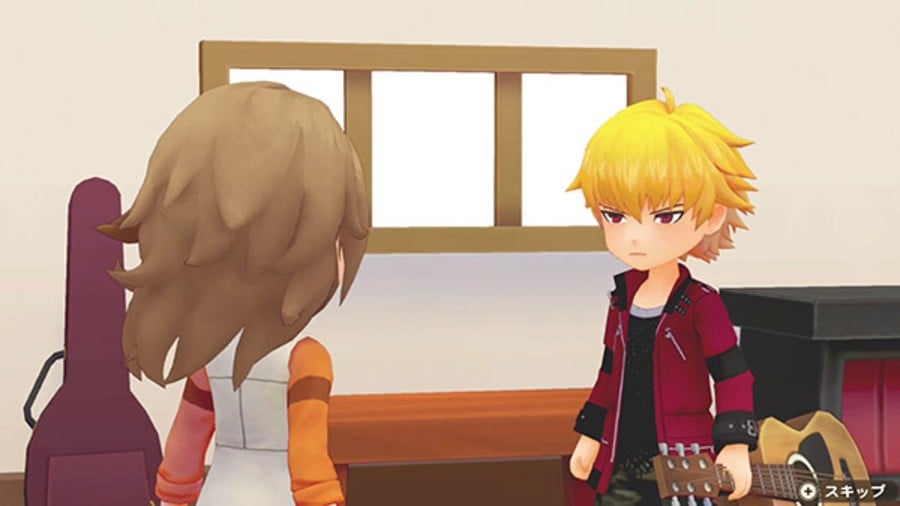 Neil and Felicia are the marriage candidates and are both from Harvest Moon: A New Beginning. Niel is an animal shop clerk that can come off a bit cold at first. Deep down he's a little lonely and is just looking for someone to share his love of animals with. Felicia/Felicity is a waitress who loves food, but isn't a good chef.
New Outfits: School Uniform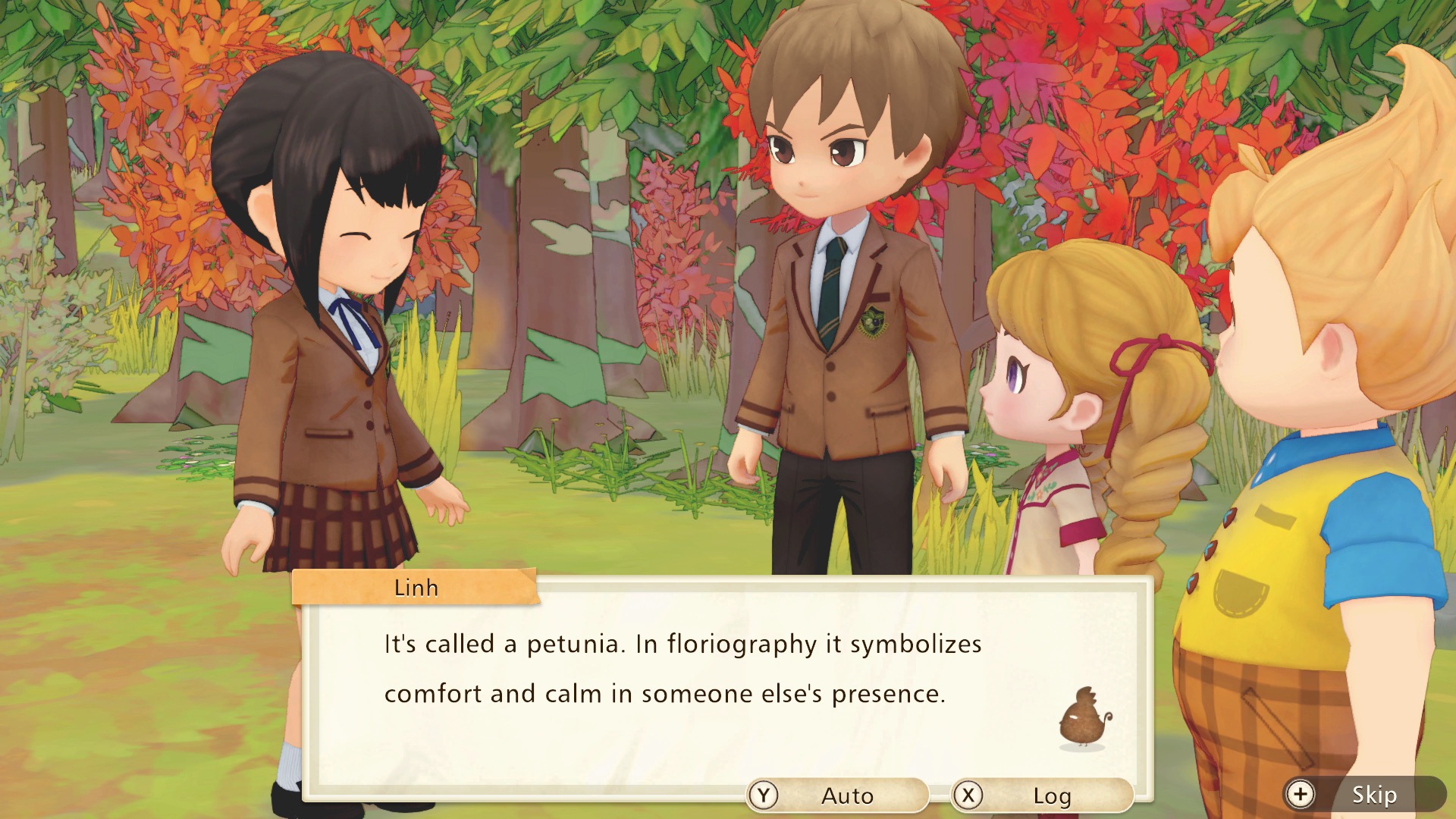 A set of school uniforms for studious farmers and their potential partners. As with the other outfits you can put them on your marriage candidate.
June 2021
No outfits in Pioneers of Olive Town this month but a brand new area to explore with 4 new characters and 2 marriage candidates!
New Area: Terracotta Oasis
The Terracotta Oasis will be similar to the Windswept Falls expansion. In this expanssion you'll be able to travel to a small desert town and interact with four returning characters – Giorgio, Marian, Iris, and Raeger. Iris and Raeger will be romanceable in Pioneers of Olive Town. Raeger is a serious, hardworking chef who's a bit of a perfectionist. Iris is an accomplished novelist. She has a wealth of knowledge and experience, isn't bothered by little things and has a refreshing personality.
July 2021
The height of summer comes with a new story in Pioneers of Olive Town about the Earth Sprites as well as an event called the Sprite Dance. What are you going to wear to this event? There's a pretty Yukata outfit set in this update as well!
New Story: The Legendary Sprite Dance
The Earth Sprite Village is livelier than ever, and the sprites are determined to revive their legendary dance and hold a feast…with or without Boss Sprite's permission!
August 2021
Yet another new area to explore is coming to Story of Seasons: Pioneers of Olive Town! This time it's a beautiful night time island called Twilight Isle.
New Area: Twilight Isle
Sail to an island bathed in twilight and meet four characters from Story of Seasons: Trio of Towns. Like the other areas before this will include two new marriagable candidates – Ludus and Lisette. Ludus is a jack of all trades and is revered by the town's children. He is often found making house renovations and making farm circles. While Lisette is a cheerful girl who works as a florist at Thousand Bouquets. Due to her parent's influence, she became familiar with plants at a young age and enjoys gardening.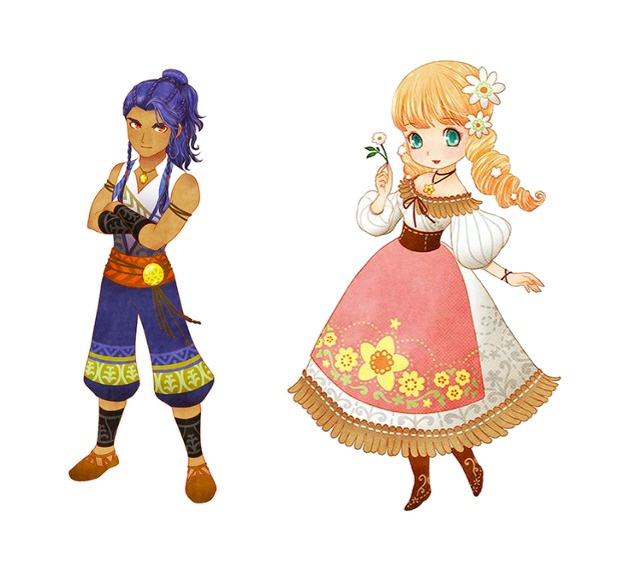 Pioneers of Olive Town: Expansion Pass Outfits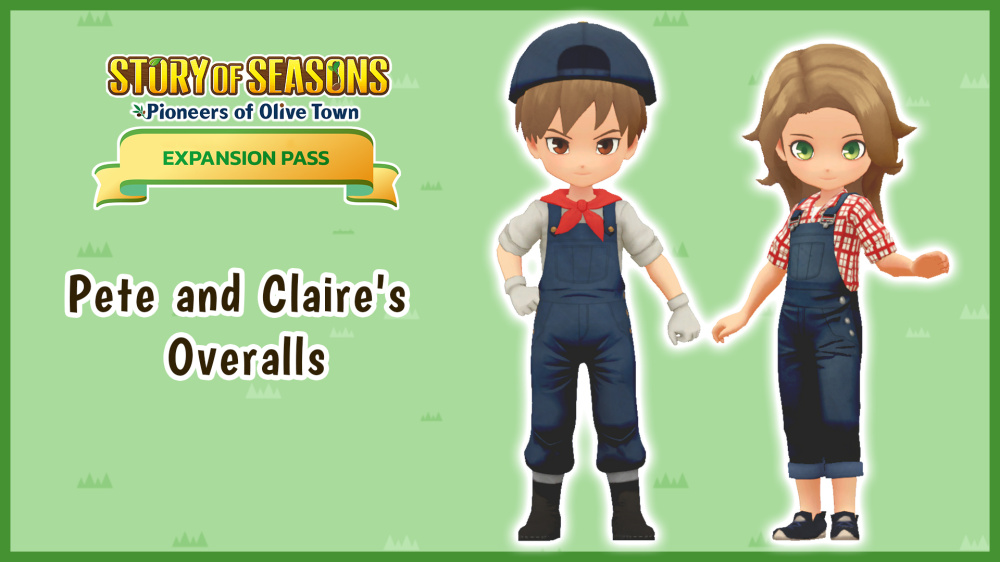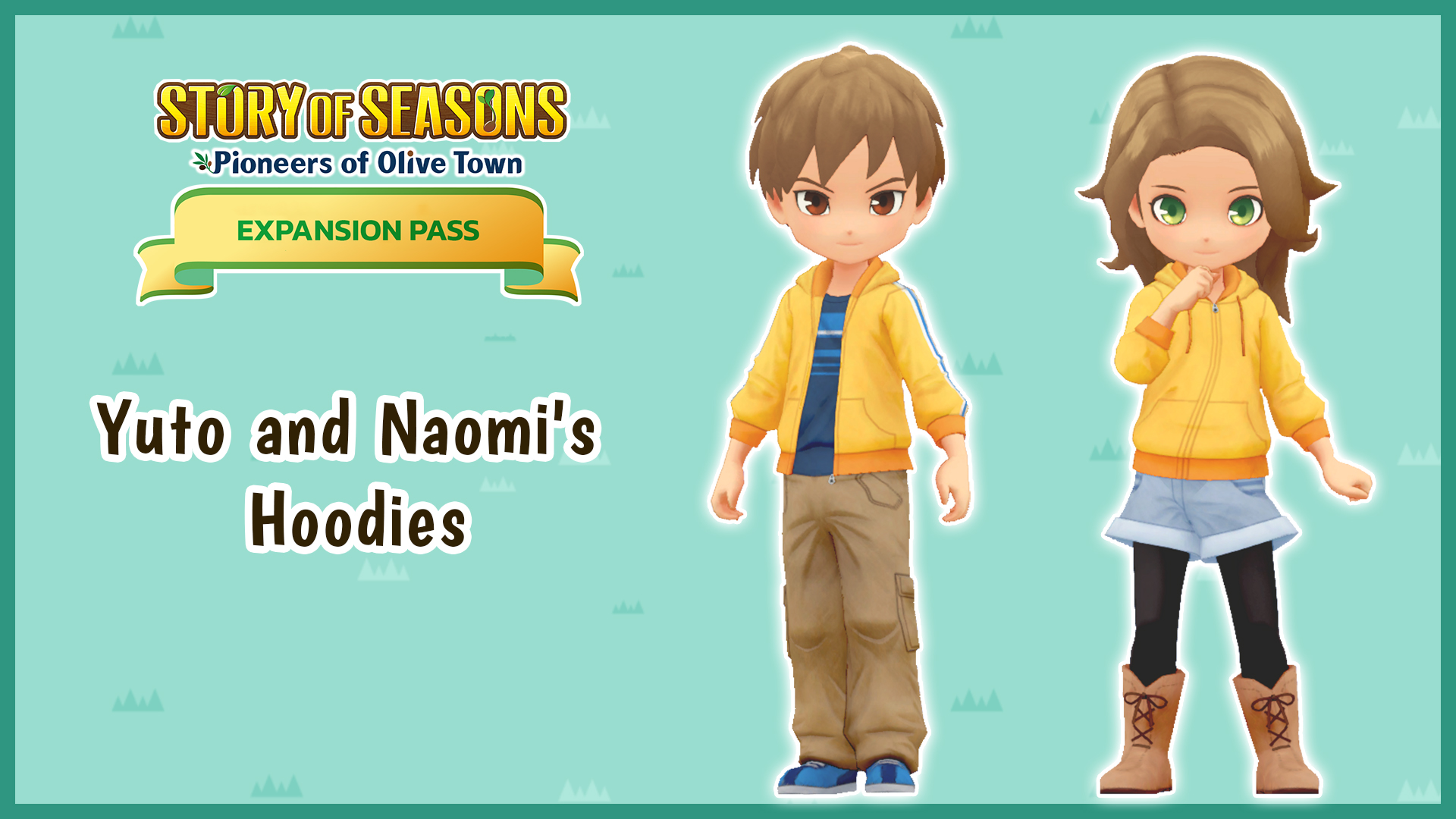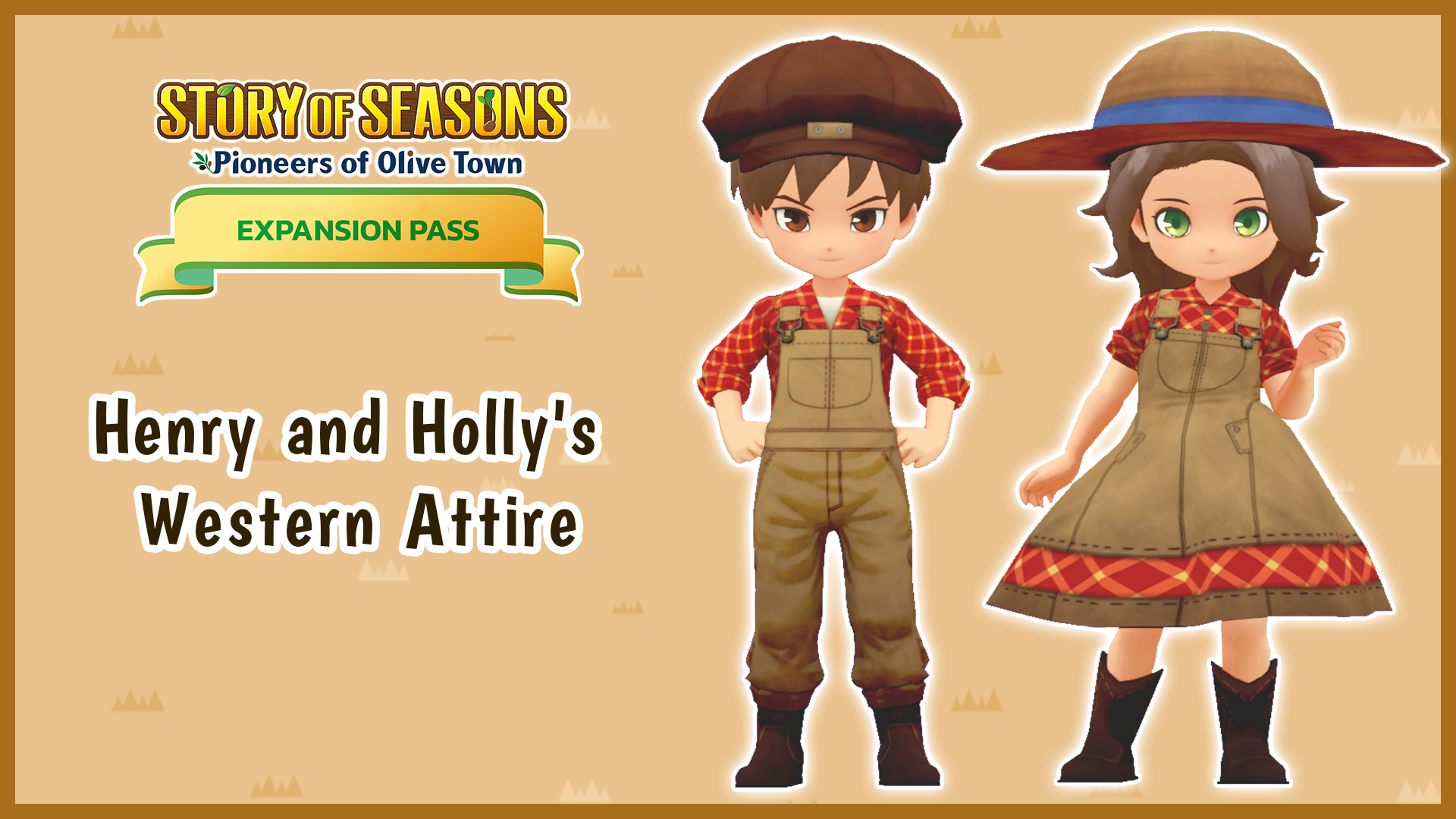 Just by buying the Pioneers of Olive Town DLC Expansion Pass you'll unlock 3 new outfits as a gift. These are "Pete and Claire's Overalls" and "Yuto and Naomi's Hoodies" from Story of Seasons: Friends of Mineral Town. As well as "Henry and Holly's Western Attire" from Story of Seasons: Trio of Towns. 
Pioneers of Olive Town
Story of Seasons is a great franchise and its latest game Pioneers of Olive Town only gets better with the DLC Expansion Pass. The expansion pass will cost you USD $19.99 on top of the original game price of USD $49.99. You can find out more about the pass on the game's website here.
We've done a lot of great guides for Story of Seasons: Pioneers of Olive Town. Are you brand new and starting out? Then check out our beginner's guide. Do you want to know more about getting your honey to marry you then here's our bachelor and bachelorette guide! Of course there's also our best read article – best crops to plant guide. Be sure to check out all this and more on Unpause!
Tagged:
animal attire
april 2021
august 2021
dlc
dlc expansion pass
dlcs
earth sprite
earth sprite village
farm sim
farming sim
felicia
felicity
friends of mineral town
game guide
harvest moon
harvest moon a new beginning
iris
july 2021
june 2021
lisette
ludus
maker machines
management sim
may 2021
new outfits
niel
nintendo
nintendo switch
olive town
olive town mystery files
outfits
pioneers of olive town
raeger
school uniform
shrine
sos poot
stardew valley
story of seasons
story of seasons pioneers of olive town
terracotta oasis
the legendary sprite dance
twilight isle
windswept falls