Epitomized Path
miHoYo is introducing a new banner feature to get 5-star weapons. This is basically a pity system for the weapons of the game. However, in this case, you can control which item you want to obtain.
Players will be able to get their favourite 5-star weapon just by choosing what they like. They will receive one (1) Fate Points every time they get a 5-star weapon that they did not select. Once you have two (2) Fate Points, the next 5-star weapon you will get will be the one you selected in the banner.
Since this feature is a new banner, it means once the time expires, all Fate Points will be cleared. The same will happen if you cancel the banner or change the weapon of your choice.
New Events, Weapons, and Artifacts
Events
There will, no doubt, be new events released in 2.0, as well as plenty of quests associated with Inazuma, including a reputation system for the region.
What we know so far is that a four-week event called 'Thunder Sojourn', in which players complete challenges for a currency that can be redeemed for a free Beidou. There will also be a return of the Genshin Impact Theater Mechanicus event (guide here), 'Phantom Flow' and 'Ley Line Overflow' events, as well as a 'Lost Riches' event that will reward players with a Mini Seelie pet.
Weapons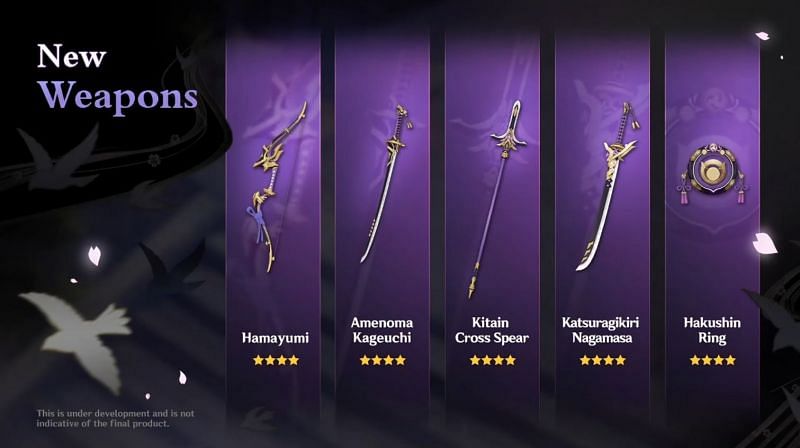 Brand new weapons coming to Version 2.0 are:
Thundering Pulse – 5-star bow
Mistsplitter Reforged – 5-star sword
Katsuragikiri Nagamasa – 4-star claymore
Kitain Cross Spear – 4-star spear
Amenoma Kageuchi – 4-star sword
Hakushin Ring – 4-star catalyst
Hamayumi – 4-star bow
For our Genshin Impact best weapons list be sure to check it out here.
Artifacts
There will also be two new 5-star artifacts:
Emblem of Severed Fate

Two-piece set: +20% energy recharge

Four-piece set: increases elemental burst damage by 25% of energy recharge. A maximum of 75% bonus damage can be obtained in this way
Shimenawa's Reminiscence

Two-piece set: +18% attack
Four-piece set: when casting an elemental skill, if the character has 15 or more energy, they lose 15 energy and normal/charged/plunging attack damage is increased by 50% for ten seconds.
For our Genshin Impact best artifacts list be sure to check it out here.
Other Version 2.0 Updates
As though Genshin Impact didn't have enough things to do, gardening is arriving as part of version 2.0's new activities! In your wonderful little escape in Serenitea you'll now be able to grow your own plants. Maybe wood for you to construct furniture with?
Current line-up of F9 for 1.7/2.0 Spiral Abyss.

Thanks to @abc64real for the images.#GenshinImpact pic.twitter.com/QyTa8KtvV5

— Sukuna (@SsukunaaA) June 20, 2021
There are also changes coming to the Spiral Abyss in version 2.0 – the full changes are available on Twitter, courtesy of Sukuna and abc64real.
Cross-platform Saves
This is a big one for fans who play Genshin Impact on the PlayStation. miHoYo announced that it will now support cross-platform saves across PlayStation platforms. Simply link your PSN and your miHoYo account using an email address, and you will be able to finally play your save on other platforms. Hooray!
However, you must not have used the same email address and play both on a PlayStation platform and the PC platform prior to Version 2.0 for it to work.
We have tons of Genshin Impact content that are pumped out periodically. With guides from everything from team build, new character guides, events and more! Stay tuned for everything happening in Genshin Impact!
This article was an original contribution by Sarah from the site OffGamers. Check out the site for all your gaming needs!