Genshin Impact – Everything Coming To Version 2.0
miHoYo's Game of the Year – Genshin Impact – will be receiving a huge update this July. It was originally called Version 1.7, but miHoYo settled into calling it Version 2.0. Why? because this seems to be a bigger update than the previous ones. This update will release on July 21, 2021. miHoYo also emphasizes that they will continue to launch updates for Genshin Impact every 6 weeks.
The most recent update was 1.6 – otherwise known as Midsummer Island Adventure – and it introduced a new archipelago for us to explore. Naturally, we expected the upcoming patch to introduce the 1.7 update – but instead, it's been officially revealed that the next update will be Genshin Impact Version 2.0.
In the meantime, here are the details of what we are excited about for Version 2.0! Additionally, if you have not watched the trailer yet, it is full of new information for the upcoming region. Check it out below.
The Inazuma Region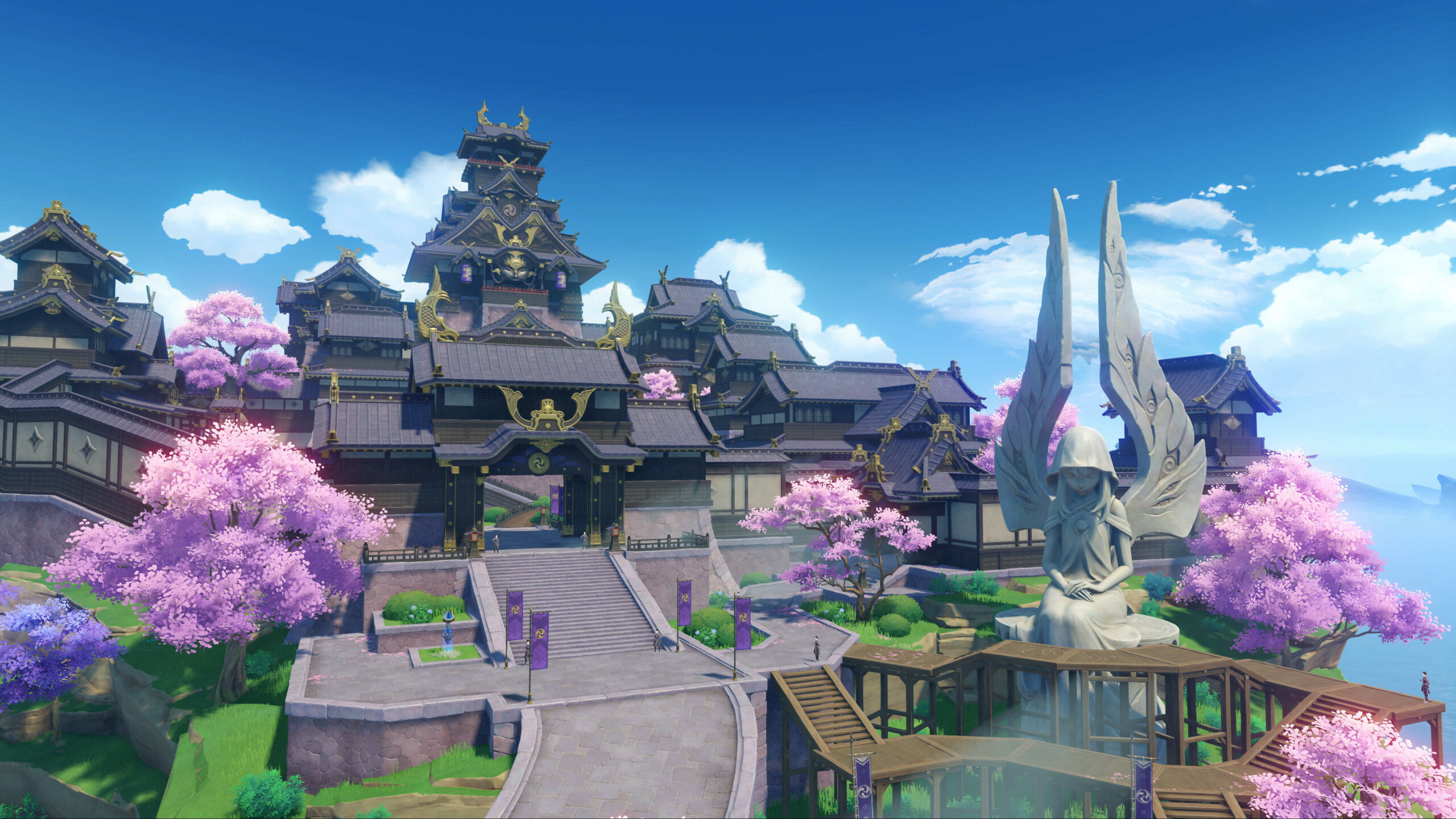 One of the biggest features that have been announced for Version 2.0 is the introduction of the region of Inazuma – the Nation of Eternity. It is a Japan-inspired region as you can see by all the wonderful Sakura trees. There are also samurai structures, scattered throughout the region. The leader is even called the Shogun, much like it was in feudal Japan. Although the region of Inazuma has been previewed in the previous updates, this is the first time we'll be able to explore it fully.
Based on the trailer, Inazuma looks like it has an ongoing conflict happening between the Shogunate and the resistance that is trying to defeat her. As expected with such a massive update, expect plenty of new story content, side quests, events, Domains, world bosses, and characters.
Earlier, I mentioned that the leader of the region is called the Shogun. Well, the trailer showcases Baal – The Raiden Shogun – in length. Unfortunately, there is no confirmation if she is going to be a playable character in the future.
Inazuma's Islands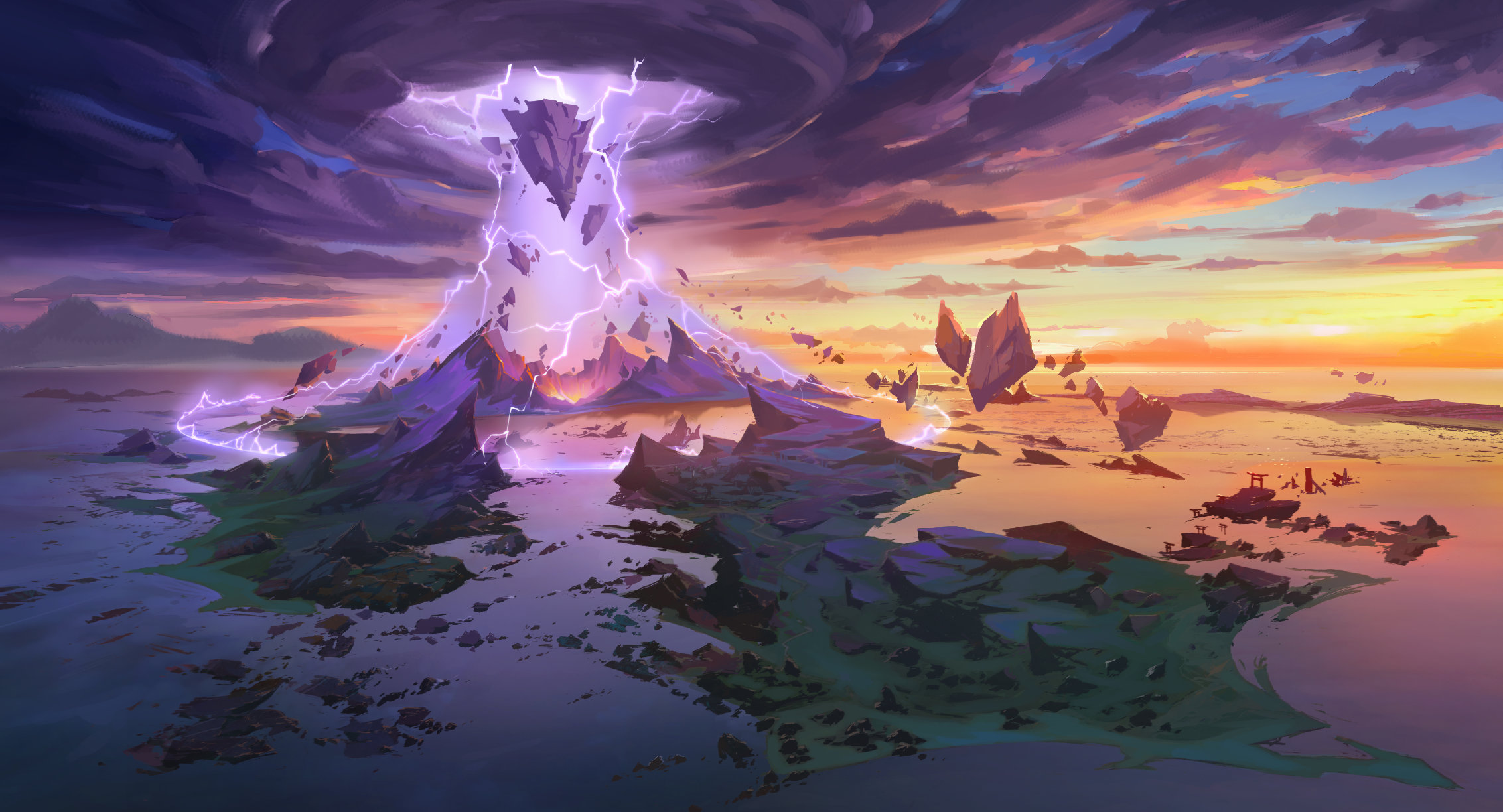 In Version 2.0 we'll be able to explore three of Inazuma's main islands. As Inazuma is surrounded by the sea it makes sense that we'll be exploring more of the region offshore. We'll be able to visit three of Inazuma's islands in this update, but there are three remaining islands in this region that we'll get access to later in the year.
This Genshin Impact Version 2.0 map below is based on datamined information, with marked landmarks.
Full 2.0 English map#genshinimpact #genshin #原神アプデ情報 #原神アプデ情報 #Inazuma pic.twitter.com/nCW4kevS9o

— Genshin Impact Leaks FR/EN (@blobileaks) July 4, 2021
Moreover, the traveller will also gain new Electro elemental abilities as shown in the trailer as well. It is also expected to have the same Reputation System as the previous regions, as well as new domains, collectables, and many more. After all, this is Genshin Impact's largest update so far.
New Playable Characters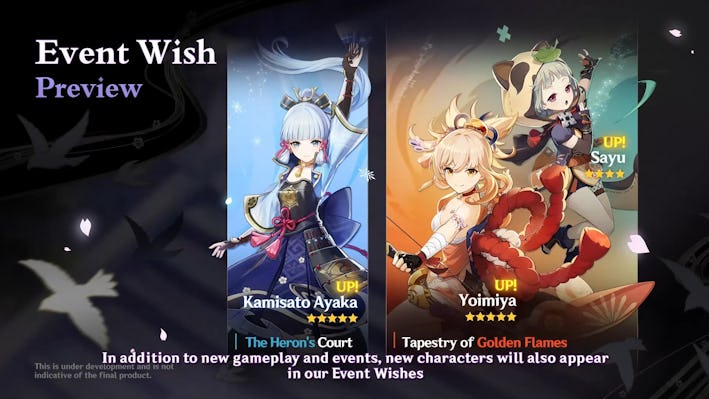 There are several new Genshin Impact characters who we will meet in Inazuma, that will join our roster. Ayaka, Sayu, and Yoimiya will appear across the next Genshin Impact banners. It's currently unknown what other four-star characters will populate these banners.
Kamisato Ayaka is a Cryo Sword user. She'll be headlining the first banner once Version 2.0 has launched.
The other two new characters in the game are Yoimiya, a Pyro Archer, and Sayu, a ninja who uses Anemo and a Claymore. Yoimiya is a 5-star character, while Sayu is a 4-star, which means Yoimiya will get her own banner while Sayu will probably be included in either Yoimiya's or Ayaka's respective banners.
These three are the confirmed playable characters in the update, but there are plenty of new characters who we expect to become playable in future updates, too. Including the Electro Archon Baal, Thoma, Kajou Sara, Gorou, Kokomi, and Yae Miko. Inazuma is associated with the Electro element, so we are also expecting to access Electro Traveler skills when we get there.
New Boss and Enemies
A new region means new enemies and bosses! So far, two new bosses are confirmed to appear. One is Pyro Hypostasis which players will be very familiar with as they play the new update. Another is Perpetual Mechanical Array, a boss where you can farm ascension materials for your new characters. Moreover, Maguu Kenki will be a World Boss after its first appearance in Update 1.6. Fighting this World Boss can boost the players' levels as they grind in the game.
There are other enemies you can find in Inazuma. Some of the new enemies you will have to defeat in the game are Mirror Maiden, Samurai Ronin, Ruin Sentinel, and many more.
Tagged:
anemo
anime
archer
artifacts
Baal
Beidou
benett
character banner
character guide
claymore
cross platform
cryo
dps
electro
element
elemental vision
emblem of severed fate
epic games
epitome invocation
fate points
genshin impact
Inazuma
Inazuma Region
ios
jrpg
july 2021
Kamisato Ayaka
maguu kenki
manga
microsoft windows
miHoYo
mobile game
Nation of Eternity
open world
pc
pc game
perpetual mechanical array
playstation
PlayStation 4
primary DPS
ps4
pyro
pyro hypostasis
rpg
Sayu
shimenawa reminiscence
Shogun
spiral abyss
The Raiden Shogun
thunder sojourn
v1.7
v2.0
version 2.0
weapons
Yoimiya