Biomutant – Best Weapons List
Biomutant just came out last month and already the fanbase for this furry mutant game is exploding. It's set in a world that's survived the apocalypse. All that remains is radiation and the animal/monsters that have managed to survive it. Far from being mindless beings some of these animals retain sentience and it's your job to reunite the clans and restore the balance of nature. Maybe. I wouldn't read too much into the story or the dialogue as it's probably the weakest part of Biomutant.
Where the game does shine however is in its combat and world. Right from the beginning, you get to choose and customise a lovable mutated furry one of your own. There are different breeds to choose from, classes and skills to focus on. Check out our mutation and breed guide over here. Now that you've been playing a while and picked your overall skill tree, the next step is going to be weapons. In this world, there are both ranged and melee weapons for you to choose from depending on your playstyle.
In this list we're going through the best weapons that's out so far in Biomutant.
Ranged Weapons
Guns are ridiculously powerful in Biomutant. If you go down the right skill tree, guns can automatically double in power with a single perk — and combine that with some of the other OP skills you'll unlock along the way, there's no reason not to focus completely on firepower in Biomutant.
Ranged weapons have a few types that they can fall under – Automatic Rifles, Guns, Rifles, and Shotguns. As you might expect, Automatic Rifles are generally the fastest, while Rifles provide more range and Shotguns do a ton of damage up close. Guns fall somewhere in the middle of those three.
In addition to the types, you can also customize each ranged weapon with its own Grip, Muzzle, Stock, Top Mod, and Magazine.
Contagion Flurpskruckis
This is an Ultimate Rarity gun, with +125 Biohazard damage, and 391-521 base damage. Every fourth shot launches a barrage of tracking mini-missiles, and the weapon features high piercing and rate-of-fire. The only downside is that you'll need Agility 60 to use it, so you'll need to boost your stats or wait until pretty far in the game to use this little guy.
Shooting it at enemies will deal biohazard damage, at a whopping 391-521. While it has a low range, it also sports a high accuracy, along with medium amounts of armor-piercing and fire rate. Like many weapons, there's also a 6% of dealing a critical hit.
Location: Fume Foundry to the east of Murk Puff Palace – Sector 11G. This is a purple radioactive zone, so you'll need to acquire a Radiation Suit to continue through it.
How: Defeat the Farty Bulbaploo mini-boss to acquire the Fume Foundry Vault Key. Open the Vault and you'll find the Contagion Flurpskruckis gun in the locker.
Sparkatron Hypicskromp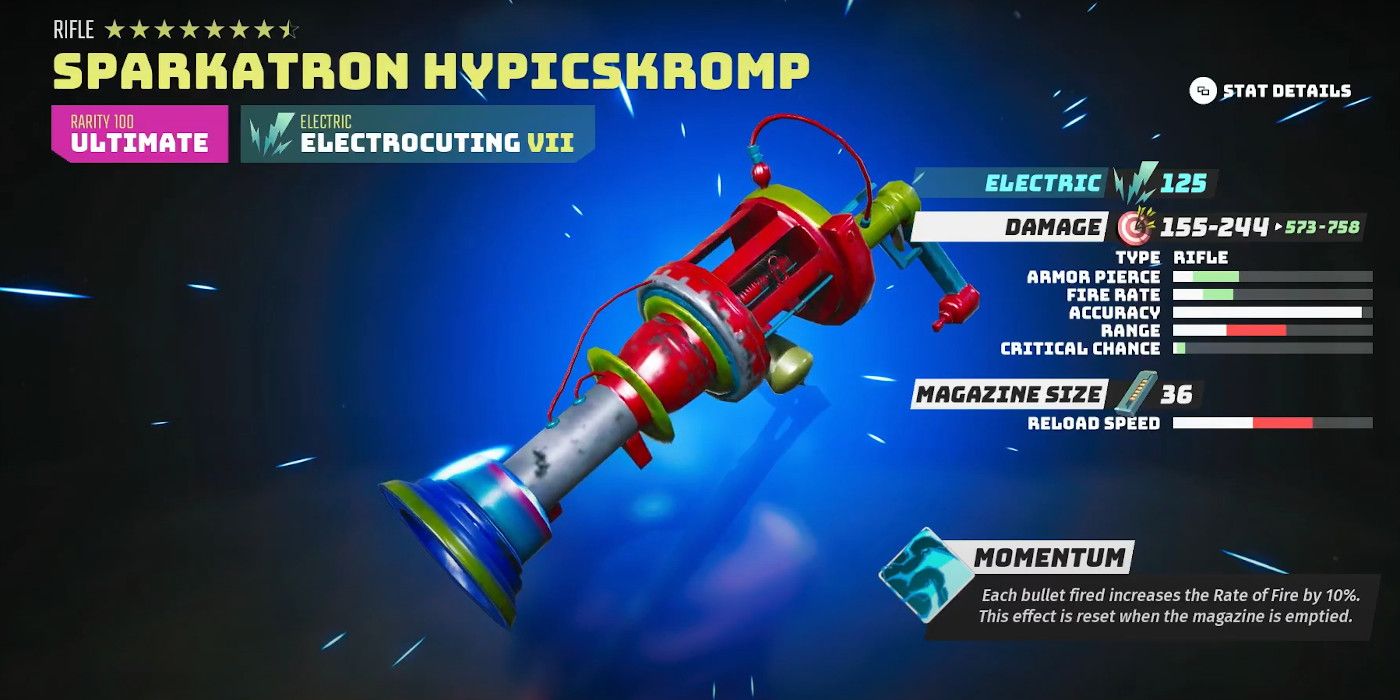 The Sparkatron Hypicskromp has a unique Momentum ability that increases the fire rate by 10% after each consecutive shot, making it shoot faster and faster with every bullet, dealing more damage over time.
Location: Suburbia at Sector 7F of the Whereabouts biome
How: After completing the Suburbia Vault quest. You will need to kill Schacky Trunkgnut, a giant anteater. The anteater will drop the vault key, which you can use to enter the Suburbia Vault and claim this weapon.
Hyprozapper Ozarhypro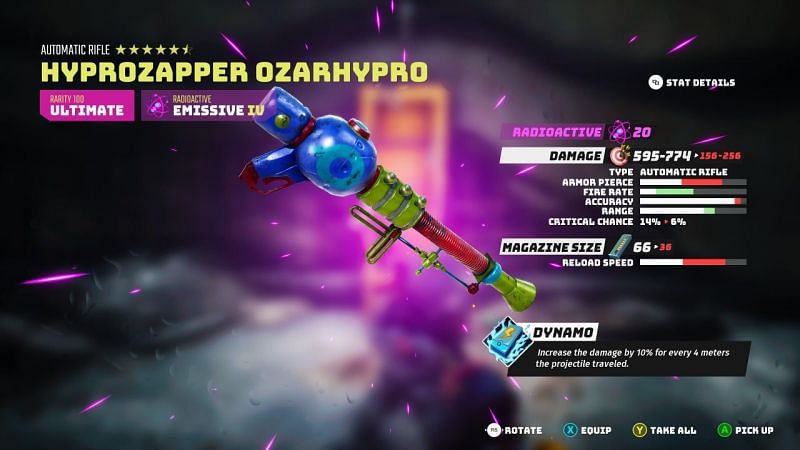 Ignore the silly name – the Hyprozapper Ozarhypro is as deadly to wield as it is odd to say. It deals 156-256 damage and boasts a high accuracy and range, a medium armor-piercing, fire rate, and reload speed. Easily one of the top guns in the game, players wielding this should find no problem traversing this apocalyptic world.
Location: Sludgegush Fields
How: Defeat the Emergent Bulgtusk boss and get the vault key. Unlock the Unwell Place Vault to find the weapon.
Tagged:
automatic rifles
biomutant
Contagion Flurpskruckis
Emergent Bulgtusk
esperiment 101
Fume Foundry
guns
Hyprozapper Ozarhypro
Knok Umph
melee weapons
Murk Puff Palace
Pri Murgel Sword
ranged weapons
Schacky Trunkgnut
shotfuns
Sludgegush Fields
Sparkatron Hypicskromp
Sparkplant
Sparky Twigsnout
Srik Gongmace
Suburbia Vault
THQ Notdic
Unwell Place Vault
Whereabouts