Razor 4-Star Electro Claymore [Main DPS]
Most of the teams we've been building have been all about the elemental damage. With Razor you can rely on his naturally high physical damage as well as his elements. His build combines Physical DMG and Electro with his Elemental Burst gives large damage and defense boost.
This party is centered around allowing Ningguang to safely burst down enemies with their Elemental Burst by providing crowd control and shields between Zhongli and supplemental damage from Albedo. This party also takes full advantage of Zhongli's Elemental Skill to pulse Geo DMG through near by Geo Constructs. Ningguang's Screen also provides an additional Geo DMG boost, further amplifying total Geo DMG output. With big damage boosts from Bennett's Elemental Bursts.
Weapons
Wolf's Gravestone – ATK + 10.8%. Increases ATK by 20%. On hit, attacks against enemies with less than 30% HP increases all party members' ATK by 40% for 12s. Can only occur once every 30s.
or
Snow-Tombed Starsilver – Physical DMG Bonus. Hitting an enemy with Normal and Charged Attacks has a 60% chance of forming and dropping an Everfrost Icicle above them, dealing 80% AoE ATK DMG. Enemies affected by Cryo are dealt 200% ATK DMG. Can only occur once every 10s.
Artifact Sets
Crimson Witch of Flames – Pyro DMG Bonus +15%. Increases Overloaded and Burning DMG by 40%. Increases Vaporize and Melt DMG by 15%. Using an Elemental SKill increases 2-Piece Set effects by 50% for 10s. Max 3 stacks.
or
Thundering Fury – Electro DMG Bonus +15%. Increases damage caused by Overloaded, Electro-Charged and Superconduct by 40%. Triggering such effects decreases Elemental Skill CD by 1s. Can only occur once every 0.8s.
Rosaria 4-Star Cryo Polearm [Enabler] – Option #1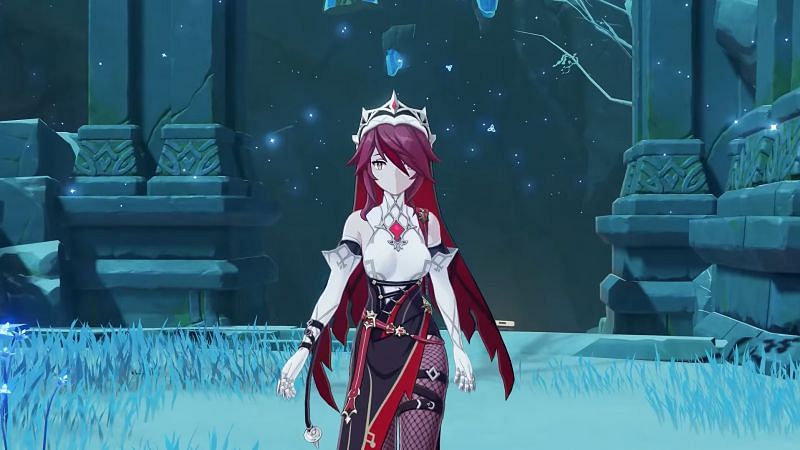 Rosaria provides a CRIT Rate boost and Superconduct to this hard hitting team. Her Elemental Skill and Burst is also strong against mobs. With her consistent Cryo DMG and increased movement speed she's a great addition to this Electro smashing team.
Weapons
Staff of Homa – CRIT DMG + 14.4%. HP increased by 20%. Additionally, provides an ATK Bonus based on 0.8% of the wielder's Max HP. When the wielder's HP is less than 50%, this ATK Bonus is increased by an additional 1% of Max HP.
or
Primordial Jade Winged-Spear – Crit Rate + 4.80%. On hit, increases ATK by 3.2% for 6s. Max 7 stacks. This effect can only occur once every 0.3s. While in possession of the maximum possible stacks, DMG dealt is increased by 12%.
Artifact Sets
Bloodstained Chivalry – Physical DMG +25%. After defeating an opponent, increases Charged Attack DMG by 50% and reduces its Stamina cost to 0 for 10s.
or
Gladiator's Finale – ATK +18%. If the wielder of this artifact set uses a Sword, Claymore or Polearm, increases their Normal Attack DMG by 35%.
Mona 5-Star Hydro Catalyst [Enabler] – Option #2
Bennett 4-Star Pyro Sword [Support] – Option #1
Barbara 4-Star Hydro Catalyst [Support] – Option #2