Winter 25 – Starlight Night Gift
Your Farm from 9:00PM – 12:00AM
Requirements: Stocking from Ellen.
Benefits: +20 Friendship Points with Mayor Thomas. A random gift of Mithril, Orichalcum, Moonstone, Sandstone, or Alexandrite.
This one isn't marked on the calendar and will need you to do some legwork before the night. Between Winter 1 – Winter 23 if you give Ellen some yarn she will knit you a Stocking that you can hang on your wall.
Ellen is Elly and Su's grandmother and can be found most days in her house (not Wednesday). Once your friendship has reached 200 FP (or 8 notes) you can give her a ball of yarn between 9 AM – 11 AM. The yarn you give can be made of any type of wool or be any size. Ellen will then knit the stocking and when you return to your farmhouse at 6:00 PM you'll be able to hang the stocking on the wall.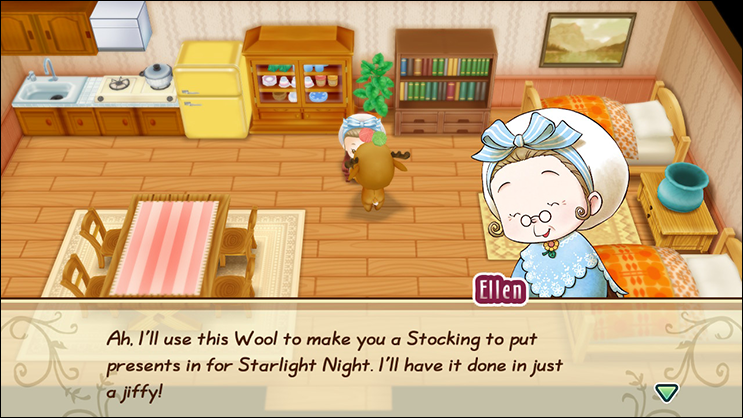 Tip: Bump up Ellen's Friendship Points by giving her gifts of Honey, Tree Fruit (oranges, apples etc.), milk, wool, or Hot Spring Eggs.
On the night of the 25th, go to bed between 9 PM and midnight. And you'll enjoy a little cutscene of Mayor Thomas Claus sneaking into your house and leaving you a gift in your stocking. Not creepy at all. He'll randomly reward you with an Alexandrite, Mithril, Moonstone, Orichalcum, or Sandrose.
You can then fetch the gift from your stocking in the morning.
Winter 30 – New Year's Eve
For New Year's Eve you can choose to spend your night in one of three ways. Either at the New Year's Soba Feast, at a New Year's Party on Mother's Hill or by going to sleep early and having weird dreams.
The choice is yours but you can only choose one to do each year!
New Year's Soba Feast
Rose Plaza from 6:00PM – 6:00AM
Requirements: Space in your bag.
Benefits: +5 Friendship Points with each person you speak to at the Plaza. +9 bags of Buckwheat Flour. +1 Zaru Soba.
Celebrate the end of the year Carter, Duke, Gotts, Jeff, Manna, Ran, Sasha, Mayor Thomas and a whole lot of noodles! Talk to the people and talk to Mayor Thomas to keep eating noodles until dawn.
At the end of it you'll get Buckwheat Flour, an ingredient that is used in dishes such as Zaru Soba and Tempura Soba. It's useful because you're unable to buy it at the General Store.
Note. You can also get Buckwheat Flour by playing the Goddess' Hi/Low game on the Variety Channel of your television from Spring 1 to Spring 5.
New Year's Party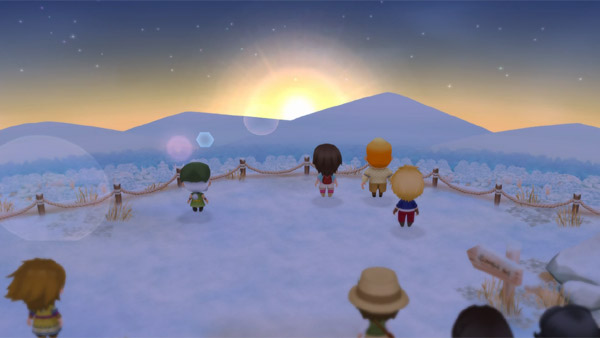 Mother's Hill Summit from 12:00AM – 6:00AM
Requirements: None.
Benefits: +5 Friendship Points with each person you speak to at the Summit.
Go up to the summit of Mother's Hill between midnight and 4:00 am to watch the first sunrise of the year. You'll be joined by Anna, Basil, Cliff (if he is in town), Dudley, Gray, Marie, and Saibara. You'll earn +5 FP with the sunrise watchers, but you won't receive any gifts.
New Year's Weird Dreams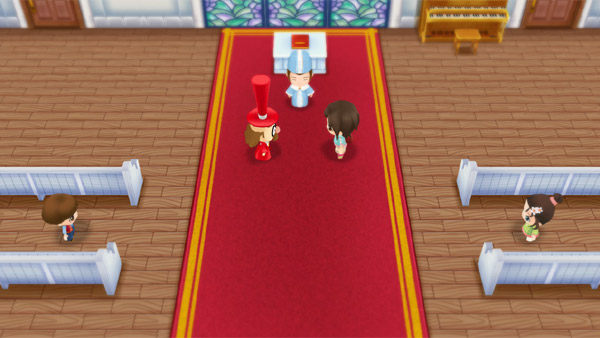 Your Farmhouse
Requirements: Don't attend any other New Year's Eve evetns.
Benefits: None.
This one doesn't always happen and is a random event. You can try to trigger it by not attending any of the previous two events and go to sleep.
There are three different dreams that may randomly visit you at night.
1. Marry Mayor Thomas: You'll dream of a wedding ceremony with Thomas as your groom. Right before Thomas is about to plant a nice, wet kiss on you, you'll wake up. Drat!
2. Powers Combined: You dream of the Nature Sprites. One-by-one, they start to merge into each other to combine into the mighty Bon Viviant, who shouts "combination completed!" right before you wake up. Someone's been watching too much Mechabot Ultor…
3. Battle with Karen: Something has gone terribly wrong in Mineral Town! A mysterious person has been attacking the villagers. As you make your way through town, it becomes apparent that the evil villain Karen is behind the trouble. The two of you battle it out on the beach, while Marie tries to plead with the two of you to stop fighting.
After your dream, you'll wake up in the morning inside your farmhouse at 6:00 am as though nothing happened.
There are so many events in Story of Seasons: Friends of Mineral Town that we've decided to split it up by seasons! We hope you enjoyed Winter and you check out the Festival Guides for Spring, Summer and Autumn here as well.
Our other Story of Seasons: Friends of Mineral Town guides include relationship guides for all the bachelors and bachelorettes. As well as power berry locations and what crops to grow in which season. Be sure to give them a read if you haven't gotten to them all already!