SoS: Friends Of Mineral Town – Festival Guide, Spring
Back by popular demand are our Story of Seasons: Friends of Mineral Town guides. Even though this game was launched last summer it's been slowly picking up steam. Whether you've waited for that season sale or are just gearing up for Story of Seasons: Pioneers of Olive Town, Friends of Mineral Town is always a nice one to come back to.
Now we're covering another important part of life in Friends of Mineral Town – festivals. You'll generally have a prelude to the festival days with villagers mentioning it beforehand. But for some of the events you'll need certain requirements to complete or participate in it.
There are a total of 25 different festivals in Story of Seasons: Friends of Mineral Town, that happen over the course of the year. There's a lot to go through so we've split them into four seasons – Spring, Summer, Autumn and Winter.
This is everything happening in Mineral Town in Spring.
Spring 1 (Starting Year 2) – Mochi Bonanza
Rose Plaza from 6:00PM – 12:00AM
Requirements: Keep space in your bag to receive Mochi.
Benefits: +5 Friendship Points with each resident you speak to at the square.
Celebrate the New Year by eating Mochi with everyone in town!
Starting in your second year you'll be able to attend the Mochi Bananza. There isn't anything particular to do at this festival, but talking to every villager attending the event will help you gain Friendship Points. So be sure to do that.
Start the event by speaking to Mayor Thomas and choosing "Start". You'll then start chowing down on some Mochi and if you have space in your bag you'll get to bring some home with you as well.
Spring 14 – White Day [Unmarried]
All Day
Requirements: Keep space in your bag to receive Cookies. Be unmarried. Have at least Purple Heart relationships with the bachelors. Cookies for gifting.
Benefits: +1000 Love Points from each Cookie gift.
White Day is Valentine's Day but for the females. It's that time of year for the men in town to show their affectionate by gifting all the women in their life cookies!
During this day the bachelors in town that you have a special relationship with will stopping by to shower you with affection and cookies. Talk to each suitor with some empty space in your bag to receive a gift of Cookies.
A yellow heart will give you Chocolate Cookies. Your first time receiving Chocolate Cookies will also reward you with one of the 7 Rings. If you hadn't received the ring from the Winter 14 Valentine's Day event.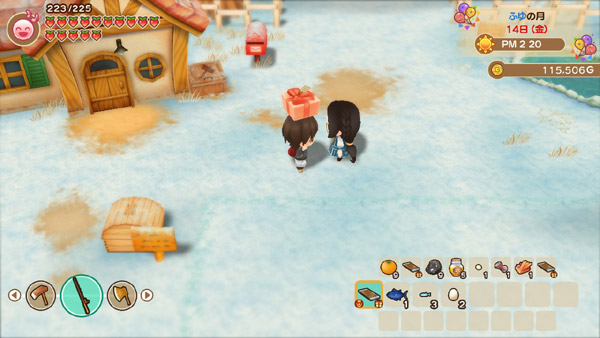 | Name | Time |
| --- | --- |
| Doctor | 6.00 AM – 7.00 AM |
| Cliff | 7.00 AM – 8.00 AM |
| Rick | 10.00 AM – 11.00 AM |
| Gray | 2.00 PM – 3.00 AM |
| Brandon | 4.00 PM – 5.00 PM |
| Kai | Sent to Mailbox |
If there's a special girl in your life that you want to show affection to you can give them cookies as well. Giving cookies should earn you +1000LP from them. The Cookie recipe is something you can learn from Ran during Fall/Winter of the first year at a random event.
Pro Tip: You can regift the Cookies you received from the boys earlier in the day.
Spring 14 – White Day [Married]
All Day
Requirements: Keep space in your bag before bedtime to receive Cookies. Be married.
Benefits: +1000 Love Points with Spouse.
On White Day your spouse will sneak Cookies into the your backpack at bedtime. If they are at green heart or less you will get normal Cookies. More than a yellow heart will get you Chocolate Cookies as well as one of the 7 rings if you never received one pre-marriage.
During this White Day even though you are married you can still give Cookies to the girls around time. But instead of Love Points you'll get +20 Friendship Points from them instead.
Tagged:
beginner's guide
bon vivant
cookies
cooking
cooking festival
events
fall
festival guide
festivals
friends of mineral town
friendship points
game guide
gourmet
harvest moon
horse
Huang
love points
mayor thomas
medals
mochi bonanza
nintendo switch
pc
pc game
pc gaming
power berry
profit
recipes
romance
rose plaza
seasons
secret bachelor
sos
sos fomt
sos friends of mineral town
spring
spring derby
steam
story of seasons
story of seasons fomt
story of seasons friends of mineral town
story of seasons pioneers of olive town
summer
white day
winter
xseed games