SoS: Friends Of Mineral Town – Festival Guide, Autumn
The festival guide list in Story of Seasons: Friends of Mineral Town continues! We've gone through the breezy days of Spring, the heat of Summer and now we're in the cool months of Fall. Celebrate the end of the growing months with a big potluck and the Pumpkin Jamboree! Autumn is officially cuffing season and while your animals are getting all big and fluffy for the festival. There's time this month for you to spend a little extra time with your paramour under the stars.
There are a total of 25 different festivals in Story of Seasons: Friends of Mineral Town. There's a lot to go through so we've split them into four seasons – Spring, Summer, Autumn and Winter.
This is everything happening in Mineral Town in Autumn.
Autumn 3 – Concert
The Church from 6:00PM – 12:00AM
Requirements: On Fall 2 choose to "Participate" when Carter asks.
Benefits: +5 Friendship Points with each resident you speak in Church. If you participate +10FP with everyone at Church.
The day before the event Carter will stop by your farmhouse to ask you about participating in the music concert. There isn't really much for you to do at the concert and you'll nab a lot of extra friendship points. So you should definitely just agree to do it.
On Autumn 3 head over to the Church at 6PM and talk with everyone then start to play in the concert by speaking to Carter. You'll enjoy a little cutscene and score additional +10 Friendship Points with everyone at Church. Easy.
If you choose not to participate you'll just watch the song and not get the Friendship Points. So there's no real benefit in you saying no.
Autumn 9 – Harvest Festival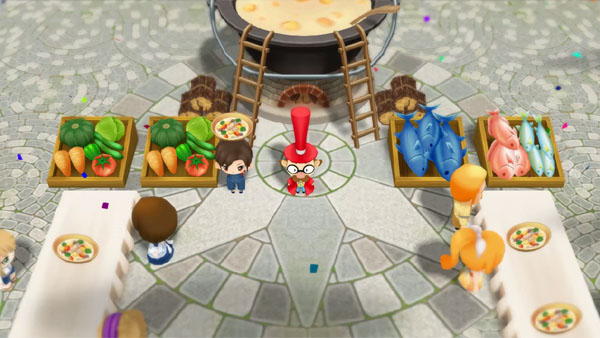 Rose Plaza from 10:00AM – 6:00PM
Requirements: A food item with positive stamina points.
Benefits: +5 Friendship Points with each resident you speak at the Plaza. Dontae a good ingredient for increased physical strength and reduced fatigue.
Celebrate the bounty of the harvest with a village potluck!
Bring something edible to add to the potluck between 10 AM – 6 PM and give it to Mayor Thomas to throw into the pot. Bring him an item that will lead to positive stamina such as milk, eggs or crops. Please for goodness sake don't be putting in Poison Mushrooms or Red Grass. Nobody is going to thank you for that.
Autumn 13 – Moonlight Night
Mother's Hill Summit from 6:00AM – 12:00AM
Requirements: Marriage candidate with Green Heart or higher. Moon Dumplings in your Bag.
Benefits: +1000 Love Points to watch the Moon together. +1000 LP if you have Moon Dumplings.
Who loves you the most in Mineral Town? You'll find out on Autumn 13.
After 6 PM head up to Mother's Hill to find the marriage candidate with the highest level of affection for you. You won't be able to select who you want to be with and it'll depend on how well you've treated them over the year.
On the hill, the person will ask you to watch the moon with them. You can either accept or reject their offer. And if you do watch the Moon with them with a Moon Dumpling snack in your bag you'll give them the dessert as a gift. Which will add some additional Love Points to your relationship.
If you're married the person who will be waiting for you on there will be your spouse. We have been reading that if you're married to one of the secret bachelors or bachelorettes the person you meet up there might be someone else. Gasp.
Note: You can get the recipe for Moon Dumplings by watching the Cooking Show on your TV set.
Autumn 18 – Autumn Derby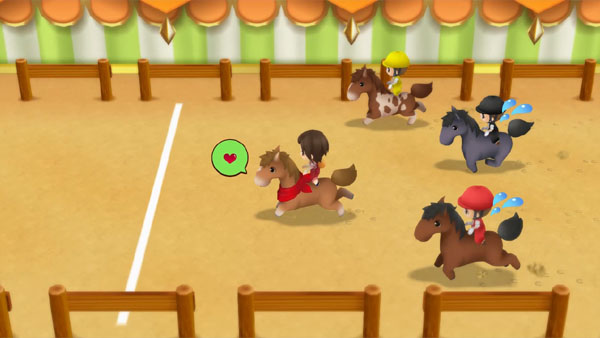 Rose Plaza from 10:00AM – 6:00PM
Requirements: Have an adult Horse to race. On Autumn 17 choose "Enter" when Thomas asks. Space in your bag to redeem prizes. Gold.
Benefits: +5 Friendship Points with each resident you speak to at the square. If you win +20FP with everyone in the square. Power Berry on first win.
This is pretty much the same deal that happens in the Spring Derby.
As usual, you can bet on the Horse races to win medals and exchange them for prizes. Meaning that it's another way to rake in more cash. The prize items remain the same in Autumn as they do in Spring.
Be sure to empty out your backpack to give yourself as much space as you can and prepare as much gold as possible before the day.
Tagged:
alpaca
angora rabbit
autumn
autumn derby
beginner's guide
events
fall
festival guide
festivals
fluffy festival
friends of mineral town
friendship points
game guide
gold fur
harvest festival
harvest moon
horse
horse races
love points
marriage
mayor thomas
medals
mineral beach
moon dumplings
moonlight night
mother's hill
nintendo switch
pc
pc game
pc gaming
pet
platinum fur
power berry
profit
pumpkin jamboree
rose plaza
seasons
sheep
sos
sos fomt
sos friends of mineral town
spring
steam
story of seasons
story of seasons fomt
story of seasons friends of mineral town
story of seasons pioneers of olive town
summer
winter
x fur