Kena Bridge Of Spirits – Everything we Know
Kena Bridge of Spirits was a featured title during the Sony Playstation 5 reveal back in June 2020. However, new details on the upcoming action-adventure title have been scarce in the months since.
The title made a spectacular comeback in February during Sony's State of Play event, where it once again was a highlight title. The event revealed some spicy new details about Kena's gameplay and story. As well as a brand-spanking-new trailer to reward us for the long wait. Most importantly: it finally has a release date!
Here, we've compiled everything there is to know so far about Kena Bridge of Spirits in one handy article for those keeping tabs on its development. Let's jump in!
Kena Bridge Of Spirits – Release Date
Originally teased back in June 2020, Kena Bridge of Spirits was speculated to be a launch title for Sony's latest console. This was set for release in the fall of 2020. Sadly, it wasn't meant to be — on September 11, the studio announced that, due to challenges related to the pandemic and the transition to working from home, Kena would be delayed to the first quarter of 2021.
Sony's State of Play event on February 24, 2020 gave us both good and bad news. The bad news, Kena will be missing the Q1 2021 launch that was promised back in September 2020. The good news is that it's still coming this year, and we have a fixed date for release!
Kena Bridge of Spirits will be hitting consoles and PCs on August 24, 2021.
What We Know About The Story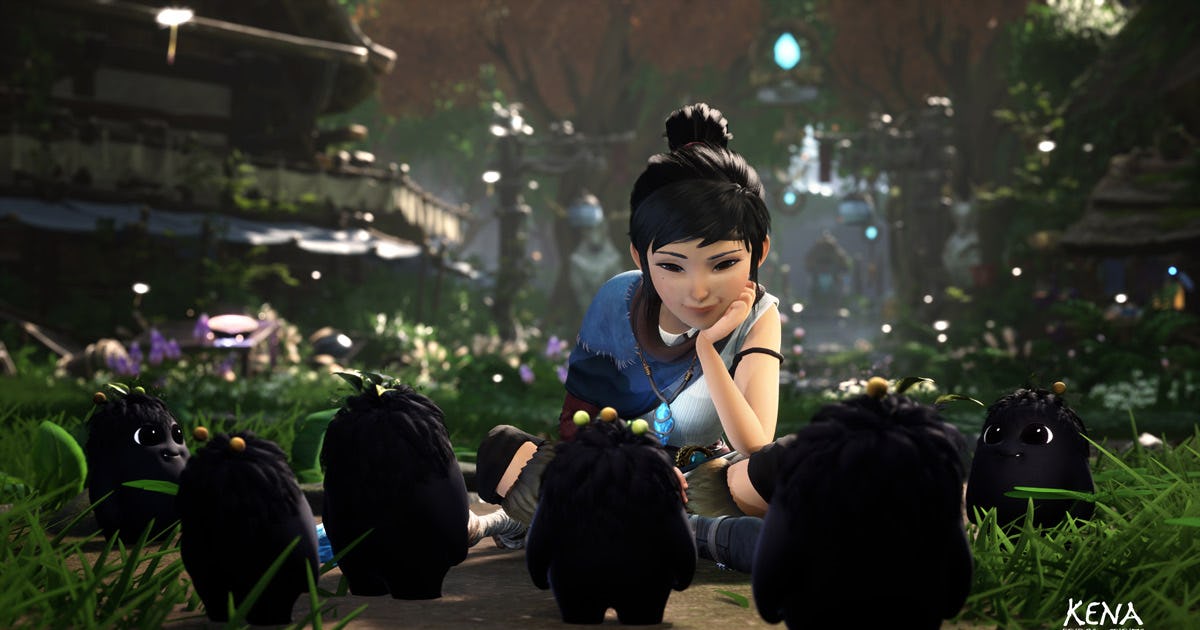 From demo footage and published text. Kena Bridge of Spirits is about a young girl whose journey takes her to different lands, helping spirits along the way.
According to the official synopsis for Kena Bridge of Spirits on its Epic Games Store page. In her search for a sacred mountain shrine, Kena finds herself in an abandoned forest village. There she encounters and defeats a gang of evil spirits before stumbling upon a hidden settlement where she meets Saiya and Beni, sibling spirits who need Kena's help to pacify their brother Taro.
Kena Bridge Of Spirits – Gameplay
From the original 2020 teaser, we know that Kena Bridge of Spirits is going to be an action-adventure title with an emphasis on solving puzzles and exploration.
Kena Bridge of Spirits takes place in a hub world similar to what you'd find in the Souls series (or Super Mario 64). A lot of the game's world is out of reach in the beginning, but Kena uncovers new explorable areas as you advance through the game's narrative. You're free to backtrack and return to previous zones whenever you want.
Based on new gameplay footage from the February 2021 State of Play event, Ember Lab seems to have taken a few chapters out of Nintendo's book. With gameplay and combat that's heavily inspired by old school 3D Legend of Zelda games. This is hardly surprising — Ember Lab is best known for their Majora's Mask fan film that went viral in 2016.
Combat Mechanics
Combat looks to be real-time and fast-paced; Kena is agile with the ability to move in and out of range of enemy strikes with ease. She can attack enemies with her staff, as well as cast magical abilities from a distance. Kena can perform light, heavy, and charged attacks with her staff. Her skills and abilities can also be upgraded using the game's light RPG mechanics.
We don't have all the details on what's in Kena's arsenal, but we do know that one of her abilities would allow her to attack foes with a magical bow. She also has magical abilities, which provide defensive effects and buffs to keep her safe in combat.
Perhaps the most important ability in Kena's bag of tricks is called Pulse. Kena can cast pulse to highlight clues in the environment, lift and move objects, and distract enemies. A mechanic that works similarly to the Coin in the Hitman series.
Another key mechanic involves the adorable black creatures that stole the show in the trailers. Known as the Rot, these fluffy nature wisps are initially afraid of Kena. However, over the course of the game, they learn to trust her and will even aid her in her quest.
This system, known as Rot Courage, eventually allows you to give orders to the Rot. You begin with one Rot (who eventually becomes the de facto leader of your Rot army), but more will join you as you progress. You can even put little hats on top of each Rot to make it easier to distinguish between them. They kinda remind me of Ooblets don't you think?
What Platforms Will Kena Bridge of Spirits Release On?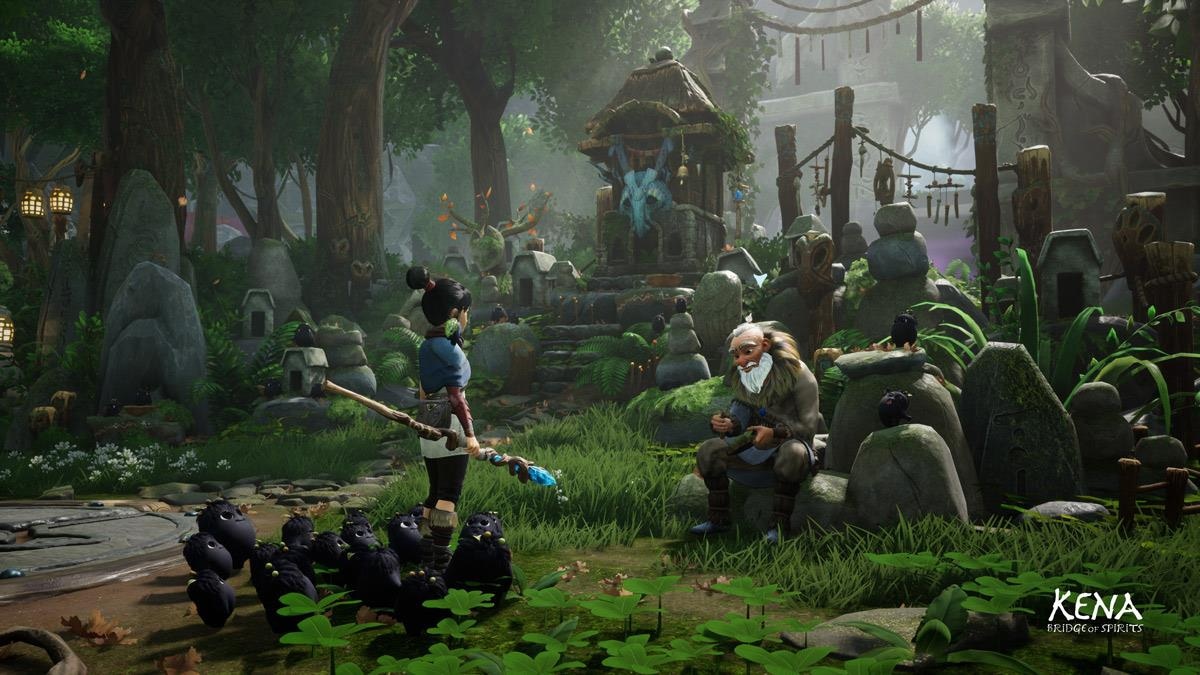 Kena Bridge of Spirits is being heavily advertised as a PlayStation 5 title, but don't fret if you haven't made the transition to the new generation. Kena will also be coming to the PlayStation 4 and PC. PlayStation 4 users can also migrate their game (and all their saves) to the PlayStation 5 for free if they choose to do so.
For PC gamers, Kena Bridge of Spirits will only be available on the Epic Games Store (EGS) at launch. When asked about exclusivity to Epic's storefront by a fan, a representative of Ember Lab replied that the team has a timed exclusive with EGS for Kena Bridge of Spirits. This means you won't find it on any other platform, including Steam, for quite some time.
Historically, Epic exclusivity deals tend to last around 12 months, so it's best to keep your eye out then.
How Much Will Is Cost At Release?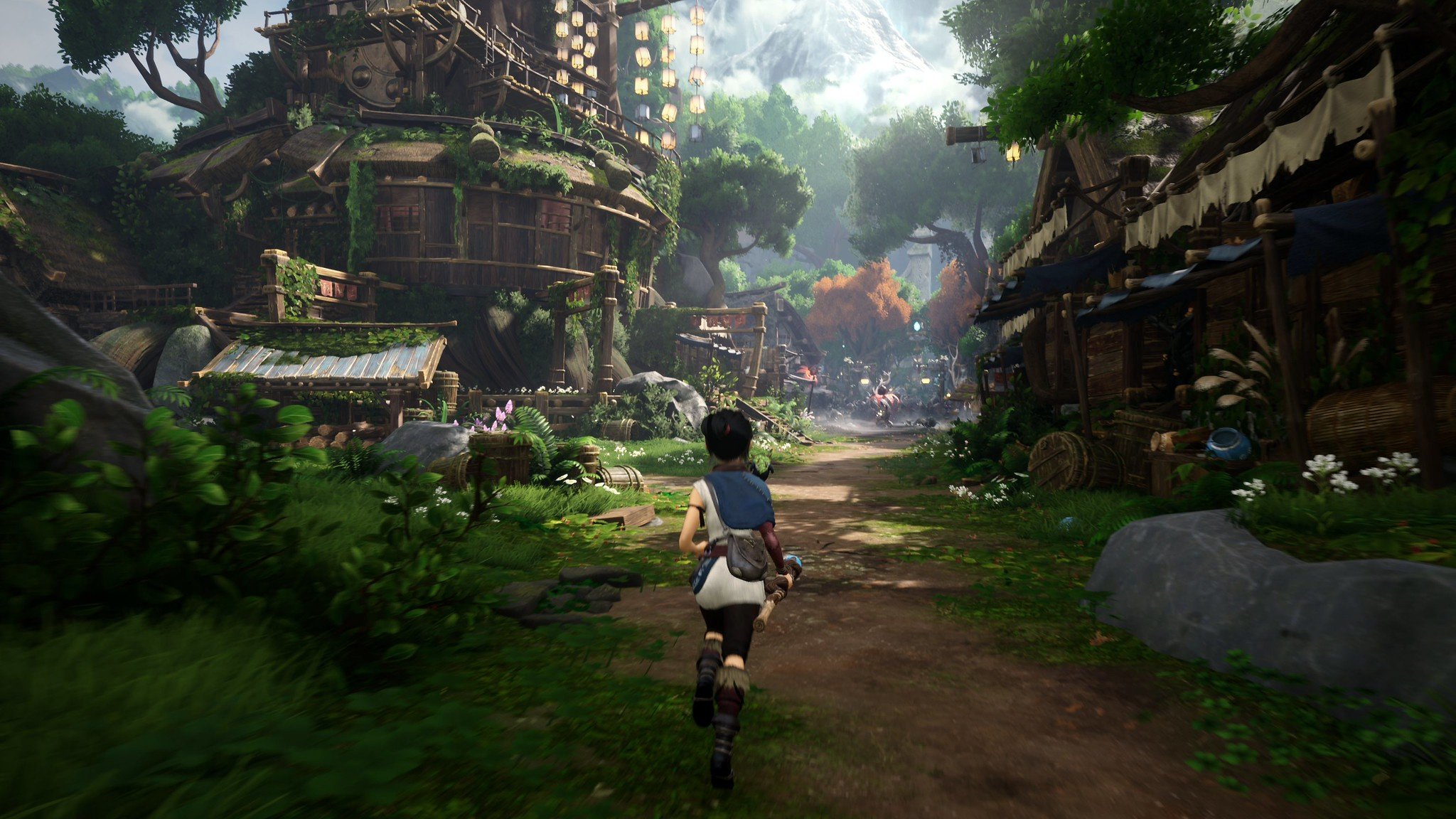 Despite all the buzz around the game, the developers have stated that it won't be a full-priced title of $60. Instead, Kena Bridge of Spirits is now open for preorder for $39.99 (Standard Digital Edition) and $49.99 for the Deluxe Digital Edition. All PlayStation editions will include both the PS5 and PS4 digital versions of the game.
The Deluxe Digital Edition will feature an in-game silver staff, the digital soundtrack, and Golden Rot skin exclusives. Those who preorder the game will be given a special pack of Celebration Hats for the adorable Rot to equip.
For those looking to pre-order Kena Bridge of Spirits on the PC. The base game is going for $16.99 and the Digital Deluxe Edition is $21.49 on the Epic Games Store.
Kena Bridge Of Spirits
That's all the information we have about Ember Lab's Kena Bridge of Spirits so far. It's looking to be a very promising cute game, and we're excited to play it! With Nintendo focusing on a new direction for Zelda with Breath of the Wild and its sequel, that leaves an empty space for fans of the more dungeon-based, classic 3D Zelda titles like Ocarina of Time and Twilight Princess. Kena Bridge of Spirits is shaping up to be just the game to fill in that gap.
Hopefully, Kena on the PS5 would be smooth sailing. What do you think of the game and what platform are you playing it on? Share your opinions in the comments section below.
This article was an original contribution by Sarah from the site OffGamers. Check out the site for all your gaming needs!
Tagged:
action adventure
ember lab
epic games store
epic games store exclusive
indie game
indie gaming
kena
kena bridge of spirits
legend of zelda
pc game
pc gaming
playstation
PlayStation 4
playstation 5
ps4
ps5
rot
rpg
sony playstation