Kabaret – Of Monsters And Tea Leaves
Kabaret makes you question your humanity, by turning you into a monster.
The latest game from Persona Theory Games, Kabaret brings you to the mystical realm of 'Alam' where you've been cursed to live as a monster. Discover more about yourself and the other monstrous dwellers that inhabit the realm in order to break your curse. That is if you still want to after this is all over.
Persona Theory, creators of the wonderfully deep and dark game – Fires at Midnight are master puppeteers of your emotions. So it's no surprise that Kabaret doesn't pull any punches in its storytelling. You'll dive headfirst into the exposed raw nerve endings of your own perceptions and force you to make decisions that are literally monstrous. All while drinking tea.
Tasseomancy and Divination In Kabaret
Jebat has been cursed into a monster and taken to the Kabaret in Alam. But it's not all wandering around and eating, instead, you have a job to do, provide the dwellers with tasseomancy. Or tea leaf reading.
This game mechanic in Kabaret isn't too difficult, and if you've never made or participated in the ceremony it's intensely calming. You need to wash the cups, prepare and brew the tea yourself to serve. After they've drunk you can divine symbols leftover in the tea leaves by drawing lines in the cup.
At the Kabaret you'll be reading tea leaves to earn your keep. Talk to the denizens of Alam, interpret their future in the leaves and make decisions about your future.
The Monsters Of Southeast Asia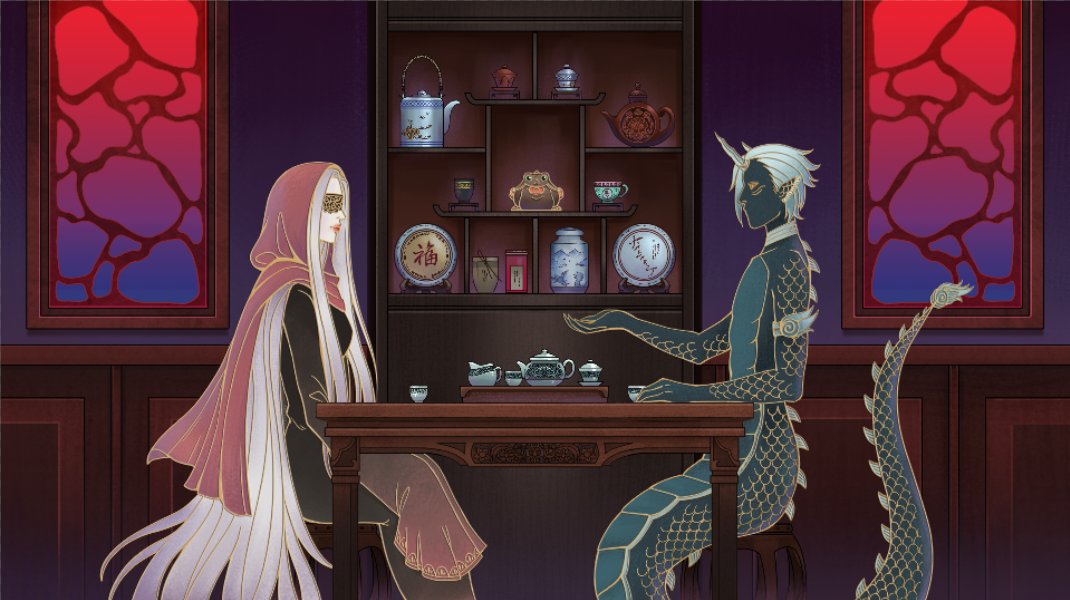 While the tea ceremony part of the game is a wonderful addition, the main star of the show of course lies in your conversations with the monsters of Kabaret. Each mythical creature is wrapped in its own deep history and will teach you more about themselves, the world of Kabaret and maybe even yourself.
Each monster in Kabaret is based on the mythical, deep folklore of Southeast Asia. Most of the world is more familiar with the Western-style poltergeist ghost or even some of the Japanese myths and legends. But let me tell you Southeast Asian people really know how to create some messed up monsters. There's the Nabau a giant snake from Bornea, the Pontianak, a kind of vampiric woman spirit from Indonesia, Tikbalang a kind of reverse centaur from the Philippines.
Each decision you make will affect how you do in the game and if Persona Theory's previous game Fires at Midnight's endings give you any indication. It's worth playing this one again and again.
The Kabaret
One thing that I've said before and I'll say again is that Persona Theory knows how to set a stage. The art, the dialogue and of course the music completely bring you into the world that they've created.
Apparently back in the 1950's and '60s Malaysia used to be a rocking with the sounds of the cabaret. It was a place where people would gather to listen to performances and dance. "For Kabaret, we want to bring back a certain type of music that could be heard in the cabaret. At that time, you probably can hear songs from Saloma and the P. Ramlee gang," explains Buddy Anwardi, Director and Writer of Kabaret.
Kabaret currently features the sounds of Sambasunda Indonesia and will continue to partner more local music to add to the atmosphere of the world.
Kabaret is currently available to wishlist on Steam and will be going live in August 2021. While you wait you can also play a demo of Kabaret on itch.io.
Or check out their other game Fires at Midnight – here's our full review on the game here.
Tagged:
alam
buddy anwardi
divination
fires at midnight
folklore
indie game
indie game developer
indie games
indonesia
kabaret
malaysia
persona theory
persona theory games
sambasunda indonesia
southeast asia
tasseomancy
tea leaf reading