Overwatch Year Of the Ox – Lunar Event Details And Skins
Overwatch's events really only mean one thing to us – skins. But this time Blizzard has surprised us with a whole new arcade mode entitled Bounty Hunter. The Lunar New Year runs from the 4th – 25th of February and you'll be able to collect eight new themed skins as well as have access to the previous' year's Lunar skins. Buy these skins for gold or earn them in loot boxes. But for three of the Epic skins, you'll need to face Overwatch's weekly challenges to get them.
Overwatch's Year of the Ox is full of fun festivity and light! Make sure to check out all the details of the event right here.
Bounty Hunter Mode
The Lunar New Year event has generally been accompanied with Capture The Flag (CTF) game modes. But it's come as a surprise when this year we got a brand new one called Bounty Hunter.
This Free for All game mode held in Kanezaka tasks Bounty Hunters to fight to kill a designated the Target. As the Target, that player starts to glow and is visible through walls. Killing the Target nets points but the one who earns the final blow will become the next Target.
For those of you that love a good CTF round like me then rest assure that its making a come back for this event as well. As of now CTF has both competitive and Blitz mode and both are extremely chaotic to say the least.
Weekly Challenge Skins
Each week during the Year of the Ox celebration, you'll be able to earn one of these three Epic skins. These skins can't be gotten any other way and to get it you'll need to win nine games of Overwatch. You can play anything from quick play to arcade as well as competitive.
While most Overwatch event skins come back around every year, no challenge skin has ever been re-released after its week is over. Once the challenge is done, that skin might be gone forever, so get playing.
Terracotta Medic Baptiste: 4th – 10th February
A bit of an odd choice but this Baptise skin is definitely paying homage to the Terracotta Army. An ancient collection of statues buried with the first Chinese Emperor.
Xiake McCree: 11th – 17th February
McCree's usual red cape has been replaced with black feathers and he dons a set of woven armor. He looks like a traveling nomad searching for freedom and his feathers is a nice nod to the theme that Echo also is sporting.
Imperial Guard Reaper: 18th – 25th February
Reaper's newest skin gives him a regal red cape emblazoned with dragons and gold. An eerie face mask, possibly to hide his identity, completes the look. Historically, the Imperial Guard was a special force that protected an Emperor or Empress.
Year Of The Ox – Legendary Skins
Now for the list you've all been waiting for the 5 Legendary skins for Overwatch's Year of the Ox, Lunar New Year event.
Tiger Huntress Ashe
Like many of Ashe's skins, omnic butler B.O.B. is the real star. This skin turns B.O.B. into a big, scary mechanical tiger complete with stripes and a tracking collar.
Dragonfire Bastion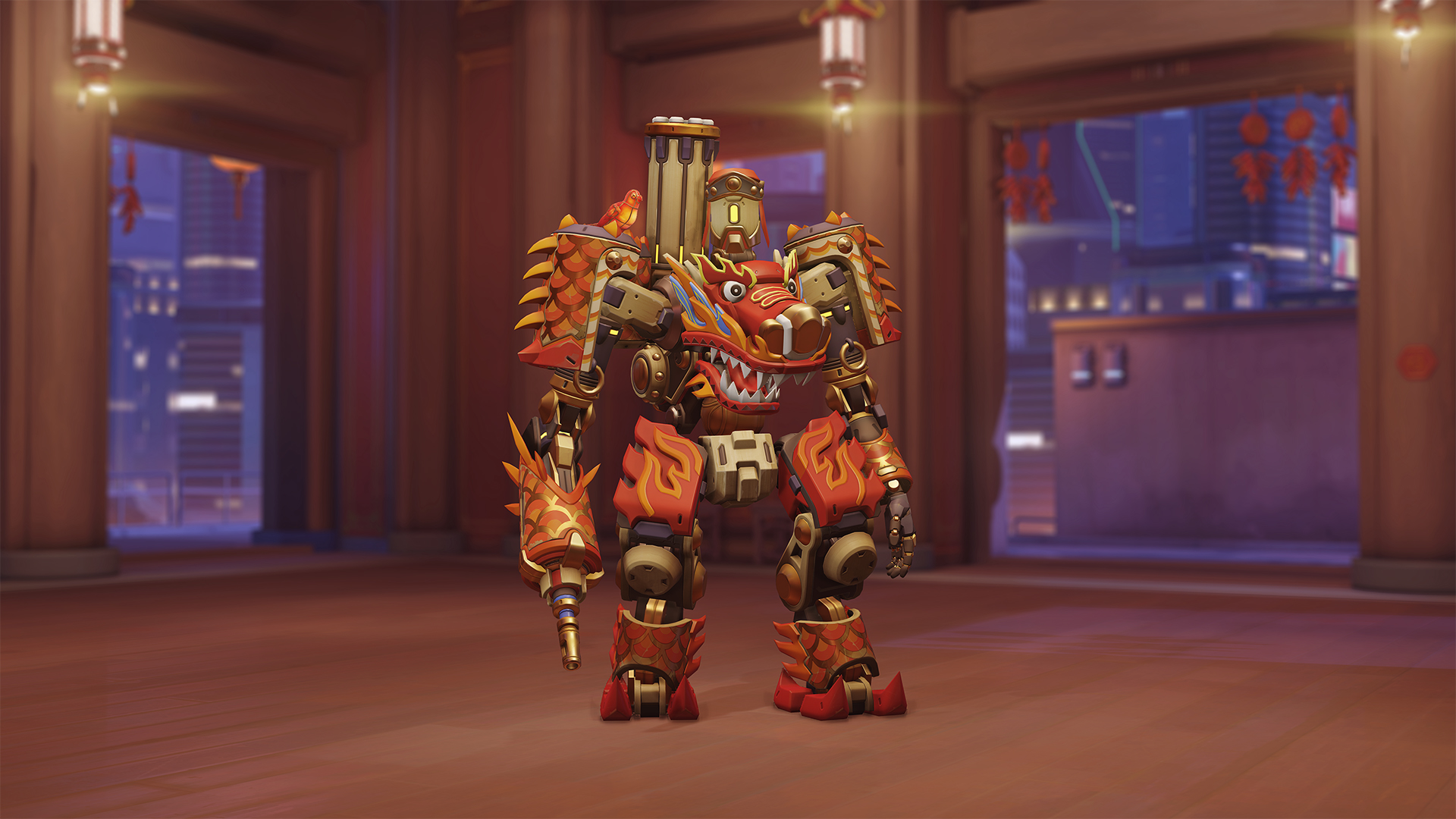 The Dragon dance / Lion dance is performed during Chinese New Year to chase away bad spirits and bestow blessings. When Bastion turns into Sentry form, the various pieces of the dragon body come together to form one festive centerpiece.
Kkachi Echo
Kkachi in Korean means Magpie which is the inspiration of this skin. Echo's body is covered in black and white feathers, accented with gold and a crown. In South Korea, the magpie is considered a bird of good luck and good fortune.
Pale Serpent Widowmaker
Have you ever heard the legend of 'Lady White Snake'? In the story, a white snake spirit absorbs immortal powers from a human and later grows to fall in love with him.
Bull Demon Orisa
It wouldn't be a proper Year of the Ox without an actual Ox in the mix. In 'Journey To The West' there is a Bull Demon King and we can guess where the inspiration of this angry bull face may have come from. All hail the Bull Demon Queen!
If you're new to Overwatch or are just playing catch up then be sure to check all our Overwatch guides right here.
Tagged:
blizzard
blizzard entertainment
bounty hunter
bull demon orisa
capture the flag
chinese new year
ctf
dragonfire bastion
e-sports
epic skins
esport
esports
february
february 2021
imperial guard reaper
kanezaka
kkachi echo
legendary skins
loot box
loot boxes
Lunar New Year
lunar new year 2021
lunar skins
overwatch
pale serpent widowmaker
skins
terracotta baptise
tiger huntress ashe
weekly challenge
xiake mccree
year of the ox