Genshin Impact – Lantern Rite Event Guide
Lantern Rite is the main event in Genshin Impact's version 1.3 update. The Lantern Rite is a celebration that honours the adeptus Skybracer who died protecting Liyue.
On the day of the first full moon each year, the people of Liyue celebrate Lantern Rite. At night, everyone in Liyue releases Xiao Lanterns and the Mingxiao Lantern into the bright sky. Each lantern carries the hope that the light they emit might guide the soul of Liyue's faithful protectors home.
This event will run from the 10th to the 28th of February. And like the previous Unreconciled Stars event, is split into three parts over the course of the three weeks. Unlocking today the 10th, the 14th and the 18th respectively. There will be a story quest focused on Xiao, numerous missions – Lantern Rite Tales and a minigame – Theater Mechanicus.
As with other special events Lantern Rite will have their own collectable items known as Peace Talismans. These can be spent at the Xiao Market to buy the usual items XP books, materials etc. But there is a special reward for spending 1,000 Peace Talismans – one of Liyue's 4-Star characters!
All this and more in Genshin Impact's Lantern Rite event.
Lantern Rite Event Requirements
In order to participate in the Lantern Rite Event you'll need to have done a couple of things. Namely, reach Adventure Rank 23, Complete the Archon Quest – Chapter I: Act I – Of the Land Amidst Monoliths, and complete Xiao's story quest Alatus Chapter.
If you're Adventure Rank 23 but too busy to participate in the Lantern Rite Event you should still consider picking up the Alatus Chapter story quest. During this time the event will not require a Story Key to unlock. And once the event ends you'll require Adventure Rank 40 as well as a Story Key to unlock it.
Lantern Rite Tales
The Lantern Rite Tales are the World Quests of this event and there are a total of 26 for you to do. They're mostly little errand quests to help people around Liyue get ready for the event. During this time every request you do and story mission you complete will increase something called Festive Fever. Keep bringing this up to gain rewards and unlock more Lantern Rite events and challenges.
There are three levels of Festive Fever to unlock starting at: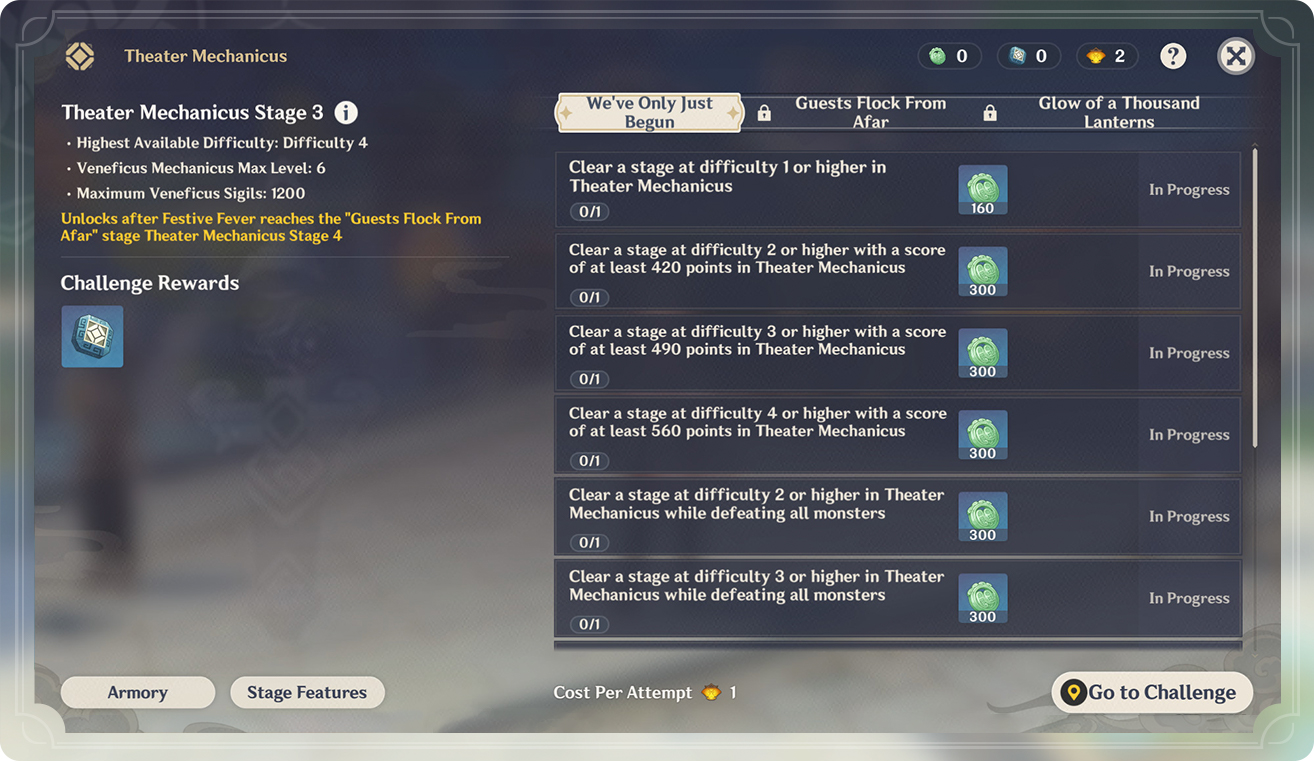 We've Only Just Begun
Guests Flock From Afar
Glow of a Thousand Lanterns
The World Quest missions and unlock dates are as follows: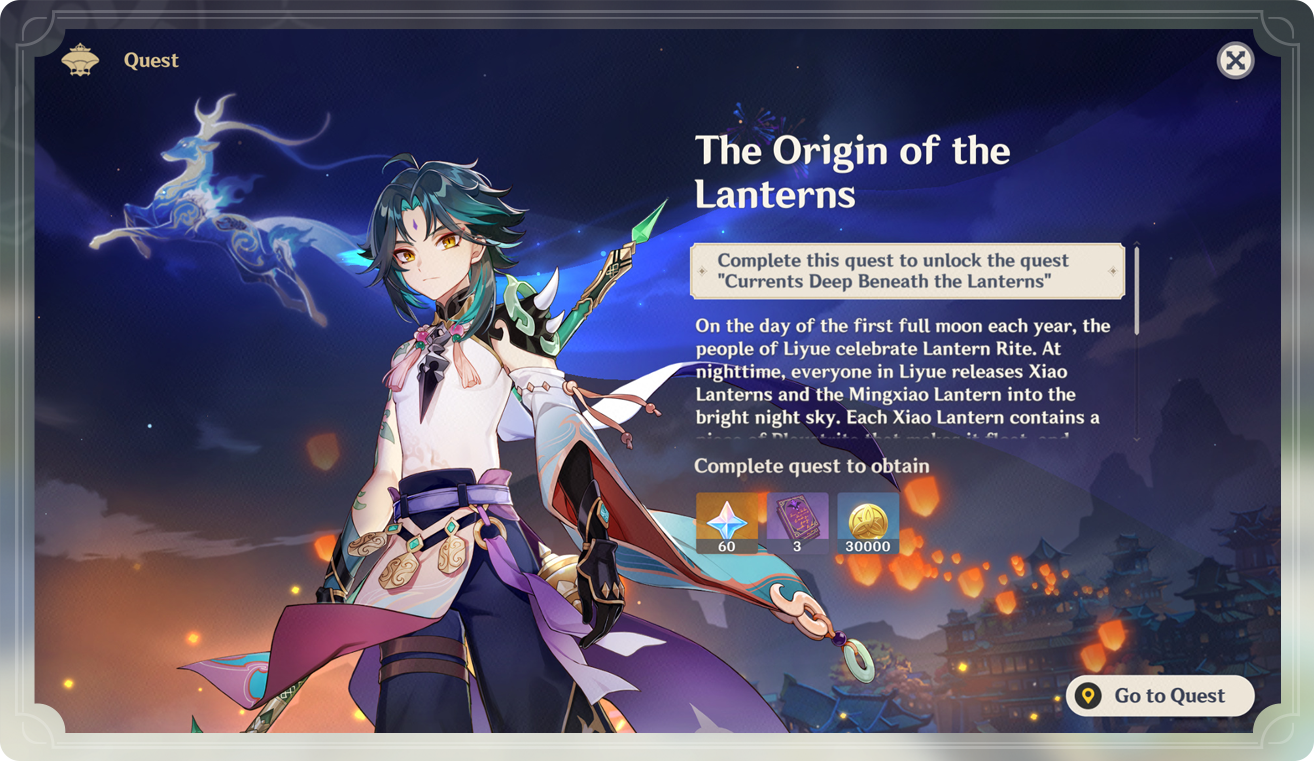 The Origin Of The Lanterns – 10th of February
Currents Deep Beneath The Lanterns – 14th of February
Light Upon The Sea – 18th of February
Theater Mechanicus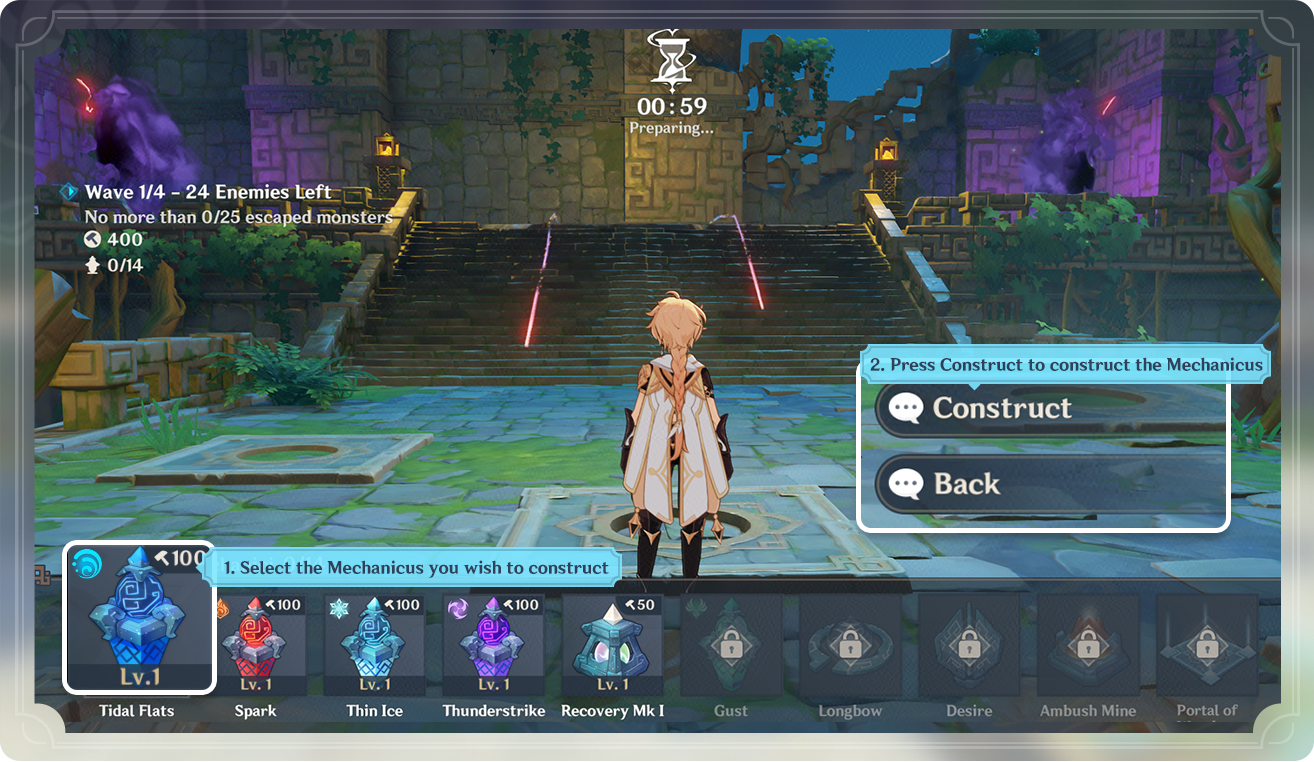 After completing the quest The Origin of the Lanterns, and Liyue: Theater Mechanicus you'll be able to unlock this nifty little tower defence strategy game. Speak with Ruijin to play her new board game and win plenty of Peace Talismans.
The objective of Theater Mechanicus is to eliminate as many monsters as possible by placing Mechanici on the board strategically and using the environment. Basically, monsters come out of purple portals and walk towards blue portals on preset paths; if they reach them, they leave the board. Do it with as little monsters leaving the board as possible to win.
Theatre Mechanicus is a lot of fun but can have a bit of a learning curve. As such we've documented everything on how to play this minigame right here.
Xiao Market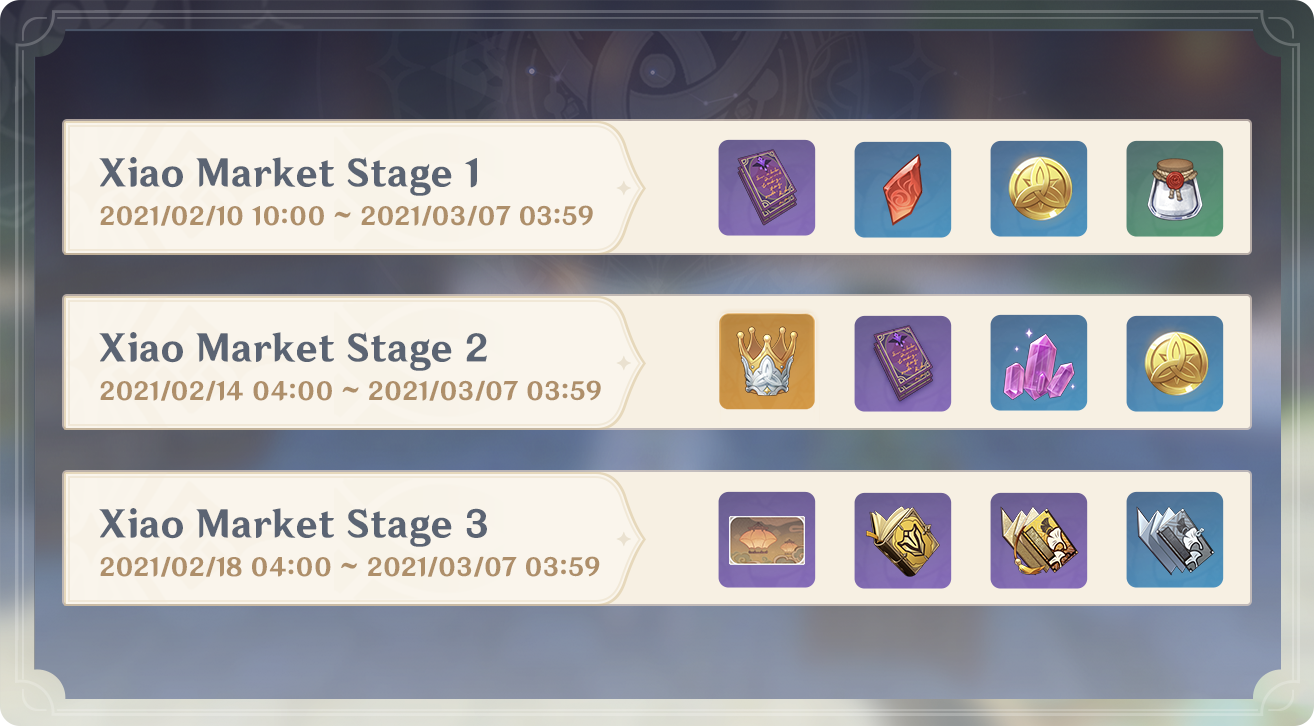 The Xiao Market is the special event shop for the Lantern Rite Event. Buy things with the special event item Peace Talisman. And use it to unlock the "Celebration: Lantern-Light," Character Enhancement Materials, Hero's Wit, Mystic Enhancement Ore, Talent Level-Up Materials, the Crown of Insight, and more.
The Xiao Market will be divided into three segments that will open on the 10th, 14th and 18th of February respectively.
Lantern Rite Rewards
Stand by Me is a part of the Version 1.3 event that lets you choose one of the following 4-star Liyue characters to collect. To do this you'll need to reach your Festive Fever stage to 'Glow of a Thousand Lanterns' as well as spend 1,000 Peace Talismans.
You can choose between one of these six characters: Xiangling, Xinyan, Beidou, Ningguang, Xingqiu, and Chongyun.
For more information on Genshin Impact's version 1.3 or a detailed guide on how to play Theater Mechanicus be sure to check out guide here. As well as our other Genshin Impact character, weapons and other guides.
Tagged:
adventure rank
android
anime
apple
chinese new year
co-op
cooperative
cross platform
cross play
dps
element
elemental
elemental burst
elemental skill
elements
fantasy
february
february 2021
festive fever
gacha
gacha banner
gacha system
genshin impact
google play
ios
lantern rite
lantern rite event
lantern rite event guide
lantern rite tales
liyue
lunar near year
manga
microsoft windows
miHoYo
mondstadt
multiplayer
online multiplayer
open world
pc
pc game
peace talismans
PlayStation 4
primogems
psn network
roadmap
role playing game
rpg
teyvat
Theater Mechanicus
v1.3
version 1.3
wishes
world quest
xiao