Animal Crossing: New Horizons – Everything New In Feb
Are you ready for springtime in Animal Crossing: New Horizons? Me neither! But as much as I love all the snow its time for it to melt and usher in Spring to the island. Take down those Toy Day decorations and break out that shovel to plant new flowers or even a park! Make sure to leave some space for all the new items coming up as well.
February is a time of celebration in Animal Crossing: New Horizons! We have not one, not two but three events that will bring with them exclusive holiday-themed items. First comes a bright colourful explosion of feathers on your islands with Festivale! Pavé is coming and she's bringing a party to the island! Before that, you'll be able to get into the spirit of love on Valentine's Day. Get some chocolates or cute little heart shaped flowers for your favourite resident or just yourself! And last but not least we have the Lunar New Year that will bless your house with Lucky Red Envelopes.
All this and more in Animal Crossing: New Horizons' February update. Let's break it down here.
Valentine's Day: 1st – 14th February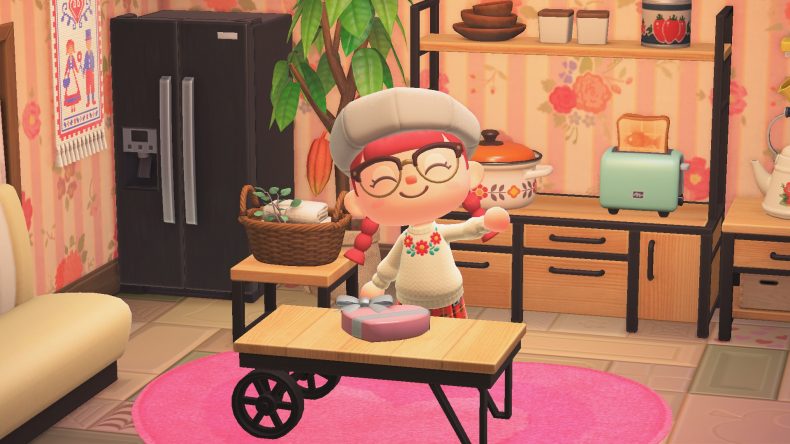 Starting on February 1st to the 14th you'll be able to buy two Valentine's Day items. Located in the Seasonal tab of Nook Shopping. The Chocolate Heart for 1,200 Bells and the Heart-Shaped Bouquet for the same amount.
Chocolate Heart and Heart-Shaped Bouquet come in multiple colour variants. You won't be able to customise these items yourself but if you want to get your hands on each color variant be sure to check back into Nook Shopping's Seasonal tab every day. There are 4 for the Chocolate Heart – Milk, Dark, White and Strawberry. And 6 colour variants for the Heart-Shaped Bouquet – Red, Pink, Yellow, Purple, White and Black.
Festivale: 1st – 15th February
Festivale is Animal Crossing: New Horizons' answer to Carnivale and Mardi Gras. On February 15th confetti will fall from the sky and Pavé the Peacock will appear. Expect bright colourful lights, games, special clothing and of course themed items and furniture. During the event, you'll be able to catch colourful feathers and trade them with Pavé for a "passionate dance number".
The Festivale Set Furniture Items can be bought throughout the month up until the 15th of February at Nook's Cranny Store. There are ten different set items to collect, along with three Festivale clothing items as well as some new reactions. This includes balloons, a confetti machine, flags, drums and more. To check out the full list be sure to check out our Festivale Event Guide here.
Lunar New Year: 11th – 18th February
Gong Xi Fa Cai! Animal Crossing: New Horizons welcomes in the Year of the Ox for the Lunar New Year with three holiday-themed items. Starting from February 11th you can purchase the Lucky Red Envelope, Bokjumeoni Lucky Pouch and Lunar New Year Decoration from the Seasonal tab of Nook Shopping.
The Lucky Red Envelope, Bokjumeoni Lucky Pouch are gift wrapping items that you can use to wrap bells in. When you wrap Bells using one of these two items, the item is converted into either the Lucky Money or Sebaetdon items in your inventory. Then each converted item can be unwrapped to reveal some Bells, ideally for gifting to another player.
Goodbye Snow – 25th February
I'm going to miss snow and all my Snowboy friends but the magic has to end some time. Starting on February 25th in the Northern Hemisphere, the snow will melt and the grass landscape will emerge. It'll appear a little less green at first but give some time for the ground to warm up and you'll be in Spring in no time.
The melting of the snow means that you'll only have the next couple of weeks to collect all of the Winter Snowflake DIY crafting recipes. As well as build the last of your Snowboys.
Young Spring Bamboo – From 26th February
It may be bittersweet saying goodbye to Winter and all its seasonal items but Spring brings with it Young Spring Bamboo and all its seasonal items. If you've been playing since last year than this may be less exciting for you. But you joined Animal Crossing: New Horizons later on than you'll have a bunch of new Young Spring Bamboo DIYs to craft!
To get your hands on some Young Spring Bamboo, hit some Bamboo with any axe besides a metal one for a chance for some Young Spring Bamboo to drop. As usual you'll need to find the DIYs randomly by shooting down Balloon Presents (urgh).
That's all we have so far coming to Animal Crossing: New Horizons this February 2021! For all our guides, festival updates and more be sure to check out our game Animal Crossing: New Horizons articles here!
Tagged:
2020
2021
acnh
animal crossing
animal crossing event
animal crossing events
animal crossing furniture
animal crossing guide
animal crossing new horizons
balloon presents
Bokjumeoni Lucky Pouch
Chocolate Heart
event
event items
february
february 2021
february event
festivale
Festivale Set Furniture Items
furniture
game guide
january update
Lucky Money
Lucky Red Envelope
Lunar New Year Decoration
lunary new year
new horizons
nintendo
nintendo game
nintendo switch
nook's cranny
pave
pave the peacock
seasonal
seasonal items
seasonal update
Sebaetdon
spring event
spring update
valentine's day
Winter Snowflake DIY
Young Spring Bamboo